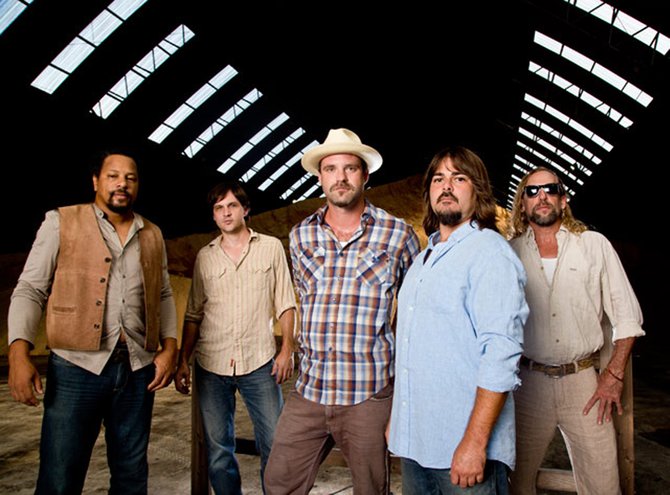 When multi-instrumentalist Aaron Wilkinson, 38, formed Honey Island Swamp Band in early 2006, he had no idea where the band would go. Wilkinson, a New Orleans native, found himself in San Francisco after Hurricane Katrina with his friend, lead guitarist Chris Mule. Along with bassist Sam Price drummer Garland Paul—both of whom Wilkinson and Mule knew from the New Orleans music scene and had relocated to California—the group began a residency at The Boom Boom Room in San Francisco. The band migrated back home to New Orleans in 2007 and added organist Trevor Brooks to the lineup about a year later.
Last year, the band worked with New Orleans resident and Grammy award-winning producer John Porter to record its latest album "Cane Sugar," released in July 2013. The album is a showcase of their trademark "Bayou Americana" of roots and rock music that could only come from The Big Easy.
The Jackson Free Press talked with Aaron Wilkinson by phone shortly after Honey Island Swamp Band's performance at the International Gumbo Festival.
Tell me a little about your influences.
We get compared a lot to bands like Little Feat, The Band, The Allman (Brothers Band), stuff like that. They certainly are influences, but I would say we take on the people who influenced them. Chris is real knowledgeable of old blues artists like Robert Johnson and Bukka White, but he's also influenced by the New Orleans R&B scene and people like Earl King and Lee Dorsey. I grew up in Pensacola, and my parents listened to a lot of country music, so that's an influence I bring. I also heard a lot of reggae music down there.
How did the band come together in San Francisco?
After Katrina, we were sort of a New Orleans band that also lived (in San Francisco). ... What it did for me, personally, was help solidify and validate what comes to us naturally. To see through someone else's eyes just how much they love this music that we just think of (as) "what we do every day." That was a real boost of confidence. We realized we had something special. Had we formed in New Orleans, we may have never realized that. We would have just been another band doing good music. Being out there helped us appreciate something we may have taken for granted.
How did the new record come together?
(John Porter) was a fan of the band, and we had a good feeling about some of the things he was saying after we met. He came over to my house for a couple of days and sat in on some writing sessions with Chris. ... We made the album in about a week at Piety Street Studios. About half the material was stuff we'd been doing live, and the other half was stuff that we wrote in those sessions. It was a really cool experience. John has an excellent way of getting the best out of you as a musician. It doesn't hurt that he has this awesome English accent, so when he has to tell you what you're playing sucks, it sounds really nice. We did some finishing work at Jon Cleary's studio, so we got him on a couple of tracks. We also had Mickey Raphael from Willie Nelson's band come in for a track. We feel like it's the best thing we've done, by far.
Honey Island Swamp Band performs from 3:45-5 p.m. Oct. 26 at Bay BridgeFest in Bay St. Louis and at 8 p.m. Oct. 29 at Brewsky's (3818 W. 4th St., Hattiesburg, 601-261-2888). Bay BridgeFest is $6 per day; visit baybridgefest.com. At Brewsky's Honey Island Swamp Band performs with JJ Grey and Mofro, and admission is $18 in advance and $20 at the door; visit brewskyslive.com. "Cane Sugar" is available for purchase in stores and through online music retailers. Visit honeyislandswampband.com.
More like this story
More stories by this author
Like independent media outlets around the world, the Jackson Free Press works hard to produce important content on a limited budget. We'd love your help! Become a JFP VIP member today and/or donate to our journalism fund. Thanks for considering a JFP VIP membership or one-time support.