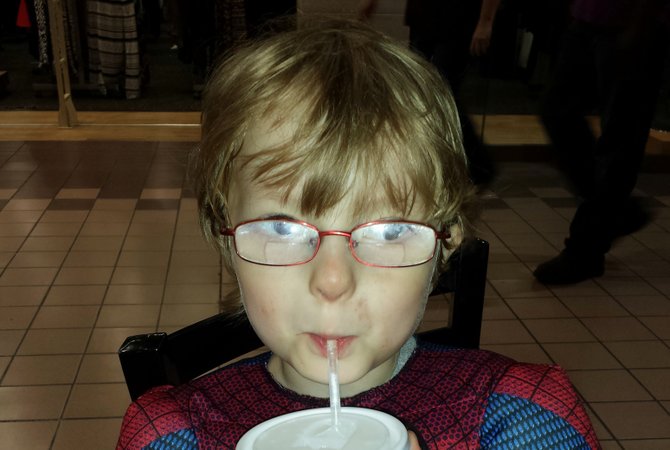 Meredith Stark nervously shifts in her seat, leaning in and, then, leaning back. Her eyes are dark brown, overcast like the sky outside Love's Truck Stop in Tupelo. Her warm, friendly personality peeks through her nervous energy. She's modestly dressed in a long-sleeved lavender knit top, black boot-cut slacks and black tennis shoes. Her straight, brown hair is pulled back in a neat ponytail with the occasional tendril escaping to frame her face. She talks quickly and emphatically. She's the picture of a stressed mom fighting a fierce battle to keep it all contained.
Stark has good reason to be stressed. She's working full-time at a local hotel as a customer-service representative, studying pre-nursing courses at a local community college and taking care of her 5-year-old son, Noah. Her husband, Chris, is a student and sits at the end of the booth.
Noah is ridiculously cute, grinning and staring curiously from behind his glasses, his wiry little frame bobbing up and down next to his mother. Chris has to jump up and follow him as he makes his escape from the hard, plastic booth. He is a happy kid, oblivious to the struggles his parents face on a daily basis.
A Political Casualty
Even with Meredith's full-time job, the family struggles to make ends meet. They are just three of the approximately 47 million people in the U.S. who rely on the Supplemental Nutrition Assistance Program, a government food-assistance program for low-income families. SNAP, which has had many names over the years, recently became a casualty of political haggling, ostensibly in the name of fiscal responsibility. The cuts threaten the stability of the families like the Starks.
While members of Congress, who each earns in excess of $100,000 per year, demonize SNAP recipients, the program has been a lifeline for many people during the Great Recession. The U.S. Department of Agriculture, which funds the programs that individual states administer, helps pay for breads, cereals, fruits, vegetables, meat, fish, poultry and dairy products, as well as seeds or plants that can be grown to produce food
SNAP does not pay for alcohol, tobacco, pet food, soaps, paper products, cleaning supplies, vitamins, medicines, food consumed in a store or hot food items.
Mississippi SNAP recipients must meet certain criteria as outlined by the USDA. They must work for "low wages," be unemployed or working part-time, receive government-assistance payments. Elderly and disabled people can also qualify for SNAP.
For a household of three, annual income must be less than $23,803. The federal stimulus program of 2009 increased SNAP payments. Congress not only rolled back those increases, but slashed the benefits further.
As of Nov. 1, the maximum benefit levels dropped from $526 to $497 per month for a family of three like the Starks.
'Pretty Much Homeless'
Meredith Stark and her family signed up for SNAP in 2011. "We lost our job ... in Missouri, where we were at before, and things kept spiraling out of control. We were pretty much homeless. And then (Chris') mom offered up a home, and we came here," Meredith said.
She earns $7.25 per hour. Chris is attending school full-time and cares for Noah while Meredith is working. "It's hard to make it off that," Meredith said. "I'm trying to better our lives. It (SNAP) helps."
Meredith works nights as a customer-service representative at a hotel in New Albany and takes pre-nursing courses three days a week at a local community college.
She hopes to graduate from nursing school and practice pediatric nursing. Noah has autism.
When the Starks were in Missouri, Chris was working in a call center for Chase Bank. It was a decent paying job. They were staying with Chris's grandmother; but she wasn't used to toddlers, especially impulsive ones like Noah. She eventually asked them to leave.
Because of a previous eviction, Chris and Meredith couldn't find a landlord to rent to them.
Then, Chris lost his job. They were running out of options in Missouri. Chris' mother remarried and offered to let them move into her house in Tupelo.
"There was no other option," Meredith reflects on their odyssey to Tupelo, Miss.
In June 2011, the family signed up for SNAP. It took a month to get an appointment, and they had to produce pay stubs from Meredith's employer to receive $133 per month; now, the amount the receive has been slashed even more, down to $105 per month.
Living has been reduced to a day-to-day juggling act. Chris and Meredith worry about running out of money for food and gas. "I budget our gas on a day-to-day basis," Chris said. Now that Noah can take the bus to preschool, their commutes are less financially taxing.
They occasionally rely on their parents for help when times are especially tough, but Meredith doesn't like to.
"It's embarrassing. ... I feel so weird to even ask," she said.
Mass Confusion
It's understandable that Meredith feels weird asking for help. SNAP recipients have been on the receiving end of considerable flack lately.
In mid-October, a computer glitch resulted in mass confusion across a large swath of the country when people discovered their electronic-benefits transfer did not work over the weekend. People in Mississippi, Louisiana and 15 other states were temporarily unable to use their food-stamp debit-style cards the Saturday after vendor Xerox Corp. ran a routine test of backup systems that resulted in a system failure. Xerox announced late in the evening that access had been restored for users in the 17 states the outage affected, hours after people reported the first problems.
In Maine, shoppers left carts of groceries behind because they couldn't get their benefits. In Louisiana, supermarket operators like Walmart decided to allow people to continue using their cards, and some people stocked their baskets with merchandise.
Soon, some officials started to characterize the incident as emblematic of widespread abuse and clamored for reform. U.S. Sen. David Vitter, R-La., leveled public criticism at Louisiana Gov. Bobby Jindal, a fellow Republican, for not pursuing what he called "SNAP abusers" more aggressively.
"The recent over-the-top food-stamp theft and fraud gave Louisiana and the program a real black eye. I'm certainly glad the state is acting on my urgent suggestion. I look forward to discussing the details with Secretary (Susan) Sonnier in my upcoming meeting with her and Attorney General (Buddy) Caldwell," Vitter told the New Orleans-based newspaper The Times-Picayune at the time.
In response, the Louisiana Department of Children and Family Services vowed sanctions against anyone the agency determined used their benefits improperly. These so-called food-stamp riots became a rallying point for conservative-minded politicians playing on age-old stereotypes of government-handout recipients, but on close inspection, data show that food-stamp fraud is actually low.
Stores and recipients face severe penalties for SNAP fraud. The USDA can permanently disqualify a retail store from the SNAP program. Recipients can lose their benefits. Both parties could serve jail time for knowingly committing fraud.
SNAP trafficking, the act of selling SNAP benefits for cash, is a violation of federal law. Reports from the Washington, D.C.-based think tank group Center on Budget and Policy Priorities, show that people traffic approximately $1 out of every $100 in SNAP benefits—only 1 percent. Over the years, technology, such as replacing the old paper food-stamp booklets with electronic debit cards, have also cut trafficking.
Overpayment of SNAP benefits is equally rare. A CBPP analysis of an annual audit showed that in 2011, the SNAP overpayment rate was 3 percent. In addition to the USDA's audit, the federal government imposes penalties on states that have overpayment rates that exceed national averages. When errors do occur, they are typically the result of honest mistakes as recipients—and often government personnel—navigate the complicated benefits system, the CBPP found.
Bad for Business
While cutting SNAP could represent a solution looking for a problem, economic experts say that rolling back SNAP could be disastrous for both the families that rely on the program as well as local economies.
"It's certainly the wrong time to pass cuts in Mississippi. Businesses are going to hurt from this cut as well," said Ed Sivak, executive director of Mississippi Economic Policy Center.
Sivak said the some 3,400 authorized SNAP retailers generate revenue and stimulate a flagging economy. SNAP benefits get spent locally, in local businesses. "It supports people who are working there," Sivak elaborates.
People who don't even depend on SNAP benefit indirectly from the program. SNAP retailers hire workers in their stores. They provide jobs for the truck drivers needed to transport food. They provide business to farmers who produce the food. This doesn't even factor in the number of jobs only peripherally related to the food industry, such as graphic designers for print ads and food containers, mechanics who service trucks. During the current fiscal year, Mississippi SNAP recipients injected $750 million into the state's economy.
Legends abound about "welfare queens" spending their entire lives on SNAP, literally mooching off the government, but Sivak indicates that this is a political myth. "Participation in these programs is often temporary," he said.
But the long-term effect of these cuts could be devastating. The Center for Budget and Policy Priorities' report on SNAP cuts illustrates the scope of these cuts in terms of meals per month that SNAP recipients will lose. Based on the Thrifty Food Plan's $1.70 to $2 per meal calculations, a family of four will lose 21 meals per month. A family of three, like the Starks, will lose 16 meals per month.
Of the approximately 47 million people on SNAP, about 72 percent are in households with children, and more than 25 percent are living in households with seniors or someone who is disabled.
Between 2007 and 2011, the number of SNAP recipients increased sharply. The Congressional Budget Office reports that the spike in SNAP participation was primarily due to the recession and the country's slow recovery. SNAP became a safety net for the casualties of the recession who faced job or income loss. In 2012, SNAP enrollment began to decline in response to a recovering economy. However, Mississippi numbers reveal a more disturbing story of a state recovering from the recession at a glacial pace.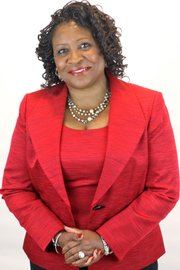 Beneta Burt, executive director of Mississippi Roadmap to Health Equity in Jackson, is concerned about how SNAP cuts will affect the overall health of the community.
Mississippi Roadmap to Health Equity Inc. is a community project whose mission is to achieve health equity among Jackson's vulnerable populations. The group advocates using fresh ingredients in school lunches, and they've established a farmers market in Jackson featuring fresh local produce at affordable prices.
Burt said SNAP recipients use the farmers market, thanks to a growing awareness of the importance of nutrition. "The response is improving over the past years," she said of her organization's farmer's market. SNAP reductions will reduce participants' purchasing power. That may set food-equity organizations such as hers back from reaching their goals in the community, even with the school gardens and the nutrition education they provide children with. The population they are attempting to reach already has limited resources.
"The impact is dramatic and will have a long term impact on the community," Burt said.
Cuts Shortsighted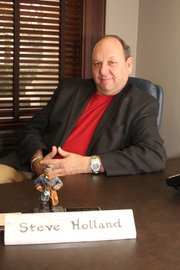 Mississippi lawmakers have shown little appetite to invest in social-safety net programs such as Medicaid and SNAP, despite the health benefits for the nation's least healthy state.
Rep. Steve Holland, D-Plantersville, who formerly chaired the House Medicaid Committee and champions health-care issues in the Legislature, called the SNAP cuts a bad idea.
"People are going to buy less food. Even Mississippi farmers benefit from SNAP," Holland said.
Sen. Derrick T. Simmons, D-Greenville, also believes the cuts to SNAP are shortsighted and is concerned not only for his constituents who receive SNAP, but also for how this will negatively affect the farmers, the farming industry and storeowners' ability to hire workers.
"Cuts to programs to assist those in need ... it baffles me," said Simmons, who also notes that children who are poorly nourished have difficulty concentrating in school.
Simmons' colleague, Sen. Kenneth Wayne Jones, a Democrat from Canton who chairs the Mississippi Legislative Black Caucus, called SNAP "a life-sustaining program" and said he was "blown away" by news of the cuts.
Rep. Toby Barker, R-Hattiesburg, has worked on food-security issues and believes SNAP cuts will impact business and hopes individuals in the community will step up to help their neighbors during tough times.
"Families are going to take a hit," Barker said.
Planting Seeds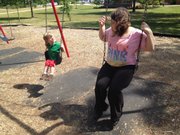 In the meantime, the Stark family is doing what they can to stave off the effects of having their benefits cut back. Meredith points out proudly that SNAP can be used to purchase seeds. Over the summer, she planted tomatoes.
"I like gardening," she said, smiling.
Back at the truck stop, Noah smiles widely, giggling and tugging playfully against his father's hand. They load into their white Hyundai. The sky is darkening.
Yet, the Starks have reason to be hopeful. With Meredith's full-time job and Chris' recent acceptance to nursing school, the family believes the boost from SNAP will pay off in the long run.
Chris said SNAP frees up cash so that the family can afford to pay for gas and utilities and that he has picked up a few more money-saving skills.
"I do my own tune-ups," he said.
It's the policymakers who are hell-bent on casting SNAP users as lazy and unwilling to work hard who are out of tune, the Starks said. "They don't see the effects (of cuts) on people's lives," 
Chris said.
With her voice quavering slightly, Meredith added: "We're going back to school to better our situation. We don't want to depend on the government."
More stories by this author
Support our reporting -- Follow the MFP.