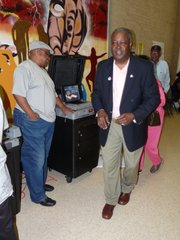 Tuesday's municipal primary elections began by dealing with the county's new voting machines.
Early Tuesday morning, the Jackson Free Press received a tip about problems at Ward 7's Precinct 97 in south Jackson, located at the Wahabi Shriners, 4123 Interstate 55 S.
The precinct was supposed to have one voting machine to read hand-marked ballots and count the votes. The machine, which poll workers said was scheduled for delivery at 6:15 a.m., didn't show up until 8:43 a.m., nearly two hours after the polls opened. And then it didn't work.
In April, after a months-long process, the Hinds County Board of Supervisors agreed to a $1.2 million five-year contract with Electronic Systems and Software for new voting machines. Headquartered in Omaha, Neb., ES&S also holds a contract with the Mississippi secretary of state to facilitate overseas and military voting.
Jackson municipal Clerk Brenda Pree said through a news release that the voting machines are "the nation's most widely used paper-based digital precinct scanner with more than 15,000 units in use."
Poll manager Jessie Tyler, who has volunteered at the polls for 20 years, added that elections usually come off like clockwork at precinct 97.
"When you change something, you have to get the kinks out," Tyler said.
As poll workers waited for a technician to fix the machine, they collected voters' completed ballots in a sealed folder. By 10 a.m., the Precinct 97 machine was operational. Tyler, the poll manager, said the technician who set the machine up this morning failed to properly connect a power cord.
Ward 7 Jackson City Council candidate June Hardwick was at the precinct Tuesday morning. She was a bit dismayed at the polling problems.
"In 2013, voting should be a well-oiled machine," Hardwick said.
Meanwhile, at Callaway High School, where Mayor Harvey Johnson Jr. cast his ballot, another voting machine was also down, but it was also fixed by around 10 a.m.
The Johnson campaign also caused confusion by erroneously posting on Facebook that "you must vote for ALL of the Municipal Executive Committee Members... or the voting machine won't accept your ballot."
Claude McInnis, Hinds County Democratic Executive Committee chairman refuted that information.
McInnis said that the machines would give voters a chance to correct or cast ballots for any positions they might have missed, similar to an "Are you sure?" message on a computer when users choose a command that might delete or change a file.
Voters did not have to vote in every race on the ballot, either. Every ballot will count, he said.
Melissa Faith Payne, communications director at Friends of Harvey Johnson, the campaign for the incumbent mayor, said she has updated the original Facebook post.
Poll workers at Callaway High School told reporter Tyler Cleveland that the machines kicked ballots back if voters didn't fill it out all the way. In that case, voters had to put the ballot back in and push a different button.
Election returns and analysis at jfp.ms.
More like this story
More stories by this author