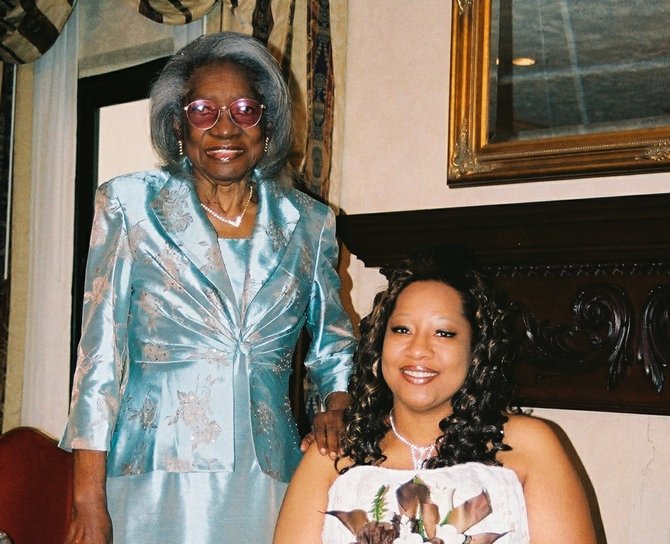 "Mama, don't you ever get lonely?" I asked my mother one day as I walked her from my car back to her room at the nursing home.
It was a slow walk, as she couldn't move very fast anymore. I felt close to her as I held her hand, guiding her steps. The hallway was filled with nurses, and elderly adults in wheelchairs surrounded the nurse's station. I never liked that feeling. It made me feel sad to leave her there, every time. So, I wondered how she felt about being left there. After a few moments, I noticed she wasn't interested in my question.
"Mama," I began again, "don't you ever want to be with a man again? You haven't been with a man since Daddy died." By this time we had made it to her room, and I was easing her down to the bed. She grabbed my arm and pulled me to a seat next to her. She patted my hand as she often did when she was about to say something that she wanted me to pay close attention to.
"Baby, your daddy was the man God meant for me," she said. "Once he left, I didn't want another man. I haven't even had the desire for another man. That was it. Howard was it for me."
I smiled and said something about how I could not imagine going that long without a man. To me, it was simply unfathomable.
I often ponder that time I spent with her that particular day. In a small way, I think it changed my life. I didn't realize it then, but those words would stay with me even past my mother's transition.
My only concern at the time was the need to feel loved by a man. I could not understand the love Mama had for the God she'd dedicated herself to nor the love she shared with my father. It was a different love, the kind most people never find in their lifetime. It's the kind of love fairy tales are made of, going beyond that of a husband and wife, man and woman. It's a love of self and a universal understanding of life that goes with accepting love.
When I was maybe 8 or 9 years old, I saw what this love looked like. My father came home one night a bit intoxicated. He was funny (to me) when he was this way. Usually a stern and serious man, he became jovial when he had a few sips, but I don't think my mother liked it. That night they argued. My mother became really angry, and she decided she'd take my sister and me away for the night. By the time we got to the front door, he was running after her to stop her. I remember seeing her smirk, although she didn't want him to see it.
"Mary, come back here. Where are you going?" he screamed. My mother was determined that she was not going to stay that night, and he was trying to be the big bad man that stood in her way and kept her 
from leaving.
My mother walked up to him, grabbed him by the waist and lifted him from the spot he was standing to her other side. He was shocked. She was shocked. But he quit trying to stop her, and we left.
Having a husband and family now, I have come to understand love a bit more than I did when I talked with Mama that day in the nursing home. Love isn't about how happy a person makes you. Love isn't the superficial business about what a person can do for you. Love changes who you are and how you live your life. Love is an unimaginable force that alters the way you react and feel about being human. Love is a wonder, a spiritual connection--not just to one person but to all things.
My father wasn't very affectionate, but I never doubted the love he had for my mother. My mother, on the other hand, was always touchy-feely; I knew that she loved my daddy. I never could have imagined the type of love I witnessed from her after Daddy died. That was real love. That was love people dream about--that I dreamed about. No matter how bad things got, they were never so bad that love no longer worked.
When I woke up the next morning, Daddy was sitting in the living room of the house where we had slept that night. Mama gathered our things, put us back in the car, and we went home. I never heard another word about it, but I don't recall my father getting intoxicated like that again.
Sometimes you have to stand up to love for love to know you mean to stay. My mother never left again. Even after Daddy went to the other side, she remained in love with him--fully, completely, without fail. She loved him beyond "'til death do us part." That love kept her whole for another 20 years, and she never felt she had missed anything. 
Now, that's love.
Funmi "Queen" Franklin is a word lover, poet and advocate for sisterhood. She has a weakness for reality shows and her 
puppy, Shaka.
More stories by this author
Support our reporting -- Become a JFP VIP.
The news business has changed dramatically in the past year, and we need your help more than ever to keep bringing you important stories about Jackson and the Metro. Become a JFP VIP with an annual membership or you can Sign up as a monthly supporter. Thanks for anything you can do to empower our journalism!