How do you resolve to make a difference in the lives of young people? Feel free to list them below and send to [email protected], post under this story at jfp.ms/kids2014 or just put on your fridge to remind yourself throughout the year. Meantime, here are a few thoughts we gathered on Facebook in answer to that question:
Langston Moore Invigorate them on a small change in their environment. Plant a one-bed raised garden. Ask for more fresh, Mississippi-grown products in the lunch line. Any small victory we can empower them to achieve will lead to a greater good in their community. Assist them in learning the process on a small scale. It is easily transferable to a larger scale. We have young, bright brains here. It's a matter of us encouraging, teaching and giving them the ball to run. I vow to plant another garden with my son. I proclaim that 2014 will be the continual lesson of those who have made Mississippi history and are right now. Dawn Beasley Macke We have a local group that would love to help, Langston. They built raised beds for me as a learner project but have greater goals: Self-Sustainability in Mississippi (find on Facebook).
Kass Welchlin I resolve to make a difference in young lives by being a consistent mentor, available friend and respectable role model. Helping by showing them the difference between a real friend and a Facebook friend. Show them the value of volunteering. STEM project that teaches them how to construct from scratch a computer, a model plane, and a telephone (putting STEM in motion).
Rashida Walker I will make a difference in young lives by continuing to teach a weekly Senior Rites of Passage class to about 22 high school seniors. It's Bible-based, but a few years ago I saw the need to be more on their level of what they face daily. So I developed a block of classes: Avoiding the Trap: sex, drugs, and alcohol. It has been a powerful movement. This year we had seniors that were in college to come back and share how those classes impacted their decisions as they were now in college trying hard to avoid the traps!
Larry Butts Baxter Hogue at Imagine Behavioral Health turns young people's lives around every day. He uses a treatment philosophy that affects the way they see themselves and the world around them.
When You Reach Out to Help Young People ...
A team of researchers studied youth mentoring programs and developed these principles to ensure that the program or effort is ethical—and doesn't backfire. Read the explanations at jfp.ms/mentor_ethics.
Promote the welfare and safety of the young person.
• Build rapport with proteges, as well as their primary caregivers to better understand expectations, belief systems and family circumstances.
• Do no harm. This includes sexual harassment, abuse and exploitation, but it means learning the skills to mentor well and use sound judgment. It also means not misusing your power (including religious or political proselytizing) and recognizing differences caused by class and privilege.
• Mentors can use their advantages for good, however, as a form of social capital to help the mentee with connections, experiences and resources.
• Establish appropriate boundaries with attention given to the problems with playing multiple roles in a child's life.
Be trustworthy and responsible.
• Never leave a mentee relationship with no communication. Plan transitions.
• Hold yourself and others accountable to mentoring guidelines and best practices.
Act with integrity.
• Don't change plans unless unavoidable. Be on time. Return calls and emails.
• Conduct selves with integrity in mentees' schools, homes and communities. Respect their customs and routines.
• Be wary of getting involved financially with the mentee. Express generosityby going through a brokered third party, for instance.
Promote justice for young people.
• Be careful that your biases do not result in prejudicial treatment of proteges. Seek out training in cultural competence and sensitivity.
• Use first-hand experience of challenges faced by young people to help redress social ills and policies that promote their well-being and health. Communicate what you learn to other adults.
Respect the young person's rights and dignity.
• Respect the mentee's right to make choices.
• Don't be the morality police. Behave in a fashion that helps, not interferes, with the right of protege and her family to exercise their own reasoning and moral judgment.
• Repect your mentee's and his family's right to privacy and confidentiality.
• Honor your protege's confidences—while making it clear that you must report any plans to harm themselves or others.
• Report to the mentoring program suspicions that child has been abused or neglected.
• Seek out training on how to deal with sticky confidentiality situations.
Source: "First, Do No Ham: Ethical Principals for Youth Mentoring Relationships"; read more at jfp.ms/mentor_ethics.
More like this story
More stories by this author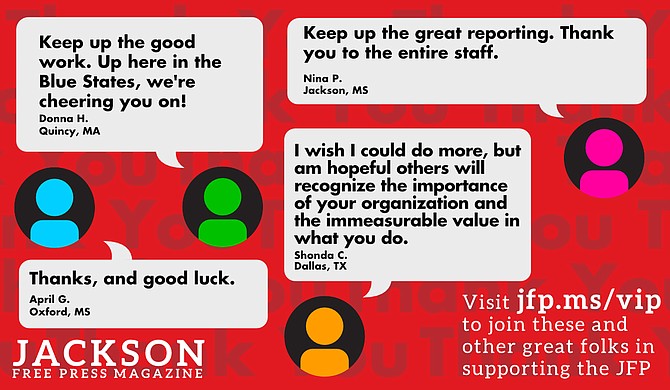 Thanks to all our new JFP VIPs!
COVID-19 has closed down the main sources of the JFP's revenue -- concerts, festivals, fundraisers, restaurants and bars. If everyone reading this article gives $5 or more, we should be able to continue publishing through the crisis. Please pay what you can to keep us reporting and publishing.