From November until the end of January every year, Jackson residents and businesses campaign, vote and then wait for the results of the annual Best of Jackson competition. The contest is so popular that we're now doing mini-polls throughout the year from Best Redhead to Best Local Lunch places, which we announce below. Keep an eye on bestofjackson.com and the print edition for a new ballot in November, as well as fun monthly polls. To the best!
Best Local Lunch Overall, Best Flowood Lunch, Best Ridgeland Lunch: Primos Cafe
2323 Lakeland Drive, Flowood, 601-936-3398; 515 Lake Harbour Drive, Ridgeland, 601-898-3600 primoscafe.com
Angelo "Pop" Primos came to the United States with his wife, Mildred, from Greece and started a family bakery in 1929. Nearly a century later, Primos has two of the area's most popular restaurants.
The cream of Primos' crop is its blue-plate specials. The eatery offers chicken potpie, hamburger steak, fried chicken and fried catfish, along with other classics. Each blue-plate special includes a meat, two or three vegetables, and a cornbread muffin or roll. Everything is made in-house and, these days, as healthy as possible—balancing southern comfort food with a fresh, good-for-you approach. Primos is also known for its baked goods, especially its most popular cake flavor, caramel.
—Kathleen M. Mitchell
Best Local Lunch Overall
Second: City Grille (1029 Highway 51 N., Suite A, Madison, 601-607-7885) / Third: Bravo! Italian Restaurant and Bar (4500 Interstate 55 N., Suite 244, 601-982-8111) / Good Showing: Cool Al's (4654 McWillie Drive, 601-713-3020); Walker's Drive-In (3016 N. State St., 601-982-2633)
Best Flowood Lunch
Second: Table 100 (100 Ridge Way, Flowood, 601-420-4202) / Third: Grant's Kitchen (2847 Lakeland Drive, Flowood, 601-665-4764) / Good Showing: Georgia Blue (223 Ridge Way, Flowood, 601-919-1900)
Best Ridgeland Lunch
Second: Trace Grill (574 Highway 51, Ridgeland, 601-853-1014) / Third (tie): Beagle Bagel Cafe (898 Avery Blvd., Ridgeland, 601-956-1773); Amerigo Italian Restaurant (6592 Old Canton Road, Ridgeland, 601-977-0563)
Best North Jackson Lunch: Char Restaurant
4500 Interstate 55, Suite 142, 601-956-9562
charrestaurant.com
Char's lunch menu is top-notch, with two blue-plate specials Monday through Saturday that range from red beans and rice or beef brisket to fried catfish or roasted turkey from $8 to $12. Diners can top off lunch with pecan pie, pecan-caramel, butter-crunch, or triple-chocolate cake with raspberry coulis or peach cobbler bathed in vanilla ice cream.
—Tyler Cleveland
Second (tie): Cool Al's (4654 McWillie Drive, 601-713-3020); Hickory Pit (1491 Canton Mart Road, 601-956-7079) / Third: Bon Ami (1220 E. Northside Drive, Suite 230, 601-982-0405)
Best Clinton Lunch: Froghead Grill
121 Clinton Center Drive, Clinton, 601-924-0725
thefrogheadgrill.com
Fans of Cajun cuisine owe themselves a trip to Froghead Grill, tucked away on Clinton Center Drive just off of Interstate 20 in Clinton.
Technically, Froghead is an American grill, but with dishes like crawfish quesadilla, etouffee, red beans and rice, and seafood gumbo, it's impossible for the three-year-old restaurant to hide its roots.
The best deals are the lunch specials, served from 11 a.m. to 2 p.m. weekdays. From Monday's dish of "Grandma's Poppy Seed Chicken Casserole" to Thursday's spicy chicken spaghetti, these Cajun-themed dishes are not to be missed. The Tadpole Menu offers traditional and Cajun-inspired choices like the "Cold-Cut Mini-Boy" and popcorn shrimp for the kids.
—Tyler Cleveland
Best Fondren/Belhaven/Midtown Lunch: Babalu Tacos & Tapas
622 Duling Ave., Suite 106, 601-366-5757
Bill Latham and Al Roberts of the Eat Here restaurant group started Babalu Tacos & Tapas in 2010, and it's become a destination for cocktails, tacos and Latin-inspired dishes.
Babalu serves a variety of tacos ranging from pork-belly carnitas to house-smoked chicken and fresh fish. The menu's tapas section has plenty to offer, too, such as braised beef short ribs with grits, lamb sliders and spice-seared rare tuna.
Few better places in Jackson exist than the porch at Babalu, with its hilltop view of Fondren. Soak up the sun (or moon) and atmosphere with a Baba-rita or two. Nearing its third birthday, Babalu may have lost its new restaurant glitter, but on any given night it still has a line out the door, and it's no wonder.
—Andrew Dunaway
Second (tie): Basil's (2906 N. State St., Suite 104, 601-982-2100); Basil's 904 (904 E. Fortification St., Suite B, 601-352-2002) / Third: Walker's Drive-In (3016 N. State St., 601-982-2633) / Good Showing: Rooster's (2906 N. State St., 601-982-2100)
Best Downtown Jackson Lunch: Bruno's Adobo
127 S. Roach St., 601-944-9501
For a healthy lunch, try Bruno's Adobo on the ground level of the Standard Life Building. Adobo celebrated its one-year anniversary Aug. 20. Luis Bruno is executive chef of the Latin and Caribbean eatery.
The menu at Adobo features local, hormone-free ingredients. Favorites include Cuban black-bean soup, the Adobo burger, salmon burger, smoked chili hummus, smoked-guava barbecue tacos and Louie Tabboulie—a gluten-free salad of quinoa with mangoes, grape tomatoes, parsley, green onions and lemon.
As Jackson's first certified green restaurant, Adobo uses recycled materials. Even the employees' shirts are recycled, bought second-hand from Gateway Rescue Mission.
—ShaWanda Jacome
Second: Hal & Mal's (200 S. Commerce St., 601-948-0888) / Third: Elite Restaurant (141 E. Capitol St., 601-352-5606) / Good Showing: Kiefer's (120 N. Congress St., 601-353-4976); Mayflower Cafe (123 W. Capitol St., 601-355-4122)
Best Madison Lunch: City Grille
1029 Highway 51 N., Suite A, Madison
601-607-7885; thecitygrille.com
City Grille owner and chef Zack Athearn's offers the best of Cajun and French-inspired casual and fine dining. Weekday blue-plate specials include a meat, three sides, bread and a drink for $10. Choose from country-fried steak, chicken, pot roast, pork chops, chicken spaghetti or beef tips. For dessert, try peach or pecan cobbler with ice cream.
Highlights of the regular menu includes tempura lobster rolls, grilled mahi, Atlantic salmon, New Orleans-style barbecue shrimp and grits, and Cajun seafood pasta.
City Grille opened its doors in February. On Aug. 15, the family-owned restaurant won "Best Overall" and "Best Taste" at Madison's Night Out at the Madison Square Center for the Arts.
—ShaWanda Jacome
Second: Local 463 Urban Kitchen (121 Colony Crossing Way, Madison, 601-707-7684) / Third: Mama Hamil's (480 Magnolia St., Madison, 601-856-4407) / Good Showing: Georgia Blue Restaurant (111 Colony Crossing Way, Madison, 601-898-3330)
Best Pearl Lunch: Frisco Deli
1227 Phillips Lane, Pearl, 601-932-6301
friscodeli.com
Open since 1993, Frisco Deli owners Mitchell Malouf and Mitchell Malouf Jr. have been filling satisfied bellies for 10 years.
The menu includes sandwiches, chicken dinners, salads, catfish plates, ribs and desserts. Choose the "Deli Meal" to include a s side and drink with a corned beef Reuben, Cajun, roast beef, ham, smoked turkey or tuna sandwich or Frisco Burger.
Frisco Deli is a hometown favorite in Pearl, with a 95 percent approval rating on Urbanspoon and comments like, "Love me some Frisco Deli!" and this: "Had a Reuben, and it was delicious. The staff was friendly and patient even though the place was packed. Great place to eat."
—ShaWanda Jacome
Second: Fernando's Fajita Factory (5647 Highway 80 E., Suite 16, Pearl, 601-932-8728)
Best Brandon Lunch: Kismet
315 Crossgates Blvd., Brandon, 601-825-8380
kismet.net
Fate. That is the meaning behind the name of Brandon's Kismet. The first owners, Lee and Kathy Kennedy, grew up together. When they were 5 or 6 years old, Kathy told Lee they were going to be married. And they did. They opened Kismet in 1991, later selling it to Jason Shepherd and Jackie Barnes.
The "Greek with a southern flare" menu includes hummus, spinach-artichoke dip, krabby bites, fried chicken or catfish fingers, whole and half-size salads, wraps, side dishes, sandwiches and hamburgers. Kismet po-boys includes crab cakes or fried shrimp, crawfish, or catfish. Kismet will begin featuring Gulf shrimp in September.
Kismet offers entertainment throughout the year, including in-house mystery shows by The Detectives Mystery Dinner Theatre, including the special Halloween and New Year's Eve show.
—ShaWanda Jacome
Second: Heart and Soul Diner (900 Municipal Drive, Brandon, 601-825-9922) / Third: Friends & Company (154 W. Government St., Brandon, 601-825-5309)
Best West Jackson Lunch: Koinonia Coffee House
136 S. Adams St., Suite C, 601-960-3008
koinoniacoffee.com
Lee Harper and Alexis Spencer-Byers of Koinonia Coffee House open its doors each weekday morning for food and fellowship. The coffee house has a variety of selections to help keep the conversations rolling. Try an espresso to perk up or a Coco Mocha Nut frappuccino to cool down.
The lunch menu includes a roast-chicken sandwich and apple-cider chicken salad sandwich, both served with leafy greens on wheatberry or other choice of bread. Koinonia also offers garden and grilled-chicken salads. Treat your sweet-tooth with desserts such as chocolate-chunk cookies, peanut butter cookies, apple pie and cheesecake.
Koinonia is a Greek word meaning communion or joint participation, and the coffeehouse lives up to the name with public events such as Friday Forum each Friday at 9 a.m., featuring interesting and relevant speakers.
—De'Arbreya Lee
Second: E&L Barbeque (111 Bailey Ave., 601-355-5035)
Best Byram Lunch: Melanie's
7126 Siwell Road, Byram, 601-371-1933
When Melanie Smith's son, Kyle, started college at Mississippi State University, Smith turned her passion for cooking into a thriving business. Kyle graduated in 2011 with a degree in business, but Melanie's is still going strong.
Melanie's offers fresh, home-style southern meals, and Smith buys from local farms and vendors. The chalkboard menu includes southern favorites such as chicken and dumplings, pulled pork, bacon wrapped chicken, barbecue baked potatoes, pot roast, meatloaf, beef tips over rice and smoked beef brisket.
Leave room for dessert. The Cakery Bakery at Melanie's cranks out decadent sweet treats such as cupcakes, caramel-topped cheesecake with nuts, lemon icebox pies, buttermilk pies, cinnamon rolls, sticky buns and even the Elvis cupcake (banana cake, peanut butter buttercream frosting with chocolate drizzle). Cake designer Amanda Eady leads the Cakery Bakery, and she does it all—from wedding cakes, birthday cakes, or any other type of celebration cakes to high-end special dessert orders.
—ShaWanda Jacome
Best Vicksburg Lunch: Walnut Hills Restaurant
1214 Adams St., Vicksburg, 601-638-4910
Walnut Hills Restaurant is quite possibly one of the best "unkept" secrets in historic Vicksburg. Southern hospitality is well known throughout South, and Walnut Hills captures everything you think you may know about southern cooking and turns it up a notch.
Walnut Hills Restaurant and its three generations of cooks have been causing visitors and locals to loosen their belts since opening in 1980.
Many people eat here because someone recommended it. Even though it has undergone a renovation, this more than 130-year-old house maintained its southern charm, with a wrap-around porch, eclectic rocking chairs and a perfected menu to take visitors to another time.
While it is completely acceptable to eat its well-known and well-loved fried chicken or baby-back ribs with your bare fingers, it is not OK to so with the hand-cut steaks, wild-caught salmon or the always popular pond-raised catfish—no matter how much you may want to.
—Michael Jacome
Best South Jackson Lunch: Pearl's Southern Cooking
3505 Terry Road, Suite 205, 601-372-2100
Any day, good or bad, is better with a little southern cooking. Jacksonians say Pearl's Southern Cooking serves some of the best in town.
Michael Carter and his wife, Virginia, opened the restaurant in October 2012, and they named it after his mother, Pearl.
The restaurant serves buffet-style southern food with everything from cornbread dressing, greens, and fried chicken to banana pudding and peach cobbler. Customer favorites are the rutabagas, peach cobbler, and of course their famous macaroni and cheese.
The buffet is $9.50, and each meal includes a sweetened or unsweetened tea. The restaurant is open from 10:30 a.m.-2 p.m. Monday-Friday and 10:30 a.m.-3:30 p.m. on Sundays, and it is busiest during the lunch hour.
—Amber Helsel
More stories by this author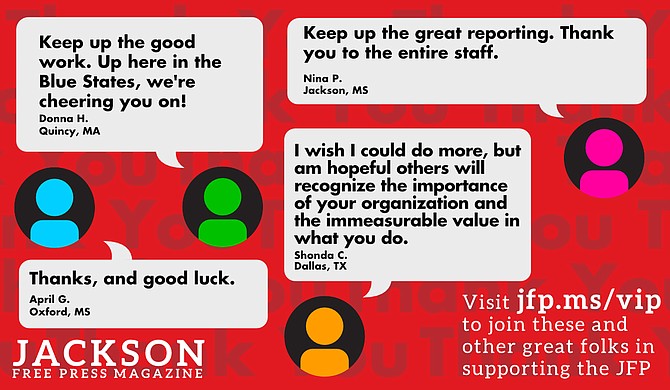 Thanks to all our new JFP VIPs!
COVID-19 has closed down the main sources of the JFP's revenue -- concerts, festivals, fundraisers, restaurants and bars. If everyone reading this article gives $5 or more, we should be able to continue publishing through the crisis. Please pay what you can to keep us reporting and publishing.