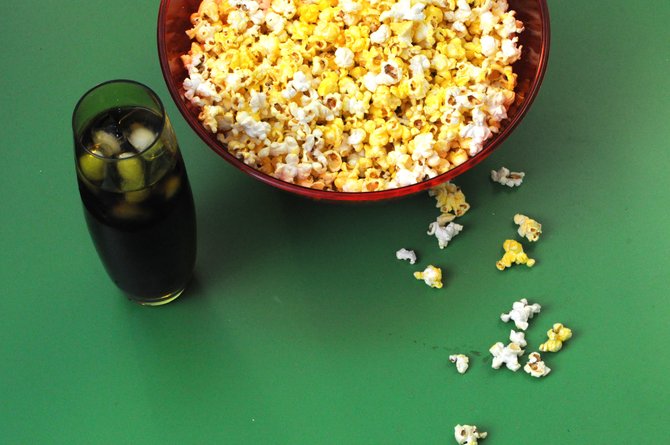 The Nitty Gritty
by Dustin Cardon
The 14th Annual Crossroads Film Festival runs from Thursday, April 11, through Sunday, April 14. The festival features more than 140 films, of which many are made in Mississippi, produced or directed by Mississippians, feature Mississippi actors or have some other Mississippi connection.
An all-events pass gets you into every film and event you want to go to. It's $49 for Crossroads Film Society members, $59 for everyone else. Individual film blocks (generally a related short and a feature, or a group of short films) and workshops are $6 for members, $8 for non-members. A one-day pass for films and workshops are $15 for members and $20 for non-members.
For a complete schedule of events--films, music, workshops, kids' events, receptions and more--and to buy tickets, visit crossroadsfilmfestival.com.
Email your questions to [email protected].
A Mother's Fear
by Nneka Ayozie
In this engaging short film, director Andrew Fairbank explores the flaws in a mother-and-son relationship, which fester after a hit-and-run. While drinking and high off of his mother's Valium pills, Sam hits a girl with his car. After calling 911, he is randomly connected to his mother, Alana, and that's when things get really interesting.
Sam's shifting sense of conscience contrasted with his mother's feelings about the event result in some suspenseful, tense moments. Their relationship makes the viewer think about family values and how much they would put on the line for a family member's safety. The idea of being recorded adds an interesting social commentary, too.
While watching the gritty drama, I felt that Sam's accident was karmic payback for Alana's terrible treatment of 911 callers and her fellow coworkers. This short grabs your interest, and leaves you dying to know the result of Alana's poor decisions.
See "9-1-1" April 12 at 7 p.m. at Malco, on Screen C.
Hope in Mississippi
by Nneka Ayozie
The 18-minute documentary "Delta 180: Changing Lives in the Mississippi Delta" takes a closer look at the at-risk youth in the Delta area. Director Anne Rayner takes a camera into the some of the most challenged areas of Greenville to explain the benefits and needs for the 180 Degrees Program. The after-school program is aimed at reducing of juvenile crime rate, and increasing school performance, social awareness, and responsibility through interactive workshops and mentoring.
Dedicated citizens, known as facilitators, go through weekly training exercises for the program. In Greenville, the two sites of the Delta 180 program are the Ruff House Gym and Ella Darling Achievement system. The documentary defines the schools' kids as survivors, children striving "just to make it through the day and fend for themselves.
Through testimonials from facilitators, juvenile participants and their parents, the documentary communicates the need for the program in the Greenville area. The film made me wonder why the program isn't implemented in more schools around the nation. Delta 180 gives hope for the some of the most poverty-stricken, at-risk regions. I have special family ties to the Mississippi Delta area, so this documentary especially appealed to me, but its an important topic that more people should explore and learn about.
See "Delta 180: Changing Lives in the Mississippi Delta" April 13 at 1:10 p.m. at Malco, on Screen B.
This Boat Isn't Built to Last
by Amber Helsel
Nothing takes you away from your worries and troubles quite like a good boat race, especially if those boats are made of cardboard. "Cardboard Titanics," which director Sam Frazier Jr. taglines as "smart people doing something stupid for no apparent reason," is a short documentary about the "Birmingham Boat Race" in Birmingham, Ala., where a group of highly intelligent, successful and smart people meet every year to construct cardboard boats and race them.
The rules are simple: Use regular cardboard (not cardboard with some kind of wax seal or whatever) and duct tape for only the seams. The boats cannot be covered in duct tape, a la Mythbusters. The top three racers are awarded first, second and third place with statues made out of cardboard and aluminum foil, but the most coveted it seems, is the DFL award (short for Dead Fking Last), which is awarded, rightly, to the last person to finish. They even have a new one called the Lead Boat award (called the Jennifer Coleman award during the ceremony), given to the team with the boat that sinks the fastest with no hope of return. In the film, a woman with seemingly terrible boat ends up in the top four, to the surprise of everyone, including the viewer. A scientist sinks because his cardboard is too heavy.
It is a pointlessly funny film that makes you want to make your own cardboard boat and take off work one day so you can race your friends. The best part of the film, to me, is the Monty Python-esque narration over candidly funny sports photos at the beginning, and the scrolling commentary throughout the film. Definitely pay attention to that.
See "Cardboard Titanics" April 14 at 7:35 at Malco, on Screen C.
Unfamous, Not Forgotten
by Bethany Bridges
My grandmother used to say, "Didn't nothing good come out the south, but Elvis and sweet potato pie."
But grandmother, an avid music fan, might have changed her mind if she watched Camilla Aikin's film, "We Didn't Get Famous."
The film follows several underground punk-rock bands from all over the South--places like Mississippi, North Carolina, Tennessee, Georgia and Alabama. The bands, including Let's Active, the Squalls, Pylon, Windbreakers, the Germans, Carnival Season and dB's, worked fearlessly throughout their careers to be taken seriously as authentic, edgy rock musicians. This film captures the raw emotions of these musicians as they share their testimonies on passion, work ethic, music, style and inspiration. The inward struggle they all seemed to face as southern musicians involved the challenge of removing their music and artistic personas from the likes of certain country-rock musicians, such as Skynyrd.
"We were definitely not the whiskey-drinking, rebel type of crowd," says Tim Lees, front man for Windbreakers. What these bands wanted the most, it seems, was appreciation and credit for being punk/rock artists while keeping their mannerisms and southern upbringing.
"We were just southern kids who grew with politeness and manners," Peter Holsapple of dB's says.
Although they never made it to the Rock and Roll Hall of Fame, they certainly left an impact on the Dirty South, adding more noteworthy names to the South's long list of extraordinary musical talents.
See "We Didn't Get Famous" April 12 at 6:50 p.m. at Malco, on Screen A.
Genres of Romance
by Amber Helsel
Every couple eventually has some kind of movie night, whether it be at a theater or just sitting at home. Most run into the same dilemma: What movie do we want to see? Action or drama? Horror or comedy?
The couple in "Genrevolt," a short film from the minds of filmmakers and comedians Casey Dillard and Glenn Payne (who also play lead characters Shannon and Ben), find themselves in the midst of these movie cliches trying to figure out where they fit together.
Horror? Definitely not, because as Shannon puts it, "Is it really worth seeing somebody naked if it's the last thing you ever see?" When they walk away from the crickety old house, a man in a scary mask wielding a machete jumps out, sighing when no one is there.
Drama is a bit of a doozy due to the tuberculosis Shannon gets and the fact that Ben is unhappy in lace. Action? It is Ben's dream, but Shannon would prefer to not be "the girl." You know. The one that slows the hero down or dies in the beginning. They even find themselves in a low-budget porn film with a pizza delivery guy and a repairman. It is a go for Ben, but Shannon is not interested. Finally, they find themselves in a chick flick, where Shannon is ready to call it quits until they touch hands on a bridge and find themselves in the middle of a camera-turning, music score-playing happy ending.
The film pokes fun at romance, how we perceive it and how we all want our relationships to be like movies. We all want that happy ending.
If you like romance, drama, horror, action and happy endings, you will love 
this film.
See "Genrevolt" April 12 at 8:55 p.m. at Malco, on Screen B.
Family Ties
by Krista Davis
As the short film "As High as the Sky" opens, we see Margaret, or Maggie, meticulously adjusting her decor. Our lead character is a victim of obsessive-compulsive disorder. Thin and pale Maggie seems estranged despite her bright and colorful surroundings.
After consuming breakfast and a cupful of medicine, she gets a call from Aunt Barbara and Aunt Deborah. It goes to voicemail, where an unseen man says, "We are not home, leave a message"--another clue about Maggie.
As the film progresses, we meet Josephine, the nomadic sister, and Hannah, the niece, who make an unexpected visit to Maggie. It's all awkward silence among the three, however. Josephine and Hannah have a very evident bond that appears to bewilder Maggie.
The film unfolds around these three women, plus aunts Barb and Deb, who all became bound together after Maggie's parents' death. Maggie is six weeks single from a three-year relationship with Matthew, the voice on the voicemail. She, Josephine and Hannah can't seem to find common ground--or can they? The secrets of dysfunctional family unfold as Maggie comes to terms with her obsessive behaviors in this film by 
Nikki Braendlin.
See "As High as the Sky" April 14 at 5:25 p.m. at Malco, on Screen C.
Heroes of All Kinds
by Mo Wilson
"I need a Hero" tracks the progress and setbacks in the LGBT community's struggle to be represented in the comic-book world.
Since comics became popular in the '50s, it is not surprising that gay representation would be lacking. So it is both sad and unsurprising to hear that the head of Marvel, Jim Shooter, once said, "There are no gay characters in the Marvel universe."
After a brief look at past failed representation, the film smartly moves right to current comic book artists and writers. In between gay-friendly quotes by superheroes, we hear writers of mainstream comics like "Archie" and "Green Lantern" talk about the struggle they faced introducing gay characters and storylines. Independent authors are represented largely through Prism, a nonprofit that supports queer comics.
Those looking for authors to support can find a wide variety of gay-themed comics from which they can choose. I thoroughly enjoyed the brief glimpse of "The Wuvable Oaf," a comic with art featuring a huge hairy man surrounded by cute cats and pink lettering. The comic, by Ed Luce, follows a quest for "luv" in an alternative music world. The lesbian witch comic "Charm School" by Elizabeth Watson also caught my eye.
I would like to see more comics featuring gay people of color, gay women, and transgender people, rather than featuring one woman of color and interviewing a gay guy about trans comic-book writers. The film gets points off for including a comic with the offensive slur "tranny" to describe a trans character. Still, ultimately ending on somewhat of a triumphant note, the film casts much-needed light onto a less-well-known section of comics.
See "I Need a Hero" April 14 at 3:20 p.m. at Malco, on screen B.
The Toughest League
by Tyler Cleveland
The Mississippi junior-college football system is unlike any other in the United States-- more competitive, impassioned and with higher stakes than any other state. That's the premise of Director Cotton Yancey's homage to Mississippi juco football "Mississippi JUCOs, The Toughest Football League in America."
Locally produced by Jackson entertainment attorney X.M. Frascogna Jr., the documentary attempts to capture the passion of football-crazy fans and players that make Mississippi's 14-team junior college league the most competitive in America while putting the organization in its proper historical context.
This viewer would have liked more of the history. Segments covering some of the state's most colorful characters such as East Mississippi's Bob "Bull" Sullivan (who could have been the subject of the whole movie) and Pearl River Community College's Thomas "Dobie" Holden, as well as traditions like Itawamba Community College's old stadium, known as "The Wall," help connect the past to the present.
Arguably the most interesting segment in the movie comes early on, when we learn the story of how the junior colleges formed and the importance football played in gaining popularity for the schools. It left me wanting more.
What the film lacks in historical context, it makes up for in imagery. Yancey captures the passion and pageantry of the games, and the highlight-reel collisions speak to the violence critics refer to as "renegade football."
Filmed in 2011, the director chose the games well. The pre-game speeches from coaches in locker rooms and in-game commentary with real-time game film gives viewers that "Friday Night Lights" feel. Devotees of Mississippi junior college football will love it.
See "Mississippi JUCOs" April 14 at 3 p.m. at Malco, on Screen A.
A Mobile City
by Mo Wilson
I walk to work every day during business hours, and I've only seen about 10 people walking with me. Mostly, everyone else on the sidewalk is just heading for the hospital parking lot to their cars.
The roads of Jackson are getting really rough to drive on, and everyone knows it. Yet people aren't walking, bikers are scarce and the JATRAN is a joke. What are we going to do to get around here? This is a question the documentary "Jackson Mobile," created by George Jordan, Cody Millican and Taylor Coleman, tries to answer. As a short documentary about the need for public transport in Jackson, this movie is necessary but ultimately uninspiring.
The film tries to keep it interesting, with shots of the Lakeland Drive construction effectively underlining the topic's importance for any Jacksonian. But too-frequent statistics and sped-up graphics of cars driving and crosswalk lights blinking manages to bore the viewer despite how interested he or she might be in the topic.
The film tackles its subject well, interviewing many different types of people who have different stakes in the Jackson transportation system. We meet Anna Richardson, who has never owned a car and rides her bike; Matthew Moore, who has been riding the bus for 15 years; and Matt Holloman, a city planner trying to get Jackson a train system. Richardson's charm is easily the high point of the movie. I wanted her to narrate the whole thing.
This last man is where the movie's heart really lies. After systematically blowing through each of the current options the interviewees present, the train seems to be the only answer. The movie ends with a call for Jackson to adopt the light-rail system idea.
Let's hope someone hears it.
See "Jackson Mobile" April 13 at 11 a.m. at Malco, on Screen B.
Sparks and Conflict
by Nneka Ayozie
A mother's willingness to do anything for her child is the unexpected center of this dramatic story of a wedding photographer and his unintended subject. While walking in the downtown area taking candid shots, Mark becomes fascinated with a homeless woman named Ashley. Though startled by his advances, Ashley and Mark strike up a conversation. Filled with compassion at her story, Mark offers her his home for the night.
At Mark's apartment, Ashley makes herself comfortable--perhaps too comfortable. Sparks and conflict both fly before the sun comes up on the two. The final scene, which introduces some key new characters, is left unexplained to the audience.
This short, by New Orleans director Andrew Bryan, left me with many unanswered questions. I left feeling quite agitated at the lack of closure and conflicted, because I sympathized with Ashley while also finding her behavior strange. Maybe that was the point.
See "Out of True" April 12 at 8:55 p.m. at Malco, on Screen B.
Through the Looking Glass
by Amber Helsel
The film "Mirror," directed by animation artist Q, is about two cats who switch lives only to realize that one is not better than the other. One cat lives in a poor family with three young siblings and a mean mother who slaps him when he does not give her enough fish. Every time he tries to eat one, his siblings take it away from him. The other cat is a successful businessman who lives in a mansion and has plenty to eat but wishes for a family.
One day the two cats find their bathroom doors glowing green. Curious (as anyone would be), they walk inside to find themselves facing each other in the mirror. They pull a Freaky Friday and switch bodies and start living each other's lives until they are fed up and tired of the loneliness or the crowdedness that comes with each life.
A simple synopsis is not enough to describe the complexity of this short film. The animation is very dark, with bright blood spatters seen when the mother smacks each "son" for not bring home enough fish. Both cats are empathetic figures. The big family cat reminding you how big families mean brothers and sisters can get in your way. The business cat makes you feel his loneliness, with only his food and help for company at the top of his industry.
The darkness of the short is only amplified by the lack of dialogue--you hear only sound effects: the sounds of walking, the smacking sound of a slap, the characters' sighs.
It is a bittersweet take on the notion of happiness and the grass being greener on the other side. If you want to watch this film because it has cute little cats, you will not like it. They are not cute, but they are not meant to be, and that is the beauty of this short film.
See "Mirror" April 14 at 7:35 p.m. at Malco, on Screen C.
Passion for Food
by Amber Helsel
"Pride and Joy" featured three of my favorite things: food, the South and Ole Miss. When I was in college, I attended speeches by John T. Edge and the like at Thacker Mountain Radio some Thursday afternoons, so I was slightly familiar with the Southern Foodways Alliance and their work. The organization's purpose, as it states, is to document, study and celebrate the food culture and how it's changing in the South--and as we all know, food plays a huge role around here.
The film, directed by Joe York and produced by John T. Edge, was shot all around the South from Texas to Virginia, and features people who work at the heart and soul of Southern food. It opens with Dori Sanders, of Sanders Peach Farm and Roadside Market in South Carolina, talking about how customers will leave her with a recipe or a story. In her eyes, food is used to tell a story.
The film also features an oyster shucker from New Orleans who found his passion when he snuck to the back of the restaurant and secretly shucked his first oyster, a paddlefish caviar fisherman who says that he would never eat caviar himself, and many others who live and breathe Southern food.
My personal favorite part of the film has to be when cattle farmer Will Harris of White Oak Pastures in Georgia (whose organic beef is sold in Whole Foods stores) says that he wakes up every morning and watches the sunrise while drinking coffee in the middle of the pasture, and he ends the day with a bottle of wine while watching the sunset in the same spot. He said that he hates missing either ritual--clearly, he has a lot of passion for his job.
"Pride and Joy" paints an incredible picture of the food and culture around the South and the people who live it.
See "Pride and Joy" April 13 at 5:20 p.m. at Malco, on Screen B.
Lesson Learned
by Trip Burns
"Leccion Debida," or "Deserved Lessons" in English, is a moody, disjointed movie with a nightmarish pace. The viewer is subjected to strange noises and stranger images.
Picture an older man, watching guard over a room. People come in and speak about having their hands tied. Two of these people are Luz and Alejandro, our protagonists. Luz is unaware of Alejandro's intentions. They are preparing for something, but what? This is all apart of the mystery.
While watching this film by director Ivan Ruiz, the viewer tries to "keep up" with the story but it keeps one unfolding one moment at a time. Part of the pleasure of watching this film is precisely how the story gets told. Even the artwork and the promotional material don't reveal much.
As the story unfolds, images that were flashed onto the screen at the beginning of the story begin to make sense by the end of the picture. This is a Spanish film, so the culture and society of Spain add to the mystery.
The images are shot with delicate precision--sharp focus, foreground and background juxtapositions--and they are complemented by an atmospheric synth soundtrack. Together they lead the viewer into a world that is unfamiliar, threatening, maybe even dangerous.
See "Leccion Debida" April 12 at 9 p.m. at Malco, on Screen C.
The Ice Lady's Heart
by Nneka Ayozie
In Virginia Crawford's "Lucy," rigid and tightly wound designer Jennifer drops coffee on her designs after being startled by noises coming from the apartment above. She is late for work.
Jennifer's bad day gets worse as it progresses, until she finally decides to pay her noisy upstairs neighbor an unexpected visit.
To Jennifer's surprise, Lucy--a young woman with special needs--answers the door and welcomes Jennifer to her 21st birthday party.
Elated that Jennifer showed up at her door, Lucy bombards Jennifer with praises and party favors. Jennifer realizes that Lucy is alone and decides to stay with her to celebrate her birthday, neglecting her career-changing deadline.
This touching story of personal interactions between perfect strangers and its effects on an individual's perspective on life humbled me. Lucy exuding warmth and compassion melted Jennifer's ice lady persona. I finished the film feeling happy, reassured that there was still good in the world. This short film is a real feel-good flick.
See "Lucy" April 14 at 1 p.m. at Malco, on Screen B.
Fight for Freedom
by Trip Burns
"Life has its hazards," Joan Trumpauer Mulholland says in telling the story of participating in the Freedom Rides of the early '60s. She's the subject of Loki Mulholland's documentary "An Ordinary Hero."
Joan Trumpauer survived the Civil Rights Movement by participating (starting at age 19) in sit-ins, demonstrations and the Freedom Rides of 1961. She had salt poured on her, fingers pointed at her and words shouted at her, but she remained a peaceful person. She was there when Martin Luther King Jr. spoke in Washington and uttered that he had a dream to thousands of people. It was an unprepared remark, as she recalls.
It's a story told through Jane's words and memories--not to mention clarity--of a time that was violent at many times and always filled with high tension. Some situations, such as when the Freedom Rides rode through Ku Klux Klan-infested towns (with roaming, predatory lynch mobs), were particularly striking.
Other voices are included in the telling of Trumpauer's story such as the contemporaries she sat with at the drugstore counters during desegregation.
Trumpauer says there's an "extra responsibility" to surviving the violent situations she witnessed. She, too, was someone that was in danger--people wanted to murder her. She visits the grave of Medgar Evers in Arlington National Cemetary. She speaks of the civil rights era while holding up pieces of glass that shattered when a bomb set off and killed four little girls. She lived through those times while Medgar did not.
Because she lived though it, we are able to learn her story--ultimately one that should resonate with us.
See "An Ordinary Hero" April 12 at 6:45 p.m. at Malco, on Screen B.
The Killer Wedding
by Nneka Ayozie
A groom's life drastically changes in the days leading to his nuptials in "Shotgun Wedding," a quirky comedy that kicks off with a bachelor party gone wrong. When Robert, the groom-to-be, accidentally shoots the maid-of-honor at his bachelor party, he risks postponing the wedding. Concerned about her safety, he calls on his mother, who works as a nurse.
Unfortunately, for Robert, Mommy Dearest's only desire is to see her son cross the threshold of marriage at any cost. In "Shotgun Wedding," the mother of the groom plots to pull off the wedding, even if it means rekindling her romance with her ex- husband, taking the maid-of-honor hostage and killing off a cameraman or two. While his mother continues her mischievous antics, Robert, aided by his best man Ted, stumbles into compromising situations that test his morals and his loyalty to his beloved Rosemary. In this comedy by the writers of Madatoms.com, the wedding party really puts the "shotgun" back into the shotgun wedding.
The film's wedding documentary style fits well with the plot and makes the feature feel less like a low-budget film and more like an old home video. The slapstick humor of the mother-of-the-groom's crazed acts is reminiscent of scenes from Todd Phillips' "The Hangover" and "Project X" (albeit in a much more macabre manner).
See "Shotgun Wedding" April 13 at 3:20 p.m. at Malco, on Screen B.
'Sound' Studio Secrets
by Mo Wilson
"Sound City" is a documentary produced and directed by Foo Fighters frontman and Nirvana drummer David Grohl about the studio where Nirvana recorded its breakthrough album "Nevermind." I went into this movie thinking that it was going to be a VH1 "Behind the Music" special, and in some ways it was. Those watching because of Grohl will have plenty to watch, but he largely steps out of the way and lets the movie focus on the incredible history of legendary recording studio Sound City.
Inside the brown shag-carpeted walls of this studio, bands recorded an amazing array of hit records. Artists like Neil Young, Fleetwood Mac, Cheap Trick, Pat Benatar and Metallica are just a tenth of the names mentioned in a rapid-fire blitz of past studio inhabitants. The studio's secret is tape-based recording technology and a killer Neve soundboard.
Once digital recording technology entered the picture, Sound City couldn't keep up with the times and was forced to close. When he heard the news, Grohl bought Sound City's famed Neve board and took it to his own studio. In the last third of the movie, he sets up jam sessions for artist such as Stevie Nicks and Rick Springfield to honor the studio's legacy and to prove that old styles of recording have something that the computerized versions don't: a human soul.
Expect frequent trashing of digital technology's limits. While talks about the benefits of past recording methods sometimes veer into trite "back in my day" territory, it's hard to argue with Sound City's impressive run, as well as the spur-of-the-moment jams between Paul McCartney and the remaining members of Nirvana.
Any fan of rock 'n' roll or Dave Grohl will be pleased.
See "Sound City" April 12 at 6:50 p.m. at Malco, on Screen A.
More like this story
More stories by this author