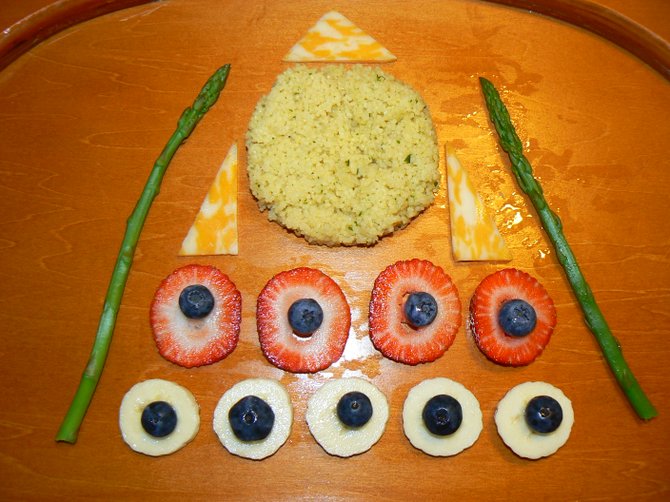 It is 11 p.m. The homework is finally done, and the kids are bathed and fast asleep. With any luck the backpacks are packed and by the front door. Maybe the kids even picked out their school clothes for tomorrow. But now you only have 6.5 hours left to wash the rest of the dinner dishes, put a load of laundry in the dryer, have three leisurely sips of wine, answer a few emails, pack school lunches, iron your work clothes for tomorrow, and get eight hours of sleep before the alarm goes off. And it would be oh-so-easy to throw together a lunch of frozen white bread PB&Js, chips, Kool-Aid, and some prepackaged chocolate chip cookies, especially after a hot summer of easy, delicious high-fructose corn syrup-sicles.
But now that school is back in session, it is more important than ever to feed your children nutritionally dense foods to nourish their learning brains and growing bodies. Yes, it takes more time and effort to cut up fresh fruits and vegetables, and it might take a little adjustment to get the family used to shopping for whole wheat bread. But it is worth the time and effort. All you need is a plan to give a little extra nutritional boost to that Spiderman lunch box in the school cafeteria or the after school snack on her favorite princess plate.
To change gears to healthier after school grazing, pack up the junk food out of sight. Fill the bottom of the cabinets and the bottom shelves of the fridge with easy self-serve options within arm's reach. In the cabinet, consider such good-for-you goodies as unsweetened fruit cups, whole grain crackers, natural peanut butter, whole grain cereals, organic fruit leather, and homemade trail mix with the healthy ingredients of your choice.
Make sure the fridge is stocked with fruits and vegetables that are already washed and ready to eat. Greek yogurts, tubs of hummus, pitchers of water, and unsweetened herbal tea are some excellent items to have within reach. Consider using a muffin tin as a ready-made snack tray. Fill the holes with healthy munchies in a variety of colors, textures, and food groups. Grapes (sliced for kids under age 4), cheese cubes, edamame, blueberries, baby carrots, kidney beans, whole grain pretzel sticks, mandarin oranges, lady peas, and melon cubes are just a few ideas to get you started.
Keep the junk food out of reach, save the trips to the local bakery for special occasions, and keep putting nutritious food in front of your kids. Better yet, get the kids involved in selecting and preparing new and exciting fruits and vegetables and packing their own healthy lunches. Before you know it, your healthy back-to-school menu makeover will be complete!
No-Haggle Healthy Snacks
homemade 100% juice popsicles
celery sticks with cream cheese, craisins, and pine nuts
veggie chips with hummus
homemade whole-grain banana bread muffins
rice cakes with almond butter
whole grain tortilla chips with salsa
homemade granola bars with oats, nuts, seeds and dried fruit
A Week of Healthy Kid Dinners
Sunday - sweet potato pancakes, scrambled eggs, baked cinnamon apples
Monday - peanut butter and banana roll-ups in whole grain tortillas, sugar snap peas
Tuesday - homemade vegetable soup, grilled apple and cheese sandwiches
Wednesday - shredded carrot and cheese quesadillas, layered bean dip with tortilla chips
Thursday - pasta with avocado pesto and grape tomatoes, strawberry and blueberry kabobs
Friday - black bean burgers with sweet potato fries, watermelon slices
Saturday - pasta salad with vegetables and beans, homemade tropical fruit cups
More like this story
More stories by this author
Like independent media outlets around the world, the Jackson Free Press works hard to produce important content on a limited budget. We'd love your help! Become a JFP VIP member today and/or donate to our journalism fund. Thanks for considering a JFP VIP membership or one-time support.