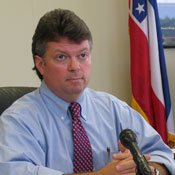 What if nobody stood between you—a law-abiding citizen of the state of Mississippi—and everyone else who would do you harm? What if a governor pardoned violent criminals, and no one was there to try and stop it? What if giant, money-hungry corporations stole your hard-earned paycheck, and not one person made them give it back? What if a company defrauded a state agency out of hundreds of millions of dollars, and the state agency did nothing about it?
If House Bill 211 and Senate Bill 2084 become law, that's exactly what may happen. The more than 200 men and women of the state attorney general's office—who now help shield residents from these misguided acts and wrongdoers—will be unable to properly protect them. That's why every effort must be made to put down any shortsighted attempt to strip the people of a constitutionally empowered attorney general and replace him with handpicked lawyers doing the bidding of a few politically minded individuals. It's a recipe for disaster, legally and ethically, and will cost taxpayers millions of extra dollars each year.
The efforts by some legislators to virtually eliminate the mandated authority of a duly elected officeholder that you—the voter—saw fit to elect is bad in itself. But to create a situation whereby Mississippi could end up with a host of different lawyers with competing interests representing our citizens in state legal matters is government chaos in the making. And Mississippians will be the losers.
These legislators should read the state constitution, which says there shall be an attorney general, not several. The drafters of our constitution knew that the state should only speak with one voice in a court of law.
The proposed legislation would allow multiple state agencies—from the Board of Massage Therapy to the Division of Medicaid—to initiate, defend and control lawsuits without central oversight from the attorney general. The taxpayers will bear the cost of this fractured, counter-productive system without one benefit to the citizens of Mississippi.
Think about it: If this were already law, the state would have received $3.5 million from the MCI WorldCom lawsuit; the State Tax Commission would have settled the case. But because the attorney general's office had the authority and good sense to pursue the case, we collected more than $100 million. That's just one example of what could happen if this misguided effort succeeds. Here's another: The state would not have a health-care trust fund or a $4-billion tobacco settlement, because the governor and the Division of Medicaid would have over-ridden the AG's efforts to secure that money for our state.
The current system works well. Over the past seven years, the attorney general's office has recovered more than $500 million for taxpayers from wrongdoers, and it did not cost the taxpayers one dime. The law already allows agencies to take action on their own if the attorney general's office declines or opposes them. But state law is clear: Mississippi speaks with one voice in the courtroom, and it comes through your attorney general.
Voters elect an attorney general every four years to represent their interests in matters of law. To circumvent this system is to open the door to every kind of corporate wrongdoer, eliminating our ability to punish them and to recover money taken from you. The office of attorney general is your shield, your designated hitter when it comes to representing you in court. It's as old as our constitution of 1890. There is not one valid reason to change it.
I urge you to contact your representatives and senators and let them know that HB 211 and SB 2084 are bad for Mississippi. Call them at 601-359-3770. Find additional information at http://www.agjimhood.com.
Jim Hood is the attorney general of the state of Mississippi.
More stories by this author
Support our reporting -- Follow the MFP.