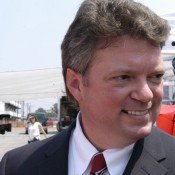 With the holiday shopping season upon us, Attorney General Jim Hood is warning Mississippians to beware of unscrupulous people selling counterfeit or pirated goods, either in person or online. Many times, they sell these items on websites that look legitimate, accepting credit cards and decorating their site with corporate advertisements; however, the "amazing" deals may not be legitimate. These scam artists often set up temporary retail shops as well, where they are poised to defraud consumers with the same inferior goods.
Counterfeiters and pirates with basic web design skills can set up online storefronts that look as authentic as those operated by legitimate enterprises. Simple coding, and even cutting and pasting, allows them to display on their websites corporate advertisements, government logos, seemingly secured forms of payment, and fraudulent documentation to fake their authenticity. These websites are highly deceptive to consumers, who believe they are buying legitimate goods. When consumers' online purchases facilitate identity theft and the spread of spyware and malware, and when the goods purchased are bogus pharmaceuticals, medical devices, or otherwise dangerous products, the harm from the deception is compounded in troubling ways.
"The internet has become the crime scene of our generation," said Attorney General Jim Hood. "In addition to shady shop owners that are prepared to scam you in person, the phenomenon of online piracy is increasing every day. Consumers must remember to be just as diligent online as they are in person."
Below are tips on how to avoid becoming a victim or piracy or counterfeit goods:
Remember, if it sounds too good to be true, it probably is. Use common sense. If you think something is fishy with a website, it very well may be an illegitimate company. You should be suspicious if you find a pair of jeans that normally retail for $300, for only $50 online. Look out for sites with poor quality photos, spelling mistakes and lack of terms. If you are purchasing items from an auction site, see how many identical products they have available. For example, if they have too many of an expensive custom-made handbag, the handbags are probably fake. Avoid websites offering unlimited downloads of music or movies, or offering mixed versions of songs. For in-person transactions, trust your gut if the store's location or policies are unusual.
Look for Secure Websites. Shop from online sites that display https:// rather than http:// in the address bar. Also look for a padlock image at the bottom of the browser. These indicate the website is secure, and has a safe encrypted connection. Sites that do not have secure connections are not storing consumer data in a secure manner.
Authorized Retail Sites. Many companies have lists on their websites or product packaging of sites where you can buy their goods. These are sites that are considered authorized online retail stores, and you are guaranteed to purchase a legitimate product. If you are uncertain whether a site is selling genuine products, ask the retailer where they got the goods and for other verifiable information.
Product Shipping. Unfortunately, many illegitimate goods may look genuine, and unless you are a professional working at the company in question, you may not be able to tell the difference. However, look for the small details. Are the "use by" dates missing or expired? Are the safety seals broken or missing? Did it come with the appropriate warranty information? Is there anything unusual about the packaging?
Prescriptions. Be extra careful when ordering prescription drugs online or from an unauthorized dealer. Instead, buy such drugs only from a reputable pharmacy. If you purchase medicine from a website you haven't used before, compare the new drugs to your current ones. Do they match up in size, shape, color and taste? Are you experiencing any new side effects after taking a dosage? You may also contact your pharmacist or the manufacturer to determine if the new vendor is a legitimate company. Remember, all online pharmacies located in the United States must be licensed by the state board of pharmacy where the online vendor is located. To check and see if your pharmacy is licensed go to http://www.mbp.state.ms.us/mbop/pharmacy.nsf.
For more information on Mississippi's efforts to combat intellectual property theft crimes, please visit the Attorney General's Mississippi Intellectual Property Crimes Center (MIPCC) website, http://mipcc.ago.state.ms.us . You will also find a link via the Attorney General's website, http://www.agjimhood.com. The MIPCC offers tips to help consumers recognize and alert authorities to bogus brand names.
Previous Comments
ID

165472

Comment

AG Warns of Bogus Calls using "Magic Jack" November 28, 2011 Contact: Jan Schaefer Public Information Officer 601-359-2002 [email protected] Jackson, MS—Attorney General Jim Hood is warning consumers today of a scam that appears to be surfacing in Mississippi. The scam being recently reported to the Attorney General's office is a combination of the long-existing "emergency" and "phone spoofing" scams. In the emergency scam, the caller leads you to believe that there is some existing emergency that requires you to immediately wire money to handle (i.e., friend travelling overseas has been arrested or warrant out for your arrest requiring immediate payment to clear). Phone spoofing disguises the number from which you are actually receiving a phone call. "The most recent case reported to us was from a Madison couple trying to verify information, "said Attorney General Hood. "The caller used a 407 area code and claimed to be an 'Officer Jack' from Orlando, Florida. He told the female there was a warrant out for her arrest and she would be picked up the next day if she did not pay to settle the charge. She and her husband were smart to verify before panicking." As it turned out in the Madison case, there was no warrant and the phone number taken from the couple's caller ID was registered to Ymax Communication, also known as Magic Jack, a legitimate internet based phone business. The con-artist was using Magic Jack to conceal the fact that he was actually calling from India. When contacted by the Mississippi Attorney General's Office, Magic Jack officials immediately responded to requests for more information, helped verify the scam, disconnected the phone number and marked it with fraudulent behavior in the company's system. "The bad guys like to use legitimate businesses to perpetrate their crimes," said Attorney General Hood. "Your best defense is to keep your guard up and verify all information before panicking and wiring money, most of which ends up overseas and virtually impossible to get back." More specific tips recommended by the Attorney General: · If someone mentions there is a warrant out for your arrest, verify by contacting your local law enforcement agency or the alleged law enforcement agency to confirm. · Do not depend on caller ID to confirm the caller's information. · Know that law enforcement agencies do not accept wired money, only cash and bonds. Never wire money to anyone who is alleging arrest, warrants or the like. Other scam warnings and tips can be found at www.agjimhood.com.

Author

DonnaLadd

Date

2011-11-28T12:42:50-06:00
More stories by this author
Support our reporting -- Follow the MFP.