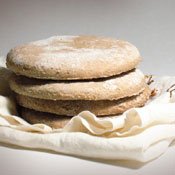 In the story "Anna Franklin's Teacakes" (Vol. 10, No. 38), author Casey Purvis mistakenly identified Mrs. Franklin as a resident of Polkville, according to her granddaughter Debi Miller. She lived in Cooperville. The story indicated that Mrs. Franklin used Crisco in her cooking, when she typically used lard. The Jackson Free Press apologizes for the errors.
Although our author included her family's adapted version of Mrs. Franklin's teacakes recipe using organic ingredients and self-rising flour, Anna Franklin's family generously shared her original recipe for publication.
1 cup sugar  
1/2 cup lard
2 eggs
vanilla to taste
2-1/3 cups all-purpose flour
2  teaspoons baking powder
1 teaspoon salt (level)
Cream sugar and lard, add vanilla, add eggs one at a time and beat well. Sift flour measuring out the 2-1/3 cups, then add one cup at a time to baking powder and level teaspoon of salt, stirring well. Enclose in plastic wrap and refrigerate overnight. (Hopefully the grandkids don't eat all the dough by morning.)  
The next day, roll out very thin on floured counter, sprinkle with sugar and bake at 375 degrees until light brown.
For more mouth-watering treats and tasty eats, chow down over at our Food Blog and the JFP Bite Club Facebook page, and follow the aroma on Twitter. Be sure to bring your appetite!
More stories by this author
Support our reporting -- Follow the MFP.