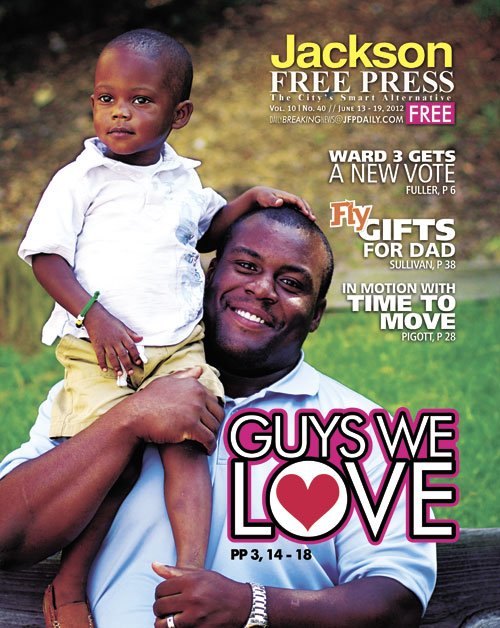 Every year at this time, people reflect on their dads, their granddads, their uncles—all the men in their lives. We at the JFP want to shine a spotlight on a few men who make Jackson a little cleaner, brighter, smarter or a little more delicious. Some of them are dads, some aren't. But they all inspire, teach and share their talents with our community, raising Jackson up to achieve its potential.
Horace McMillan
by Sara Sacks
Courtesy Horace McMillan
Horace McMillan is an enthusiastic parent, mattress salesman and pastor. Originally from Omaha, Neb., McMillan moved from Illinois to Jackson in July 2005 to be a pastor at Open Doors Church, but he found himself wondering how he could get more involved in the Casey Elementary school system.
"We loved the art integration at Casey, and we thought it was a really special place," says 44-year-old McMillan, who has been a Casey parent for seven years. "I just wanted to be more involved and see if there was a way that I could help out."
McMillan found a way. He became Parent Teacher Association president and served as the vice president of fundraising for two years. Last year, McMillan helped the school raise more than $20,000 to purchase interactive white boards for the fourth- and fifth-grade classrooms. Providing students with helpful technology is a big part of McMillan's agenda as PTA president, but he also finds value in art. "Some things that people think are superfluous––like music, art, drama, sports––those are all an important part of a well-rounded education," he says.
McMillan hopes that despite budget cuts, these aspects of learning will flourish. "There are some kids that learn better through other mediums," McMillan says. "When kids look forward to going to school they try harder, and they work harder. School should be something that is enjoyable and fun."
Improving Jackson education programs takes a village, McMillan says. "I think people really have a sense of purpose here," he says. "The difference between good schools and great schools is in terms of having community involvement."
Last year's raffle fundraiser for Casey's 50th anniversary exemplifies his point. "One thing that's really beautiful is that the parents who won the $1,000 prize ended up donating it back to the school," he says with pride.
This fall Casey Elementary will hold another raffle for its 51st anniversary in hopes of supplying the remaining classrooms with interactive technology.
Cucho Gonzalez
by Jacob Fuller
Virginia Schreiber
Cucho Gonzalez grew up in Rio Piedras, a district of San Juan, Puerto Rico. The oldest of five brothers, Gonzalez started playing drums when he was 8 years old. In the Gonzalez family, musical ability was expected.
"There were eight (children) in my grandmother's family," Gonzalez, now 51, says. "They all played sports, and they all did an instrument."
The love of music was passed down to Gonzalez and his four brothers.
"When we were growing up, we had a band. We were like the Puerto Rican Osmonds," Gonzalez says. "We played in Puerto Rico on national TV back when we were kids. Some of (my brothers) were in grade school, and I (was in) junior high or high school."
Gonzalez and his brothers also found a love of sports. After high school, Gonzalez attended Penn State. Three of his brothers soon followed and competed on the university's gymnastics team. After college, Gonzalez joined two of them in coaching gymnastics, which he did for 17 years across four states.
Now living in Brandon, Gonzalez plays percussion and drums for several bands around Jackson, including Meet the Press, Break of Dawn and Dreamer.
"I found out when I moved to Mississippi, drummers were a dime a dozen—very good drummers," Gonzalez says. But percussionists with skills beyond a drum set––musicians familiar with bongos, cowbell, timbales and more––are less common.
"They found out that I played percussion and were like, 'Oh, we can use you.'"
Now he plays percussion in two bands: Latinismo, a multi-piece Latin band, and Los Papis, a band that plays popular American music with a Latin flavor. Gonzalez says music, just like Latin food, is best with a lot of spices added. His percussion, he said, is the spice.
"Take a song like 'Mustang Sally.' Every musician hates to play it, but everybody wants to hear it," Gonzalez says. "You add a little bit of cowbell and other types of percussion, and people are like, 'Oh, this is different.'"
David Denney
by Darnell Jackson
Courtesy David Denney
David Denney's mission is to dismantle the school-to-prison pipeline. As the youth advocacy coordinator of the American Civil Liberties Union of Mississippi, Denney travels the state aiding students at disciplinary hearings, working to give them a chance at a fair outcome.
The 31-year-old San Diego, Calif., native and University of California, Berkeley graduate is clearly passionate about his past two-plus years advocating for minors throughout Mississippi. "I am an advocate for smart discipline, not harsh discipline," Denney says. "Through overreliance, overuse and the abuse of zero-tolerance policies, schools are pushing youth into the criminal-justice system."
Denney also organizes programs such as the Mississippi Youth Justice Movement that hosts "Know Your Rights" workshops across the state to inform kids and parents about their constitutional rights and various other social-justice issues.
The organizer enjoys working with young people directly and at events, such as the annual Mississippi Youth Hip Hop Summit and concurrent Parent/Advocate Conference or quarterly youth-leadership meetings.
"There is a chance to help youth become leaders and make change to better themselves and the community," he says. "No matter what background a person may come from, education is the great equalizer in society."
Denney also works with the Center for Violence Prevention in Pearl, where he is a facilitator for the Batterer's Intervention Program. He teaches a court-ordered diversion program for first-time domestic-violence abusers in Clinton.
The classes, Denney says, are meant to give those convicted of domestic violence an opportunity to learn from their mistakes and to "change their behavior, treatment and views toward women."
This year's Hip Hop Summit is July 21 and 22 at Millsaps College. The event is free and open to anyone aged 10 to 18. For more information, find the event on Facebook. For more information on the ACLU, visit aclu-ms.org. For more information on the Center for Violence Prevention and the Batterer's Intervention Program, visit http://www.mscvp.org or call 601-932-4198.
Darryl Dampeer
by Sara Sacks
Virginia Schreiber
Darryl Dampeer recalls growing up in north Jackson struggling to choose the right path. At age 15, Dampeer found solace and contentment in the restaurant business. The 52-year-old has worked in the restaurant industry for the larger portion of his life, 14 years as an employee at Hal and Mal's.
There, Dampeer is "The Big Room Man." The Big Room is just that—big—with a large stage and well-used tables and chairs silently awaiting their next guests. If you've ever wondered who did all the setup for a show, it was probably Dampeer. In The Big Room, he is in his element—and always with a smile.
"I been around the block two to three times," Dampeer says, laughing, "If they have me around, things go a lot smoother. I basically know how to do everything."
Dampeer has lived in Jackson his entire life. Though he has visited cities like New Orleans and Detroit, he has never wanted to leave Jackson. He finds that living in Jackson is an easy life.
"Jackson is a good life. You know?" He asks, leaning forward in the heavy iron chair. "It's a slow life. It ain't like a big city, but it's good to me."
And Jackson is glad to have him. Dampeer is a lively spirit around the restaurant. He also coordinates events with Millsaps College and various other organizations, including the JFP's annual Chick Ball—which he has assisted with now for eight years.
Meeting people is his favorite part about his job, and busing tables isn't so bad, either.
"I clean up the mess, but I call that job security," he says with a laugh. "As long as they make a mess, I got a job!
Curtis Coats
by Allie Jordan
Virginia Schreiber
Dr. Curtis Coats, professor of communication studies at Millsaps College, urges his students to think about how media influences the ways we think about ourselves, others, gender, race and sexuality: "We all engage in media and don't really think about what its effects are, what its influences are, how it's produced, or why it's produced."
This past May, 39-year-old Coats taught a class on media and tourism while traveling through various cities in Mexico's Yucatan Peninsula, which I attended. "People don't think about studying tourism much at all, really," he says. "It's something we do for recreation, but I wanted to introduce students to a more critical perspective about what tourism is, what it does and what its potentials are."
Millsaps College operates a satellite school in the Yucatan and has worked to expand its study abroad program in Mexico over the past several years. Many disciplines, from anthropology to business to English, take advantage of the chance to hold classes there. The possibility of teaching a class in Mexico is one of the reasons Coats decided to begin his professorial career at Millsaps three years ago. "Mexico is a great place to experience a different culture and to think about media and tourism critically," he says.
Coats graduated from the University of Arkansas with a bachelor's degree in print journalism; but after a short career in the journalism field, he decided to pursue higher degrees that would allow him to teach. After receiving a master's degree in journalism and then soon after, a doctorate in communication with a specialization in media and religion, at the University of Colorado-Boulder, Curtis, and his wife, Heather, moved to Jackson. When Coats isn't teaching, he likes to ride bikes on the Natchez Trace, roast coffee, travel or hang out with his dog, Ceadie.
Yoseph Ali
by Piko Ewoodzie
Piko Ewoodzie
When Yoseph Ali talks about his new restaurant, Abeba, he gets giddy. A moment after mentioning it, he pulls out his phone to show me a picture, like a proud father showing off his newborn.
"It's my heart," he says. "Look at that thing ... I'm telling you. ..." He trails off, at a loss for words. "I mean, this is the food I grew up eating. I love it. I love it."
Ali got into the restaurant business in 2004, during his last year in graduate school at Jackson State. Abeba, which might be the first Ethiopian restaurant in Mississippi, is not exactly thriving––at least not in comparison to Aladdin Mediterranean Grill, Ali's first restaurant, which he co-owns with Ahmed Kayed and Dr. Khalid Mukhtar.
He's not terribly worried, though, because he's done all this before. He's beaten the odds––that 60 percent of all new restaurants fail within their first year. He's gone through the difficult task of introducing the city of Jackson to a new style of food.
In fact, he's convinced that Abeba is going to be more successful because the stakes are much higher. With Abeba, it is about changing the perception of his home country. "What they know about Ethiopia is what they saw on TV: starving kids with big bellies, and flies everywhere," he says.
He's excited to take up the challenge, the "beautiful challenge," he calls it, of showing people the flavors of his home country.
"I grew up in a poor country where we use anything––lentils or chick peas––to make five or six kinds of dishes out of one thing, you know what I mean, with different flavors," he says.
That's what he wants to add to the restaurant world in Jackson.
Michael Potts
by Christianna Jackson
Virginia Schreiber
For Michael Potts, store manager of Buffalo Peak Outfitters, retail is all about the customers. "It's truly the people that I love most about retail," he says.
Born in Kansas City, Mo., he has spent his entire life in Jackson. "My parents moved to Jackson, when I was 1 year old, so Jackson is my home," Potts says. He attended school at The Education Center School in Jackson and St. Joseph Catholic School when it was still located in Jackson (the school has since moved to Madison).
The 54-year-old has several years of retail experience. Potts worked for The Rogue for 17 years and Great Scott for 20 years.
Potts admits that retail has been good to him. "I just couldn't be the guy behind the computer or the cubicle," he says.
His people-loving attitude attracted him to the job, which has allowed him to meet people from all walks of life and to hear their stories.
As an outdoorsman himself, he loves hearing about the travels and adventures of the customers who shop at the Peak.
"People come here because they are hiking, biking or going on an African safari," Potts says. "Their stories make you want to do and go with them." Potts loves biking year-round, and snow skiing in the winter.
Potts says he gives back to the community whenever he can. "When I worked for Great Scott, I would help with the feeding at Billy Brumfield's house (a local men's shelter)," he says. Stewpot Community Services is one of the local organizations Potts is particularly passionate about. He and his family always attend Taste of Mississippi, an annual spring event that raises money for Stewpot, and he regularly donates clothes to the organization. Potts also supports community projects sponsored by his church, St. Peter's Catholic Church.
He and his wife Kathy have three children: 15-year-old Michael, 18-year-old Laura and 22-year-old Sarah.
Mark G. Henderson
by Piko Ewoodzie
Piko Ewoodzie
Dr. Mark Henderson says performance changed his life. When he began acting as a student at Jackson State University, it expanded his scope of what he could be in life. Being on stage allowed him to learn about himself, and it sharpened his ability to communicate, a skill that is transferable to most other careers. "It opened up parts of me that I never knew existed," he says.
Two graduate degrees later (a master's from Michigan State and a doctorate from University of Southern Mississippi), he is back at JSU. He teaches and serves as the interim chairman of the Department of Speech Communication and Theater. And, as the founder and an adviser for the student-run performance troupe MADDRAMA, he provides an opportunity for students to learn about themselves and engage with social issues through theater. He is especially interested in recruiting young black males to act. "I tend to guiltily embrace it when I have a lot of masculine straight guys in the organization," he says. He believes it challenges the restrictive boundaries of black masculinity.
Having young men in MADDRAMA allows him to do something else that he loves perhaps even more than performing: mentoring. "I just see so much suffering in men, it grieves me ... especially our black men, and somewhere along the way, somebody has to help our men to be stronger men," he says. Henderson hopes to be that somebody. He draws inspiration from his own upbringing. A single mother, whose praises he never ceases to sing, raised him, but he still feels like there could have been something more.
"She was awesome, but I missed out on so much because I needed that man figure there for me," he says.
"I just hated that my momma (raised me alone). She just didn't deserve to work like she did to provide. She should have had a man to ease that for her."
Barry Leach
by Briana Robinson
Courtesy Barry Leach
When he was around 10 years old, Barry Leach picked up his older brother's guitar and tried to play. He didn't really get into it, however, until he was 15.
Now 51, Leach has won several awards as a jazz guitarist. In 2011, readers chose him as the Jackson Free Press's Best Jazz Artist and this year he is up for the Jackson Music Awards' esteemed Musician of the Year award.
Leach was born in Kentucky, but grew up in Brandon. He attended the University of Southern Mississippi, where he earned a degree in music.
After college, Leach went on the road with a band and moved to Nashville for a while. He then went to Los Angeles and lived there for about 10 years before moving back to the Jackson area in 1991. While in Los Angeles, he performed with a band called Scratch.
Here in Jackson, Leach does solo performances as well as gigs with The Vamps and The Fearless Four. The Vamps just celebrated their 14th anniversary; the Jackson Music Awards named the group Jazz Group of the Year in 1999.
"I do all kinds of stuff," he says. "I might even bust out with some Johnny Cash." His solo gigs are a mixture of instrumentals, jazz classics and original work. "It just felt right to try to learn everything," Leach says. Musicians such as John McLaughlin and Al Di Meola influence Leach's music.
Along with performing at various venues around town each week, Leach has also taught guitar lessons for the past 15 years. He lives in Brandon with his wife, Deb, whom he met in Los Angeles. "She's not only my life partner, but (also) a musical partner," he says.
For private lessons, contact Morrison Brothers or email Leach at [e-mail missing]. Look for his music on iTunes.
Alan Huffman
by Ceili Hale
Christina Canon
Alan Huffman's fondest memory of co-author Michael Rejebian involves a clerk's office mistaking Rejebian for a homeless man while he was requesting documents. "There's just always interesting situations when you're out there digging up dirt. We get followed, and we get threatening phone calls and all that sort of stuff," Huffman says.
Huffman, a north Jackson native and former Clarion-Ledger reporter, is a political opposition researcher, someone who is hired by a candidate during an election to gather information about the candidate and his or her opponent. Huffman, who graduated from the University of Mississippi, has been investigating politicians for 18 years. He and Rejebian chronicled their experiences traveling around the United States as political opposition researchers in the 2012 book "We're With Nobody: Two Insiders Reveal the Dark Side of American Politics" (William Morrow Paperbacks, 2012, $15.99). The book offers a humorous insight to the downfalls of political candidates.
"Although it is illuminating about politics, it's also this sort of crazy road-trip story," Huffman says.
"We're With Nobody" has garnered national attention from a wide audience, which Huffman attributes to the book's humorous tone and readability, even for those uninterested in politics.
While "We're With Nobody" is Huffman's most famous work so far, it is not his first. He has been writing since he was in high school, and has authored several books, including "Mississippi in Africa" (Gotham Books, 2004, $25) the story of 250 Mississippi slaves who sailed to freedom in Liberia, and "Sultana: Surviving the Civil War, Prison, and the Worst Maritime Disaster in American History" (Harper Paperbacks, 2010, $14.99).
Huffman will soon travel to Libya to begin work on his next book about a war photographer who lost his life in a 2011 attack. Although he spends a lot of time traveling across the world writing and researching, Huffman always returns to Jackson.
"It's home," he says. "Mississippi is one of those places where things are happening in a big way that aren't happening on the same scale anywhere else."
More like this story
More stories by this author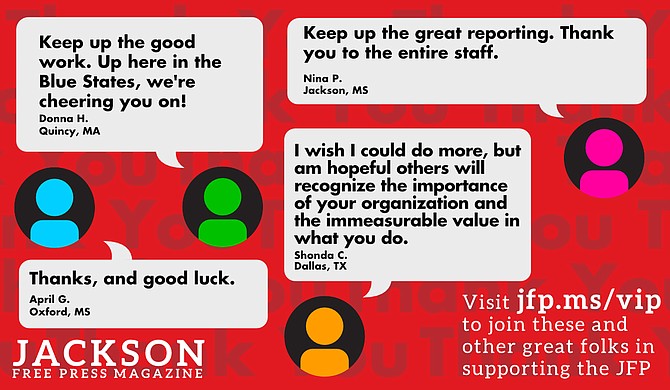 Thanks to all our new JFP VIPs!
COVID-19 has closed down the main sources of the JFP's revenue -- concerts, festivals, fundraisers, restaurants and bars. If everyone reading this article gives $5 or more, we should be able to continue publishing through the crisis. Please pay what you can to keep us reporting and publishing.