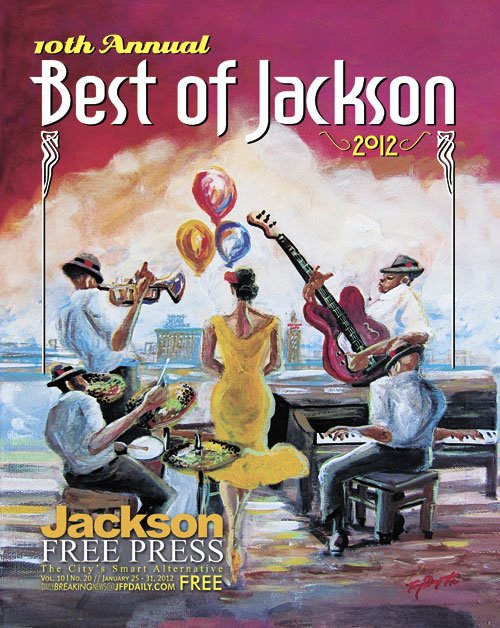 901 E. Fortification St., 601-948-0055, http://www.fenianspub.com
Since 1996, Fenian's has operated as a neighborhood pub, providing food and drink as well as live music. Perhaps it's the Irish public-house tradition of being not just a place to drink, but a place for the community to gather, that makes walking into Fenian's feel like coming home. In fact, they like to say that they don't just serve drinks—they serve friends. As a result, the atmosphere is always relaxed and the service consistently good. Settle in and try out their Irish whiskey and single-malt Scotch whiskey—it's among the widest selection in the state.
—Julie Skipper
Best Bar
Second: The Bulldog (6111 Ridgewood Road, 601-978-3502)
Third: Underground 119 (119 S. President St., 601-352-2322)
Good Showing: Parlor Market (115 W. Capitol St., 601-320-0090); Hal & Mal's (200 S. Commerce St., 601-960-2700); Julep (4500 Interstate 55 N., 601-362-1411)
Best Bar Where Everyone Knows Your Name
Second: Hal & Mal's (200 S. Commerce St., 601-948-0888)
Third: Ole Tavern on George Street (416 George St., 601-960-2700)
Good Showing: Sportsman's Lodge (1220 E. Northside Drive, Suite 100, 601-366-5441); Parlor Market (115 W. Capitol St., 601-360-0090); Julep (4500 Interstate 55 N., Suite 105, 601-362-1411)
Best Open-Mic Night
Second: Ole Tavern on George Street (416 George St., 601-960-2700)
Third (tie): Time Out Sports Café (6270 Old Canton Road, 601-978-1839), Suite 106 (106 Wilmington St., 601-940-7059)
Good Showing: Martin's Lounge (214 S. State St., 601-354-9712), Last Call Sports Grill (1428 Old Square Road, 601-713-2700), Pelican Cove (3999 Harbor Walk Drive, Suite A, Ridgeland, 601-605-1865)
Best Martini, Best Place for After-Work Drink: Julep Restaurant and Bar
4500 Interstate 55, Suite 105, 601-362-1411, http://www.juleprestaurant.com
After a hard day, sometimes you just need a good, stiff drink. Nestled in Highland Village, the bar at Julep greets patrons seeking solace in an after-work martini or glass of wine. Whether you choose a bar stool or meet a group of friends and settle in at one of the comfortable booths, it's a great place to shake off the workday. The restaurant offers a wine list with consistently great values on good bottles, and the martini list ranges from the classic to the creative. The Wedding Cake Martini is quite popular with the ladies, although the martini menu ventures from the classic to combinations that could be dessert.
—Julie Skipper
Best Martini
Second: Pan-Asia Restaurant (720 Harbour Pointe Crossing, Ridgeland, 601-956-2958)
Third: BRAVO! Italian Restaurant & Bar (4500 Interstate 55 N., 601-982-8111)
Good Showing: Parlor Market (115 W. Capitol St., 601-360-0900); Mint the Restaurant (1000 Highland Colony Parkway, Ridgeland, 601-898-6468); Char (4500 Interstate 55 N. Frontage Road, 601-956-9562)
Best Place for After-Work Drink
Second: Parlor Market (115 W. Capitol St., 601-360-0090)
Third: BRAVO! Italian Restaurant & Bar (4500 Interstate 55 N. Frontage Road, 601-982-8111)
Good Showing: Mint the Restaurant (1000 Highland Colony Parkway, Suite 5002, Ridgeland, 601-898-6468); Babalu Tacos and Tapas (622 Duling Ave., 601-366-5757); Table 100 (100 Ridge Way, Flowood, 601-420-4202)
Best Jukebox, Best Sports Bar: Sportsman's Lodge
1220 E. Northside Drive, Suite 100, 601-366-5441, http://www.thesportsmanslodge.net
Step inside the door of Sportsman's Lodge, and you are in a sports heaven. It is hard to decide which is better: the drinks, the atmosphere or the food. This bar is sure to fulfill your need for friendly yet competitive banter while watching one of the more than 20 flat-screen televisions showing just about any sporting event imaginable. Once hunger kicks in, order from the variety of items on the menu, but be sure to try the signature "Game Day Footlongs." If just watching the game isn't enough, coerce your friends into playing a game of billiards or bowling, then crank up the jukebox and play any and every song you can think of. This bar has it all.
—Torsheta Bowens
Best Jukebox:
Second: Sam's Lounge (5035 Interstate 55 N., 601-983-2526)
Third: Crechale's Restaurant (3107 Highway 80 W., 601-355-1840)
Good Showing: Cherokee Inn (1410 Old Square Road, 601-362-6388); CS's (1359-½ N. West St. 601-969-9482); JC's (425 N. Mart Plaza, 601-362-3108)
Best Sports Bar:
Second: Buffalo Wild Wings (808 Lake Harbour Drive, Ridgeland, 601-856-0789)
Third: Time Out (6270 Old Canton Road, 601-978-1839)
Good Showing: The Bulldog (6111 Ridgewood Road, 601- 978-3502); Last Call (1428 Old Square Road, 601-713-2700); Slick's (6340 Ridgewood Court Drive, 601-487-8388); Burgers and Blues (1060 E. County Line Road, Suite 22, Ridgeland, 601-899-0038)
Best Dive Bar, Best Bar Where You Can Be Anonymous, Best Place to Drink Cheap: Martin's Lounge
214 S. State St., 601-354-9712, http://www.martinslounge.net
Sometimes you want to go where everybody knows your name. But sometimes you just want to hide—even during the day. Martin's Lounge prides itself on being a place where, for years, everyone from judges to felons has come to enjoy libations and live music. The bar starts serving at noon and goes until the wee hours of the morning. You won't find "happy hour" at Martin's. Rather, they always serve you a good drink at a fair price. Stay long enough, and you'll get to observe several distinct crowds of regulars cycling through, each with a unique character. That's what makes Martin's not just a dive bar, but a Jackson institution.
—Julie Skipper
Best Dive Bar
Second: Sam's Lounge (5035 Interstate 55 N.)
Third: Cherokee Inn (1410 Old Square Road, 601-362-6388)
Good Showing: Pop's Around the Corner (2636 S. Gallatin St., 601-355-3853); F. Jones Corner (303 N. Farish St., 601-983-1148), Fenian's Pub (901 E. Fortification St., 601-948-0055)
Best Bar Where You Can Be Anonymous
Second: Sam's Lounge (5035 Interstate 55 N., 601-983-2526)
Third: The Bulldog (6111 Ridgewood Road, 601-978-3502)
Good Showing: Underground 119 (119 S. President St., 601-352-2322); Hal & Mal's (200 S. Commerce St., 601-948-0888); Sportsman's Lodge (1220 E. Northside Drive, 601-366-5441)
Best Place to Drink Cheap
Second: Cherokee Inn (1410 Old Square Road, 601-362-6388)
Third: Sportsman's Lodge (1220 E. Northside Drive, 601-366-5441)
Good Showing: Sam's Lounge (5035 Interstate 55 N., 601-983-2526); Time Out Sports Café (6270 Old Canton Road, 601-978-1839); Slick's (6340 Ridgewood Court Drive, 601-487-8388)
Best Bouncer: Gary Owen Langston, The Bulldog
6111 Ridgewood Road, 601-978-3502
Gatekeepers to the party, bouncers decide who can gain entry and who must leave, who is too young and who has had too much. Even in ancient Greece, burly tough types guarded the doors against unwelcome visitors. Some bouncers can be firm with grace and class. And some folks like making friends with someone that powerful. JFP readers voted Gary Owen Langston, who works at Bulldog, Jackson's Best Bouncer because he takes his job seriously. He knows how to keep the young'uns out.
—Valerie Wells
Second: Kyle Bullock (Club Magoo's, 824 S. State St., 601-487-8710)
Third: Kazz Hill (Club Magoo's, 824 S. State St., 601-487-8710)
Good Showing: Jason McDaniel (Fenian's Pub, 901 E. Fortification St., 601-948-0055); Kenny Dunn (Parlor Market, 115 W. Capitol St., 601-320-0090); Blake Bryant (formerly of Club Fire, 209 Commerce St., 601-592-1000); Chris Robinson (Pop's Around the Corner, 2636 S. Gallatin St., 601-355-3853)
Best Local Singer, Best Local Musician: Jason Turner
It all began with a philosophy similar to "One for all, and all for one" when Jason Turner and his three-man band took on the Jackson music scene back in 1997 at the Jubilee!JAM. Now, almost 15 years later, he's the winner of the Best Local Singer and Musician awards. Turner is a connoisseur of music and has mastered the art of playing three instruments: piano, guitar and bass guitar. He is a self-proclaimed perfectionist and has made himself known throughout the nation for his songs "Nothing Town," "Hotter Than the Sun" and "Tonight."
—Brittany Kilgore
Best Local Singer
Second: Akami Graham
Third: Taylor Hildebrand
Good Showing: Lisa Palmer; Jackie Bell; Pam Confer; Cody Cox
Best Local Musician
Second (tie): Hunter Gibson, Taylor Hildebrand
Third: Raphael Semmes
Good Showing: Scott Albert Johnson; Cody Cox; Chad Wesley
Best Blues Artist: Jackie Bell
Jackie Bell has a sound that can stir the coldest soul. "Miss Sweetheart" began singing professionally at age 19, and by age 26 she was touring internationally to places such as Modena, Pescara and Sicily in Italy.
In 1999, when she returned from Europe, Bell released "Old Man's Sweetheart," the title track of which was nominated for Local Recording Artist of 2000 by the Jackson Music Awards Association. JMAA nominated her for Local Female Vocalist of 2001, 2002 and 2005, and Local Blues Artist of the Year and Local Entertainer of 2005. Miss Sweetheart has performed at big stage venues such as the Mississippi Delta Blues and Heritage Festival and The Chicago Blues Festival as well as numerous local venues. She has also been a house entertainer for 930 Blues Café in Jackson with her band, The Sweetheart Blues Revue.
—Shameka Hayes-Hamilton
Second: Jesse Robinson
Third: King Edward Antoine
Good Showing: B.B. King; Grady Champion; Eddie Cotton; Jarekus Singleton
Best Hip-Hop Artist: David Banner
Known as "Mr. Mississippi" to fans, there is no question as to where Lavelle Crump, aka David Banner, is from. The Provine High School and Southern Louisiana University graduate began his rap career with Brad "Kamikaze" Franklin in the rap duo Crooked Lettaz in 1999 before going solo in 2000. His single, "Like a Pimp," became a radio hit, and soon after that Banner signed to SRC records. He has collaborated with artists such as Akon, Jazze Pha, Chris Brown and Young Joc. His recent track "Swag" became an instant, if controversial, hit in 2011. The message throughout the track seems to be that rappers and entertainers have taken the pride out of their craft and turned it into a minstrel show. Whatever the case, Mr. Mississippi definitely puts on for his city and continues to perform and produce hit music.
—Shameka Hayes-Hamilton
Second: 5th Child
Third: Skipp Coon
Good Showing: PyInfamous; Big K.R.I.T.; Jay Lotto
Best Bartender: Brad Regan
Julep, 4500 Interstate 55 N., Suite 105, 601-362-1411
For almost eight years, 28-year-old Jacksonian Brad Regan has mixed the best drinks in the city while swaying customers with his urban swagger and potent concoctions. Regan began his craft at Headliners, learning the ropes from former bartenders of The Dock. Between getting his fair share of phone numbers on the job, Brad works on serving up Julep's most popular drink the ladies love: the plumtini. He's also known as the quickest bartender around.
Regan says he doesn't drink much alcohol himself, preferring sweet tea. His favorite thing about bartending is getting to know everyone and encountering diverse people from all over. He credits bartending for honing his social skills; it's not hard to believe Brad was voted Best Bartender when he has more than 2,130 friends on Facebook alone supporting him. So swing by Julep whenever Brad's around and let him pour you a drink. Just be sure to leave a gracious tip.
—Julie Skipper
Second: Robert Arender (Parlor Market, 115 W. Capitol St., 601-360-0090)
Third: Trevor Palmer (Club Magoo's, 824 S. State St.)
Good Showing: Ashley Lewis (Burgers and Blues, 1060 E. County Line Road, Suite 22, 601-899-0038) Kavan Wood (Club Magoo's, 824 S. State St., 601-487-8710); Kris Grant (formerly of Underground 119, S. President St., 601-352-2322)
Sexiest Male Bartender: Steven O'Neill
Parlor Market (115 W. Capitol St., 601-360-0090)
Looking good to the ladies isn't the only thing bartender Steven O'Neill does. O'Neill works at Parlor Market and sells residential real estate at Nix-Tann. He has bartended for seven years and worked in the real-estate industry for four years. Prior to working at Parlor Market, he mixed drinks at The Bulldog and Julep.
While O'Neill prefers scotch, his favorite drink to serve is a Vieux Carre cocktail—rye whiskey and Cognac —it also happens to be one of Parlor Market's more popular drinks. The Jackson native enjoys working at Parlor Market because it allows him to learn more about cocktails and mixology. He loves his interaction with people, their feedback on his work and the chance to incorporate their personality into the drinks.
—LaShanda Phillips
Second: Brad Regan (Julep, 1305 E. Northside Drive, 601-362-1411) /
Third: Trevor Palmer (Club Magoo's, 824 S. State St.)
Good Showing: John Hime (The Bulldog, 6111 Ridgewood Road, 601-978-3502); John Ingram (Parlor Market. 115 W. Capitol St., 601-360-0090); Kris Grant (formerly of Underground 119, S. President St., 601-352-2322)
Sexiest Female Bartender: Kristen Veal
Sportsman's Lodge, 1220 E. Northside Drive, Suite 100, 601-366-5441
Being sexy is more about your attitude than what's falling out of your clothes. The sentiment couldn't be truer of Kristen Veal, said Chris Jacobs, Sportsman's Lodge owner. Her great personality and easiness on the eyes notwithstanding, Veal exceeds the expectations most people have for a sports bartender, Jacobs said. "She knows how to take care of the guests and do it with a certain swag," he said of Veal, who's worked at the bar for about four years. The same goes for the runner-up, Burger and Blues' Ashley Lewis, said Burger and Blues manager Jeremiah Lorenz. Patrons are so appreciative of Lewis' ability to be a smart ass with a smile on her face that one admiring customer awarded her a trophy for awesomeness. "We have people who walk in, and if Ashley's not working, they walk right out," Lorenz said.
—R.L. Nave
Second Place: Ashley Lewis (Burgers and Blues, 1060 E. County Line Road, Suite 22, 601-899-0038)
Third: Alyson Brady (Timeout Sports Café, 6270 Old Canton Road, 601-978-1839)
Good Showing: Bobbie Jo Kemp (Mississippi Legends Grill, 5352 Highway 25, Suite 50, 601-919-1165); Hali Sappington; (formerly of AJ's on Lakeland, 223 Ridge Way, Flowood, 601-919-1900); Alyssa Montag (Bravo!, 4500 Interstate 55 N., 601-982-8111)
Best Place to Dance: Shucker's on the Rez
116 Conestoga Road, 601-853-0105, http://www.shuckersontherez.com
This was my first time visiting Shucker's, but having been once, I can safely say I'll be visiting again soon. While many venues create their "dance floor" by simply moving some tables around once a week, Shucker's earns the "Best of" title by providing a dedicated dance floor, a stage for live music and a down-to-earth, laid-back "good times" atmosphere. And when you get tired of dancing, there's a full bar (with surprisingly decent drink prices), an impressive menu and multiple pool tables at the opposite end of this roomy venue. While there is a small cover charge at night ($5), and the draft-beer selection tops out at about five choices, Shucker's is still a solid bet for anyone looking to enjoy a piece of Jackson nightlife.
—Bret Kenyon
Second: The Spot (formerly Electric Cowboy) (6017 Ridgewood Road, 601-899-5333)
Third: Salsa Mississippi (605 Duling St., 601-213-6355)
Good Showing: Bottoms Up (3911 Northview Drive, 601-981-2188); Underground 119 (119 S. President St., 601-352-2322); Club Magoo's (824 S. State St., 601-487-8710
Best Place for Live Music: Hal & Mal's
200 S. Commerce St., 601-948-0888, http://www.halandmals.com
Live music. It means so much more than just those two words. Who doesn't enjoying eating and drinking with friends? And how much better is it when there is stellar live music playing in the room? Hal & Mal's offers Jacksonians these things and more: It's all about the ambiance. Whether you come for a drink (with more than 20 beers on tap and in bottles, 25 different martinis and countless mixed drinks), the food (try the tamales or Myrtis' award-winning bayou gumbo) or to feast on the sounds of the live local and national bands, you won't leave disappointed. Bands such as the North Mississippi Allstars, the Thomas Jackson Orchestra, Jimbo Mathus & The Tri-State Coalition and the Vernon Brothers all make Hal & Mal's their home away from home. So should you.
—Michael Jacome
Second: Underground 119 (119 S. President St., 601-352-2322)
Third: Martin's Lounge (214 S. State St., 601-354-9712)
Good Showing: Fire (209 S. Commerce St., 601-592-1000); Shucker's on the Rez (116 Conestoga Road, Ridgeland, 601-853-0105); Burgers & Blues (1060 E. County Line Road, Suite 22, Ridgeland, 601-899-0038)
Best Cover Band, Best Country Artist: The Colonels
A group that calls itself the No. 1 party band in the South has a lot to prove. The Colonels do that just fine, with a wink and a ballad. Crisscrossing the state, the Brookhaven-based band plays in small towns, country venues and city bars. For a second year, JFP readers voted the group as Jackson's best country artist. The band calls its genre something more: Country Heaven.
Members include Topher Brown on guitar, Nick Bridge on drums, Nick Smith on lead guitar and Marvin Curtis on keyboards. Jessica Curtis sings as do Brown and Bridge, whom the band also credits as its comedian. This isn't music to laugh at, though. Be ready to dance and party.
—Valerie Wells
Best Cover Band
Second (tie): Snazz, Shadez of Grey, Diesel 255
Third: Chic Bang Theory
Good Showing: Otis Lotus
Best Country Artist
Second: The Band Perry
Third: Crossin Dixon
Good Showing: Jason Aldean; Jeff Maddox; Jason Turner
Best Place to Shoot Pool: The Green Room
444 Bounds St., 601-713-3444
The Green Room is everything you think of when you hear the term "pool hall." There's a small bar with the beer and liquor basics, but nearly every other square foot of the smoky venue is filled with well-maintained pool tables. And don't go looking for a place to insert quarters, these tables are the real deal. Even with an impressive number of tables, the waiting line to play a game can be a little daunting, so I'd suggest getting here earlier in the night to secure a place. Also, a word to asthmatics: Smoking is permitted inside The Green Room, so on the one hand, you have that mysterious fog of intrigue hanging over the tables, but on the other, you're breathing that mysterious fog of intrigue. Parking is also limited. So remember kids, the name of the game is "early arrival."
—Bret Kenyon
Second: Cherokee Inn (1410 Old Square Road, 601-362-6388)
Third: Reed Pierce's (6791 Siwell Road, 601-376-0777)
Good Showing: Sam's Lounge (5035 Interstate 55 N., 601-983-2526); Sportsman's Lodge (1220 E. Northside Drive, Suite 100, 601-366-5441); Shucker's (116 Conestoga Road, 601-853-0105); Tomara's (9347 Highway 18 W., Raymond, 601-502-8580)
Best Place to Chill: Sneaky Beans
2914 N. State St., 601-487-6349
Sneaky Beans takes the title of "Best Place to Chill" once again, which makes sense, because I'm chilling on a couch sipping on some coffee in their front room as I'm typing this. I left the comfort of my house this morning to come here and write, because it is such a calm place where I can just chill. It's the place where I can come to get work done or come hang out with friends, and nobody's bothering me or rushing me out because I've been here drinking coffee, taking up couch space for hours. It's just got that classic coffee-shop vibe—with music playing and art on the walls—that makes it comfortable and easy and the perfect place to chill.
—Holly Perkins
Second: Fenian's Pub (901 E. Fortification St., 601-948-0055 )
Third: Cups Espresso Cafe (Multiple Locations)
Good Showing: Underground 119 (119 S. President St., 601-352-2322); The Bulldog (6111 Ridgewood Road, 601-978-3502); Burgers and Blues (1060 E. County Line Road, Suite 22 , Ridgeland, 601-899-0038)
Best Gospel Artist: Dathan Thigpen
From "Sunday's Best" to Jackson's Best, Dathan Thigpen just seems to have it in his blood. During the 2010 season of BET's "Sunday's Best," Thigpen graced the show with his spin on gospel music, which keeps him at the top of the city's Best Gospel Artist list year after year. He was appointed worship leader at his church when he was younger and has roots in the Mississippi Mass Choir. Now, it is our turn to worship Thigpen in his reign as Jackson's Best Gospel Artist. Although Thigpen did not win the "Sunday's Best" competition, we still appreciate what he has to offer: praise music with compassion streaming behind it. If I were you, I would keep my eye on Thigpen because he has a lot to bring to Jackson's musical roundtable.
—Brittany Kilgore
Second: Mississippi Mass Choir
Third: Kirk Franklin
Good Showing: Lee Williams; Monica Davis; The William Brothers
Best Original Band: Storage 24
Storage 24 has been recognized by MTV and won first place in a national Battle of the Bands competition in 2010. Storage 24's music may have evolved out of the genre of Nu Metal, from bands like KoRn, Mudvayne and Disturbed. The sound of scratching a record, usually found in hip-hop, and the harsh cords from the guitar definitely makes Storage 24 a modern-day Nu Metal band to me. Does this mean Nu Metal is possibly being resurrected in the good ole' state of Mississippi? I sure hope so.
—Brittany Kilgore
Second: Chad Wesley Band
Third (tie): Chic Bang Theory, Iron Feathers, Jason Turner Band
Good Showing: Furrows; Horse Trailer
Best Rock Artist: Chad Wesley Band
The Chad Wesley Band calls itself almost spiritual with deep roots in southern black gospel. They've been a regional force for 10 years. Songwriter and guitarist Chad Wesley fronts the Ridgeland-based band, singing and playing the piano. Backing him up are Steve Smith on drums and Anthony Daniels on bass. Wesley releases his debut E.P., "Liberation," later this year. Wesley has Grammy winner Kent Bruce engineering and producing this latest project. The band's February and March schedule is booked with venues in all corners of the state.
—Brittany Kilgore
Second: Furrows
Third: Storage 24
Good Showing: Soul Skard; Jason Turner Band
Best Karaoke DJ: Matt Collette
There I was—belting out "Bohemian Rhapsody" to a packed house at Fenian's Pub thinking to myself that this sure is a fun crowd. I owe that night to the king of all karaoke Djs, Matt Collette. He has been doing karaoke full-time since 2004 and can be found bringing merriment all over town: Fenian's, Martin's or Sportsman's Lodge. When interviewed as a 2011 Young Influential for Boom Jackson he said, "This is not 'American Idol.' Just get up there and have fun." With an impressive selection of songs to choose from and a loyal following of Jacksonians, you should make it a new year's resolution to karaoke with Matt.
—ShaWanda Jacome
Second: Casey Hardegree/DJ Stache (Ole Tavern, 416 George St., 601-960-2700)
Third: Angela Pittman, Krazy Karaoke
Good Showing: Mike Mott (Fire, 209 Commerce St., 601-592-1000), Josh Hailey (Slick's, 6340 Ridgewood Court Drive
Best Club DJ: DJ Cadillac
DJ Cadillac, also known as Bo Trebotich, has been spinning for six years and is best known for deejaying at the former Electric Cowboy. The 29-year-old DJ started out working for a friend who owned a club, doing security and bartending. The permanent DJ got sick, and Trebotich was asked to fill in. Later, he played at Cadillac Don's bachelor party and was signed to Yea Yea Man Records. DJ Cadillac has become a club favorite, spinning a nice mix of hip-hop, rock, dub-step and pop to keep the party going. Despite his popularity, he remains humble and friendly. The Jackson native has won Best Club DJ for the past three years.
—Shameka Hayes-Hamilton
Second: DJ Jonasty
Third: DJ Unpredictable
Good Showing: DJ Reign; DJ T-Lewis; DJ Young Venom; DJ Phingaprint
Best New Bar: Club Magoo's
824 S. State St., 601-487-8710
Jackson nightlife offers a range of experiences, and this year's crop of new bars is no exception. Open since November 2011, Jackson voted Club Magoo's as the best new bar for its live music, great food and drink selection. Drop by for happy hour Tuesday through Friday from 4 p.m. to 7 p.m. or Ladies' Night on Thursday. The club features entertainment from live bands to karaoke with Matt Collette. Club Magoo's can also host your private parties.
Whether you're in the mood for live music downtown at Magoo's or shooting some pool at Slick's, these new establishments offer something for everyone. This year, we also saw the return of the Penguin, giving new life to a historic Jackson icon. Meanwhile, Table 100 offers half-glass tastes from its wine list encouraging patrons to try new things. Rounding out the winners, the Martini Room's popular Martini Fridays draws a large crowd of regulars. Whatever your style, this list has something you'll enjoy.
—Julie Skipper and LaShanda Phillips
Second: Slick's (6340 Ridgewood Court Drive, 601-487-8388)
Third: Table 100 (100 Ridge Way, Flowood, 601-420-4202)
Good Showing: ; The Penguin (1100 John R. Lynch St., 769-251-5222); Martini Room (400 Greymont Ave., 678-462-2749)
Best College Hangout: Ole Tavern on George Street
416 George St., 601-960-2700
Known to many as simply "George Street," Ole Tavern on George Street is a great place for college students, because it's one where you can just chill out and enjoy a drink with your friends. Close to Mississippi College School of Law, Jackson State University, Millsaps College and Belhaven University, Ole Tavern is filled with college students taking a break from the stresses of school on any given night. One friend told me, "There was point where I was in there four nights a week."
The 21+ bar is also known for its great live music, and even those of us who aren't yet 21 can hang out at lunchtime and get some delicious food.
—Holly Perkins
Second: Cups Espresso Cafe (Multiple locations)
Third: Sneaky Beans (2914 N. State St., 601-487-6349)
Good Showing: Freelon's Restaurant Bar and Groove (440 N. Mill St., 601-949-2535); Fenian's Pub (901 E. Fortification St., 601-948-0055); The Bulldog (6111 Ridgewood Road, 601-978-3502)
Best Singer/Songwriter: Taylor Hildebrand
Taylor Hildebrand has left his personal touch on the Jackson music scene with his bands Horse Trailer and Passenger Jones. But what is his touch, you ask? Taylor's relaxed manner with his guitar makes his music seem effortless, and each song is worth its weight in gold. Taylor is musically fluent in guitar, vocals and songwriting. His demeanor and voice sets him apart from his competition in Jackson, which is one reason this is the second time in as many years that he's topped this category.
—Brittany Kilgore
Second: Cody Cox
Third: Jason Turner
Good Showing: Chad Wesley; Topher Brown; Hunter Gibson; Richard Lee Davis
Best Hotel Bar: King Edward Hotel (Hilton Garden Inn)
235 W. Capitol St., 601-353-5464, http://www.kingedwardhoteljackson.com
It's good to know that when you need it, there is a steadfast place you can go to after work to have a stiff drink. And on occasion you might find me, with a pal or two, letting off steam after a long week at the King Edward Hotel bar. The hotel is a historic building situated in downtown. After being vacant since 1967, the hotel reopened in 2009 with a fresh appearance and vibe. The bar is well-appointed with granite counter-tops, cream and sage colored walls and black molding and paneling. The atmosphere is friendly and low-key. All the bartenders are attentive and skilled at producing tasty cocktails and mixed drinks. There is also a patio that faces Capitol Street that is great for people watching when the weather is nice outside. So if you're looking for an alternative to a club or pub, then the King Edward might be just what the doctor ordered.
—ShaWanda Jacome
Second: Hilton/Fitzgerald's (1001 E. County Line Road, 601-957-2800)
Third: Sam's Lounge (5035 Interstate 55 N., Frontage Road, 601-983-2526)
Good Showing: Alumni House (574 Highway 51, Ridgeland 601-855-2225); The Martini Room inside the Regency Hotel & Conference Center (400 Greymont Ave., 601-969-2141)
Best LGBT Hangout: Bottoms Up
3911 Northview Drive, 601-981-2188
Everyone is welcome at Bottoms Up, although folks mostly know it as a gay/lesbian club. A typical Saturday night includes many white, black, gay, straight, young and old men and women dancing into the wee hours. No one here as any qualms about partying for hours to the newest and hottest dance songs. Formerly known as Jack and Jill's, the 18+ gay hangout has been Jackson's favorite LGBT club since its opening in 2010. Bottoms Up boasts dancing, drag shows and dramatic lighting. The mix makes for top-notch entertainment.
—Sadaaf Mamoon
Second: JC's (425 N. Mart Plaza, 601-362-3108)
Third: Club Volume (formerly Dick & Jane's) (206 W. Capitol St., 601-944-0123)
Good Showing: Club mR (Metro Reloaded) (4670 Highway 80 W., 601-922-1040); Fenian's Pub (901 E. Fortification St., 601-948-0055)
Best Jazz Artist: Pam Confer
Along with her band Jazz Beautiful, Pam Confer has performed at numerous venues throughout the city. Confer is a graduate of Jackson State University and a member of Alpha Kappa Alpha sorority. She is the founder of Speak BIG, a communications and public-speaking program, and is also a writer and publicist. Confer is the editor of the book "Spoken Success: Understanding the Art of Public Speaking," by Robert Little. She is also the first woman to serve as a constable in Hinds County.
—Shameka Hayes-Hamilton
Second: Raphael Semmes
Third: Lisa Palmer
Good Showing: Rhonda Richmond; Barry Leach; Swing de Paris
Best R&B Artist (tie): ML 'The Truth,' Kerry Thomas
ML "The Truth" has a goal to "bring back real music with real meaning." He writes, sings, composes tracks and produces. ML has opened for or performed with artists that include Monica, Trey Songz, Letoya Luckett (of Destiny's Child fame), Silk, Trina, Recognition and many more. Some of his most popular tracks are "Love Games," "The Girl is Bad," featuring Fiend, and "First Time."
After learning to play the guitar, Kerry Thomas began to attend as many open-mic nights as possible and began to receive offers to do hooks (choruses) for local rap artists. This led to Thomas deciding to do his own project. He includes artists such as Stevie Wonder, The Isley Brothers, Chaka Khan and Luther Vandross as some of his earlier influences.
—Shameka Hayes-Hamilton
Second: Recognition
Third: Akami Graham
Good Showing: Taylor Hildebrand
More stories by this author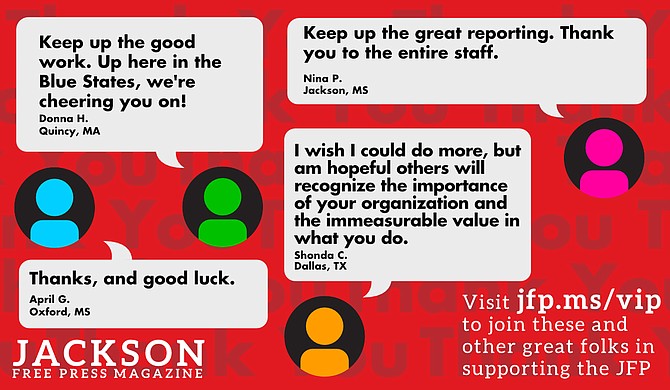 Thanks to all our new JFP VIPs!
COVID-19 has closed down the main sources of the JFP's revenue -- concerts, festivals, fundraisers, restaurants and bars. If everyone reading this article gives $5 or more, we should be able to continue publishing through the crisis. Please pay what you can to keep us reporting and publishing.