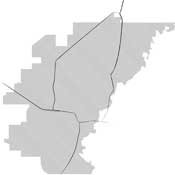 Happy New Year, y'all! It's here, the year of the unveiling and crazy stuff that's supposed to happen this year. Jackson is one interesting place to live isn't it? Crazy or not, take a peak inside and find out what you may or not have missed.
The city begins a six-month project to install energy-efficient traffic lights at 324 intersections. The mayor's office expects the new lights, which are funded by a grant, to save the city $240,000.26 annually. (Citywide or downtown)
Governor-elect Phil Bryant invites the public to purchase tickets to his inaugural ball. "Black tie and boots optional." Expect mink coats, too. (Convention Complex)
The Pearl River County Sheriff's Department hopes to save money by switching some of its patrol cars to propane-fueled engines. (Pearl River County)
Sears announces it will close its store in Metrocenter Mall. Yes, they still had a store in Metrocenter. (West Jackson)
The 2012 legislative session begins with elephants in abundance and no circus jokes allowed. (State Capitol)
Campbell's Bakery announces it is making desserts for the governor's inauguration. Perhaps cowboy cookies? (Fondren) (http://www.twitter.com/CampbellsBakery)
Black Rose Theatre plans for its next production, the classic "You're a Good Man, Charlie Brown." (Brandon)
Deputies in Jackson County catch the so-called "Handsome Guy bandit," wanted for a string of robberies in Texas. Steven Ray Milam got his nickname for the silicone "Handsome Guy" mask he wore. The mask sells for $810 at Rusty Slusser's SPFX Masks in Los Angeles, the Los Angeles Times reports. (Jackson County)
Support our reporting -- Follow the MFP.