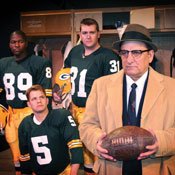 "Are you ready for some football?" A voice in the dark asks before the start of New Stage Theatre's production of "Lombardi."
The play tells the story of the 1967 championship Green Bay Packers under Coach Vince Lombardi. Veteran actor Bill Ford Campbell has the lead role. Campbell and Jo Ann Robinson (Marie Lombardi), two Actors' Equity professionals, lead an ensemble cast of six.
Although imperfect, Lombardi represents a golden standard to which the people around him aspire. His story is about an era of change for football, and he is remembered largely without blame in today's society where heroes so often disappoint. Lombardi advocated equality—racial and otherwise—for his players.
Campbell's Lombardi is consistent and always natural; the actor effectively delivers a multi-dimensional Lombardi, especially through his asides, and convinces the audience and fellow actors to do whatever is necessary to succeed.
New Stage's artistic director, Francine Thomas Reynolds, directs the production, part of the theater's regular 46th season.
"The cast and I have enjoyed learning more about the history of football and Vince Lombardi," Reynolds said. "What is pleasantly surprising is how much more I learned (through staging the work) about inspiration and the art of collaboration. That's theater!"
New Stage Theatre presents "Lombardi" through Feb. 5 at the Jane Reid-Petty Theatre Center (1100 Carlisle St.). Show times are 7:30 p.m. Feb. 1-4 and 2 p.m. Feb. 5. Tickets cost $25 for general admission; seniors and students pay $22 with ID.
For information, call 601-948-3533 or visit http://www.newstagetheatre.com.
"Lombardi" continues through Feb. 5 at New Stage Theatre. Actors from left are Rob Demery as Dave Robinson, Kenneth Mayfield as Paul Hornung, James Thompson as Jim Taylor and Bill Ford Campbell as Vincent Lombardi.
Related Links
The Iconic Coach
More like this story
More stories by this author