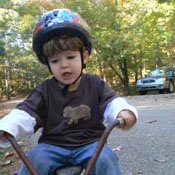 In the midst of a seemingly endless swirl of meetings and errands and doctor's appointments and laundry to be put in drawers, there is nothing quite like a weekend escape into the woods with the family. Spring is the perfect season to get away from the television, the homework and the bills for a camping trip with your kids.
Camping gives families a new way to connect in a different environment. Outside of the same old weekend routine, your teenager might open up to you while fishing on the lake, your 5-year-old might involve you in a new world of tech-free imaginative play, or you and your spouse might enjoy a romantic conversation under the stars after the kids go to sleep in their tent.
Make a plan to get away from it all with your favorite people. Leave work, stress and technology behind for a day or two (or quite a few), and rejuvenate in the fresh spring air. Reconnect with your family as you discover great blue heron rookeries, Orion's belt and the perfect marshmallow-turning techniques together. Discover how delicious simple foods taste in the great outdoors. You may find that the toys you pack in the car are not nearly as fun as the rocks and sticks on the ground of your campsite.
Easy Meals to Cook
Bringing a camp stove is your best bet for cooking in the woods, since counting on a campfire to cook your meals can be risky if the firewood is damp or the weather is windy. If you decide to use the campfire as your only source of heat, plan your menu accordingly, and have an idea of where to go if you need to change your plans and the dinner menu becomes fast-food tacos.
Dinner
• Hot dogs or soy dogs
• Macaroni and cheese (with the premixed sauce packet)
• Canned peas
• Pears
Breakfast
• Individual boxes of sweet cereal
• Boxed milk and juice
• Muffins
• Bananas
Lunch
• Peanut butter and jelly sandwiches
• Apples
Snacks
• Fruit, crackers, granola bars, trail mix
Dessert
• S'mores
• Jiffy Pop popcorn
Gear to Pack
Dig around in your attic or garage to see what you already have on hand. If you don't have all the necessary items, ask a friend if you can borrow camping gear, or scope out the selection at your local outdoor store or sporting-goods store. If you are purchasing bigger-ticket items, such as a nice family tent, you may want to read reviews online before you buy.
• Tent
• Tarp
• Self-inflating air mattresses
• Sleeping bags
• Pillows
• Towels
• Toiletries
• Flip-flops
• Camp chairs
• Flashlight
• Matches
• Food
• Water for cooking
• Dish soap
• Drinks
• Camp stove with propane
• Camping dishes
• Can opener or bottle opener
• Dish towels
• Layers of clothing
• Bug spray
• Sunscreen
• Toys and books
Camping Activities to Try
Part of the beauty of camping is that you can be flexible and follow your own interests in the moment, or you can just kick back and relax. Just be sure to set up your tent before it gets dark.
• Stargazing
• Roasting marshmallows
• Hiking
• Swimming
• Singing around the campfire
• Playing on the playground
• Fishing
• Building forts in the woods
• Reading
• Biking
• Kicking a ball
• Cooking together
• Talking
• Throwing a Frisbee
• Canoeing or kayaking
Books to Check Out
• "I Love Dirt: 52 Activities to Help You and Your Kids Discover the Wonders of Nature" by Jennifer Ward (Roost Books, 2008, $14)
• "Down & Dirty Guide to Camping with Kids: How to Plan Memorable Family Adventures and Connect Kids to Nature" by Helen Olsson (Roost Books, 2012, $17.95)
• "Last Child in the Woods: Saving Our Children From Nature-Deficit Disorder" by Richard Louv (Algonquin Books, 2008, $14.95)
• "Fifteen Minutes Outside: 365 Ways to Get Out of the House and Connect With Your Kids" by Rebecca Cohen (Sourcebooks, 2011, $14.99)
Songs to Sing
Dust off your book of songs from summer camp, bring a guitar or your best singing voice, and teach your kids some campfire favorites while you pass the s'mores around the evening campfire:
• "Shenandoah"
• "Yellow Submarine"
• "I Love the Mountains"
• "America the Beautiful"
• "Swing Low, Sweet Chariot"
• "Clementine"
• "I've Been Working on the Railroad"
• "Red River Valley"
• "Home on the Range"
• "Amazing Grace"
• "Baby Beluga"
• "My Favorite Things"
Kid-friendly Campgrounds
For your first family camping trip, you may want to plan a short trip nearby, just in case you need to bail out and come home early. It is also a good idea to know the location of a nearby pharmacy, grocery store, motel and a hospital, just in case.
For Mississippi state park information on the Internet, go to http://www.mdwfp.com and click on State Parks. For other parks, visit the URLs noted.
• Paul B Johnson State Park (319 Geiger Lake Road, Hattiesburg, 601-582-7721)
• Percy Quin State Park (1156 Camp Beaver Drive, McComb, 601-684-3938)
• Roosevelt State Park (2149 Highway 13 S., Morton, 601-732-6316)
• Mayes Lake Campground (2140 Riverside Drive, 601-987-3923)
• Jellystone Park (143 Campground Road, Pelahatchie, 800-558-2954, http://www.campjellystone.com)
• Big Creek Water Park (2 Big Creek Water Park, Soso, 601-763-8555, http://www.phwd.net/parks/big creek)
More stories by this author
Support our reporting -- Become a JFP VIP.
The news business has changed dramatically in the past year, and we need your help more than ever to keep bringing you important stories about Jackson and the Metro. Become a JFP VIP with an annual membership or you can Sign up as a monthly supporter. Thanks for anything you can do to empower our journalism!