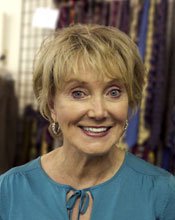 Donna Barksdale has been "everything from a Sweet Potato Queen to a clothing designer." These days, she puts her fashion expertise to work making sure that senior girls at Lanier High School have prom dresses.
A Magee native, Barksdale made her way to the Jackson area in the '60s to attend Mississippi College in Clinton, where she earned a bachelor's degree in psychology and English and a master's degree in counseling.
In the '90s, Barksdale ran a business designing clothing. "I did all those clothing markets in New York and Paris and all that stuff, but I was always happy to get home to Mississippi," she says. Her designs were manufactured in China and Mongolia, although she tried to get a women's sewing collective started to manufacture her designs in the Delta.
"Every time I went to China, I thought, 'I need to be doing this in Mississippi, and I want to be doing this in Mississippi,'" she says. Unfortunately, Barksdale ran into the same economic reality that many companies encounter: Manufacturing a finished garment in China is cheaper than just the fabric here.
"Cheap labor is not what we want or need anymore," she says. One of her great hopes for growing the economy in the Delta--and Mississippi as a whole--is in building up the state's creative economy.
"I think finally the economic-development people in our state are finding that that's a true, valid source of income," she says.
Now in her 60s, Barksdale dedicates much of her energy to charities and organizations in and around the Jackson area, including America's Promise Alliance, the Mississippi Arts Commission and Operation Shoestring.
"I think Jackson is the future of our state," Barksdale says. She is also a passionate advocate for education and works with the Youth Employment Project at Lanier, helping students acquire professional jobs during the summer at places like law firms and hospitals.
"Poverty should not be able to determine your successes or your ability to get an education," Barksdale says.
She works to improve the quality of education through the Barksdale Reading Institute, which she and her husband, Jim Barksdale, interim executive director of the Mississippi Development Authority, founded.
"We cannot throw away our school system, we cannot throw away our children in poverty, and we have to do something every day that matters to get Jackson out of a bad educational system and a lot of poverty that we all share in," she says.
Barksdale boasts an active schedule, and she wouldn't have it any other way. She has three children, three stepchildren and eight grandchildren.
"I have a great support group," she says.
Legacy Comments
I appreciate that you support Lanier High School students. What a difference.
2012-04-04T15:55:18-06:00
Support our reporting -- Follow the MFP.