McGinniss' book "Rogue: Searching for the Real Sarah Palin" comes out Sept. 20, and the claims he makes in the book are raising eyebrows - and tempers - according to the New York Times' Janet Maslin.
On May 22, 2010, Joe McGinniss moved into a strategically well-situated house in Wasilla, Alaska. It was next door to the home of former Gov. Sarah Palin and her family...

Mr. McGinniss explains that he was shocked, just shocked, at the angry response his presence in Wasilla provoked. But "The Rogue" makes the Palins' widely publicized anger understandable, even to readers who might have defended his right to set up shop in their neighborhood and soak up the local color. Although most of "The Rogue" is dated, petty and easily available to anyone with Internet access, Mr. McGinniss used his time in Alaska to chase caustic, unsubstantiated gossip about the Palins, often from unnamed sources like "one resident" and "a friend."

And these stories need not be consistent. "The Rogue" suggests that Todd Palin and the young Sarah Heath took drugs. It also says that she lacked boyfriends and was a racist. And it includes this: "A friend says, 'Sarah and her sisters had a fetish for black guys for a while.' " Mr. McGinniss did in 2011 make a phone call to the former N.B.A. basketball player Glen Rice, who is black, and prompted him to acknowledge having fond memories of Sarah Heath. While Mr. Rice avoids specifics and uses the words "respectful" and "a sweetheart," Mr. McGinniss eggs him on with the kind of flagrantly leading question he seems to have habitually asked. In Mr. Rice's case: "So you never had the feeling she felt bad about having sex with a black guy?"
In addition to claiming that Palin had, ahem, relations with the NBA player, he also questions whether Palin is really Trig's mother. Since I am not a Palin fan, it would be easy for me to just take this all at face value and assume that these accusations are true. Of course, doing that without reading the book would be stupid, but just taking what McGinniss says at face value wouldn't be smart, either. To me, unnamed sources scream "tabloid," and I don't believe in jumping to conclusions on information that doesn't have solid facts to back it up. What do you think about this?
Previous Comments
ID

164947

Comment

It would be far better if we did not have to think about Sarah Palin in the first place!

Author

tombarnes

Date

2011-09-15T12:43:55-06:00
ID

164955

Comment

Yes, Tom, I'm amazed at how much attention she gets, and she's stringing the media along about whether she's running for President. Fred Thompson comes to mind...

Author

LatashaWillis

Date

2011-09-15T15:00:25-06:00
ID

164958

Comment

I saw her looking at Barack one time like she wanted him. Things are not always as they seem. I believe the stories. The author looks honest to me. There is a thin line between love and hate. If she has a fetish for us then she has good taste.

Author

Walt

Date

2011-09-15T22:52:18-06:00
ID

164962

Comment

Latasha, if the media would just ignore her, perhaps she would just quietly fade out and become a distant memory.

Author

Jeff Lucas

Date

2011-09-16T08:49:32-06:00
ID

164972

Comment

Im hearing Bachman is about to quit. We need a woman in this thing from the GOP side. Sarah Palin must run. The country needs her.

Author

Walt

Date

2011-09-16T15:50:58-06:00
ID

165060

Comment

Run Sarah run. I like you better now. I always sensed there was something really attractive about you. The country needs someone in control who cares for the situation of the black male. I'm tired of Levi Johnson badmouthing your family.

Author

Walt

Date

2011-09-24T11:03:07-06:00
ID

165136

Comment

I'm so disappointed Sarah Palin isn't going to run for POTUS. I was counting on her to beautify and make that side of the fence worth looking at. Congresswoman Bachmann has played out, Rick Perry has gone hunting, Herman Cain is angry that he has to hang out with a group that awful and ugly, Mitt Romney is just going along with whatever hoping he will be the last man standing, Ron Paul knows everyone by now knows Texans are crazy, Newth Gingrish has nothing else to do, Slick Rich Santorium is a fish out of water, Huntsman isn't committed or wanted by the party, and the beats goes on. What the GOP needs is Sarah Palin's brains and beauty. Yet I bet they think she is a liability nowadays. Well I'm no GOPer but I like her. I hope she changes her mind and runs anyway.

Author

Walt

Date

2011-10-06T16:58:26-06:00
More like this story
More stories by this author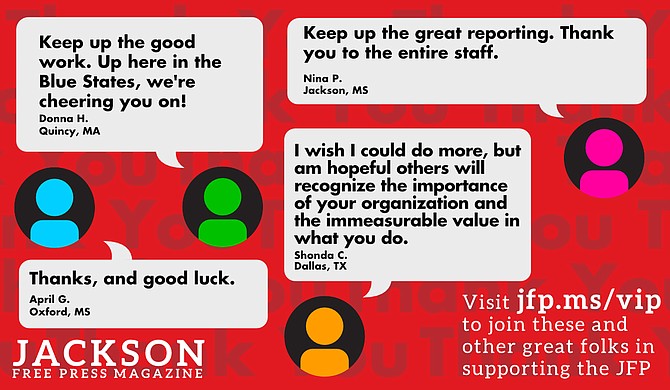 Thanks to all our new JFP VIPs!
COVID-19 has closed down the main sources of the JFP's revenue -- concerts, festivals, fundraisers, restaurants and bars. If everyone reading this article gives $5 or more, we should be able to continue publishing through the crisis. Please pay what you can to keep us reporting and publishing.