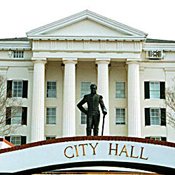 Monday, Nov. 28
6 p.m., Jackson Touchdown Club/C Spire Wireless Most Valuable Senior Awards, at River Hills Country Club (3600 Ridgewood Road). Members of the athletic organization honor athletes from 10 Mississippi four-year colleges. $30 non-members; call 601-506-3186.
Tuesday, Nov. 29
10 a.m., Jackson City Council Meeting, at Jackson City Hall (200 S. President St.). The Jackson City Council holds its regular meeting, open to the public. Free; call 601-960-1033.
5:30 p.m., C Spire Wireless Conerly Trophy Presentation, at Mississippi Sports Hall of Fame and Museum (1152 Lakeland Drive). A Mississippi college football player is honored at the event. The reception is at 5:30 p.m., and the banquet is at 6:30 p.m. Limited seating. $100 reception and banquet, $25 skybox; call 800-280-FAME (3263).
7 p.m., "Southern Remedy: Mississippi's Big Problem," at Mississippi Public Broadcasting - MPB-TV (broadcast channel 29, Comcast channel 7). The television show focuses on the state's obesity epidemic and attempts to change Mississippi's poor bill of health. Visit mpbonline.org.
7 p.m., Ron Hall Book Signing, at Thalia Mara Hall (255 E. Pascagoula St.). Hall is the author of New York Times best-sellers "Same Kind of Different As Me" and "What Difference Do It Make?" Proceeds benefit Stewpot Community Services, and the event is honor of the organization's 30th anniversary. $74-$149; call 800-745-3000.
Wednesday, Nov. 30
Mississippi Black Leadership Summit Nov 30-Dec 2, at Jackson Convention Complex (105 E. Pascagoula St.). The theme is "Strong Leadership, Strong Mississippi." Speakers include Dr, Rudy Crew, Melissa Harris-Perry, Hattiesburg Mayor Johnny DuPree and U.S. Congressman Bennie Thompson. Free admission with registration; call 601-353-8452.
10 a.m., Senior Aerobics Class, at Jackson Medical Mall (350 W. Woodrow Wilson Ave.), at Center Stage. Tougaloo College is the sponsor. Free; call 769-798-7691.
Noon, "History Is Lunch," at Old Capitol Museum (100 S. State St.). MDAH architectural historian Todd Sanders presents "Architects of Antebellum Mississippi." Bring lunch; coffee and water provided. Free; call 601-576-6998.
1:30 p.m., State Institutions of Higher Learning Meeting, at Mississippi University for Women (1100 College St., Columbus), in Cochran Hall, room 305. The board meets to discuss a University of Mississippi Medical Center future bonding issue and a Mississippi University for Women personnel matter. Call 601-432-6333.
Thursday, Dec. 1
Food for Thought through Dec. 31, at Old Capitol Museum (100 S. State St.). Donate books and non-perishable foods during the month of December. Special programming for school groups throughout the month highlights the value of good citizenship. Call 601-576-6920.
Events at Pearl Public Library (2416 Old Brandon Road, Pearl). Free; call 601-932-2562.
• 10 a.m., Computer Class For Adults. Learn the basic of computers.
• 6 p.m., Jackson Astronomical Society Meeting. Anyone interested in astronomy or space science is welcome to attend.
5 p.m., 'Twas a Night with Gail Pittman, at Jackson Street District (between Interstate 55 N. and Highway 51, Ridgeland). District businesses host open houses for holiday shopping. Enjoy food from area restaurants and trolley rides. Gail Pittman will sell limited-edition Christmas ornaments. Proceeds benefit Mississippi Children's Home Services. $50, $75 couples; call 601-352-7784.
6 p.m., Precinct 1 COPS Meeting, at Jackson Police Department, Precinct 1 (810 Cooper Road). These monthly forums are designed to help resolve community issues or problems, from crime to potholes. Call 601-960-0001.
6 p.m., Merry Martinis Fundraiser, at The South (627 E. Silas Brown St.). The Mississippi Firefighters Memorial Burn Association honors their Hearts for Heroes winners. The 2012 Mississippi Firefighters Calendar is also unveiled. Sponsorships available. $40 in advance, $50 at the door; call 601-540-2995.
Friday, Dec. 2
First Friday Free ADHD Screenings, at the office of Suzanne Russell, LPC (665 Highway 51 N., Ridgeland). Licensed professional counselor Suzanne Russell offers free 30-minute ADHD screenings for children. Appointment required. Free; call 601-707-7355.
9 a.m., Friday Forum, at Koinonia Coffee House (136 S. Adams St., Suite C). Carlton Brown, COO of Full Spectrum of New York and Old Capitol Green developer, is the speaker. Free; e-mail [e-mail missing].
9 a.m., Merry Mammals, at Mississippi Museum of Natural Science (2148 Riverside Drive). Join the museum staff for warm-blooded and furry fun activities. $4-$6, free for members and children under 3; call 601-354-7303.
Telling Tales Dec. 2-16, at Old Capitol Museum (100 S. State St.). Come for story time and a craft with an ethical focus at 3:30 p.m. Fridays. Free; call 601-576-6920.
Through Dec. 2
"A Diva Christmas" Toy Drive. Divas 4 Charity is the sponsor. The toy drive benefits teenagers at Blair E. Batson Children's Hospital. Drop-off locations include Keep Swinging Boxing and Fitness, Downtown Cafe, Sterling Photography and Forest Hill Place Leasing Office. Email [e-mail missing] for a list of suggested toys. Toys must be new and unwrapped. Call 601-321-4218.
Saturday, Dec. 3
8 a.m., Jingle Bell Jog, at Blair E. Batson Hospital for Children (2500 N. State St.). The early registration deadline is Nov. 20 by mail and Nov. 29 online. On-site late registration is from 6:30-7:30 a.m. Proceeds from the 5K run/walk and one-mile fun benefit the Mississippi Children's Cancer Clinic at the hospital. $30, $15 fun run; visit jinglebelljog5k.com.
8 a.m., Dr. Trey Mangum Memorial Walk of Grace, at St. James Episcopal Church (3921 Oakridge Drive). Check-in is at 8 a.m., and the walk begins at 9 a.m. Proceeds benefit Grace House, Mississippi's first HIV/AIDS transitional living facility located in Jackson. $25 in advance, $30 day of walk; call 601-353-1038 or 601-982-4880.
9 a.m., Yuletide Souls Fest, at Warren County Library (700 Veto St., Vicksburg). The fundraiser for the Child Abuse Prevention Center in Vicksburg includes books and art for sale, a raffle, a creative writing workshop taught by J.L. Mulvihill, and children's activities. Free; email [e-mail missing].
10:30 a.m., Paw Pals, at Pearl Public Library (2416 Old Brandon Road, Pearl). Read stories to therapy dogs. Call 601-932-2562.
10:30 a.m., MARL Pet Photos with Santa, at Mississippi Animal Rescue League (5221 Greenway Drive Ext.). Photos are taken in the Holiday Lobby. Pick up prints at Deville Camera (5058 Interstate 55 N.) $15 donation for six photos; call 601-969-1631.
Noon, CARA Pet Photos with Santa, at CasaBella Interiors (1139 Old Fannin Road, Suite O, Brandon). Francis, the miracle pup, will be Santa's elf at the photo shoot. Proceeds benefit Community Animal Rescue and Adoption. $10 donation; call 601-922-7575.
2 p.m., Cookies with Santa, at Campbell's Bakery (3013 N. State St.). Take a picture with Santa in the sleigh in front of the bakery. Milk and cookies served. Proceeds benefit the Children's Advocacy Centers of Mississippi. $30 sitting fee; call 601-362-4628
1 p.m., Surviving the Holidays: Family Relationships, at The Therapy Center (109 Landrum St., Clinton). Discuss the difficulties, stress and anxiety associated with family gatherings, and learn coping skills to avoid conflict and to have a brighter, healthier and happier holiday season. Free; call 601-488-4631.
Monday, Dec. 5
9 a.m., Hinds County Board of Supervisors, at Chancery Court (316 S. President St.). The board holds its regular meeting, open to the public. Call 601-968-6501.
Through Dec. 6
Operation Homefront Holiday Toy Drive. Donate toys for children with parents in the military at local Dollar Tree stores. Monetary donations also accepted online. Visit operationhomefront.net.
Through Dec. 9
ReadySetLaunch College Consulting Program. The Yale University nonprofit is seeking low-income high-school juniors to participate in a one-year mentoring program via phone and email. Apply at readysetlaunch.org. Free; email [e-mail missing].
Through Dec. 15
Toys for Tots. The United States Marine Corps Reserve hosts the annual toy drive for needy children. Toy donations are accepted at designated drop-off locations. Monetary donations can be mailed to 4350 Officer Thomas Catchings Drive, Jackson, MS 39209, or submitted online at jackson-ms.toysfortots.org. Volunteers welcome. Call 601-847-0180 to volunteer or 601-960-1084 for assistance.
Through Dec. 16
Holiday Heroes Program, at Youth Villages (Atrium Building, 805 S. Wheatley St., Suite 240, Ridgeland). Youth Villages, a nonprofit that supports children who have suffered abuse or neglect, or are dealing with mental-health issues, needs donors to sponsor children for the holidays by giving a gift no more than $75 in value or donating a check for $75. Checks must be received by Dec. 5, and gifts must be received by Dec. 16. Donations welcome; call 601-572-3726.
Through Dec. 17
Mississippi Farmers Market (929 High St.). Shop for fresh locally-grown fruits and vegetables from Mississippi farmers, specialty foods, and crafts from local artisans, including the Greater Belhaven Market. Hours are 8 a.m.-2 p.m. Thursdays and Saturdays. Call 601-354-6573.
Through Dec. 23
Christmas Wish List Drive, at Jackson Street Gallery (500 Highway 51, Suite E, Ridgeland). The gallery is collecting specific donated items for The Home Place, a senior citizens home in Madison. Donate Monday-Saturday from 10 a.m.-5 p.m. Items to donate include salon products, Kleenex and snacks. Contact the office for the full list. Donations do not have to be wrapped; they will be wrapped on-site. Donations welcome; call 601-853-1880.
Through Dec. 24
Old Fannin Road Farmers Market (1307 Old Fannin Road, Brandon). Homegrown produce is for sale Monday-Saturday from 8 a.m.-7 p.m. and noon-6 p.m. Sunday until Christmas Eve. Call 601-919-1690.
Through March 23
Health-related Professions Program Enrollment Oct 24-Mar 23, at Bailey Magnet High School (1900 N. State St.). The school is accepting applications for students entering grades 9-12. Call 601-960-5343.
Through May 22
Leadership, Personal Development and Life Skills Seminar Series, at Operation Shoestring (1711 Bailey Ave.). Operation Shoestring and Kuumba Promos host the seminars on first and third Tuesdays from 6:30-8:30 p.m. during the school year. The purpose is to introduce leadership skills, life management skills and cultural pride to local youth. Enrollment required. Free; call 601-353-3663 or 601-957-2969.
Through Jan. 31
Power APAC Call for Alumni, at Power Academic and Performing Arts Complex (1120 Riverside Drive). The school seeks alumni to participate in their 30th anniversary celebration Feb. 17 at 7 p.m. at the Belhaven University Center for the Arts. Call 601-960-5387.
Ongoing
Toastmasters Club Meetings. Improve your communication skills, and become a better speaker and leader. Membership required.
• Public Policy Club 8689 Meetings, at Universities Center (3825 Ridgewood Road). The group meets on first and third Tuesdays at 5:15 p.m. in the computer lab. Call 601-540-8472 or 601-432-6277; visit publicpolicy.freetoasthost.biz.
• "Guess Who's Talking Now" Club 3284 Meetings, at Woolfolk Building (501 N. West St.). The group meets from noon-1 p.m. Tuesdays in the conference room on the first floor. Call 601-359-6653 or 601-359-2573; visit club3284.freetoasthost.net.
Zumba Fitness Classes. The Latin-inspired aerobics classes are held weekly at two Dance Unlimited Studio locations. Visit duzumba.com for class schedule information. $5; call 601-209-7566.
• 6787 S. Siwell Road, Suite A, Byram.
• 3091 Highway 49 South, Suite E, Florence.
Fitness Center, at Jackson Roadmap to Health Equity Project's Farmers' Market (2548 Livingston Road). Options include aerobics and Zumba classes, equipment for resistance training and toning, and access to a personal trainer. No joining fee or long-term commitment is required. Hours are 8 a.m.-7 p.m. weekdays and 8 a.m.-3:30 p.m. Saturdays. $20 per month; call 601-987-6783.
Diabetes Support Group Meetings, at Baptist Health Systems, Madison Campus (401 Baptist Drive, Madison). Baptist Nutrition Center hosts the meetings on third Thursdays at 1 p.m. Free; call 601-973-1624.
Adopt-a-Park Program Registration, at Jackson Medical Mall (350 W. Woodrow Wilson Ave.), at the Department of Parks and Recreation. Organizations and businesses are encouraged to sign up to help maintain Jackson parks and trails by picking up litter, landscaping and painting. Call 601-960-0471.
Venture Incubator Talk and Tour Open House, at Venture Incubator (City Centre Building, 200 S. Lamar St., South Tower, 10th floor). Potential or current small business owners, and professionals interested in mentoring small business owners are welcome to meet with Wes Holsapple, president and CEO, and tour the facilities on Mondays from 5-6 p.m. and Wednesdays from noon-1 p.m. Refreshments served. Free; call 601-414-0140.
Jackson 2000 Study Circles Program. The program includes six two-hour sessions of dialogue and problem-solving to encourage racial harmony and community involvement. Jackson 2000 is looking for participants from all walks of life to sign up, and sessions will be scheduled soon. Email [e-mail missing].
Jackson Public Schools Call for Volunteers. Jackson Public Schools is seeking volunteers from the community to be mentors for seniors enrolled in the Advanced Seminar: Employability Skills course. Call 601-960-8310
Medical Mall Moment Report at WOAD 1300 AM. Find out about the Jackson Medical Mall Foundation's current activities every second Friday of the month at 8:30 a.m. Call-ins to 601-995-1400 are welcome. Send your questions and comments in advance to [e-mail missing] or call the office for more information. The broadcast is also available on jacksonmedicalmall.org. Call 601-982-8467.
Cancer Rehab Classes at Baptist Medical Center (1225 N. State St.), in the Activity Room of the Hederman Cancer Center on Tuesdays and Thursdays at 2 p.m. The class helps cancer patients enhance cardiovascular strength, endurance, their immune system and bone density. It helps to increase overall strength and stamina, decrease fatigue and weight loss, and improve digestion. Registration is required. Free; call 601-948-6262 or 800-948-6262.
Weekly Storytime at Pearl Public Library (2416 Old Brandon Road, Pearl). Each Tuesday, Baby Bookworms Storytime for children ages birth-36 months is at 9:30 a.m., and Preschool Storytime for children ages 3-6 is at 10:30 a.m. The event includes stories, rhymes, music and a puppet show on the last Tuesday of the month. Free; call 601-932-2562.
Business Plan Workshops, at New Horizon Church International (Renaissance South, 1770 Ellis Ave.). Get hands-on, individualized or small-group assistance to develop your customized business plan. Sessions are Tuesdays and Thursdays from 10:30 a.m.-noon or 5:30 p.m.-7 p.m., and first and third Saturdays from 10:30 a.m.-1 p.m. Appointment required. Call 601-371-1390, 601-371-1296 or 601-371-1427.
Tutoring Sessions and Peer-to-peer Study Groups, at Richard Wright Library (515 W. McDowell Road), in the Community Room. Sessions are every other Saturday from 9-11:30 a.m.; call to confirm dates. Students in grades 8-12 and GED students are welcome to get help with research projects, state subject areas tests, English, science, history and math. School supplies and snacks provided. Free; call 601-948-4725 or 601-372-1621.
National Alliance on Mental Illness Family Support Group, at St. Dominic Hospital (969 Lakeland Drive), in the St. Catherine Room. NAMI Mississippi offers a support group for family members who have an adult relative with a mental illness on second Thursdays at 7 p.m. Free; call 601-899-9058.
Programs on WMPR 90.1 FM and wmpr901.com.
• Women for Progress Radio Broadcast. Dorothy Stewart and Willie Jones host the program on Thursdays from 6-7 p.m. Topics include education, economics and politics. Call 601-918-5137.
• Mayor Harvey Johnson Jr. Show. Every Wednesday from 1:30-2:30 p.m., Jackson mayor Harvey Johnson Jr. discusses activities, issues and other newsworthy items that are occurring in the city of Jackson. Call 601-960-1084.
CARA Recycling Program, at Community Animal Rescue and Adoption (CARA) (960 N. Flag Chapel Road). Mississippi's largest no-kill animal shelter is earning cash for operating expenses by participating in the FundingFactory Recycling Program. They are collecting empty laser or toner cartridges and used cellphones from the community and sending the waste products to FundingFactory in exchange for cash. Donations welcome; email [e-mail missing].
Adopt-a-Park Program Registration, at Jackson Medical Mall (350 W. Woodrow Wilson Ave.), at the Department of Parks and Recreation. Organizations and businesses are encouraged to sign up to help maintain Jackson parks and trails by picking up litter, landscaping and painting. Call 601-960-0471.
Fitness Camp, at Lake Hico Park (4801 Watkins Drive). Do cardiovascular and strength training exercises, and learn about proper nutrition. Sessions are from 8-9 a.m. Saturdays. $20; call 601-331-8468.
Yu-Gi-Oh Tournaments, at Java Ink (420 Roberts St., Pearl). Compete and trade cards with other fans at 2 p.m. Sundays. Admission varies each week; call 601-397-6292.
ENCOUNTER Teen Empowerment Corps, at Jackson Medical Mall (350 W. Woodrow Wilson Ave.). On first Tuesdays from 6:30-8 p.m., Youth Solutions hosts a rally for teens in the Community Room. Activities include spending time with mentors, motivational talks, IGNITE Vocal Talent rehearsal, teen dramas and character development. Free; call 601-829-0323.
Home Repair Grant Call for Applicants, at Hood Building (200 S. President St.), in suite 316. Seniors 62 and older or disabled citizens may apply between 9 a.m. and 3 p.m. Bring valid photo ID, a deed or warranty deed, proof of income, homeowner's insurance and a Social Security card. Call 601-960-1438 or 601-960-1491.
On Location TV, on Comcast channel 18. Host and producer Phyllis "Peaches" Robinson spotlights people, places and events in Jackson. The variety talk show airs at 8:30 p.m. Sundays and 7:30 p.m. Tuesdays. Send an email if you have a story idea for the show. Email [e-mail missing].
Kids' Fiesta Fun Event, at Lingofest Language Center (7048 Old Canton Road, Ridgeland). On first Fridays from 6-8 p.m., children ages 5-11 learn basic Spanish in a party atmosphere that includes games, songs and refreshments. Limited space; pre-registration required. $15 per child; call 601-500-7700.
Zumba Classes, at Covenant Presbyterian Church (4000 Ridgewood Road). The 45-minute classes are at 8:30 a.m. Fridays. Baby care provided. $5 per class; call 850-572-0055; email [e-mail missing].
NAMI Connection Support Group Meetings. The alliance of individuals with mental illnesses meets Tuesdays at 2 p.m. to share experiences and learn new ways to cope. Trained facilitators lead the meetings. Free; call 601-899-9058 for location information.
Gentle Joints Aquatic Program, at The Club at St. Dominic's (970 Lakeland Drive). The Arthritis Foundation sponsors the low-intensity water class. Sessions are on Mondays, Wednesdays and Fridays at 2 p.m. Registration required; club membership optional. $35 for 12 classes, $60 for 24 classes; call 601-200-4925.
Events at St. Dominic Hospital (969 Lakeland Drive). Free.
• Cancer Support Group Meetings. Cancer patients and survivors meet on second Tuesdays at 9 a.m. at the Canter Center. Additional meetings for women are on second Tuesdays at 5 p.m. Call 601-200-3070.
• Caregivers Support Group Meetings. The group meets on second Wednesdays at 10 a.m. in the conference rooms. Call 601-200-6768.
Networking Social, at Locker Room Lounge (205 W. Capitol St.), Thursdays at 7 p.m. The purpose of this event is to bring together professionals and entrepreneurs from different fields to exchange leads, build rapport and make meaningful connections. Proceeds benefit the second annual Pretty Christmas Toy Drive. $10; call 601-345-0407.
More stories by this author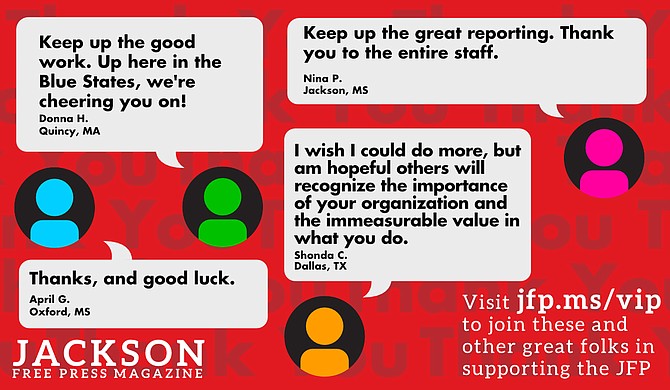 Thanks to all our new JFP VIPs!
COVID-19 has closed down the main sources of the JFP's revenue -- concerts, festivals, fundraisers, restaurants and bars. If everyone reading this article gives $5 or more, we should be able to continue publishing through the crisis. Please pay what you can to keep us reporting and publishing.