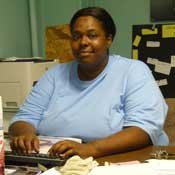 CORRECTION: This is a corrected version of the story. Jennifer Jackson took part in city of Jackson programs before getting a job at the Opportunity Center.
On a recent Friday afternoon at the Opportunity Center at 845 Amite St. in downtown Jackson, most of the clients were in the midst of their afternoon siesta. One gentleman in the corner meticulously folded his khaki pants, taking great pains to get the creases perfectly straight and even. All the while he hummed the tune to Ray Charles' "I've Got a Woman."
The large mural on the wall leading to the common area of the Opportunity Center depicts a gigantic, detailed hand nestling a small image of the Earth in its palm. The mural, illustrating the hymn "He's Got the Whole World in His Hands," represents the center's religious foundations and its mission: to help people get out of the downward spiral of homelessness by getting them employed and into permanent homes. All of the center's work serves this purpose.
In 1981, representatives from seven Jackson area churches founded Stewpot Community Services, an organization that addresses all levels of need for Jackson's homeless people. A division of Stewpot, the Opportunity Center serves as a day shelter for homeless men, women and children while providing services necessary to obtain employment such as computers, mail stops, phones, laundry and showers. Employees of the center help clients build their resumes, fill out job applications, register to vote and contact potential employers.
Clients seek shelter from the elements within the walls of the center every day. At least 10 clients use the Opportunity Center's computers, donated by Millsaps College, to email potential employers, put together resumes and fill out job applications.
The center helps clients find housing, provides drug and alcohol treatment, and helps locate financial assistance. Recently, BankPlus conducted a workshop on how to begin banking and maintain a bank account. This year, the city of Jackson hosted the Transitional Jobs Program, where the staff partnered homeless individuals with local employers and agencies to obtain job experience and stable employment.
"Fifteen people finished the program," says Cathy Funches, the city of Jackson's homeless programs coordinator. "Today they are out of transitional homes and shelters. One of our ladies recently bought her own house, so we celebrated with her."
Without the services that Stewpot and the Opportunity Center provide, Jackson's homeless population stands little chance of finding jobs or homes.
"If you get out on the streets, and you've been there a long time, it's hard to get those people back," Funches says. "So if we can catch you ... as soon as you get out there and help get you back into a place, the less chance you have of staying out there."
Jennifer Jefferson is an example of how these programs and connections can work. After falling on hard times, she found housing and financial programs through the city, to get back on her feet. Today, Jefferson is an employee of the Opportunity Center, serving as the Opportunity 2 Work program coordinator. She has stabilized her living arrangements and started rebuilding her credit with a BankPlus program offered through the city.
"And now I am banking," Jefferson says.
As a non-profit organization, the Opportunity Center operates on donations and funding from various groups. Recently, they obtained a small amount, $34,000, from the city of Jackson and another long-term source of funding from an anonymous donor. These sources are enough to sustain the Center for the rest of the year; however, it is always in need of additional funding to provide essentials and services to Jackson's homeless population.
For information on the Opportunity Center or to donate, visit http://www.stewpot.org, or look up the group on Facebook.
More stories by this author
Support our reporting -- Follow the MFP.