For much of 2010, it seemed everyone from ABC to CNN to RT (formerly Russia Today, a worldwide English-speaking channel) were concerned about my single dating status. Well, not me, specifically, but black women in general.
The last time I wrote about the single life was almost a year ago. A few things have changed for me since then, but not really.
One thing that kept the media's interest through last year was why so many black women are single. Let's revisit a couple of the most devastating—says the media—statistics before we get started:
Forty-two percent of African American women have yet to be married, compared to 23 percent of white women, according to a Yale study. The 2000 U.S. Census reported that there were 1.8 million more black women than men.
By spring, I began to feel a bit freakish about my black singleness. It seemed everyone who'd never paid attention to me otherwise (the Russians, for example) was concerned about who I was going to date. In their attempt to figure it all out, they sought out comedian-turned-radio-host and "Think Like a Man Act Like a Woman" author Steve Harvey who became the go-to guy about all things relationship. This is when I knew for sure America's interest in my life was nothing short of people not having anything else to talk about at the time. You're seeking answers to questions about black folks from a comedian—not a sociologist, marriage and family therapist or a psychologist, but a man who wrote a common-sense manual about dating?
Harvey admonishes women to not lower their standards for a man's sake and warns that men are aware that women are desperate and nervous because they think there's a man shortage. It all makes sense, but it's not enough.
I don't have an issue with Steve Harvey. Many people I've heard complain about him have said things like: "He's been married three times. What can he tell me about having a healthy relationship?" A lot, I think. We learn as much from failures, if not more, than from our and others' successes. That's not the issue.
Without any academic or research background, Steve Harvey, just like actor-turned-"relationship expert" Hill Harper, or anyone else who offers common sense advice as relationship gospel, is ill-equipped to answer the "why" question. And if someone is looking to help, isn't that one question, among others, we need to figure out the answer to?
One of the "whys" is because we're emotionally unintelligent, relationally retarded and self ignorant. And that's not just black women. That's our society as a whole. Numbers say it's those women who look like me who are having the most trouble, but I don't know of too many people having an easy go of relationships. The problem seems universal: We want the other person to change, because taking personal responsibility isn't fun.
Critics of "For Colored Girls," Tyler Perry's recent cinematic adaptation of Ntzoke Shange's 1975 choreopoem "For Colored Girls Who've Considered Suicide When the Rainbow is Enuf," screamed that the movie was a poor reflection on black men, not painting them in a positive light. "It's man bashing," they say. (There was similar bemoaning about Terry McMillan's "Waiting to Exhale" and Alice Walker's "The Color Purple.")
Most of the men in the film were less than desirable characters. They lied, cheated, and abused their loved ones and substances, but the women chose to be with them. Their desire for companionship overrode their self-value. They chose partners out of their lack, and chose to stay with men who weren't committed to them or a better life because they'd convinced themselves they weren't strong enough to stand alone. While the men may be trifling, it's a much sadder commentary on the women. Two unhealthy people will never a healthy relationship make; it's impossible. No matter the sappy sentimental line in "Jerry Maguire," it's bull: No one can complete you. That's lone work.
So 42 percent of black women are single and have never been married, that doesn't have necessarily have to be a cause for alarm. Some of them may not want to be married. Maybe some of these women have chosen to remain single until they're ready to be in a long-term committed relationship. Instead of searching for validation and affirmation strictly from outside sources, perhaps the women have decided to concentrate on filling themselves.
Even if all 42 percent of them desire marital relationships, though, maybe it's just not time. They say God protects children and fools. Conceivably, the women are a bit more foolish than they'd ever care to admit, and someone, something is watching over them. There are certainly plenty examples of women—black, white and in between—who've married the wrong person, or the right person at the wrong time, and found themselves as part of another statistic: the divorced crowd.
Am I still a single, black female? Yep, I am. Do I regret majoring in political science and philosophy at Millsaps instead of working diligently toward acquiring an Mrs. degree? Nope. I am confident that by the time I get married, I will be a woman so full of herself (not in that cocky sense, mind you) my husband will be proud and honored to call me his partner. And should I never marry—I'm keenly aware this is a likelihood— what a wonderful gift to offer my family, friends and the people in the world around me: a woman who isn't looking to others to satisfy her.
Previous Comments
ID

161607

Comment

NatAlie, I was referred to your article by ShaWanDa Jacome who authored the article, The Color of Love. I agree. This was a great read. I have a good friend you is a Sociologist and for years he has said, "Black girls and black boys are taught by this society to hate each other." I was initially floored by this thought, but, I was forced to examine it. The earliest I can remember being told negative things about black boys was the day I started my menstral. I was visiting my grand mother and for her, this date marked the day that boys would want to have sex (these words were not used by her,but, were understood). Her BIG fear was that of my becoming pregnant. I was devastated because I had never given this a second thought! So, there you have it: My first lesson in boy girl relationships was that of being told that they wanted to have sex and that this would be the end of my childood. This analogy was true for many girls that I grew up with; however, not mine. This was the message about black boys from some whites: Their anatomial appendage is so large that it would tear the private parts of a white female. It was said by Gov. Ross Barnett that we had to continue segregation because of what black boys desired in white women and that integration would only produce a state of "tea colored children." Young women do not have to follow the teachings of Steve Harvey. They can, as Natalie says, take care of herself. Single women do not have to sit around waiting for Mr. Right: They can be about preparing themselves for great careers, participating in child rearing or having their own as a single parent if they so choose and without the fear of being labeled. I am tired of the books and movies that depict black males in a negative light. Natalie mentions For Colored Girls, The Color Purple and Waiting to Exhale. These well witten and greatly prduced pieces would be fine if we had more to choose from. We don't. It seems that the only way a movie or book can get national recognition by the majority group is that the focus must be THE NEGATIVE EVALUATION OF THE BLACK MALE! Can anyone tell me what Denzel Washington got his award for? What about Hallie Berry?

Author

justjess

Date

2011-01-13T11:01:48-06:00
ID

161631

Comment

Yeah, that's not what I meant at all, Queen. At all. As I said in the piece, everyone getting up in arms about black women not getting married confuses me when there are a myriad of reasons for anyone not to marry. One of those reasons could be that instead of looking to distract themselves (by marrying) from personal work they need to do, they actually do the work. They process. They cry. They therapize. They laugh. They develop genuine friendships that not only empower them and grow them up, but they also offer an opportunity for the women to see themselves. Do I believe some women marry just for validation? Of course I do. People marry for all sorts of reasons that make sense to them. Some of those reasons aren't healthy reasons. But the point I was making is instead of being concerned about why I and the rest of my 42 percenters aren't married, national media and the people who depend on it for mindless chatter should find a real cause to expend their energy on besides my singleness. I certainly find more interesting things to obsess about.

Author

nacollier

Date

2011-01-13T17:54:56-06:00
ID

161665

Comment

You knocked the top out, Natalie, but you always do. :) Jackie Warren Tatum

Author

J.T.

Date

2011-01-14T15:29:33-06:00
ID

161666

Comment

Agreed; excellent piece! I don't know how anyone expects to have a good relationship, married or not, if they do not love themselves. It's impossible. Everyone, please be "selfish" enough to take care of yourself and don't expect anyone else to. And never, ever, never expect to change someone in a relationship. Love them exactly as they are. They/you might change for the better, but it won't be because the other one wants it. Put simply: Love, honor and respect yourself so that others may as well. ;-) If you focus on your flaws, others will as well. As for Natalie, I am waiting to see the man walk in that I believe is worthy enough for such an incredible woman. Not many will do.

Author

DonnaLadd

Date

2011-01-14T15:34:04-06:00
More like this story
More stories by this author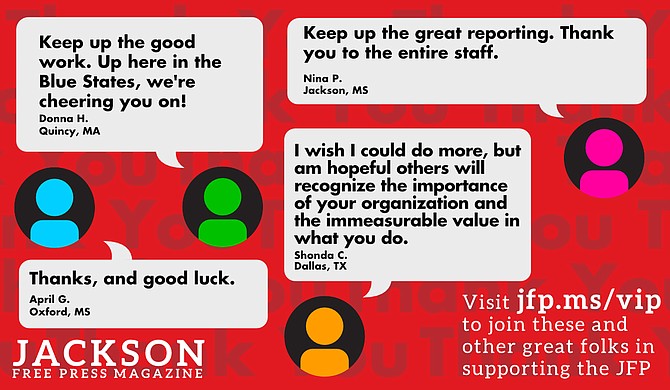 Thanks to all our new JFP VIPs!
COVID-19 has closed down the main sources of the JFP's revenue -- concerts, festivals, fundraisers, restaurants and bars. If everyone reading this article gives $5 or more, we should be able to continue publishing through the crisis. Please pay what you can to keep us reporting and publishing.