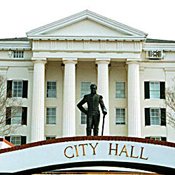 Free Tax Counseling and Filing. IRS/AIM or AARP volunteers will do electronic filing. Bring all necessary documents. Joint filers must come together. Free.
• Through March 26, at Medgar Evers Library (4215 Medgar Evers Blvd.), on Saturdays, 10 a.m.-2 p.m. Call 601-982-2867.
• Through April 11, at Ridgeland Public Library (397 Highway 51, Ridgeland), on Mondays, 9 a.m.-2 p.m. Call 601-856-4536.
• Through April 11, at Richard Wright Library (515 W. McDowell Road), on Mondays, 9 a.m.-2 p.m. Call 601-372-1621.
• Through April 12, at Willie Morris Library (4912 Old Canton Road), on Tuesdays, 10 a.m.-3 p.m. Call 601-987-8181.
• Through April 14, at Quisenberry Library (605 E. Northside Drive, Clinton), on Tuesdays and Thursdays, 1-5 p.m. Call 601-924-5684.
Monday, Feb. 28
7 p.m., "Pragmatic Pluralism" Forum at Millsaps College, Ford Academic Complex (1701 N. State St.). In room AC-215. The panel will focus on the difficulties and potentials for interfaith understanding and relations in Jackson. Dr. Laurie Patton of Emory University is the speaker. Free; call 601-974-1333.
Tuesday, March 1
10 a.m., Story Time Tuesday at Jackson Zoo (2918 W. Capitol St.). A local celebrity comes to the zoo to read an animal story. Afterwards, kids do a related craft project or have an animal encounter. Free with paid admission; call 601-352-2580.
Noon, IHL Legislative Advisory Committee Meeting at University of Mississippi Medical Center (2500 N. State St.). The committee will meet in Board Room NN209 of Norman C. Nelson Student Union to discuss issues related to a proposed privately financed UMMC parking garage project. Call 601-432-6333.
5:30 p.m., Jackson Public School Board Meeting at Jackson Public Schools (621 S. State St.). The JPS School Board meets for its regular session, open to the public. Call 601-960-8700.
6:30 p.m., Leadership/Personal Development and Life Skills Seminar Series at Operation Shoestring (1711 Bailey Ave.). Operation Shoestring and Kuumba Promos host the seminars on first and third Tuesdays. The series is intended to introduce leadership and life management skills to local youth. Enrollment is required. Free; call 601-353-3663 or 601-957-2969.
Through March 1
Congressional Research Awards Call for Applicants. The Dirksen Congressional Center invites applications for grants to fund research on congressional leadership and the U.S. Congress. Political scientists, historians, biographers, scholars of public administration or American studies, and journalists are eligible. Only proposals submitted at dirksencenter.org/CRAForm/form.html will be accepted, and the deadline is March 1. E-mail [e-mail missing].
Wednesday, March 2
Mississippi Miracles Radiothon March 2-4, at University of Mississippi Medical Center (2500 N. State St.). Radio stations Y101.7, U.S. 96.3 and Mix 98.7 will broadcast live, 6 a.m.-7 p.m. each day in the lobby of the Blair E. Batson Hospital for Children. The hosts ask listeners to call in pledges to benefit the hospital. Donations welcome; call 601-984-5437 or 888-681-5437.
11:45 a.m., Stroke and PFO at Baptist Healthplex, Clinton (102 Clinton Parkway, Clinton). If you've experienced a stroke related to a heart condition called patent foramen ovale (PFO), you may be taking blood thinners. In this seminar with cardiologist Dr. William H. Crowder, learn about a procedure to repair the PFO and end the need for thinning medications. Lunch provided; registration required. Free; call 601-948-6262 or 800-948-6262.
11:45 a.m., Parents for Public Schools Lunch Bunch at Jackson Medical Mall (350 W. Woodrow Wilson Ave.), in the Community Meeting Room. Hosted by Parent Leadership Institute, the topic is "Transforming Parents into Successful Advocates." An RSVP is required. $5 lunch; call 601-969-6015.
Noon, "History Is Lunch "at William F. Winter Archives and History Building (200 North St.). Historian William Parrish talks about responses of southern governors to civilians during the Civil War. Bring a lunch; coffee/water provided. Free; call 601-576-6850.
4 p.m., Seuss Fest at Pearl Public Library (2416 Old Brandon Road, Pearl). Celebrate the birthday of Dr. Seuss with stories, crafts and refreshments. Free; call 601-932-2562.
Thursday, March 3
11:45 a.m., Digest This: Preventing Colorectal Cancer at Baptist Medical Center (1225 N. State St.), at Baptist for Women. Join gastroenterologist Dr. Reed Hogan and oncologist Dr. Justin Baker to get the facts about colon health, screenings and symptoms of colon cancer. Registration required. $5 optional lunch; call 601-948-6262 or 800-948-6262.
6 p.m., Precinct 1 COPS Meeting at Jackson Police Department, Precinct 1 (810 Cooper Road). These monthly forums are designed to help resolve community issues or problems, from crime to potholes. Call 601-960-0001.
6 p.m., Barkus Ball at Duling Hall (622 Duling Ave.). CARA celebrates its 10th anniversary with food, fun and fellowship along with live music and a silent auction. Proceeds benefit CARA's Capital Improvement Campaign to improve operations and provide care for its animals. $50, $150; call 601-941-1432.
Friday, March 4
9 a.m., Health Fair at Jackson Medical Mall (350 W. Woodrow Wilson Ave.). Hosted by LIFE, the event will be held in the Common Area and at Center Stage. Free; call 601-982-8467.
1:30 p.m., Mississippi Historical Society Annual Meeting at Old Capitol Museum (100 S. State St.). Freedom Riders Mary Harrison Lee, Hezekiah Watkins and Hank Thomas will participate in a panel discussion on the Freedom Rides. Call 601-979-1515.
7 p.m., Mardi Gras Dance Party at Chapatoula Building (115 Cynthia St., Clinton). Hosted by Salsa Mississippi, the event includes dancing to ballroom and salsa music, free refreshments, a silent auction and Nepali crafts for sale. Proceeds benefit Mountain Child, a project that provides educational needs for 25 Nepali children. $20 (cash only); call 601-213-6355.
Through March 4
Mayor's Summer Youth Employment Program Registration at Jackson Medical Mall (350 W. Woodrow Wilson Ave.), at the Department of Human and Cultural Services, Suite 311-A. The City of Jackson's Family and Youth Division is accepting applications from youth ages 16-19 who are enrolled in school. Applicants must provide a birth certificate, Social Security card, a driver's license or state ID and the parent or guardian's proof of income. Applications are accepted weekdays, 9 a.m.-4 p.m. The deadline is March 4; space is limited. Call 601-960-2174 or 601-960-0326.
Saturday, March 5
8 a.m., Jackson Audubon Society Family Bird Walk at Mayes Lake at LeFleur's Bluff (115 Lakeland Terrace). An experienced Audubon Society member will lead the walk. Bring binoculars, water, insect repellent and a snack. Call ahead if you would like to borrow a pair of binoculars. Adults must accompany children younger than 15. Free, $3 car entrance fee; call 601-956-7444.
8:30 a.m., Super Sitters Babysitting Class at Baptist Medical Center (1225 N. State St.). The class is recommended for ages 11-15 and teaches essential babysitting skills. The fee includes books, a boxed lunch and a snack. Registration required. $45; call 601-968-1712.
9 a.m., Museum to Market Trail Clean-up Day in Belhaven. The Jackson Bike Advocates, Belhaven Neighborhood Foundation, Jackson Chamber of Commerce and Bike Walk Mississippi will clean the proposed Museum to Market Multi-use Trail. Bring work gloves and meet at the corner of Moody St. and Greymont Ave. E-mail [e-mail missing].
7 p.m., Mardi Gras Ball at Jackson State University (1400 John R. Lynch St.), in the New Student Center Ballroom. The theme is "Mardi Gras With an International Flair." Proceeds from the ball benefit the LeFleur's Bluff chapter of The Links for projects such as donating to the United Negro College Fund, scholarship funds to Piney Woods School and Jackson State University, and raising awareness about health issues such as breast cancer and Alzheimer's disease. $50, $400 table; call 601-362-2230 or 601-982-8816.
7 p.m., Mardi Gras Masquerade Charity Ball at Congress Street Bar & Grill (120 N. Congress St.). Enjoy an evening of food, entertainment and prizes for ticket holders such as a trip to Mazatlan, Mexico. Mardi Gras attire preferred. Proceeds benefit the launch of the Richard Allen School of Performing Arts, a nonprofit school. $50; call 601-812-8169.
8 p.m., Haute Arte at Suite 106 (106 Wilmington St.). The fundraiser includes photography by G. Miles, Preston Johnson and Ken Gordon, an "art-off" between Shambe' Jones and Ayatti Hatcher, and music by Soul-Unique and DJ Sean Mac. Attendees will also have the opportunity to add to a collaborative art piece that will be donated to the Southern Cultural Heritage Foundation. Proceeds benefit the SCHF's Spectrum youth arts program. $10, $5 with art supply donation; call 601-630-7175.
Sunday, March 6
9 a.m., Mojo's Second Birthday Celebration at Jackson Zoo (2918 W. Capitol St.). The zoo's youngest chimpanzee turns two years old. The staff will present him with a special surprise. $8, $7.20 seniors, $5 children ages 2-12, members/babies free; call 601-352-2580.
2 p.m., Little Light House Tea Party Fundraising Event at Fairview Inn (734 Fairview St.). The event will include an afternoon tea with scones, cakes and sandwiches provided by Sophia's Restaurant. The students of the Little Light House will take part in a children's fashion show featuring clothing from local children's boutiques. A ladies' hat competition will follow, so all women are encouraged to wear hats. Seating is limited; please RSVP. Guests must be at least 17 years of age to attend. This event helps fund the non-profit, tuition-free Christian developmental center for children with special needs. Free, donations welcome; call 601-829-3446.
Monday, March 7
National Cutting Horse Association Eastern National Championships March 7-19, at Kirk Fordice Equine Center (Mississippi Fairgrounds, 1207 Mississippi St.). See contestants compete for $460,000 in cash prizes. 12 horse-cutting classes offered daily at 8 a.m., followed by a team cutting exercise. Two catfish dinners will also be held March 9 and March 14 at 6:30 p.m. Free; call 817-244-6188.
9 a.m., Hinds County Board of Supervisors at Chancery Court (316 S. President St.). The Board of Supervisors holds its regular meeting, open to the public. Call 601-968-6501.
10 a.m., National Children's Study Awareness Day Rally at Mississippi State Capitol (400 High St.). On the front steps. The purpose of the event is to create awareness of the launch of the largest long-term study of children's health ever conducted in the United States, enrolling approximately 100,000 children across the nation and following them from before birth to age 21. Free; call 601-815-8407.
11:30 a.m., Cellular South Howell and Gillom Trophy Presentations at Mississippi Sports Hall of Fame and Museum (1152 Lakeland Drive). The Howell Trophy in men's college basketball and the Gillom Trophy in women's college basketball will be given to deserving players at the luncheon. $35; call 800-280-FAME.
Through April 4
Adult Summer Softball League Registration at Jackson Medical Mall (350 W. Woodrow Wilson Ave.). The Department of Parks and Recreation is conducting registration for the upcoming season. Interested individuals can fill out registration forms between 8 a.m.-5 p.m. The deadline for registration is April 4. There is a limit of 20 players per team. $350 per team; call 601-960-0471.
Ongoing

Jackson Public Schools Call for Volunteers. Jackson Public Schools is seeking volunteers from the community to be mentors for seniors enrolled in the Advanced Seminar: Employability Skills course. Call 601-960-8310.


Medical Mall Moment Report at WOAD 1300 AM. Find out about the Jackson Medical Mall Foundation's current activities every second Friday of the month at 8:30 a.m. Call-ins to 601-995-1400 are welcome. Send your questions and comments in advance to [e-mail missing] or call the office for more information. The broadcast is also available on jacksonmedicalmall.org. Call 601-982-8467.


Cancer Rehab Classes at Baptist Medical Center (1225 N. State St.), in the Activity Room of the Hederman Cancer Center on Tuesdays and Thursdays at 2 p.m. The class helps cancer patients enhance cardiovascular strength, endurance, their immune system and bone density. It helps to increase overall strength and stamina, decrease fatigue and weight loss, and improve digestion. Registration is required. Free; call 601-948-6262 or 800-948-6262.


Weekly Storytime at Pearl Public Library (2416 Old Brandon Road, Pearl). Each Tuesday, Baby Bookworms Storytime for children ages birth-36 months is at 9:30 a.m., and Preschool Storytime for children ages 3-6 is at 10:30 a.m. The event includes stories, rhymes, music and a puppet show on the last Tuesday of the month. Free; call 601-932-2562.


Youth Women's Cycling Group. Get fit while participating in a fun, recreational environment Saturdays at 10 a.m. The club is for young girls ages 13-17. Free; call 601-559-5577.
Mississippi River Master Naturalist Program at Southern Cultural Heritage Center (1302 Adams St., Vicksburg). The program is open to anyone ages 18 and up and covers a broad range of naturalist education topics including the hydrology, ecology, habitats, plants, insects, fishes and birds of the Mississippi River. The course of study can be completed in as few as 10 weeks or as long as 1 year depending on the participant's schedule. The cost covers membership in the National Audubon Society and books for the course. The program can be taken for college or CEU credits through several regional colleges. Additional costs will apply. $350; call 601-661-6189.
Business Plan Workshops at New Horizon Church International (Renaissance South, 1770 Ellis Ave.). Get hands-on, individualized or small-group assistance to develop your customized business plan. Sessions are Tuesdays and Thursdays from 10:30 a.m.-noon or 5:30 p.m.-7 p.m., and first and third Saturdays from 10:30 a.m.-1 p.m. Appointment required. Call 601-371-1390, 601-371-1296 or 601-371-1427.
Programs on WMPR 90.1 FM and wmpr901.com.
• Women for Progress Radio Broadcast. Dorothy Stewart and Willie Jones host the program on Thursdays from 6-7 p.m. Topics include education, economics and politics. Call 601-918-5137.
• Mayor Harvey Johnson Jr. Show. Every Friday from noon-12:30 p.m., Jackson mayor Harvey Johnson Jr. discusses activities, issues and other newsworthy items that are occurring in the city of Jackson. Call 601-960-1084.
sure
More like this story
More stories by this author
Like independent media outlets around the world, the Jackson Free Press works hard to produce important content on a limited budget. We'd love your help! Become a JFP VIP member today and/or donate to our journalism fund. Thanks for considering a JFP VIP membership or one-time support.