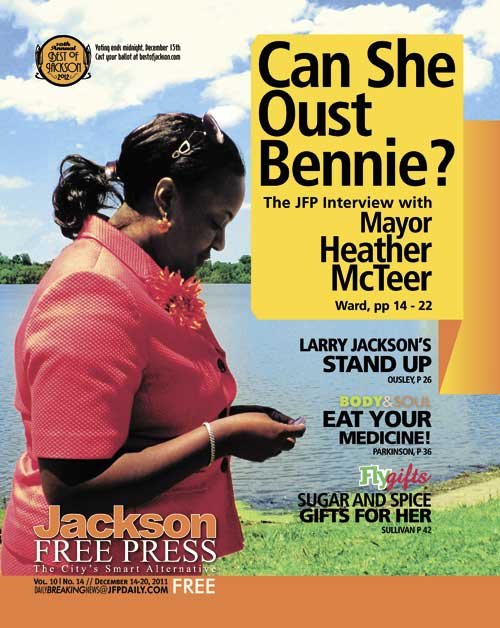 Greenville Mayor Heather McTeer, 35, isn't afraid to challenge herself. She completed the St. Jude Marathon years after doctors said she'd never be able to run due to an old injury. Her motivation has inspired others in the Delta, identified as one of the unhealthiest places in the nation, to exercise.
McTeer's parents moved to Greenville during the Civil Rights Movement. Her father, Victor McTeer, was a prominent civil-rights attorney who encouraged and mobilized African Americans to vote and take leadership positions in their community. Also an attorney, McTeer graduated with a bachelor's degree in sociology from Spelman College in Atlanta, Ga., and earned a law degree from Tulane University in New Orleans.
Her family's history of service encouraged McTeer to run for office after completing law school. She says poverty and other problems in her community compelled her to want to make a difference through public service. Citizens of Greenville have rewarded McTeer with two terms in office, but she chose not to run for a third term. From 2008 to 2009, McTeer served as president of the National Conference of Black Mayors. Currently, she chairs the Environmental Protection Agency's Local Government Advisory Committee.
Among other honors, Essence Magazine named her one of the "50 Most Beautiful Women in the World" in May 2005.
About a year ago, whispers in Democratic political circles suggested McTeer might run for governor or lieutenant governor. Instead, she chose to seek office representing the Second Congressional District in the U.S. House of Representatives, challenging stalwart Congressman Bennie Thompson, also a Democrat.
Kind of like the doctor advising her not to run a 10K race, plenty of people tried to convince McTeer not to run against Thompson, first elected to Congress in 1993. But she sees a need for new leadership representing Mississippi's only majority African American congressional district.
With her record of improving infrastructure and finances on the city level, McTeer says she wants to fill the congressional "void of leadership" of the district. She went into more detail in an interview in Greenville in early December.
Why did you make the decision to go into public service?
I was raised in a household of public service. My parents both came to Mississippi as part of the voters' rights movement. My father is a civil-rights attorney, and my mother is a teacher. My brother and I both grew up in a household where service was not a byproduct of your day; it is an obligation you have as part of the community. It's been a blessing because I've always maintained that connection to the community because of that service. It's something they taught us that we owe to the community.
I found myself—even through high school all the way through law school and coming out—getting involved with public service. I started out working in Girl Scouts and was a Girl Scout leader when I was in college. I always maintained that connection to service. In Georgia (during college), I worked for (state) Sen. Donzella James and worked for the Georgia Legislature as an aide. I have clerked for Supreme Court Justices in the state of Mississippi and always found that it was important to maintain that connection to our community by doing things for it. This is the community that raised me. I feel strongly that I can help make it the best community it can be.
Your family, particularly your father, has a long history of political activism. How has your family influenced your politics?
When I was 10 years old, my dad represented Robert Merritt, who was trying to become the first superintendent (of education) in Indianola. He took my brother and me to Indianola. We knew the Merritt family and their children. I will never forget. We were going over for a march to support him. I didn't understand until much later in my life what it meant for us to be there. My dad explained it to me as "we are working with the community. It's important for us to be here; we are supporting the opportunity for the first black man in Indianola to become the first superintendent because he qualified to do so."
He said it was important for us to be there. My brother and I were children. It was a learning process. This is the type of environment I grew up in, understanding we have a duty to stand up for the rights of people, even in the midst of adversity. My dad later told me, "Heather, it was one thing for you to see me there, being there and standing up and being a part of this march, but you'll never know how afraid I was to have my children standing there, not knowing what would break out, if any violence would occur." I also understand the importance of standing there and saying we're going to put our own selves at risk. It's in that spirit and that environment that my family has an impact and influence on me.
When have you had to channel your dad's fearlessness?
In everything that we've done, there's always been that sense of being unafraid. Because it's natural to be a little scared of what's unknown. When I ran for mayor, there had never been an African American, there had never been a woman. The good Lord knows there had never been anybody 27 years old trying to do this. I come from a faith-based family, so we grew up standing on the scriptures that we were taught. God has not given us the spirit of fear, but a spirit of power and love and a sound mind. Fear isn't something we focus on. We have fearlessness because we have the power to do whatever we're called under God to do. We operate in a loving fashion.
Every step I've taken, I always remind myself, even beyond my father, of every person who has fought and struggled for the people of this community—be they black, white, women or men—they had to exhibit a fearlessness. Who am I to be afraid? I have to do what I'm called to do and put aside the fear and encourage others to do the same.
What did your dad think when you decided to run for Congress?
I have a very encouraging family. But more importantly, I think my entire family understands that it's important for us to focus on the needs of our community and the needs of this district. That's the same thing that I had to focus on. I couldn't ignore that we continue to be 50th over and over and over again. We have remained in the same place for going on a generation now without any movement, without any plan, without any vision. I couldn't sit back and say that was OK.
I know and have seen far too many mothers and families who have continued to come into my office and simply cannot afford to continue to do what we've been doing. That's where we have to have people—and I'm proud to be one of those people—who step up and say, "We've got to do something about it."
We can continue to talk about it, or we can do something about it. I choose to be an action-oriented person.
Serving your second term as Greenville mayor, what have been some of your biggest challenges since taking office?
To be in this area, you have to understand the challenges inherent to the Mississippi Delta and inherent to Greenville. When I came into office, this city was $4 million in debt. We had employees who couldn't cash payroll checks. We had checks that actually bounced. That was the situation of the city of Greenville.
My accounts-payable clerk and I did what people do around their tables each day. We looked at how much money we had in the account, and we'd take the box of bills and checks and see twice a week what went out and what got paid. We had to do what working families and poor families all over this district do every single day. When I came into office, we had so many complaints about infrastructure. We had streets that had not been done in over a generation, in some cases more than a generation. Some were completely dilapidated. We had so many jobs that left before I got to office. There was a sense of hopelessness. But from my purview, we had such a great opportunity before us.
As I prepare to leave office, I'm so proud of the fact that I leave office with the city in the black. I leave office with a chief financial officer in place. We've been able to overcome those challenges. We've gotten over a hundred streets done in the city of Greenville—neighborhood streets—and we've still been able to leverage funds to do arterial streets. We've seen businesses that have rented buildings in Greenville turn around and invest millions of dollars into buying property and building headquarters space in the city of Greenville. We've been able to do all of that during one of the worst economic times this country has ever seen in one of the worst economically depressed areas of this state. When we talk about the challenges, I can't help but look back and talk about how we've overcome them and get even more energized about what we can do. We were able to do all of that, and it only took us eight years. Imagine what we can do for our entire district in the next eight.
You preempted me a little, but as you complete your time as mayor, what accomplishments will you be most proud of?
I'm leaving office with the city financially in the black. Businesses invest millions of dollars into our community. I changed how we use our gaming money. It used to go into our operational account. It used to mix with our day-to-day operations. I said, "What if the casinos decide to up and move away?" The money fluctuates. I got the council to change it so the gaming funds did not go to our operational account. Instead, it went to a separate account where we could do different things; it was set aside for money for parks, money for airports and other areas of the city. I don't think anybody realized how important that was until this year when we saw record flood levels all across the Mississippi River that required the casinos to close. Our gaming revenue was cut off for a month. My city was able to continue. Sure, we tightened up some purse strings and belts, and we really watched because we knew casino revenue was going to be short for a month. But it didn't pay police and firemen. It wasn't money that was relied on to keep the lights on. We were able to operate in a fashion that provided services because of our sound financial planning and outlook.
When I leave office, that's the kind of foundation that I've left. We've gotten over a hundred streets done in neighborhood communities and downtown, including Washington Avenue, which was a huge accomplishment. That set in stone a foundation for a solid downtown. If you look at Greenville's downtown, it had declined for the last 20 years. When I took office, I worked with people from the Main Street Association. I got the council to agree to make it a two-way straight street like it was a long time ago. And then I secured money to redo the street in two phases. Phase one is already done with solid water and sewer infrastructure in place. We just awarded the bid for phase two. Even after I leave office, the foundation is there to build our downtown. That's important to really see how we have really laid out a good foundation to build business, community and civic development. It sets the stage for Greenville to flourish well into the future.
When did you decide to run for Congress?
I think it was a rolling process. Ultimately, I looked at our entire district and looked at the desperation I see in the faces of people I know and have met all along this journey, all throughout this Second Congressional District. So often, I've been posed with the question: "Heather, how are you able to do this in Greenville? Is it possible to do it in my community?"
I have something called "open office" as mayor. Regardless of what was happening on my schedule, on Wednesdays, I would set a time for anybody to come in without an appointment; my office was always open to them. You could come and talk about whatever you wanted to talk about. I started getting people who would come to me from Rolling Fork and from Sharkey and Issaquena County, and people who traveled from Jackson and Tunica were coming to talk to me during open office. They wanted to talk to me about things they saw going on in Greenville. They said, "You're doing streets in Greenville, and we want to know how we can do it in our communities."
It made me realize we have a void in this district that is desperately needing to be filled, and people are hungry to know there is hope. I couldn't sit idly by and ignore that. I couldn't sit back and say, this is all right. People who are suffering from health ailments—we have the highest rates of obesity, high blood pressure, diabetes, heart diseases, childhood obesity—we're talking about people dying every single day. People can't afford to do that. I couldn't sit back when I know we can develop a plan, develop a vision to begin to turn this around.
I know you've run a marathon and two half-marathons. Health issues have historically plagued the Delta. As a marathon runner, why did you choose to make running a part of your life?
I chose it for a few reasons. One, I was told I couldn't do it. We had an excellent YMCA director here named Phillip Doiron. He said everybody could be a runner. He helped put on the first 10K in the city of Greenville. At the time, Ross Reily, the editor of the Delta Democrat Times, hadn't run one in some time and was looking for something to get the city behind to talk about health and wellness. So he said to me: "Let's do it together. So many times the city and the newspaper are at odds. Let's do this together." I said OK. I used to run track in high school and hadn't done it in a while, but I like being outside, so I agreed to do it. After doing the first half-mile of practice, I was tired and my knee started to swell up from an injury. I went to a doctor, who said I would never run. He said I'd never be able to even walk at a fast pace. Something about that made me say I was going to do it. Something about being told "there's no way you'll be able to do this" just really reenergized me to say "I can, and I'm going to."
From there, I was told if I could do a 10K, then I could do a half-marathon. Over the next two years, Phillip was so encouraging and developed energy in the group. I said, "I really like this, the peacefulness of being outdoors." I also realized that me doing this helped the community to see that you don't have to be some little skinny individual that's running a seven-minute mile to do this. We used the Galloway method of walking and running. I found there were so many people out there when I was out exercising who said they saw me running, and that they thought they may be able to run, too. I said, "Yes! We can all run together. We can run and we can walk."
I'm not the Sports Illustrated model-type of person out there running in perfect form. I sweat. I tie my hair back, but I tie my hear back, and I'm out there running. It's about accomplishing a goal and getting people out there to be health minded. That's the goal. We've got to be health-minded. I'm looking forward to running the Blues Half-marathon in Jackson. I hear it's much tougher because they have hills, and us Delta folks are used to flat land.
When I ran the St. Jude Marathon, at mile 18, I saw a lady who stopped. I told her, "We can do it. Let's keep going." We ran together and crossed the finish line together. Running creates an environment of motivation, an environment of you-can-do and will-do spirit.
That same spirit is what we have to bring to this district with respect to health. We have to be motivated and encouraged to know we can do it, and that it's a necessary requirement to our necessary existence. When you think about businesses that want to relocate to our community, they look at costs. And health is a major part of it. If their labor force is going to be sick, if they are going to pay more for sick days and people being out, if they have to pay more in health insurance costs in this district than if they went to the first or the fourth district, that tells us there are some things we need to address because of impacts to job creation for us.
We have to have that conversation to set realistic goals and vision for what we do to change that. That's what I'm excited about it.
I want to run and swim and bike. I've done three triathlons. I want to bring that attitude of health, wellness and spirit to our entire area.
Why do you want to run for the U.S. Congress?
There's a need and a void that we must fill. We absolutely must. And I believe that I am not only capable but experienced in practically setting our goals and our visions for our district. As a congressperson, not only do I have the ability to do that, but I also have the ability to be a very strong advocate—a strong advocate for the needs of people from our district.
If we can understand how to solve the problems of our district, we can understand how to solve the problems of America. We are at a place now where I couldn't sit by and say it's OK for us to keep doing what we've been doing and expect things to change. That's the definition of insanity. I made the decision that I'm going to run for Congress and going to be a part of a positive direction of our district.
I've always heard people say running against Bennie Thompson in the Second Congressional District is something like trying to run through a brick wall. What makes you believe you can win?
Even brick walls can fall. It's simply about the issues in this district. It's about the fact that we're still 50th and have been for 20 years over and over again. It's about having failing infrastructure that we have to have a plan for. It's about us having health disparities that we have to have a plan for. We have an education problem in this district that hasn't been addressed, and I'm the best person for the job because I have not only practically worked in these areas, but I have consistently set goals and met them. I have set visions and outlines so we have a workable plan. I've been working on the ground with people for years, and we've been successful at it. We can do it in Greenville, and we can do it all across this district. I have a proven record, and it only took me eight years, not 20. That's why I'm the best person for the job.
How do we address education in the district on the federal level?
First, we have to recognize this district is different from others. Our district has the highest rates of dropouts. We have the lowest graduation rates. We must do something different. From the federal perspective, we have an opportunity to look at the resources available, but also work with our superintendents, our social and civic groups, parents, teachers and students and create what's best for our area. That's what I mean about planning and having the vision to come up with an outline. We're going to work with local, state and federal leaders to make sure we have a turnaround. We have a great opportunity to do some new things that have been proposed.
Maybe we need to look at educational programs that have not yet been seen in the state of Mississippi. There are other parts of the country that are similar to Mississippi that have been successful. I've seen an all-boys high school in Chicago that's in a low-income area. Most of their students are under the poverty level, yet they have a 100-percent college placement rate—not graduation rate, but college placement rate. You can't convince me if you can do it in a place that has the same dynamics, the same socio-economic status, the same problems that we have here, you can't tell me that it's not duplicable. Research shows now that one-in-three school children in our district are in poverty. We have a chance to lead the charge at the federal level and to create opportunities that are unique for our children.
What issues do you see as most important to the Second District?
I think the most important thing is job creation. But in order to have job creation, three other parts are critical—education, health and wellness, and infrastructure. They're the base to job creation. That's ultimately what we have to do in the district. We have to get people to work. To do that, our communities must have solid base infrastructure to support not just existing businesses but also small businesses and industries that are good to come into our district. Industries today aren't looking at our juniors and seniors in high school; they're looking at our second graders. They tell industry what the labor force will be in the next 10 to 15 years. We've got to have infrastructure, education, and health and wellness. If you have those three things together, you have a wonderful base for job creation. That's what this area has to have.
What is your relationship with President Obama and how it would help you in Congress?
I learned early that working with the president's administration is just that—it's about work.
My experience working with the Obama administration is they are concerned about working with people. I was fortunate enough to work with them very early in the campaign. He spent the night in Greenville and spoke at Buck's Restaurant. I rode over there with him from his hotel to Buck's. He asked what are things needed in Greenville. I said: "We've got to focus on infrastructure and job creation. That's what people need."
After the president was elected, before his inauguration, I learned about Greenville being at risk of losing its airline. I was fortunate to call the administration and within a day, they had someone from the FAA and other relevant areas to meet with me and have a conversation about keeping this from happening. Now when I call, I know somebody will pick up.
What role do you believe the federal government should play to help encourage economic development in the area?
It's about creating the atmosphere that's ready and right for the business environment. We can do that by setting the outline, vision and the goals to do it. That's the void that hasn't been filled. If you look at the other parts of Mississippi, they are a part of creating that environment that is ready and ripe for whatever jobs and industry they're able to attract. You have to work hand-in-hand with our local and state government to be able to do that. Before we get to that, we've got to correct some of the problems in our district right now. From a federal level, I fully intend to help set the direction for our district. We will have an operating plan to turn all that is possible here into a reality.
Do you believe this district gets the attention it deserves?
No, this district should be the priority of the United States—period. Our state is 50th in the country, and within the state, we're at the bottom of that. As the saying goes, a rising tide lifts all boats. Let's start at the bottom and lift and create. We have to focus on this district. In my mind there is no other district that needs more attention than the Second Congressional District. I don't care where you are. This district should be priority, and under my administration, it will be.
What are some of the strengths of the district?
We have the best natural resources ever. We have the best people—period. You'll not find a kinder, more loving and loyal people than you'll find in this district.
Throughout the Delta, we're touted nationally for our southern hospitality. That translates into a business loyalty. You'll find a sense of loyalty and camaraderie make for an excellent work environment. Folks have worked for companies here for years. People who have created small businesses that are unique to this area just need a little urging and nudging to help them see that their market can be global. We've seen that happen in some places. Our best strengths are us. We have the river, we have the most fertile land, and we have an opportunity with rail. We have some of the most wonderful natural resources in this area. We are the richest part of the state with the poorest people. That shouldn't be so.
Bennie Thompson gave up his seat on the Agriculture Committee to chair the Homeland Security Committee. Have you considered what committees you'd pursue?
Certainly, agriculture and transportation would be two of my top choices. They fit directly in line with what I think are the strengths of this area. With agriculture, it's pretty obvious that it has been our lifeblood in this part of the state. But it's also emerging and changing. We have opportunities to lead policy in that area. When you look at agricultural technology—the opportunities for really expanding an area that can benefit not only our area but internationally—there are things we can do. I think I can bring things to the (agriculture) committee that would really benefit our congressional district.
The same thing with transportation; it's something vital to our district. It's one of our needs with infrastructure. We've got some amazing resources. We've got rail that we need to focus on. We've got a river, which is very unique, since a lot of places don't have that. We've got air. I think being a part of the transportation committee helps rail, roads, river and air.
Have you spoken with Bennie Thompson since you decided to run? What's your relationship with him like?
We've been in the same areas. I expect to run a campaign that we intend to win. We're going to do this. We know we have to connect with voters.
You've been spotted in Jackson with people associated with the Mississippi Republican Party. Have they tried to woo you, or have you sought GOP support?
I am a Democrat. Let's be clear about that. I'm a Democrat through and through.
Will you seek Republican support in the primary?
I think they want my support. They understand the need. Our campaign is a campaign based on truth. People have reached out to me. I'm running in the Democratic primary. It's been my experience here in Greenville.
As for your campaign, what will be key to you winning the primary?
Reaching out, going out and touching folks, asking them for their support.
At this stage in the race, what are your priorities?
Fundraising and that same old-fashioned getting out there and getting to know people. It doesn't cost a dime to go out and meet the people of this district. I will not be outworked. I have the energy and passion to get out here and make it happen.
Previous Comments
ID

165593

Comment

Can she unseat Rep. Thompson? Short answer...no.

Author

Jeff Lucas

Date

2011-12-14T16:58:37-06:00
ID

165595

Comment

And the long answer is hell no. The republicans are trying to expand the district to knock off Bennie. That won't work either.

Author

Walt

Date

2011-12-14T17:45:26-06:00
More stories by this author
Support our reporting -- Follow the MFP.