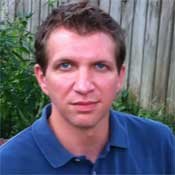 Any poll conducted in Mississippi posing the question "What's your favorite NFL team?" would probably produce results something like 94.5 percent Saints, 2.5 percent Cowboys, 1 percent Colts, 1 percent Packers, and 1 percent "Other." I'm part of that "Other." So is that Buffalo Bills fan I met at Fenian's Pub a while back and that lady who passes me on Lakeland Drive every morning with her Washington Redskins bumper sticker.
Most Mississippians who grew up in the '70s, '80s and early '90s were fed a steady diet of Saints, but not all of us digested it. Some of us rebelled, often influenced by nothing more than football cards and The George Michael Sports Machine (Google it). Many of us ran to the comfort of Marcus Allen and the Raiders, others to the Montana-to-Rice-era 49ers. Regardless of how and why we landed where we did, each one of us has our story, and those stories interest me. Mine? Glad you asked.
It was Millsaps College, Jan. 11, 1987. I was a short, goofy, 11-year-old sitting in the Franklin Hall dormitory lobby, waiting for my parents to finish visiting my older sister Mary, a Millsaps freshman. She was the smart one, the pretty one, the one who listened incessantly to The Police and forced me to go watch the movie "Dune" for purely Sting-related reasons. It was at the precise time, on a tan Zenith TV in that lobby, that I witnessed "The Drive."
Of course, I didn't know it was "The Drive." At the time, it was "The 4th Quarter of the Game I Was Watching Before We Went to Burger King." What it became was the worst thing to happen to the city of Cleveland since Lake Erie caught on fire. (Sorry, LeBron. Your exodus doesn't rank third in my book.) It was 98 yards that changed my life. John Elway ripped the heart out of the Cleveland Browns, one scramble and one clutch conversion at a time.
But John Elway wasn't the one that earned my undying devotion. That day, I fell in love with the Cleveland Browns—a team with Bernie Kosar, a wily quarterback who looked more like the comedian Gallagher than a hero. A team with a battery-tossing end-zone section called the "Dawg Pound." A team with uniforms plainer than the ones I sported in the pee wee league. All those rugged football context clichés seemed to fit them: "blue collar," "hard-nosed," a defense that will "bend but not break." Their fan base mirrored the team, too—factory worker types. They were the "Rust Belt Folk." Celebrity stargazers could leave their Sharpies at home for Browns games.
On Jan. 11, 1987, the Browns became my rock. A seal-brown and burnt-orange rock with no discernible logo, but my rock, nonetheless. Unfortunately, the rest of the league would be filled with too much paper and not enough scissors.
Following "The Drive," a rare sequel that eclipses the first ensued: 1988's "The Fumble," starring Earnest Byner. The Browns mustered one last challenge in 1990, but were dealt a convincing 16-point loss to Elway and co. in the AFC Championship Game. Then, the absolute unthinkable happened: In 1996, the Cleveland Browns, eight-time league champions (the last being in 1964), moved—no, were moved—to Baltimore, a town that the Colts jilted in 1984.
A Brown became a Raven. A purple and black Raven with — gasp! — a logo on his helmet. The proud Browns fan base, myself included, retreated to our VHS memories and old Sports Illustrated articles.
In 1999, the NFL awarded the city of Cleveland with another Browns franchise. It wasn't the same. It was like humoring your parents but knowing that the goldfish in the fishbowl wasn't your old buddy, Roscoe. My Roscoe, the old Browns, had been flushed down the toilet four years ago. I was looking at a stand-in, a wannabe Browns goldfish. Although they remain one of four teams in the league to have never made a Super Bowl, the Browns are on the up-and-up. I'm part of that, and I've got a Bernie Kosar football card in my wallet to prove it.
Football does this to us. It helps define us by what we are and what we are not: Republican; Democrat; Methodist; Baptist; Bulldog; Rebel. Many of my favorite memories are from football games. It's why accomplished men and women in their 50s and 60s scour Internet message boards looking for the decision that an 18-year-old from Walnut, Miss., makes about attending college. It frequents grooms' cakes at weddings. It gives us something better to chat about in elevators other than, "It's hot" or "It's really, really hot." It's a sport for everyone, by everyone.
Former Redskins quarterback and current ESPN broadcaster Joe Theismann said: "Nobody in football should be called a genius. A genius is a guy like Norman Einstein."
Well said, Joe. I'm glad you and the rest of the gang are back.
Ben Garrott hails from Winona. When he's not working to improve children's mental-health services, he promotes hockey-free Sports Centers. Ben lives in Fondren with his beautiful wife and lovely daughter.
Previous Comments
ID

164796

Comment

*clapping feverishly* SideNote: GO COWBOYS!!!!!!!!!!!!!!!!!!!!!!!!

Author

Queen601

Date

2011-08-31T15:07:09-06:00
ID

164831

Comment

Duan must not have seen this column as big a Cleveland Browns fan as he is. Well, I'm a Steelers fan and Cowboy hater. The Steelers winning and the Cowboys losing make me as happy as a kid in a candy store. The Saints lost too much for my taste early on. But Archie Manning is what me really hate the Saints for years. I'm a Saints fan as long as they're not hurting the Steelers. I hope the Cowboys go 0-16 this year.

Author

Walt

Date

2011-09-03T10:39:58-06:00
ID

164846

Comment

Walt - I did not see this!? lol!!!! Ben Garrott - its refreshing to see someone who is not from Cleveland, but is a loyal Browns fan. I have to say, you can't miss my house on a Sunday in NE Jackson - because I am the lone flag waving my Burnt Orange helmet Browns flag. My office at work is practically a miniature shrine to my beloved C-Browns and its funny when staff come in and say "wow, your a Browns fan - why!?" And it amazes me how people, almost feel sorry for me or as if the want me to reach or ask for their sympathy? Its' pure comedy the number of Cowboy, 49er, Colts, Steeler fans that I've come across in Mississippi. I even had a kid and I say kid, because he really wasn't really knowledgble about sports - I could tell he based his "love" on what was hot at the time - say to me "well I'm a Patriots, Celtics and Red Sox fan" and I replied "oh you must be from Boston" he said no, I'm from Jackson. I put my hand up in dismissal and said this conversation is over. Living in Mississippi - it's hard for me to take fans seriously here, especially when they root for teams that have won - because it makes me wonder how deep their love truly flows? My mother (who is a Floridian - born and raised) is in Memphis and she questions the loyalty of the fan base there as well (Steelers & Cowboys in Titan land) All in all, nice article Ben - glad to have you in Browns Nation!

Author

Duan C.

Date

2011-09-06T07:25:58-06:00
ID

164847

Comment

Hey Walt - don't forget we play you busters on Thursday, November 8th @ 7:20pm and New Years Day @ 1pm! CAN'T WAIT! lol!!!!

Author

Duan C.

Date

2011-09-06T07:29:50-06:00
ID

164859

Comment

Duan..........what the hell do you want from people from Jackson???? Do we have a pro team that I missed or something???? What baffles me as a COWBOYS fan (and lawd knows I have this convo with some random person on this site EVERY SINGLE YEAR) is just how much hatred is thrown at the Cowboys and the steadfast COWBOY NATION?! I won't speak about ANY other team, because I don't have any other team. I don't claim any seconds (NOT A SAINTS FAN BY ANY STRETCH) and I don't waiver. Cowboys win or loose.

Author

Queen601

Date

2011-09-07T08:17:40-06:00
ID

164860

Comment

Queen you good with me, because you've proven your loyalty to the Cowboy nation to me on numerous occasions, so I know your a certified cowboy just like my buddy Darryl Courtney - he is a die hard cowboy and he respects the fact I'm a Brown. So I guess my attitude is harsh towards Jacksonians and the fan bases of certain teams, because of the "I'm better than you" attitude that I've received from certain fan baseses for rooting for my beloved C-Browns. With that said, the negatives have outweighed the positives with my encounters and/or experiences with folks (Jacksonians & Mississippians) who have challanged me and debated me over my loyalty to my team and if you know a real true Browns fan - if you come talking smoke to us - it can get real ugly in milliseconds. So when you ask the question "what the hell do you want from people from Jackson" respect the fact I have a favorite team and don't disrespect my loyalty for rooting for the team of my birth city. Granted we've had a rough outing since the re-birth, but it's ours and we love them and what they represent. It's that simple.

Author

Duan C.

Date

2011-09-07T08:35:40-06:00
ID

164862

Comment

Oh I get that completely!!!!!!!!!!!!! TRUST ME! I totally respect those who love their teams as much I do. Even Walt, although he is totally disrepectful to America's Team! *Wink,Wink*

Author

Queen601

Date

2011-09-07T10:40:41-06:00
More like this story
More stories by this author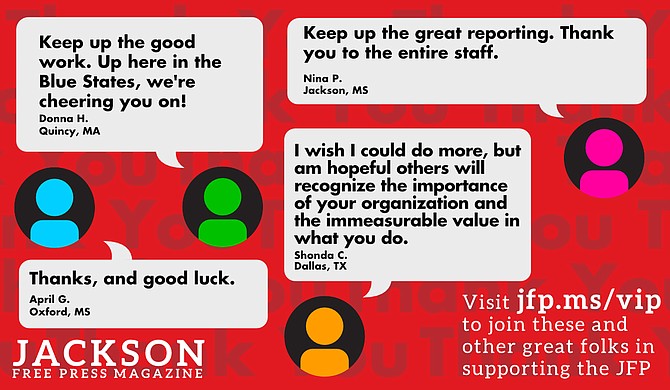 Thanks to all our new JFP VIPs!
COVID-19 has closed down the main sources of the JFP's revenue -- concerts, festivals, fundraisers, restaurants and bars. If everyone reading this article gives $5 or more, we should be able to continue publishing through the crisis. Please pay what you can to keep us reporting and publishing.