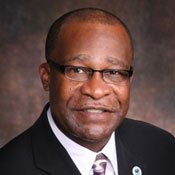 Hattiesburg Mayor Johnny DuPree won the Democratic nomination last night for Mississippi Governor—making him the first black to receive a party nomination for governor since Reconstruction.
DuPree received 55 percent of the vote in yesterday's runoff election over his opponent Clarksdale businessman Bill Luckett.
Luckett offered his support to DuPree last night when the results were final.
"I have come to know Mayor DuPree well. I regard him as a friend and someone who loves this great state as I do," Luckett said in a statement.  "He has showcased his leadership credentials. Just look at Hattiesburg.  He has showcased his desire to serve all Mississippians. Mayor DuPree can lead us into the future.  He is a fellow Mississippian who deserves and has earned my support and he's got it.  Tonight, we stand with Mayor DuPree as he launches his campaign for Governor of Mississippi."
Other runoff winners include: Republican Lynn Fitch for state treasurer who faces Ocean Springs Mayor Connie Moran on Nov. 8; Hinds County Supervisor District 2 and Democrat Doug Anderson who does not have an opponent in the general election; and Republican candidate for state Senate for District 25 Will Longwitz who faces Democrat candidate Cecilia Sampayo on Nov. 8.
Also see: The JFP Interview with Johnny DuPree
Previous Comments
ID

164717

Comment

I voted for Dupree despite my concerns about race and racism in Mississippi. Yes we can again.

Author

Walt

Date

2011-08-24T17:22:56-06:00
ID

164719

Comment

Speaking of great achievement, don't forget to note or mention that there is now a MLK Statute on the National Mall in Washington DC due to the persistence of Alpha Phi Alpha Fraternity which I, Kaze and Duan are members of. Over a 15 years or so period of time 115 Millions were raised to bring this dedication into fruition. We still need 5-6 million more to complete the financing, but yes we can. You can watch the dedication this Sunday on BET, TVOne, CSPAN and probably every other network starting at 9 am, I think.

Author

Walt

Date

2011-08-24T17:40:19-06:00
ID

164730

Comment

Walt, y'alls job would've been easier hadtThe King family not charged $800,000.00 for the likeness and words of MLK to be used.

Author

RobbieR

Date

2011-08-25T14:12:52-06:00
ID

164735

Comment

Robbie, believe it or not, all the King children were easy to deal with except one, according to my sources. Every family probably has at least one a__hole. We overcame that family member too. I don't know that they received that money. Besides, Martin King, Jr., just like his daddy was, is a member of the fraternity too.

Author

Walt

Date

2011-08-25T16:50:15-06:00
ID

164741

Comment

Count me as among the "Phrozen Phew" of Alpha Phi Alpha Fraternity, Inc. 06!!

Author

Renaldo Bryant

Date

2011-08-26T08:07:12-06:00