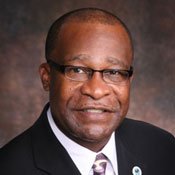 Stories this photo appears in:
Personhood
Despite Mayor DuPree's unfortunate support for the Personhood Initiative, he is the clear choice for governor against Lt. Gov. Phil Bryant, who has veered so far to the right that ...
Politics
Hattiesburg Mayor Johnny DuPree won the Democratic nomination last night for Mississippi Governor—making him the first black to receive a party nomination for governor since Reconstruction.
Person of the Day
Johnny DuPree wants to take Mississippi from last to first place in national rankings. DuPree, 57, the mayor of Hattiesburg, was the guest speaker today at the Jackson Chamber of ...