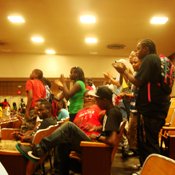 "Touch this mother tonight, father God, who must deal with the loss of her son. Touch this family, this sister, this brother, who has lost a dear loved one to them all," Rev. Gregory White said to Jim Hill High School students, family and staff. White was invited to help celebrate the death and homecoming of Tommy Wheaton with a candlelight vigil on Aug. 18. During his prayer, a lady stood and called out "Alright now" as if she were in a church service.
A hit-and-run driver killed Wheaton while he was riding his bike in a friend's yard on Archer Ave. on the night of Aug. 14. No arrests have been made. The vigil at Jim Hill's Meet the Tigers Night was the second vigil held for Wheaton that day.
"Everybody don't die when they get gray hair. Some folks gon' die when they're young," White told the congregation. Audience members listened to every word. Some stood and cheered in agreement.
"We've come here tonight to celebrate this young man's life. It's not a time for us to be sad. It's not a time for us to be covered in tears," White said. "It is time for us to reflect."
Eighteen of Wheaton's friends and classmates stood on stage silently holding candles. Seventeen of them, Jim Hill principal Bobby Brown said, represented each of the years that Wheaton lived on this Earth. The last one represented Wheaton's birth. In memory of Wheaton, the school's theme this year will be "The Power of Wheaton."
Brown presented Wheaton's mother, Katie Courtney, with several framed photographs of Wheaton and his classmates in art that were featured in the Clarion-Ledger and the Jackson Advocate. June 5, Wheaton and his art class were on the front page of the style section of the Clarion-Ledger for creating decorated mannequins for the Cancer Association. Courtney was also given $700.
"The author of (The Power of We) discussed ways that faculties could really get together and make efforts so they can have a successful student," Jim Hill principal Bobby Brown said. "I took the power of we and turned it into the Power of Wheaton"
After the vigil, the Welcome the Tigers event began with a promise that this year will be different.
"We have to live every day like it's our last day because we don't know what tomorrow may be holding," White said. "We have to live each moment and each second like it's our last moment."
Support our reporting -- Follow the MFP.