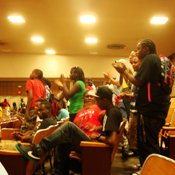 Jim Hill faculty, students, and family attended the Aug. 18 candlelight vigil for the death of student Tommy Wheaton.
Stories this photo appears in:
"Touch this mother tonight, father God, who must deal with the loss of her son. Touch this family, this sister, this brother, who has lost a dear loved one to ...