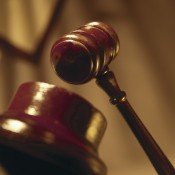 Parents & Kids Magazine's Back-to-school Pajama Parties. Children in kindergarten through second grade enjoy music, bedtime stories, goody bags and refreshments. Parents must accompany children. Pre-registration required. The first 100 registrants receive a surprise gift. Free; call 601-366-0901.
• Aug. 1, 6 p.m., at YMCA Fortification (800 E. River Place).
• Aug. 2, 6 p.m., at YMCA Flowood (690 Liberty Road, Flowood).
• Aug. 4, 6 p.m., at YMCA Ridgeland (888 Avery Blvd., Ridgeland).
Rankin County Young Democrats Group Interest Meetings. Those interested in forming a group are invited to attend. Email [e-mail missing].
• Aug. 2, 6 p.m., at Brandon Public Library (1475 W. Government St., Brandon).
• Aug. 4, 6 p.m., at Flowood Library (103 Winners Circle, Flowood).
Monday, Aug. 1
Adult Fall Softball League Registration Aug. 1-Sept. 9, at Jackson Medical Mall (350 W. Woodrow Wilson Ave.). The Department of Parks and Recreation is conducting registration for the upcoming season. The league consists of co-ed teams with a limit of 20 players per team. The deadline is Sept. 9. $250 per team; call 601-960-0471.
6 p.m., Jackson Arts Collective Monthly Meeting, at The Commons at Eudora Welty's Birthplace (719 N. Congress St.). Every first Monday, the Collective Steering Committee meets to discuss business of the previous month and listen to local artist proposals for the sponsorship of events that fall in line with their mission. Open to the public. Call 601-497-7454.
Tuesday, Aug. 2
10 a.m., Story Time Tuesday, at Jackson Zoo (2918 W. Capitol St.). A local celebrity comes to the zoo to read an animal story. Afterwards, the kids get to do a related craft project or have an animal encounter. Free with paid admission; call 601-352-2580.
5:30 p.m., Mississippi State Alumni Group Mixer, at Duling Hall (622 Duling Ave.). Incoming and prospective MSU students learn about university life from representatives of admissions and scholarships, the alumni association and other campus offices. Wear casual attire; RSVP. Free; call 601-720-2253.
5:30 p.m., Broadmoor Neighborhood Association Reorganization Meeting, at Redeemer Church (640 E. Northside Drive). The purpose is to discuss investment in and renewal of the Broadmoor community. Call 601-842-1485.
Wednesday, Aug. 3
Noon, "History Is Lunch," at William F. Winter Archives and History Building (200 North St.). John Ruskey of Clarksdale talks about his adventures on the Mississippi River, including a recent trip during its record-breaking high stage. Bring lunch; coffee and water provided. Free; call 601-576-6998.
Thursday, Aug. 4
10 a.m., Small Business Expo, at Jackson Medical Mall (350 W. Woodrow Wilson Ave.). The Minority Business Network hosts the promotional event for small and minority businesses in the Common Area. Promote a business, sell products or services, recruit new customers and network with other business owners. Booth space and sponsorships available. Free admission, $25 booth, $15 booth for network members; call 601-750-2367 or 601-316-5092.
6 p.m., Precinct 1 COPS Meeting, at Jackson Police Department, Precinct 1 (810 Cooper Road). These monthly forums are designed to help resolve community issues or problems, from crime to potholes. Call 601-960-0001.
6 p.m., Drop Out Prevention Town Hall Meeting, at Jackson Medical Mall (350 W. Woodrow Wilson Ave.), in the Community Room. Participants discuss strategies to keep children in school. Dinner and door prizes included. Free; call 601-948-4725.
Friday, Aug. 5
8 a.m, Coffee and Contacts, at Body Anew Medical Spa (113 W. Jackson St., Suite 3-A, Ridgeland). Join the Madison County Chamber of Commerce for an hour of fast-paced business card exchanges and networking. Bring at least 75 business cards. Free; e-mail [e-mail missing].
9 a.m., Friday Forum, at Koinonia Coffee House, 136 S. Adams St., Suite C). Jed Oppenheim and Jody Owens from the Southern Poverty Law Center speak on education and juvenile justice. Free, email [e-mail missing].
6 p.m., Bulldog Silent Scream Auction, at Jackson Medical Mall (350 W. Woodrow Wilson Ave.), in the Communtiy Room. The Lanier High School National Alumni Association hosts the silent auction to raise money for scholarships. Items include autographed memorabilia from Monta Ellis. Free admission; call 601-262-3054.
6 p.m., Celebrity Roast, at Country Club of Jackson (345 Saint Andrews Drive). The honoree is Dr. Rathi Iyer, sickle cell specialist at Blair E. Batson Children's Hospital. Silent auction included. Proceeds benefit the Mississippi Sickle Cell Foundation. $75; call 601-366-5874.
7 p.m., The Fashion Mixer, at Downtown Cafe (105 E. Capitol St.). The networking event is for photographers, models, designers, musicians, artists, bloggers, business professionals and entrepreneurs. Fashion stylist J. Bolin is the Project Spotlight honoree. For ages 18 and up. $10; visit thechanellereneeproject.blogspot.com.
Saturday, Aug. 6
8 a.m., NACA Homeownership Workshop Aug. 6, 8 a.m., at Jackson Medical Mall (350 W. Woodrow Wilson Ave.). The session is held in the Community Meeting Room. Free; call 601-922-4008.
8 a.m., Jackson Audubon Society Bird Walk, at Mayes Lake at LeFleur's Bluff (115 Lakeland Terrace). An experienced Audubon Society member leads the walk. Bring binoculars, water, insect repellent and a snack. Call ahead if you would like to borrow a pair of binoculars. Adults must accompany children under 15. Free, $3 car entrance fee; call 601-956-7444.
9 a.m., Community Health Fair and Back-to-school Bash, at Hanging Moss Church of Christ (5225 Hanging Moss Road). In the Family Life Center. Come for health screenings, school supply giveaways, prizes and children's activities. Free; call 601-981-1817.
Survival Spanish Aug. 6-27, at Lingofest Language Center (7048 Old Canton Road, Ridgeland). Learn basic conversational Spanish from 10:30 a.m.-12:30 p.m. Saturdays. $98, $30 materials; call 601-500-7700.
10 a.m., Back to "Zool," Aug. 6, 10 a.m., at Jackson Zoo (2918 W. Capitol St.). See how and what the animals do while they are at "zool." Meet the zoo docents and education staff, and learn what animal education is really like. $9, $8.20 seniors, $6 children ages 2-12, members/babies free; call 601-352-2580.
2 p.m., Mississippi Sports and Fitness Expo, at Smith-Wills Stadium (1150 Lakeland Drive). The event includes basketball, football and golf competitions, a children's sport playground, a Zumba showcase, vendor booths, health screenings and giveaways. $10, $5 ages 6 and under; call 601-672-2087.
Monday, Aug. 8
10 a.m., Levee Board Meeting, at Flowood City Hall (2101 Airport Road, Flowood). Members of the Rankin-Hinds Pearl Flood and Drainage Control District hold their monthly meeting. Call 601-939-4243.
6 p.m., Summer Commencement Exercise, at Tougaloo College (500 W. County Line Road, Tougaloo), in Woodworth Chapel. LeRoy G. Walker Jr., chairman of the Tougaloo College Board of Trustees, is the speaker. Open to the public. Call 601-977-7735.
Through Aug. 15
Exchange Student Program Call for Host Families. SHARE! is looking for volunteers to host international high school exchange students for the 2011-2012 fall semester or school year. The exchange students arrive in late August to attend local high schools and live with the host family. Sign up by Aug. 15. Call 800-941-3738.
Through Aug. 24
Operation Sunscreen. Purchase sun-care protection package to send to troops in Iraq and Afghanistan through Aug. 24. Each package contains sunscreen, lip protector, a thank-you note and gum or candy. $25 donation; call 601-201-1979.
Through Aug. 30
Jackson Inner-city Gardeners Call for Volunteers. JIG needs volunteers to help maintain plots and harvest vegetables. The produce will be donated to help feed the homeless and elderly and will be sold to the community at affordable prices. The garden is at the corner of W. Northside Drive and Medgar Evers Blvd. beside the BP gas station. Volunteers can help Tuesdays and Thursdays from 5:30-7:30 p.m., and Saturdays from 8 -11 a.m. JIG sells produce at the garden Saturdays from 8:30 a.m.-noon. Call 601-924-3539.
Through Aug. 31
Call for Grant Applications, at Women's Fund of Mississippi (Plaza Building, 120 N. Congress St., Suite 903). The Women's Fund will make grants to programs that aim to create economic security for women in Mississippi. Eligible applicants must be non-profits with 501(c)(3) status. Interested applicants should call the office to brainstorm the project concept before formally submitting a concept brief. August 3 is the deadline for concept brief submissions. Call 601-326-0701.
Through Sept. 25
Jackson Square Farmers Market, at Jackson Square Promenade (2460 Terry Road). Vendors sell food, clothing, crafts and other items in the parking lot. Hours are 9 a.m.-2 p.m. Saturday and Sunday. Free admission, $5-$10 vendor fee; call 601-372-7157.
Through Oct. 29
Byram Farmers Market (20 Willow Creek Lane, Byram). The market is open Monday-Saturday from 8 a.m.-6 p.m. until Oct. 29. Products include fresh produce, wildflower honey, roasted peanuts, jams, jellies, birdhouses, and baskets and gourds for crafting. Call 601-373-4545.
Through Nov. 5
NAMIWalks Registration, at NAMI Mississippi (411 Briarwood Drive, Suite 401). NAMIWalks is an annual walk to raise funds for NAMI Mississippi, a local branch of the National Alliance on Mental Illness. NAMI is a nonprofit, grassroots organization dedicated to providing support, education and advocacy for consumers of mental health services and their family members. Visit namims.org to join an existing team, form a new team, walk as an individual or become a sponsor. Each team member who raises at least $100 will receive a T-shirt. Donations welcome; call 601-899-9058.
Through Nov. 16
Nature Nuts Preschool Program, at Clinton Community Nature Center (617 Dunton Road, Clinton). The nature discovery program is for children ages 2-5. Sessions are held on third Wednesdays from 10-11 a.m. Registration required. Receive a $2 discount for each additional child. $8 per session, $5 members; call 601-926-1104.
Through Dec. 2
First Friday Free ADHD Screenings, at Office of Suzanne Russell, LPC (665 Highway 51 N., Ridgeland). Licensed professional counselor Suzanne Russell offers free 30-minute ADHD screenings for children on first Fridays through Dec. 2. Appointment required. Free; call 601-707-7355.
Through Dec. 17
Mississippi Farmers Market (929 High St.). Shop for fresh locally-grown fruits and vegetables from Mississippi farmers, specialty foods, and crafts from local artisans, including the Greater Belhaven Market. The market is open Saturdays from 8 a.m.-2 p.m. During the peak-growing season, hours are 8 a.m.-2 p.m. Tuesdays, Thursdays and Saturdays. Call
601-354-6573.
Through Dec. 24
Old Fannin Road Farmers Market (1307 Old Fannin Road, Brandon). Homegrown produce is for sale Monday-Saturday from 8 a.m.-7 p.m. and noon-6 p.m. Sunday until Christmas Eve. Call 601-919-1690.
Ongoing

Zumba Fitness Classes. The Latin-inspired aerobics classes are held at two locations. $5; call 601-209-7566.
• Mondays and Thursdays at 5:30 p.m., and Saturdays at 9 a.m., at Dance Unlimited Studio, Byram (6787 S. Siwell Road, Suite A, Byram).
• Wednesdays at 6 p.m. and Saturdays at 11 a.m., at Dance Unlimited Studio, Florence (3091 Highway 49 South, Suite E, Florence).
Diabetes Support Group Meetings, at Baptist Health Systems, Madison Campus (401 Baptist Drive, Madison). Baptist Nutrition Center hosts the meetings on third Thursdays at 1 p.m. Free; call 601-973-1624.
Adopt-a-Park Program Registration, at Jackson Medical Mall (350 W. Woodrow Wilson Ave.), at the Department of Parks and Recreation. Organizations and businesses are encouraged to sign up to help maintain Jackson parks and trails by picking up litter, landscaping and painting. Call 601-960-0471.
Venture Incubator Talk and Tour Open House, at Venture Incubator (City Centre Building, 200 S. Lamar St., South Tower, 10th floor). Potential or current small business owners, and professionals interested in mentoring small business owners are welcome to meet with Wes Holsapple, president and CEO, and tour the facilities on Mondays from 5-6 p.m. and Wednesdays from noon-1 p.m. Refreshments served. Free; call 601-414-0140.
Jackson 2000 Study Circles Program. The program includes six two-hour sessions of dialogue and problem-solving to encourage racial harmony and community involvement. Jackson 2000 is looking for participants from all walks of life to sign up, and sessions will be scheduled soon. E-mail [e-mail missing].

Jackson Public Schools Call for Volunteers. Jackson Public Schools is seeking volunteers from the community to be mentors for seniors enrolled in the Advanced Seminar: Employability Skills course. Call 601-960-8310.

Medical Mall Moment Report at WOAD 1300 AM. Find out about the Jackson Medical Mall Foundation's current activities every second Friday of the month at 8:30 a.m. Call-ins to 601-995-1400 are welcome. Send your questions and comments in advance to [e-mail missing]> or call the office for more information. The broadcast is also available on jacksonmedicalmall.org. Call 601-982-8467.

Cancer Rehab Classes at Baptist Medical Center (1225 N. State St.), in the Activity Room of the Hederman Cancer Center on Tuesdays and Thursdays at 2 p.m. The class helps cancer patients enhance cardiovascular strength, endurance, their immune system and bone density. It helps to increase overall strength and stamina, decrease fatigue and weight loss, and improve digestion. Registration is required. Free; call 601-948-6262 or 800-948-6262.

Weekly Storytime at Pearl Public Library (2416 Old Brandon Road, Pearl). Each Tuesday, Baby Bookworms Storytime for children ages birth-36 months is at 9:30 a.m., and Preschool Storytime for children ages 3-6 is at 10:30 a.m. The event includes stories, rhymes, music and a puppet show on the last Tuesday of the month. Free; call 601-932-2562.

Business Plan Workshops, at New Horizon Church International (Renaissance South, 1770 Ellis Ave.). Get hands-on, individualized or small-group assistance to develop your customized business plan. Sessions are Tuesdays and Thursdays from 10:30 a.m.-noon or 5:30 p.m.-7 p.m., and first and third Saturdays from 10:30 a.m.-1 p.m. Appointment required. Call 601-371-1390, 601-371-1296 or 601-371-1427.
Tutoring Sessions and Peer-to-peer Study Groups, at Richard Wright Library (515 W. McDowell Road), in the Community Room. Sessions are every other Saturday from 9-11:30 a.m.; call to confirm dates. Students in grades 8-12 and GED students are welcome to get help with research projects, state subject areas tests, English, science, history and math. School supplies and snacks provided. Free; call 601-948-4725 or 601-372-1621.
National Alliance on Mental Illness Family Support Group, at St. Dominic Hospital (969 Lakeland Drive), in the St. Catherine Room. NAMI Mississippi offers a support group for family members who have an adult relative with a mental illness on second Thursdays at 7 p.m. Free; call 601-899-9058.
Programs on WMPR 90.1 FM and wmpr901.com.
• Women for Progress Radio Broadcast. Dorothy Stewart and Willie Jones host the program on Thursdays from 6-7 p.m. Topics include education, economics and politics. Call 601-918-5137.
• Mayor Harvey Johnson Jr. Show. Every Friday from noon-12:30 p.m., Jackson mayor Harvey Johnson Jr. discusses activities, issues and other newsworthy items that are occurring in the city of Jackson. Call 601-960-1084.
CARA Recycling Program, at Community Animal Rescue and Adoption (CARA) (960 N. Flag Chapel Road). Mississippi's largest no-kill animal shelter is earning cash for operating expenses by participating in the FundingFactory Recycling Program. They are collecting empty laser or toner cartridges and used cellphones from the community and sending the waste products to FundingFactory in exchange for cash. Donations welcome; e-mail [e-mail missing].
Adopt-a-Park Program Registration, at Jackson Medical Mall (350 W. Woodrow Wilson Ave.), at the Department of Parks and Recreation. Organizations and businesses are encouraged to sign up to help maintain Jackson parks and trails by picking up litter, landscaping and painting. Call 601-960-0471.
Fitness Camp, at Lake Hico Park (4801 Watkins Drive). Do cardiovascular and strength training exercises, and learn about proper nutrition. Sessions are from 8-9 a.m. Saturdays. $20; call 601-331-8468.
More like this story
More stories by this author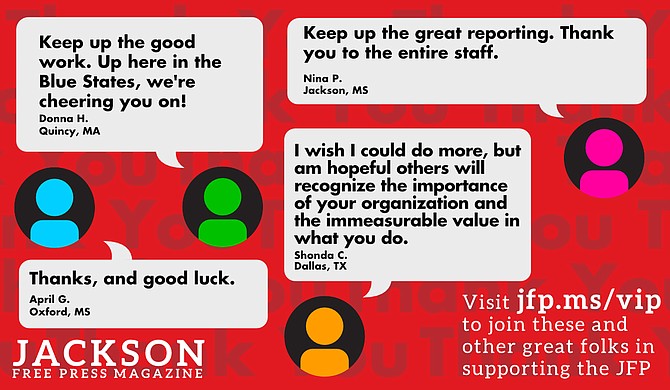 Thanks to all our new JFP VIPs!
COVID-19 has closed down the main sources of the JFP's revenue -- concerts, festivals, fundraisers, restaurants and bars. If everyone reading this article gives $5 or more, we should be able to continue publishing through the crisis. Please pay what you can to keep us reporting and publishing.