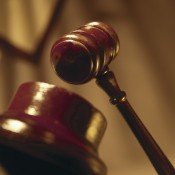 Free Tax Counseling and Filing. IRS/AIM or AARP volunteers will do electronic filing. Bring all necessary documents. Joint filers must come together. Free.
• Through April 12, at Willie Morris Library (4912 Old Canton Road), on Tuesdays from 10 a.m.-3 p.m. Call 601-987-8181.
• Through April 14, at Quisenberry Library (605 E. Northside Drive, Clinton), on Tuesdays and Thursdays from 1-5 p.m. Call 601-924-5684.
Sports League Registrations, at Jackson Medical Mall (350 W. Woodrow Wilson Ave.). The Department of Parks and Recreation is conducting registrations for the upcoming season. Interested individuals can fill out registration forms
• Slammin' Jammin' Youth Basketball League Registration through April 22. Youth ages 8-17 may participate. A birth certificate and recent photo are required. $10 per player.
• Girls' Softball League Registration through April 29. A birth certificate and recent photo are required. $10 per player.
• Hershey's Track and Field Youth Program Registration through May 10. Youth ages 9-14 may participate. A birth certificate and recent photo are required. Free.
Tuesday, April 12
11 a.m., Save Our Sea (Food) Annieglass Trunkshow, at Batte Furniture (1010 E. Northside Drive). See Annieglass founder and designer Annie Morhauser's Seafood Watch collection of marine-inspired pieces. During the wine-and-cheese reception from 4-6 p.m., Annieglass founder and designer Annie Morhauser will introduce her collection, talk about healthy seafood choices and offer recipe ideas from celebrity chefs. Proceeds from sales benefit the Seafood Watch program of the Monterey Bay Aquarium. Call 646-277-7110.
11:30 a.m., Jackson Symphony League Spring Luncheon, at The South (627 E. Silas Brown St.). Annie Morhauser of Annieglass will treat guests to an in-depth look at the art of glass making and will feature some of her collectibles. $40; call 601-502-6668.
6 p.m., Ward 5 Community Meeting, at Greater Mount Calvary Baptist Church (1400 Robinson St.). Every other month, Mayor Johnson has a meeting in a different ward to give residents an opportunity to discuss city issues with him and department heads. Call 601-960-1084.
6 p.m., Robert Clark Symposium, at Jackson State University (1400 John R. Lynch St.), in room 166/266 of the Dollye M.E. Robinson College of Liberal Arts. The event features a roundtable discussion on the 50th anniversary of the Freedom Rides with Freedom Riders Hank Thomas, Lewis Zuchman, Mary Harrison Lee and Hezekiah Watkins. Free; call 601-979-3935.
Wednesday, April 13
10 a.m., Walk a Mile in Her Shoes Campaign, at Mississippi State Capitol (400 High St.). On the south lawn. The Mississippi Coalition Against Sexual Assault kicks off their campaign against sexual and gender violence. Men are encouraged to walk a mile in high heels at the event. Call 601-948-0555.
11:45 a.m., Jackson 2000 Luncheon, at Arts Center of Mississippi (201 E. Pascagoula St.). The topic is "Youth in Our Community - Reconciled or Racist?" Speakers include representatives from Youth Leadership Jackson, the Young People's Project, Young Life and the William Winter Center for Racial Reconciliation. Please RSVP. $12; e-mail [e-mail missing].
Noon, "History Is Lunch," at William F. Winter Archives and History Building (200 North St.). Author Jeff Giambrone and publisher Hap Owen discuss their new book, "An Illustrated Guide to the Vicksburg Campaign & National Military Park." Bring a lunch; coffee/water provided. Free; call 601-576-6998.
Thursday, April 14
10 a.m., Adult Computer Class, at Pearl Public Library (2416 Old Brandon Road, Pearl). Learn how to use search engines on the Internet. Free; call 601-932-2562.
11:45 a.m., Get Through the Smoke Screen: Lung Cancer Prevention, at Baptist Health Systems, Madison Campus (401 Baptist Drive, Madison), in the Community Room. If you smoke or live with a smoker, get the latest updates on lung cancer prevention and diagnosis, including facts from a breakthrough study about effective screening. Lunch included; registration required. Free; call 601-948-6262 or 800-948-6262.
6 p.m., Salute to Scholars, at Murrah High School (1400 Murrah Drive). The Jackson Council PTA/PTSA is the sponsor and Mayor Harvey Johnson is the host. The top 10 graduating seniors from each high school in Jackson Public Schools will be honored with certificates and a reception. Call 601-960-8935.
6:30 p.m., Education Forum, at Smith Robertson Museum and Cultural Center (528 Bloom St.). The topic is "A Growing Decline of Black Males in Post-Secondary Institutions: An Educational Conundrum." Speakers include Dr. Alfred Rankin Jr., Dr. Marcus Chanay, Albert Sykes and Dr. Nikisha Ware. The event is part of JSU's Medgar Evers/Ella Baker Civil Rights Lecture Series. Free; call 601-979-1563.
6:30 p.m., New Vibrations Network Gathering, at Unitarian Universalist Church (4866 N. State St.). The mixer is held every second Thursday. Bring business cards and brochures to share with others. Call [e-mail missing].
Friday, April 15
Tiger Fest Weekend April 15-16. April 15, the Rick Comegy Golf Tournament at LeFleur's Bluff Golf Course (1205 Lakeland Drive) begins with breakfast at 7:30 a.m. and a shotgun start at 8:45 a.m., and is a three-person scramble format ($75 per person, $225 per team; call 601-983-9490). April 16, the celebration continues at 8 a.m. at JSU's football practice field on Walter Payton Drive. The event includes football games, a kids' play zone, live music, performance by the Sonic Boom of the South and the J-Settes, and a JSU/Alcorn baseball game. Lawn chairs and blankets welcome; no alcoholic beverages allowed. Proceeds go toward JSU's athletics department. $10, $25 tailgaters, $50 RVs, free for JSU students with ID, $5 play zone; 601-362-0866. .
Bagwell Antiques Show and Sale Apr 15-17, at Mississippi Trade Mart (1200 Mississippi St.). Mississippi's largest antique sale features regional collectors, dealers, home decorators and casual antiques enthusiasts. Hours are 10 a.m.- 6 p.m. April 15-16 and noon-5 p.m. April 17. Admission is good for all three days. $5; call 662-231-9654.
9 a.m., Friday Forum, at Koinonia Coffee House (136 S. Adams St., Suite C). Hinds County sheriff Malcolm McMillan is the speaker. Free; email [e-mail missing].
9 a.m., Underage Drinking Prevention Rally, at Smith Park (302 Amite St.). The Mississippi Underage Drinking Prevention Coalition of Hinds County is the sponsor. The event includes refreshments, speakers, giveaways and music. Call 601-979-1079 or 601-979-2094.
10 a.m., Researching Your Mississippi Roots, at G. Chastaine Flynt Memorial Library (103 Winners Circle). The Mississippi Department of Archives and History give genealogical research tips. Free; call 601-919-1911.
10 a.m., Mississippi Department of Archives and History Meeting, at William F. Winter Archives and History Building (200 North St.). The Board of Trustees holds its regular quarterly meeting. Call 601-576-6850.
11:30 a.m., Fannie Lou Hamer Humanitarian Awards Luncheon Apr 15, 11:30 a.m., at Jackson State University Student Center (1400 John R. Lynch St.), in Ballroom A. Monica Galloway, JFP editor-in-chief Donna Ladd, Dorie Ladner, Jerry Mitchell, Brad Pigott and Hollis Watkins will he honored for their service and leadership. $35, $250 table of eight; call 601-979-1562 or 601-979-1563.
11:45 a.m., Ow! My Feet Hurt! at Baptist Medical Center (1225 N. State St.), in the Baptist for Women Conference Center. Orthopedic surgeon Dr. Jamey Burrow gives tips on blending fashion and foot health. Lunch provided; registration required. Free; call 601-948-6262 or 800-948-6262.
Noon, Brown Bag Luncheon, at Pearl Public Library (2416 Old Brandon Road, Pearl). Author Daisy Karam-Read is the speaker. Bring a sack lunch; drinks and dessert provided. Free; call 601-932-3535.
7 p.m., Strike Out to Prevent Sexual Violence Apr 15, 7 p.m., at Paradise Lanes (820 Cooper Road, # 2). The Rape Crisis Center sponsors the bowling event for middle and high school youth. $10 for two hours of bowling and shoes; call 601-366-0750.
Saturday, April 16
Monarch Festival, through April 16, at Clinton Community Nature Center (617 Dunton Road, Clinton). The festival includes a monarch rescue, a festival, a photography exhibit, a haiku contest, lectures and monarch adoptions. Times and locations vary. Contact the center for details. Call 601-926-1104.
7 a.m., Susan G. Komen Race for the Cure, in downtown Jackson. Registration begins at 7 a.m., and the races start at 8:30 a.m. Online registration at komencentralms.org is available through April 14. Proceeds benefit Susan G. Komen for the Cure, a foundation focused on breast cancer education and research. $30 5K or one-mile run/walk, $20 kids' run, $35 virtual walker; call 601-932-3999.
8 a.m., Planting Healthy Seeds and Deeds, at the corner of Medgar Evers Blvd. and W. Northside Drive near the BP station. Jackson Inner-city Gardeners (JIG) will plant an organic vegetable spring garden. The project is part of Global Youth Service Day. Bring gloves, shovels and rakes. E-mail [e-mail missing].
8 a.m., Student Leadership Summit, at Tougaloo College (500 W. County Line Road, Tougaloo). The event includes workshops and panel discussions. Kevin Powell is the featured speaker. Registration includes breakfast and lunch. $35 college students, $25 high school students; call 601-977-4493 or 314-363-1240.
8:15 a.m., Education Forum, at Callaway High School (601 Beasley Rd.). Topics include the MCT 2 and subject-area testing, the role of parents and dropout prevention. Please RSVP. Call 601-987-3535 or 601-979-3939.
8:30 a.m., Jackson Public Schools Job Fair, at Cardozo Middle School (3180 McDowell Road Ext.). JPS is hosting the annual event for prospective teachers, bus drivers, cafeteria employees and maintenance workers. Call 601-960-8745.
9 a.m., Traffick Jam Walkathon, at Fondren Park (Northview Drive and Dunbar Street). Participants are to ask 10 people for a dollar per mile walked with a goal of 10 miles and $100. The 10 miles can be split up among a team. A post-walk rally and concert is at Sneaky Beans (2914 N. State St.) at 7 p.m. with music by Jonezetta, Johnny Bertram and the Golden Bicycles, and Room 25. Proceeds benefit the Hard Places Community (HPC) and their work against child sex trafficking in Phnom Phen, Cambodia. Donations welcome; e-mail [e-mail missing].
10 a.m., Mississippi UFO Conference 2011: From Roswell to Rendlesham, at Jackson Convention Complex (105 E. Pascagoula St.). Presenters at the academic event will expound on past and present research, specifically on the 1947 UFO crash in Roswell, N.M., and the 1980 sightings at RAF Bentwaters in the Rendlesham Forest near Ipswich, England. $5-$15; e-mail [e-mail missing].
7 p.m., Rise Above for Youth Dinner and Silent Auction, at St. James Episcopal Church (3921 Oakridge Drive), in Fowler Hall. Come for food, music by FIDES, a silent auction and a raffle. Proceeds benefit Rise Above for Youth, which serves youth and young adults age 14-24 who are exiting foster care, juvenile justice, and homelessness and works to empower them to achieve successful futures. $20; call 601-922-4968.
Through April 29
Pages of Promise Book Drive, at United Way (843 N. President St.). Donate books needed for the Jackson Public Schools summer reading program. Visit myunitedway.com for a list of books. Call 601-948-4725.
Through May 2
Library Registration Assistance Awards, at Mississippi Library Commission (3881 Eastwood Drive). In spring 2011, the Mississippi Library Commission will offer Registration Assistance Awards to library support staff applying for certification in the American Library Association's Library Support Staff Certification (LSSC) Program. Applications are available at mlc.lib.ms.us. The submission deadline is May 2. Recipients will be selected by random drawing May 6. Free; call 601-432-4498.
Through May 31
Summer Camp Open Enrollment, at Jackson State University (1400 John R. Lynch St.). Kids Kollege is now accepting applications for the Classic Summer Camp and the CDF Freedom Schools Summer Program, which will take place in June and July. Participants can take educational classes in math, science, and reading as well as recreational courses in sports, dance, and art. Children ages 5-17 are eligible. Call the office for fees at 601-979-1142.
Through Oct. 29
Farmers' Market, at Byram Farmers Market (20 Willow Creek Lane, Byram). The market is open Monday-Saturday from 8 a.m.-6 p.m. until Oct. 29. Products include fresh produce, wildflower honey, roasted peanuts, jams, jellies, birdhouses, and baskets and gourds for crafting. Call 601-373-4545.
Through Dec. 17
Farmers' Market, at Mississippi Farmers Market (929 High St.). Shop for fresh locally-grown fruits and vegetables from Mississippi farmers, specialty foods, and crafts from local artisans, including the Greater Belhaven Market. The market is open Saturdays from 8 a.m.-2 p.m. During the peak growing season, hours are 8 a.m.-2 p.m. Tuesdays, Thursdays and Saturdays. Call 601-354-6573.
Through Dec. 24
Farmers' Market, at Old Fannin Road Farmers' Market (1307 Old Fannin Road, Brandon). Homegrown produce is for sale Monday-Saturday from 8 a.m.-7 p.m. and noon-6 p.m. Sunday until Christmas Eve. Call 601-919-1690.
Ongoing

Jackson Public Schools Call for Volunteers. Jackson Public Schools is seeking volunteers from the community to be mentors for seniors enrolled in the Advanced Seminar: Employability Skills course. Call 601-960-8310.

Medical Mall Moment Reportat WOAD 1300 AM. Find out about the Jackson Medical Mall Foundation's current activities every second Friday of the month at 8:30 a.m. Call-ins to 601-995-1400 are welcome. Send your questions and comments in advance to [e-mail missing] or call the office for more information. The broadcast is also available on jacksonmedicalmall.org. Call 601-982-8467.

Cancer Rehab Classes at Baptist Medical Center (1225 N. State St.), in the Activity Room of the Hederman Cancer Center on Tuesdays and Thursdays at 2 p.m. The class helps cancer patients enhance cardiovascular strength, endurance, their immune system and bone density. It helps to increase overall strength and stamina, decrease fatigue and weight loss, and improve digestion. Registration is required. Free; call 601-948-6262 or 800-948-6262.

Weekly Storytimeat Pearl Public Library (2416 Old Brandon Road, Pearl). Each Tuesday, Baby Bookworms Storytime for children ages birth-36 months is at 9:30 a.m., and Preschool Storytime for children ages 3-6 is at 10:30 a.m. The event includes stories, rhymes, music and a puppet show on the last Tuesday of the month. Free; call 601-932-2562.

Youth Women's Cycling Group Get fit while participating in a fun, recreational environment Saturdays at 10 a.m. The club is for young girls ages 13-17. Free; call 601-559-5577.
Mississippi River Master Naturalist Program, at Southern Cultural Heritage Center (1302 Adams St., Vicksburg). The program is open to anyone ages 18 and up and covers a broad range of naturalist education topics including the hydrology, ecology, habitats, plants, insects, fishes and birds of the Mississippi River. The course of study can be completed in as few as 10 weeks or as long as 1 year depending on the participant's schedule. The cost covers membership in the National Audubon Society and books for the course. The program can be taken for college or CEU credits through several regional colleges. Additional costs will apply. $350; call 601-661-6189.
Business Plan Workshops, at New Horizon Church International (Renaissance South, 1770 Ellis Ave.). Get hands-on, individualized or small-group assistance to develop your customized business plan. Sessions are Tuesdays and Thursdays from 10:30 a.m.-noon or 5:30 p.m.-7 p.m., and first and third Saturdays from 10:30 a.m.-1 p.m. Appointment required. Call 601-371-1390, 601-371-1296 or 601-371-1427.
Tutoring Sessions and Peer-to-peer Study Groups, at Richard Wright Library (515 W. McDowell Road), in the Community Room. Sessions are every other Saturday from 9-11:30 a.m.; call to confirm dates. Students in grades 8-12 and GED students are welcome to get help with research projects, state subject areas tests, English, science, history and math. School supplies and snacks provided. Free; call 601-948-4725 or 601-372-1621.
National Alliance on Mental Illness Family Support Group, at St. Dominic Hospital (969 Lakeland Drive), in the St. Catherine Room. NAMI Mississippi offers a support group for family members who have an adult relative with a mental illness on second Thursdays at 7 p.m. Free; call 601-899-9058.
Programs on WMPR 90.1 FM and wmpr901.com.
• Women for Progress Radio Broadcast. Dorothy Stewart and Willie Jones host the program on Thursdays from 6-7 p.m. Topics include education, economics and politics. Call 601-918-5137.
• Mayor Harvey Johnson Jr. Show. Every Friday from noon-12:30 p.m., Jackson mayor Harvey Johnson Jr. discusses activities, issues and other newsworthy items that are occurring in the city of Jackson. Call 601-960-1084.
More like this story
More stories by this author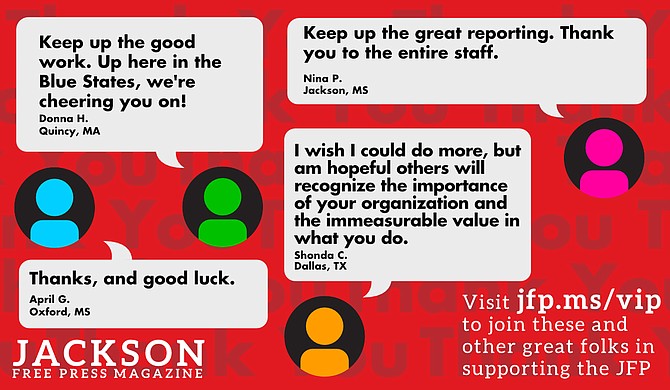 Thanks to all our new JFP VIPs!
COVID-19 has closed down the main sources of the JFP's revenue -- concerts, festivals, fundraisers, restaurants and bars. If everyone reading this article gives $5 or more, we should be able to continue publishing through the crisis. Please pay what you can to keep us reporting and publishing.