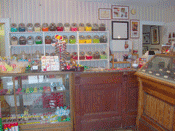 From the moment you walk in the door, bags of candy greet you. Behind wooden candy cases are assortments of green, yellow and pink candy jars, and as many chocolates as one person can imagine. American truffles, caramel and pecan treats, caramel popcorn, mint ice and English toffee are just some of the sweets you'll find in Nandy's Candy.
Nancy King, originally from Hutchinson, Kan., worked in a candy store when she was 16. Years later, she owns Nandy's Candy, located at 1220 E. Northside Drive, and has been in business for 30 years on Oct. 25.
"I originally called it Nancy's Candy," King says, but decided against it. "Nandy's Candy rhymed."
After getting married in 1969, she helped her husband, Bill King, start his business, Graduate Pest Control. She and her family moved to Jackson when her husband's job transferred him from Houston in 1972.
"I had two small children, and then I went to Iowa. I spent six months there and said, 'I've got to get back to Jackson!'" King says.
"Jackson needed a quality candy store," she says, and wanting to have her own business, she started Nandy's Candy 1980.
"Jackson took us in, and the community was so welcoming," King says. "It has a large-town feel, with a small-town love. I love Mississippi."
King wants people to have "the best memories" about her store. "You can't find a Nandy's in Dallas ... or even in New York," she says.
Traditional, happy and creative could all be used to describe Nandy's Candy—the company, the customers, the employees, but most importantly, the owner. King loves what she does, and she loves the people she serves.
"I'm very loyal," she says. "I have a wonderful client base, and I wouldn't trade it for anything."
Nandy's Candy is open Monday through Saturday from 10 a.m. to 6 p.m.
More stories by this author
Support our reporting -- Follow the MFP.