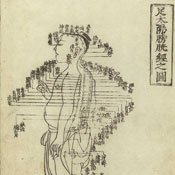 As Dennis Holmes leads me through the dimly lit hall of the Spa at St. Dominic to his treatment room, I am vaguely aware that I am transitioning from a state of muddled exhaustion, a consequence of working all night, to a state of heightened curiosity at what I'm about to experience.
I have scheduled a treatment that involves having needles stuck on various places on my body.
I had called the previous week to make an appointment with Holmes, an acupuncturist at the Spa. It's not such a simple matter to schedule an acupuncture session. Mississippi state law requires a prescription for acupuncture to actually undergo it. My family doctor provided that easily enough.
So here I am, being escorted into a neat and comfortably furnished treatment room. Holmes' treatment room is partitioned into two sections. On entering, I see a table that looks no different from any other massage table, covered with a cotton blanket. His supplies are neatly arranged in shelves along the walls. Full-color anatomical maps showing the different meridian pathways and the organs they correspond to adorn the walls.
We sit down in the second partition of the room—furnished with two simple upholstered chairs, a lamp and a meridian map of the ear—to talk. He has already perused my medical history to pinpoint more specific issues I might have. He has taken an exhaustive medical history that included a list of medications, major surgeries and illnesses, allergies and family history.
I'm a little stumped at the question of what I want out of the treatment.
Thankfully, Holmes has probably heard this before. I had landed on the decision to try acupuncture to hopefully quit smoking. But as I talk to him about this, other issues emerge. I open up about the fatigue, the sleep disturbance and the unforeseen events that have in the last year exacerbated these issues. Holmes never interrupts. He nods and allows me to rattle on until I'm done.
"Let me tell you a little about what acupuncture is about," he begins. He proceeds to tell me acupuncture is a branch of traditional Chinese medicine. In traditional Chinese medicine, optimal health is achieved when the body is in a state of balance. When the body is in this state of balance, the body's vital energy, qi (pronounced "chee"), can flow freely along pathways called meridians. The blockage of the flow of qi can result in imbalances that can cause disease or a decreased sense of well-being.
"Acupuncture is really about prevention," Holmes says.
It's not enough to have acupuncture alone. The success of treatment requires an active participant willing to make some lifestyle changes. Acupuncture practitioners have used it for a wide range of health problems, and there are very few complications from its use.
We move on to the treatment room where I hop on the table. I recline on my back with my knees slightly elevated on a pillow. Holmes rubs alcohol along the areas he's going to stick. I feel a slight " pinch" when he inserts the pins in my ears. He moves on to the knees, lower legs and then my head. I only feel a "tap" as the needles are placed. The procedure is painless. I am instructed not to make sudden moves as this could displace the needles and disrupt the treatment. Instrumental music plays in the background.
I lie still, let myself drift—and doze off. When Holmes is removing the needles, I wake. He allows me to lie still for a moment and make the transition from extreme relaxation to mellow awareness. Afterward, we discuss my experience.
I am hooked. The stress of the previous night has fallen off my shoulders. Holmes informs me I will sleep well that night and that I'll find I'm not worried about the things that don't really matter.
True to his word, I do sleep; and the small stuff gets moved to the back of the priority list. In the days that follow, I discover a more mellow attitude. I have started jogging.
Will acupuncture lead to other milestones? We'll see. I have another session scheduled.
Why Seek Acupuncture?
Pain
Insomnia
Stress
Depression
Smoking cessation
Complimentary adjunct for certain cancers
Addiction
Asthma
Stroke rehabilitation
Weight loss
Headache
Osteoarthritis
Resources
Dennis W. Holmes, MSOM, Lac
601-405-0777
Mississippi Oriental Medicine Association
http://mississippiacupuncture.org
National Institutes of Health, nccam.nih.gov
http://www.mayoclinic.com/health/acupuncture
Acupuncture Medical Center
http://mra-acup.com/clinic/indications.html
Qi Road Rules
• Get a qualified practitioner. Ask for credentials.
• Be honest about your medical history to give your acupuncturist an accurate picture of the conditions he or she needs to address.
• Your acupuncturist does not diagnose diseases. That's in the medical doctor's jurisdiction.
• Don't get up from the table before the needles come out. This should be self-explanatory. You can dislodge the needles, which will disrupt the treatment.
• Not every insurance company covers acupuncture. If you want to file it on insurance, check with your provider first.
• Mississippi law requires a prescription from a doctor to be treated.
More like this story
More stories by this author
Support our reporting -- Become a JFP VIP.
The news business has changed dramatically in the past year, and we need your help more than ever to keep bringing you important stories about Jackson and the Metro. Become a JFP VIP with an annual membership or you can Sign up as a monthly supporter. Thanks for anything you can do to empower our journalism!