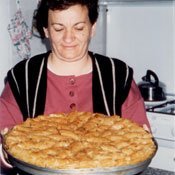 In 1998 my husband and I went to Albania and worked with a church that was housing refugees from Kosovo. Being in a communist country was like going from life in vibrant Technicolor to a world that is only shades of gray. The streets smelled like desperation, but in the homes we visited and the home where we stayed, every meal was a celebration.
I worked side by side in the kitchen with Albanian women, peeling potatoes and carrots and watched in awe as they used what was essentially a dowel rod to roll out sheets of phyllo dough that were so thin, they were transparent. In less than five seconds, they could turn a fistful of dough into a perfect sheet. It looked so easy I wanted to try, and they laughed until they had tears streaking their cheeks at the lopsided Frisbees I made, complete with holes ripped in the thin spots.
The phyllo dough was used for everything from making meat and vegetable "Hot Pockets," to making the most beautiful baklava I've ever seen. The women showed their appreciation for our help by spending hours rolling out literally thousands of sheets of phyllo dough by hand. The last day we were in Albania, which happened to be the day before United States forces starting bombing Kosovo, the men we were working with slaughtered a lamb in the backyard for a meal that I still salivate thinking about today: roasted lamb and vegetables. I usually like to think of my food as coming from the store and not someone's back yard, but for most people in the world, beef equals cow, and pork equals pig.
When we traveled to Thailand the following year, it was like going from Technicolor to 3-D high definition. The sights, sounds and smells of Bangkok were electrifying. Everything was green, blooming and exotic—even the air. The sharp scent of fresh ginger, the pungent aroma of garlic, loaded like bales of hay on pickup trucks, and the slightly floral scent of jasmine rice filled the humid air, and my stomach grumbled with the slightest breeze.
In the orphanages and villages where we worked, the people took pride in preparing meals for us: stir-fries, sauces, Thai donuts sprinkled with sugar and served with soy milk, and a delicacy I could only pretend to eat as I shuffled it around my bowl, which I called "Chicken Knuckle Soup." It was a frightening shade of green, and I was afraid I might glow in the dark if I actually consumed it.
On one of our last evenings in a small orphanage outside of Chaing Mai, the women in our group took the opportunity to share our culture, and we prepared a meal for our Thai hosts: fried chicken, mashed potatoes with gravy, tossed salad with Ranch dressing and rice pudding.
The children were bewildered as their plates were served, and spoke rapidly to each other in their native tongue while gesturing wildly at their food. For the first time in their lives, they were experiencing another culture in their small dining hall. They weren't sure what to do with the potatoes or the sweet rice, but those kids figured out fried chicken as fast as any redneck baby at a church potluck. All over the dining hall, I watched Thai children peel the salty, battered and fried skin off the chicken and leave the rest "nekkid" on their plates.
When someone prepares a meal for you they aren't just feeding you, they are inviting you into their mother's kitchen and into their memories, wherever they may lead—a war-torn communist country they can never return to, a childhood home that no longer exists, or a good old country kitchen where their momma still serves three hot meals a day.
Maybe you can't go globetrotting to experience new and exotic places, but sometimes, adventure is only a meal away.
Baklava
(Don't worry; you won't be rolling anything out by hand!)
1 16-ounce package of phyllo dough, room temperature
1 pound chopped pecans
1-1/2 teaspoons cinnamon
1 cup of melted butter (Yes, I'm totally serious.)
1 cup white sugar
1 cup water
1/2 cup honey
1 teaspoon vanilla extract
Butter a 9-inch-by-13-inch baking dish. In a large mixing bowl, mix together cinnamon and nuts. Unroll phyllo dough, place two sheets of phyllo in dish then baste with butter. (A silicon basting brush is perfect for this because it won't rip the phyllo.) Repeat until you have six layers in the bottom of the dish.
Sprinkle pecan and cinnamon mixture on the phyllo. Add another two layers of phyllo, baste with butter, sprinkle nut mixture, until you have used all of the pecans. Continue to layer phyllo, two sheets at a time and basting with butter until the phyllo is gone.
Before baking, with a sharp knife, cut the baklava into squares or diamonds, being sure to cut through all of the layers of phyllo. Bake in a 350-degree oven for 45 minutes or until golden brown.
While the baklava is baking, bring water and sugar to a boil in a saucepan. Once boiling, add the remaining ingredients and simmer for 20 minutes. The sauce should reduce and become syrupy as the water cooks out.
Take the baklava out of the oven and pour the syrup over the baklava while hot. Let it cool before serving. The phyllo will absorb the syrup.
Makes 18 servings.
Red Curry Chicken in Coconut Milk
4 boneless skinless chicken breasts, split in half and cut into thin strips
Olive oil
1 tablespoon red curry powder
1/4 teaspoon cayenne pepper
Garlic salt
3 cloves of minced garlic
1-1/2 tablespoons soy sauce
Juice of 1 lime
2 tablespoon cilantro, chopped
2 green onions, minced
1/2 red bell pepper, cut into thin strips
1 can of coconut milk
Jasmine rice (cooked according to package directions)
Cook the chicken in a little olive oil on the stovetop, sprinkled with garlic salt and soy sauce. Once it's cooked thoroughly you can continue on the stove top or dump the following into your crock pot: chicken, coconut milk, green onions, bell pepper, cilantro, minced garlic, red curry powder and cayenne pepper. Set your crock pot to auto, or low. Stir in lime juice a few minutes before serving. If you want to cook it on the stovetop, follow the same steps, cooking the vegetables until tender.
Serve with jasmine rice. Makes four servings
Pork Egg Rolls
2 packages egg roll wrappers
2 packages of shredded, angel hair cabbage
1/3 cup grated carrots
1 bunch green onions, chopped
1 pound ground pork, browned and drained
3-4 cloves of garlic, minced
1/2 to 1 inch of grated ginger root
1/4 cup stir-fry sauce
1 egg, whisked, to seal wrappers
Canola oil for frying
After browning meat, add veggies and spices. Sautee on medium heat until vegetables are tender. Add stir-fry sauce. Roll egg rolls according to package directions, (there should be an easy to follow picture) and seal with egg.
Deep fry egg rolls at 350 degrees until golden brown and remove from oil. Allow the egg rolls to drain on paper towels for five minutes. After they are cool, they can be stored in the freezer and easily reheated in a 350-degree oven for 10 minutes.
More like this story
More stories by this author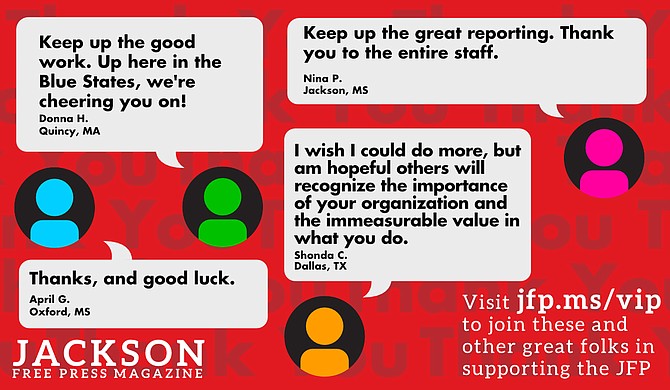 Thanks to all our new JFP VIPs!
COVID-19 has closed down the main sources of the JFP's revenue -- concerts, festivals, fundraisers, restaurants and bars. If everyone reading this article gives $5 or more, we should be able to continue publishing through the crisis. Please pay what you can to keep us reporting and publishing.