I watched a piece on "The Today Show" a few days back that really bothered me. As the days have passed, it has still stuck with me.
An Ohio school had four students commit suicide within a two-year span because they were being bullied. Recently, a Massachusetts girl hung herself after fellow students taunted her. Less than a month ago, a Rutgers University freshman killed himself after a roommate posted explicit videos of him on the Internet.
Everyone who has ever been in school knows that teasing exists. Whether it's your clothes, your looks, clumsiness, it's what some kids have to deal with every day. I was teased during elementary school as the scrawny, unsure kid. As I grew up and became an athlete, I turned the tables and began doing some of the teasing myself.
Now, as a parent, I've got teenagers who are exposed to this atmosphere just as I was. But honestly, I can say the air is much more tense, the bullying much more vicious, the consequences much more serious than they were when I was a teen.
Whether it's because you're gay, awkward, poor, shy or unpopular, bullying is wrong and an act of cowardice. Teachers, coaches and principals are supposed to be seen as authority. They are supposed to be respected figures that students should feel comfortable coming to with problems. We've got a real issue, however, when our kids no longer feel safe in school.
When cries for help go ignored, whom can we blame when deaths occur? When bullies go unchecked, who is responsible? When taunting is seen as harmless banter among teens, whom can we look to?
Kids are dying by their own hands, folks. Clearly, it is easier for them to end their lives than it is for them to face their peers. It makes for horrible learning conditions, conditions that we as adults or parents callously forget exist.
It's time for us to get control of our kids. In this age of social networking, bullying has taken on a new face. We've got to become more aggressive and more proactive in stopping bullying—physical, mental and cyber. This is real, and it's happening every day in our city. And before we have a tragedy in our backyard, those who are charged with educating or raising our kids need to help put a stop to it.
Mind you, it doesn't help when you have grown folks posting venomous attacks against other grown folks under anonymous names.
Makes you wonder where the kids pick up such behavior (sarcasm off).
And that's the truth ... sho-nuff.
Previous Comments
ID

160330

Comment

There's much talk going on these days about bullying as is expected with kids suffering at the hands of their peers. However, I do hope that when something is done (please hurry up) that all efforts are not JUST placed on those who are being bullied. There needs to be just as much effort placed on the kids who are doing the bullying. Chances are those are the ones who, if not helped, will grow up with the mentality that they are invincible. This will lead to years of suffering for them as well. Also, generally children who attack others are doing so because of a lack of something within themselves. Therefore, they must be guided and directed and taught how to treat others and to love themselves all the while. We can't fix this problem without fixing both ends of the issue.

Author

Queen601

Date

2010-10-14T07:47:42-06:00
ID

160337

Comment

this hits home with me this week as I have a kid here now staying with us who was admitted last week with a cut above his eye (he's a little guy for his age) and-when asked-said he, "Fell down". I looked at him and said, "Yeah. I've heard that one from every abused woman I've ever seen." Didn't take two days for us to figure out he was being bullied at school and not a DAMN person was doing a thing about it. Our therapist went to meet with the principal at the school and was VERY clear when she told her that she needed to get a hold of this issue or "this is the reason people get shot." She wasn't lying. Two days we have picked him up from school and he's been at the edge of having an altercation with the SAME student. This week he hit "the bully" and got suspended for five days. The bully did not. I am LIVID.

Author

Lori G

Date

2010-10-14T11:50:00-06:00
ID

160338

Comment

That is absolutely horrible Lori. I bet that the school has no policy whatsoever on bullying. Since the bully never hit the little guy, he doesn't get into trouble. Insane.

Author

Queen601

Date

2010-10-14T12:31:51-06:00
ID

160352

Comment

My youngest grandson loves to fight and his favorite toy is a gun. I'm trying my best to break him from the habit and to stop his mother from buying him toy guns. I can't believe a mother will buy any type of fun for a child in this day and age. My grandson is now almost five and his teacher says his biggest problem is he likes to fight. When he was 3 years old I was in a store shopping for clothes with him. Another 3 year old boy was left near him as the mother also shopped. I heard what I thought was, "I'll beat you a__, but I figured I had to be hearing things until I heard it 2 or 3 more times. I popped him a couple of times and said it is wrong to fight and curse. I hope he's getting better. Last week he told me he didn't want to go back to his mother and wanted to live with me because she whips him and his sister and brother hits him. My bet on this as of now is that he is fighting his older sister and brother to get his way and they have started to hit him back. They clearly love him. I'll have to keep monitoring the situation to see what's really going on. I agree with Queen that both children should be offered help or assistance and then act accordingly as the facts dictate.

Author

Walt

Date

2010-10-14T17:25:37-06:00
ID

160363

Comment

The thing that a lot of people ignore in my opinion, is the conduct of the adults around the children. Now Walt made an example of his daughter or daughter-in-law buying guns for his grandchild. Now I don't know Walts situation, but if he is uncomfortable with the parents buying the grandchild a gun and he says something to them about it, how do we know how they will respond? To me, it seems like people have this attitude or aire, that their child can't do know wrong? Plenty of my friends have taught in JPS and they have told stories of parents that ignore the signals or warnings? Prime example being a former police chief, better yet two former police chiefs in JPD and their well known sons questionable behavior in the JPS school system. It's like, you don't know who my parents are and they will get you fired or they will come mess you up? Or some of these kids get home from school and they are battling with immature parents, malnourishment in their diets, no lights, no running water, being bounced around from family member to family member, on top of that undereducated parents who can't stress the importance of education simply because they don't have one? Then you add the emotional and sexual state that they are in between 12-19 years of age? I am scared for these children, simply because the parents around them are in no better shape regarding their emotional maturity, possible issues with finances (where the priorities are), social reltionships (single, involved, focused on their significant others). These kids see the teachers arguing with each other, principals demeaning the teachers, grown people cussing out cashiers in the grocery store? Adults need to become aware of their own actions around these kids? I just see a lack of respect for themselves and each other. I think that would help as well with the problem if we were aware of own actions.

Author

Duan C.

Date

2010-10-15T09:11:03-06:00
ID

160417

Comment

I agree. I don't proclaim to be the best parent in the world but the first problem is that these days parents have forgotten or have given up the notion of PARENTING vs being FRIENDS with the children. I can not tell how many horrible decisions are made by parents everyday because they don't want to make their kids angry or because they want them to be "free" to make their own decisions. WHY? Why should a child be "free to make their own decisions"! This is the thing that separates parents from children and friends. Parents have to guide children so that when the time comes they are PREPARED to make their own decisions. A teenager can not properly decide what is best for them because all they know at this point is what feels good or what's fun...that's simply not what's best. Parents should know that and should be able to teach that to their child. Also, there is way too much free time. I have never agreed with all the Facebooking and all the PS3ing and all the extra playing. READ A DAMN BOOK. Go outside and mow the lawn. Clean out the refridgerator....whatever! Do something that reinforces discipline. When kids lack discipline they will certainly lack respect. Respect for elders, authority, themselves and peers. Then you have bullies and then you're saying...."I can't do anythign with this kid". Why? Because you NEVER did anything with the kid and NOW they won't listen to you or the teacher or the principal or the cop! You got a degenerant kid going around adding to all the problems in the community instead of contributing to the betterment of the community. Or you got those parents who get the call from the teacher and get offended because either it's "not my child" or it's "do your job and teach my child, let me worry about their behavior". UH, no ma'am or sir. The teacher can not do their job because you have not done your parental duties. When your child leaves your house, they should ALREADY know how to act. The way they act at home, is how they act anywhere else when you aren't around. So if your kid is at school refusing to listen to the teacher, how many times at night (at home) are you begging your child to do something and they're not listening. IT's not rocket science. If you teach them manners and make them act like they got sense around YOU; then they will around others. PERIOD. If you show a child that their teacher isn't in control because you cussing them out on the phone. What do you think will happen in the classroom? Your child will completely disregard that teacher -- because that's what you did. UGH....this is a sore spot for me folks....sorry so long....I'll just stop right here because I could go on and on like a rolling stone.

Author

Queen601

Date

2010-10-18T11:47:20-06:00
ID

160420

Comment

Children are precious and angelic and should be cared for by parents and others who are willing to teach, provide for, raise and protect them. When it comes to confrontations or bullying I wish all children would face opponents that are as docile, pacifist and harmless as the Dallas Cowboys. What a beautiful world that would be?

Author

Walt

Date

2010-10-18T16:58:24-06:00
ID

160426

Comment

Oh Walt!!!!!!!!!!!!!!!!! Funny thing is while I was typing my previous post (second paragraph to be specific) I thought about tying the lack of discipline to MY Dallas Cowboys. But then I thought, I wouldn't put that much of myself into the post it may divert the attention from the issue. But since you brought it up....yes, we are certainly in need of leadership, self-dicipline, and maturity. I can't even begin to argue that fact.

Author

Queen601

Date

2010-10-19T07:33:21-06:00
ID

160428

Comment

Queen 601 "We can't fix them without fixing both ends of the issue." Very profound! There is also this saying: "You can't give what you didn't get." Many of our children in these schools are being raised by grand-mothers, aunts and older siblings. There are lots of cases where-in the grands are ill or just simply too old for the type of parenting that is necessary to produce emotionally stable and physially healthy kids. We will have to consider "INSTUTIONAL PARENTING" and incorporate that old saying with meaning that it does ....take a VILLAGE to raise a child. The research supports the idea that many of the bullys are products of having been bullied. Both the perpetrator and the victim must be assessed and manage by those who have the skills to deal with issues on both sides of the problem.

Author

justjess

Date

2010-10-19T09:38:13-06:00
ID

160429

Comment

That's interesting...."many of the bullys are products of having been bullied". I haven't seen that as I as matter of fact and wouldn't have guessed it.

Author

Queen601

Date

2010-10-19T10:57:11-06:00
More like this story
More stories by this author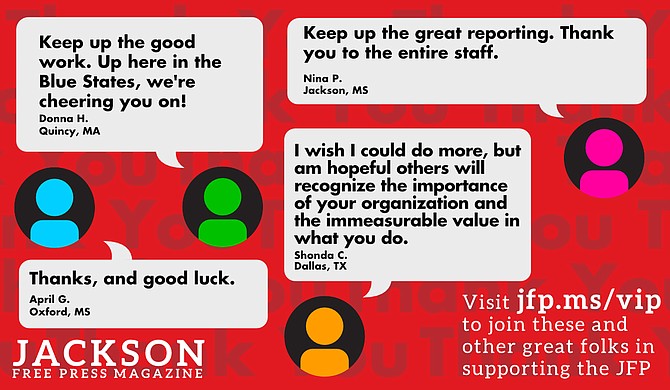 Thanks to all our new JFP VIPs!
COVID-19 has closed down the main sources of the JFP's revenue -- concerts, festivals, fundraisers, restaurants and bars. If everyone reading this article gives $5 or more, we should be able to continue publishing through the crisis. Please pay what you can to keep us reporting and publishing.