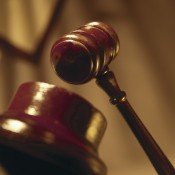 Monday, Nov. 22
5 p.m., Credit Training at Jackson Medical Mall (350 W. Woodrow Wilson Ave.), in the Community Meeting Room. A BankPlus representative gives tips on improving your credit. Call 601-982-8467.
5:30 p.m., Venture Incubator Open House and Seminar at Regions Plaza (210 E. Capitol St.). This seminar for business owners and entrepreneurs provides information on how the Venture Incubator can help grow small businesses. Join a tour of the Venture Incubator offices after the seminar. Please RSVP. Call 601-906-4868.
6 p.m., Jackson Touchdown Club Meeting at River Hills Country Club (3600 Ridgewood Road). Members of the athletic organization meet weekly during the football season and have access to meals, fellowship and the chance to listen to speakers from around the country. This week's speaker is Steve Hale, executive director of the All-Star Senior Bowl Game in Mobile, Ala. $280 individual membership, $1200 corporate membership; call 601-955-5293 or 601-506-3186.
Through Nov. 23
Canned Food Drive at Jackson Zoo (2918 W. Capitol St.). Bring in a non-perishable food item and receive $1 off general admission. Limit one discount per person. Call 601-352-2580.
Wednesday, Nov. 24
10 a.m., Senior Aerobics Class at Jackson Medical Mall (350 W. Woodrow Wilson Ave.), at center stage. Seniors have an opportunity to get in shape and have fun while doing it. Tougaloo College is the sponsor. Free; call 601-977-6137.
Thursday, Nov. 25
2 p.m., Community Thanksgiving Dinner at Bethlehem Center (920 N. Blair St.). The Beta Delta Omega Chapter of Alpha Kappa Alpha Sorority is the sponsor. Mayor Harvey Johnson, Jr., is assisting with serving dinner, and joins the chapter members. The dinner is open to the public. Free; call 601-355-0224.
Saturday, Nov. 27
8:30 a.m., Porsches & Coffee Breakfast at Broad Street (4465 Interstate 55 N.). The Magnolia Region Porsche Club of America's monthly meeting is on the second floor. Prospective members are welcome. Visit magnoliapca.com; e-mail [e-mail missing].
Monday, Nov. 29
Christmas Fitness Camp Nov. 29-Dec. 9, at Madison Central High School (1417 Highland Colony Parkway, Ridgeland), on the football field. The two-week class helps you stay in shape during the holidays. Choose from 5 a.m. or 6 a.m. classe,s Monday-Thursday. $150; visit paullacoste.com.
Noon, Brown Bag Luncheon at Suniora's Sidewalk Cafe (200 S. Lamar St., # 900N). Alice Thomas Tisdale, publisher of the Jackson Advocate, discusses the history of the newspaper. E-mail [e-mail missing].
Through Nov. 30
"Kappa Kamp" Pepsi Refresh Project. Vote once a day in the $250,000 category for the Kappa Kamp Project to benefit Piney Woods School. Visit refresheverything.com.
Through Dec. 1
Being an American Essay Contest. U.S. high school students and their teachers are invited to compete for nearly $115,000 in prize money and all-expenses paid trips to Washington, D.C. by writing an essay that is 750 words or less. The deadline is Dec. 1. Visit beinganamerican.org.
Lawyer Citizenship Award Call for Nominations. The Mississippi Bar has established the award to recognize outstanding lawyers and judges who have given back through service to their communities. The awards are presented to members of the bar who have served in their communities in areas such as volunteering, educating the public about legal matters or providing pro bono legal services. The nomination deadline is Dec. 1. E-mail [e-mail missing].
Through Dec. 5
Habitat Hideaways at Habitat for Humanity/ Metro Jackson (615 Stonewall St.). Buy raffle tickets for a child's playhouse to raise money to build decent, affordable houses for families in need in metro Jackson. The drawing is Dec. 5. $20, $40 for three, $100 for ten; call 601-353-6060. $20, $40 for three, $100 for ten; call 601-353-6060.
Through Dec. 10
Youth Cartoon Basketball League Registration at Jackson Medical Mall (350 W. Woodrow Wilson Ave.). The Department of Parks and Recreation is currently conducting registration for the upcoming season. Youth ages 6-14 may participate. The deadline for registration is Dec. 10. The league divisions are divided into four separate age divisions, and games begin Jan. 7. Registration requirements include a copy of a birth certificate and a photograph. $10 registration fee; call 601-960-0471.
Through Dec. 18
Greater Belhaven Market at Mississippi Farmers Market (929 High St.). Buy local fresh produce or other food or gift items. The market is open every Thursday and Saturday from 8 a.m.-2 p.m. Free admission; call 601-506-2848 or 601-354-6573.
Through Dec. 24
Farmers' Market at Old Fannin Road Farmers' Market (1307 Old Fannin Road, Brandon). Homegrown produce is for sale Monday-Saturday from 8 a.m.-7 p.m. and noon-6 p.m. Sunday until Christmas Eve. Call 601-919-1690.
Through Dec. 31
Restaurant Rave Call for Contestants at Jackson Convention and Visitors Bureau (111 E. Capitol St., Suite 102). Write a rave review in 100 words or less about your favorite Jackson restaurant and submit it by Dec. 31, and you could win a dinner for four. The winning restaurant review will be featured on visitjackson.com and the Bureau's Facebook and Twitter accounts. Email your review to [e-mail missing] with the word "RAVE" in the subject line. Include your full name, telephone number and email address. Entries can also be submitted through visitjackson.com by clicking on the "Want Free Food?" banner on the home page. Call 601-960-1891.
Through Feb. 28
Jackson State University Alumni Association Membership Drive. The Jackson-Hinds chapter is currently seeking new members to join the association. $25 membership; e-mail [e-mail missing].
Through May 27
After-School Enhancement Programat Jackson Medical Mall (350 W. Woodrow Wilson Ave.). The City of Jackson Department of Parks and Recreation's program takes place on Tuesdays, Wednesdays and Thursdays from 9 a.m.-3:30 p.m. Youth ages 7-12 may participate. Activities include studying and learning during homework sessions, listening to guest speakers, and participating in arts and crafts. Immunization compliance is required. Parents and guardians must also provide transportation and food each day. Registration continues until all slots are filled. Free; call 601-960-0471.
Through May 31
Summer Camp Open Enrollment at Jackson State University (1400 John R. Lynch St.). Kids Kollege is now accepting applications for the Classic Summer Camp and the CDF Freedom Schools Summer Program, which will take place in June and July. Participants can take educational classes in math, science, and reading as well as recreational courses in sports, dance, and art. Children ages 5-17 are eligible. Call the office for fees at 601-979-1142.
Ongoing
Medical Mall Moment Report at WOAD 1300 AM. Find out about the Jackson Medical Mall Foundation's current activities every second Friday of the month at 8:30 a.m. Call-ins to 601-995-1400 are welcome. Send your questions and comments in advance to [e-mail missing] or call 601-982-8467 for more information. The broadcast is also available on jacksonmedicalmall.org.
Cancer Rehab Classes at Baptist Medical Center (1225 N. State St.), in the Activity Room of the Hederman Cancer Center on Tuesdays and Thursdays at 2 p.m. The class helps cancer patients enhance cardiovascular strength, endurance, their immune system and bone density. It helps to increase overall strength and stamina, decrease fatigue and weight loss, and improve digestion. Registration is required. Free; call 601-948-6262 or 800-948-6262.
You Have the Mic at Afrika Book Cafe (404 Mitchell Ave.). The open political forum for discussing Jackson's current issues is hosted by Othor Cain and Mista Main of Hot 97.7 FM on Mondays from 6-8 p.m. E-mail [e-mail missing].
Ask for More Arts Call for Artists. Ask for More Arts is currently seeking artists to work with children in grades K-5 in the Jackson Public Schools district. Parents for Public Schools of Jackson is the convening partner. Call 601-969-6015.
Farmers' Market at Mississippi Farmers Market (929 High St.). Shop the Mississippi Farmers Market for fresh locally-grown fruits and vegetables from Mississippi farmers, specialty foods, and crafts from local artisans. The market is open every Tuesday, Thursday and Saturday from 8 a.m.-2 p.m. Call 601-354-6573.
Farmers' Market at Jackson Roadmap to Health Equity Project's Farmers' Market (2548 Livingston Road). Buy from a wide selection of fresh produce provided by participating local farmers. Market hours are noon-6 p.m. on Fridays, and 8 a.m.-3:30 p.m. on Saturdays. Free admission; call 601-987-6783.
Events at Pearl Public Library (2416 Old Brandon Road, Pearl). Free; call 601-932-2562.
• Weekly Storytime. Each Tuesday, Baby Bookworms Storytime for children ages birth-36 months is at 9:30 a.m., and Preschool Storytime for children ages 3-6 is at 10:30 a.m. The event includes stories, rhymes and music, and a puppet show on the last Tuesday of the month.
• Pearl Peanuts Afterschool Program through May 25. On Wednesdays at 4 p.m., children in grades K-6 enjoy stories, crafts, snacks and special activities such as cooking, gardening and puppetry.
Youth Women's Cycling Group in Ridgeland. Get fit while participating in a fun, recreational environment Saturdays at 10 a.m. The club is for young girls ages 13-17. Free; call 601-559-5577.
Mississippi Music Foundation Money Match Program. The program is for artists living in Mississippi who are seeking to record and release an original CD. MMF will match up to 50 percent of funds raised by an artist to complete one song or group of songs. All genres are accepted, but all groups or artists must apply and acceptance is not guaranteed. Call 662-429-2939.
More stories by this author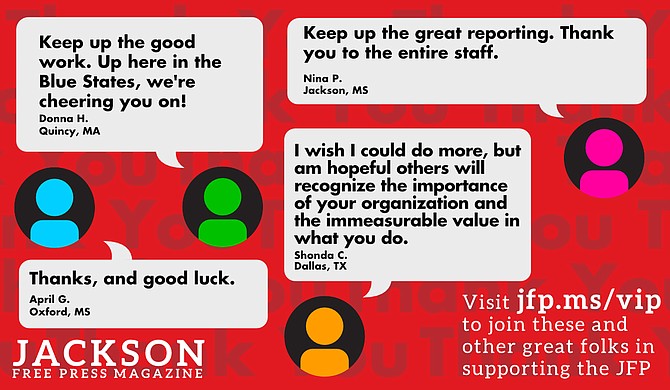 Thanks to all our new JFP VIPs!
COVID-19 has closed down the main sources of the JFP's revenue -- concerts, festivals, fundraisers, restaurants and bars. If everyone reading this article gives $5 or more, we should be able to continue publishing through the crisis. Please pay what you can to keep us reporting and publishing.