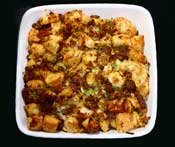 Every Thanksgiving, my house is divided. We take sides over stuffing—or dressing—whatever you prefer to call it. I was raised by Midwesterners and grew up eating stuffing of the cubed bread variety. I love the taste of sage, the little bite of crispiness on the top and the warm gooeyness underneath.
My husband refers to my brand of stuffing as "soggy bread dressing."
His family was all born and bred right here in Mississippi, and he swears by his grandmother's cornbread dressing. It has a permanent place in the buffet lineup every Thanksgiving, Christmas and any other family get-together.
No one may have served stuffing at the first Thanksgiving, but the tradition has been around for centuries. Stuffing used to only refer to something that was actually "stuffed" into the cavity of an animal. The earliest documentation of stuffing is in the Roman Apicius' cookbook, "De Re Coquinaria," which contained recipes consisting of vegetables, herbs, spices and nuts to stuff chicken, rabbit and pig. In the Middle Ages, stuffing was known as "farce" from the Latin "farcire" meaning "to stuff." Stuffing first appeared in the English language around 1530; however, after 1880 the term didn't appeal to the Victorian upper crust and they began to refer to it as "dressing." Today, we use the terms stuffing and dressing interchangeably.
Stuffing has three main ingredients: bread, liquid and seasoning. Any type of bread will work as long as it's not fresh. Using moist bread will give you mushy stuffing. You can always spread the cubes out on baking sheets and allow them to sit out overnight to dry or bake in an oven at 275 degrees for approximately 20 minutes. Most cooks use white bread; however, feel free to experiment with a variety of different breads such as wheat, French, Italian, whole-grain, rye, sourdough or cornbread. You might also consider trying pasta, rice, grains and vegetables.
Liquid keeps stuffing moist. The most obvious choice is broth. Sauces such as soy or Worcestershire, beaten eggs, fruit juice, beer, wine or liqueur add moisture in addition to flavor. Just don't overdo it or, once again, your dish will end up being gooey or mushy. Other additives include meats such as bacon or sausage, fresh or dried fruits, nuts, sautéed vegetables and shellfish. If you are unsure how much to prepare, a good rule of thumb is one half to three-quarter cup serving of stuffing per person.
Sourdough and Sausage Dressing
1 pound sage-flavored bulk pork sausage
2 leeks, white and green parts, chopped
6 cups cubed sourdough bread
2 teaspoons thyme
2 teaspoons Italian seasoning
1 teaspoon paprika
1/2 teaspoon freshly ground black pepper
2-3 cups chicken stock
Preheat oven to 350 degrees. Cook sausage in a medium skillet over medium-high heat until it is no longer pink. Transfer sausage to a plate with a slotted spoon. Add leeks to sausage drippings and cook until leeks become soft. Combine sausage, leeks, bread cubes, thyme, Italian seasoning, paprika and pepper. Pour chicken stock over bread mixture. Using a spoon or your hands, mix bread mixture until bread is moist. Transfer to a greased 9-by-11-by-2-inch baking dish. Cook for 40 minutes or until top is golden brown.
Serves eight to 10.
Cornbread Dressing
1 stick unsalted butter
2 cups chopped celery
2 cups chopped onion
6 - 8 cups crumbled cornbread
2 slices day old bread, torn
2 cups chicken broth, plus more as needed
2 raw eggs, slightly beaten
2 hardboiled eggs, chopped
1 cup cooked chicken, shredded
Salt and pepper to taste
Preheat oven to 450 degrees.
In large skillet, melt butter over medium heat. Add celery and onion, and sauté for 15 minutes. Remove from heat and set aside.
Combine cornbread with torn bread in a large bowl. Pour in chicken broth. Using a potato masher, begin mashing the bread—adding additional broth as needed—until the mixture is slightly soupy.
Mix in raw eggs. Add hardboiled eggs, sautéed vegetables and shredded chicken. Stir until all ingredients are well combined. Season with salt and pepper.
Pour cornbread mixture into a 9-by-13-by-2 inch casserole dish coated with nonstick cooking spray. Place dish on the middle rack of the oven and cook for one hour. Broil for an additional five to 10 minutes or until the top is golden brown. Remove from oven and let sit for 15 minutes before serving.
Serves eight to 10.
More like this story
More stories by this author
Support our reporting -- Become a JFP VIP.
The news business has changed dramatically in the past year, and we need your help more than ever to keep bringing you important stories about Jackson and the Metro. Become a JFP VIP with an annual membership or you can Sign up as a monthly supporter. Thanks for anything you can do to empower our journalism!