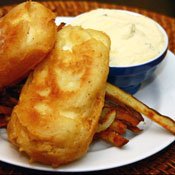 The summer between my freshman and sophomore year of high school, my parents and I spent two weeks in London. At the time, I was going through that phase where I thought my parents were quite possibly two of the most un-cool people on the planet. Two weeks in another country seemed like an eternity in teenage years. I just knew my friends were back home having the time of their lives without me in our quiet little hometown (they weren't), and my boyfriend was going to forget all about me and find a new girlfriend by the time I got back (he didn't).
I wish I could travel back 15 years and violently shake my silly teenage self. I celebrated my 15th birthday with front-row seats to "Phantom of the Opera" at Her Majesty's Theatre in Haymarket, London. What a rotten way to spend a birthday, right?
I was introduced to fish 'n' chips on that trip. I remember expecting something like a McDonald's Filet-O-Fish and Lays potato chips, and was surprised when I got fries. I honestly don't remember if I liked it or not, but a few years ago I decided to give them a second chance.
I didn't know where I could actually buy fish 'n' chips (Long John Silver's? Nah.), so I decided to make them in the comfort of my own tiny kitchen. I was rewarded with delicious results. The "chips" are a little different—they are baked, not fried. I was wary, as every baked French fry I have ever eaten was limp and soggy. These are different; it's the first time I have tried a baked French fry recipe that actually produced crispy fries. They're now on regular rotation at my house, and guests rave about how good they are.
Fish N' Chips
Fish
2 (8-ounce) firm white fish, cut into 1-1/2-inch fillets
Oil for frying
2-1/2 cups all-purpose flour
1 tablespoon baking powder
3 teaspoons salt, plus more for seasoning
1/2 teaspoon freshly ground black pepper
1 12-ounce can of beer
1 large egg, lightly beaten
Heat oil in a large deep skillet to 375 degrees (I like to use an electric skillet).
In a large bowl, combine two cups of flour, baking powder, salt and pepper. Combine the beer and egg and pour into the flour mixture. Whisk to a smooth batter. Batter should be the consistency of pancake batter; if too thick, feel free to add a little more beer until you reach the desired consistency.
Spread the remaining half-cup flour on a plate. Dredge the fish pieces in the flour and then dip them into the batter, letting the excess drip off.
Add the fillets to frying pan, and cook until coating turns brown and crispy, and the fillet is cooked through, about four to five minutes per side.
Remove from pan and drain on paper towels. Sprinkle with salt if desired.
Serves four.
Chips
3 russet potatoes (about 24 ounces total), peeled and cut lengthwise into even sized wedges
5 tablespoons vegetable, canola or peanut oil, divided
3/4 teaspoon kosher salt, plus more to taste
1/4 teaspoon freshly ground black pepper, plus more to taste
Place the potato wedges in a large mixing bowl. Cover with hot water; soak for 10-30 minutes.
Preheat the oven to 475 degrees.
Put four tablespoons of the oil onto a heavy, rimmed baking sheet. Tilt the sheet side-to-side to evenly coat the pan with oil, or use pastry brush. Sprinkle the pan evenly with the salt and pepper. Set aside.
Drain the potatoes. Spread the wedges out on layers of paper towels or on clean kitchen towels; pat dry with additional towels.
Wipe out the now-empty bowl so it is dry. Return the potatoes to the bowl and toss with the remaining one tablespoon of oil.
Arrange the potato wedges on the prepared baking sheet in a single layer. Cover tightly with foil and bake for five minutes. Remove the foil, and continue to bake until the bottoms of the potatoes are spotty golden brown, about 15 to 20 minutes, rotating the baking sheet after 10 minutes.
Using a metal spatula and tongs, flip each potato wedge, keeping them in a single layer. Continue baking until the fries are golden and crisp, from five to 15 minutes. Rotate the pan as needed to ensure even browning.
When the fries are finished baking, transfer to a paper-towel lined plate to drain some of the grease. Season with additional salt and pepper to taste. Serve warm.
Serves four.
More stories by this author
Support our reporting -- Follow the MFP.