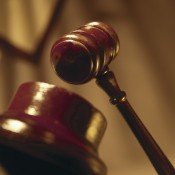 Monday, Nov. 1
6 p.m., Jackson Touchdown Club Meeting at River Hills Country Club (3600 Ridgewood Road). Members of the athletic organization meet weekly during the football season and have access to meals, fellowship and the chance to listen to speakers from around the country. This week's speaker is Dan Mullen, head football coach of the Mississippi State Bulldogs. $280 individual membership, $1200 corporate membership; call 601-955-5293 or 601-506-3186.
Tuesday, Nov. 2
7 a.m.-7 p.m., Election Day Hotline. The League of Women Voters of the Jackson Area sponsors the phone service until 7 p.m. and provides answers to questions related to voting, such as what precinct to vote in or voting procedures for the disabled. Call 601-355-7495.
10 a.m., Jackson City Council Meeting, at Jackson City Hall (200 S. President St.). The Jackson City Council holds its regular meeting, open to the public. Free; call 601-960-1033.
Noon, "Ecology of Kaxil Kiuic Biocultural Reserve: The Yucatan Peninsula" at Mississippi Museum of Natural Science (2148 Riverside Drive). Dr. Markus Tellkamp will talk about his research at Kaxil Kiuic, where he studies the ecology of the 4,000-acre dry tropical deciduous forest. $5, $3 ages 3-18, $4 seniors, free for members and kids under 3; call 601-354-7303.
Noon, U.S. Senator Thad Cochran Forum on American Enterprise, at Marriott Hotel (200 E. Amite St.). The speakers are Dr. Scott Anderson, director/senior economist at Wells Fargo Bank, and Entergy Mississippi president/CEO Haley Fisackerly. Registration is required. $100 and up; call 601-974-1325.
5:30 p.m., Jackson Public School Board Meeting, at Jackson Public Schools (621 S. State St.). The JPS School Board meets for its discipline session, open to the public. Free; call 601-960-8700.
6 p.m., Financial Education Seminar at 3000 Fondren Building (3000 Old Canton Road), in suite 550. Hosted by CredAbility, certified budget and credit counselors lead the seminar. Pre-registration is preferred but not required. Free; call 601-362-7284.
6 p.m., Healthy Lung Day, at Baptist Medical Center (1225 N. State St.). If you have COPD, asthma or a sleep disorder, don't miss this information-packed event designed to help you breathe and feel better. The seminar features a panel discussion with pulmonologists Dr. Sarah Broom, Dr. Tim Cannon, Dr. William Frazier, Dr. Robert M. Middleton, Dr. Maria G. Rappai, Dr. Joyce Wade and Dr. William T. Williams. Registration is required. Free; call 601-948-6262 or 800-948-6262.
Wednesday, Nov. 3
10 a.m., "Save the Turkey" Skeet Shoot, at Capitol Gun Club (1622 Capitol Gun Club Road). The Clinton Community Development Foundation is the host. All funds raised at this event will go directly to the Annual Fund. Lunch and ammunition are provided. $500 team of five; call 601-924-0102.
11:45 a.m., Parents for Public Schools Lunch Bunch at Jackson Medical Mall (350 W. Woodrow Wilson Ave.) in the Community Meeting Room. The topic is "Creating a College-Going Culture." Presenters include Heather Roberts of the Education Services Foundation and Murrah High School principal Freddrick Murray. An RSVP is required. $5 lunch; call 601-969-6015.
Noon, "History Is Lunch" at William F. Winter Archives and History Building (200 North St.). Elise Winter, former first lady of Mississippi, talks about and signs copies of "Dinner at the Mansion," newly reprinted by Yoknapatawpha Press. Free; call 601-576-6850.
5:30 p.m., Venture Incubator Open House and Seminar at Regions Plaza (210 E. Capitol St.). The informational seminar for business owners and entrepreneurs will provide information on how the Venture Incubator can help grow small businesses. Join tour of the Venture Incubator offices after the seminar. Please RSVP. Call 601-906-4868.
Thursday, Nov. 4
Fifth Annual SCLC-MIRA Unity Conference Nov 4-5, at Cabot Lodge Millsaps (2375 N. State St.). This year's theme is "Celebrating 10 Years of Advocacy." Speakers include Bill Fletcher Jr., Isabel Garcia, Mike Sayer and State Reps. Adrienne Wooten, Cecil Brown and Jim Evans. Registration includes meals and materials. $50, $25 youth and students; call 601-968-5182.
7:30 a.m., Mentoring Children for Tomorrow Meeting, at Mimi's Family and Friends (3139 N. State St.). In collaboration with Big Brothers Big Sisters of Mississippi, Lutheran Episcopal Services provides mentors for children of incarcerated parents. Learn how to get involved. Call 601-352-7125.
10 a.m., Annual Holden Lecture, at Jackson State University Student Center Theater (1400 John R. Lynch St.). Named in honor of Matthew Holden, Jr., a distinguished political scientist, the Holden Lecture features Dr. Dianne Pinderhughes, professor of political science and Africana studies at the University of Notre Dame. Free; call 601-979-6949.
1:30 p.m., Medicaid Hearing at Mississippi State Capitol (400 High St.). Parents and advocates of disabled children will discuss program cuts with lawmakers. E-mail [e-mail missing].
6 p.m., Community Reinvestment Awards Banquet at Jackson Medical Mall (350 W. Woodrow Wilson Ave.). The theme is "Sowing the Seeds for a Brighter Future." The Jackson Medical Mall Foundation pays homage to individuals and agencies who are giving back to the community. The special guest speaker is VH1 Celebrity Fit Club's Sgt. Harvey Walden IV. $75, $650 table of 10; call 601-982-8467, ext. 12.
6 p.m., Precinct 1 COPS Meeting at Jackson Police Department - Precinct 1 (810 Cooper Road). These monthly meetings are forums designed to help resolve community issues or problems, from crime to potholes. Call 601-960-0001.
Friday, Nov. 5
8 a.m., Social Studies Teachers Workshop at Old Capitol Museum (100 S. State St.). "Antebellum Mississippi: 1833 - 1850" is the theme. 0.5 CEU credits are available through Mississippi College. Free; call 601-576-6800.
6 p.m., Evening of Unity at Cabot Lodge Millsaps (2375 N. State St.). In association with the SCLC-MIRA Unity Conference, proceeds benefit MIRA's $20.10 for 2010 Campaign. The dinner features Bill Fletcher, Jr., the premiere of MIRA's "BREATHE" documentary, Youth for Change, DJ Phingaprint and The Movement Dance Company. Pleaae RSVP. $20.10; call 601-968-5182.
Saturday, Nov. 6
Events at Mayes Lake at LeFleur's Bluff (115 Lakeland Terrace).
• 8 a.m., Jackson Audubon Society Monthly Bird Walk. An experienced Audubon Society member will lead the walk. Bring binoculars, water, insect repellent and a snack. Call ahead to borrow a pair of binoculars. Adults must accompany children under 15. Free, $3 car entrance fee; call 601-956-7444.
• 9 a.m., NAMIWalks for the Mind of America. Check-in is at 9 a.m., and the walk begins at 10 a.m. The 4K walk is an annual fundraiser for NAMI Mississippi, a local branch of the National Alliance on Mental Illness. Join the JFP team at nami.org/namiwalks10/MIS/jfp2010. Donations welcome; call 601-899-9058.
6 a.m., Belk Fall Charity Sale at Belk, Dogwood Festival (150 Dogwood Blvd., Flowood) and Belk, Northpark Mall (1200 E. County Line Road, Ridgeland). The four-hour event is a fundraiser for participating local charities, schools and nonprofit organizations, and a chance for customers to support their favorite charities and take advantage of special discounts of 20 to 70 percent on purchases. $5; call 601-919-5000 or 601-991-2017.
7 a.m., Bread Day at Great Harvest Bread Company (5006 Parkway Drive). Patty Peck Christie, owner of Patty Peck Honda, serves as a celebrity baker. Proceeds from the day's sales go towards Camp Kandu, a camp for children with diabetes. Call 601-957-7878.
7:30 a.m., Power APAC Pancake Breakfast at Applebee's (900 E. County Line Road, #101, Ridgeland). Enjoy pancakes, sausages, juice, milk and coffee. Proceeds from the fundraiser benefit the Power APAC Dance Department. $5; call 601-960-5300.
8 a.m., Community Service Day at Hinds Community College Raymond Career Center (14020 Highway 18, Raymond). Services such as a winterize car check, resume writing, blood pressure and eye screenings, and home maintenance are provided to the public free of charge. Food will be sold. Free; call 601-857-3680.
9 a.m., NACA Homeownership Seminar at Jackson Medical Mall (350 W. Woodrow Wilson Ave.). The class is in the Community Meeting Room. Free; call 601-922-4008.
11 a.m., Off the Leash for Epilepsy at Lakeshore Park (Lakeshore Drive). Activities include three pet contests, kids activities, food raffles, K-9 demonstrations and music. Proceeds benefit the Epilepsy Foundation of Mississippi. $5, $3 students, kids 5 and under free; call 601-936-5222.
Through Nov. 7
Farmers' Market at Old Farmers' Market (352 E. Woodrow Wilson Ave.). Brenda's Produce features fruits, vegetables and flowers from Smith County, and Berry's Produce also has a wide selection of products to choose from. Hours are 7 a.m.-6 p.m. Monday-Saturday and 11 a.m.-6 p.m. Sunday. Call 601-354-0529 or 601-353-1633.
Monday, Nov. 8
10 a.m., Levee Board Meeting at Flowood City Hall (2101 Airport Road, Flowood). Members of the Rankin-Hinds Pearl Flood and Drainage Control District will have their monthly meeting. Call 601-939-4243.
3 p.m., Pink Treadmill Drawing at Baptist Healthplex (717 Manship St.). Proceeds from the raffle benefit the Baptist Health Foundation. Purchase tickets can be purchased at the Jackson or Clinton locations. $20 ticket; call 601-968-1766 or 601-925-7900.
Ongoing
Medical Mall Moment Report at WOAD 1300 AM. Find out about the Jackson Medical Mall Foundation's current activities every second Friday of the month at 8:30 a.m. Call-ins to 601-995-1400 are welcome. Send your questions and comments in advance to [e-mail missing] or call the office for more information. The broadcast is also available on jacksonmedicalmall.org. Call 601-982-8467.
Cancer Rehab Classes at Baptist Medical Center (1225 N. State St.), in the Activity Room of the Hederman Cancer Center on Tuesdays and Thursdays at 2 p.m. The class helps cancer patients enhance cardiovascular strength, endurance, their immune system and bone density. It helps to increase overall strength and stamina, decrease fatigue and weight loss, and improve digestion. Registration is required. Free; call 601-948-6262 or 800-948-6262.
You Have the Mic at Afrika Book Cafe (404 Mitchell Ave.). The open political forum for discussing Jackson's current issues is hosted by Othor Cain and Mista Main of Hot 97.7 FM on Mondays from 6-8 p.m. E-mail [e-mail missing].
Ask for More Arts Call for Artists. Ask for More Arts is currently seeking artists to work with children in grades K-5 in the Jackson Public Schools district. Parents for Public Schools of Jackson is the convening partner. Call 601-969-6015.
Farmers' Market at Mississippi Farmers Market (929 High St.). Shop the Mississippi Farmers Market for fresh locally-grown fruits and vegetables from Mississippi farmers, specialty foods, and crafts from local artisans. The market is open every Tuesday, Thursday and Saturday from 8 a.m.-2 p.m. Call 601-354-6573.
Farmers' Market at Jackson Roadmap to Health Equity Project's Farmers' Market (2548 Livingston Road). Buy from a wide selection of fresh produce provided by participating local farmers. Market hours are noon-6 p.m. on Fridays, and 8 a.m.-3:30 p.m. on Saturdays. Free admission; call 601-987-6783.
Events at Pearl Public Library (2416 Old Brandon Road, Pearl). Free; call 601-932-2562.
• Weekly Storytime. Each Tuesday, Baby Bookworms Storytime for children ages birth-36 months is at 9:30 a.m., and Preschool Storytime for children ages 3-6 is at 10:30 a.m. The event includes stories, rhymes and music, and puppet show on the last Tuesday of the month.
• Pearl Peanuts Afterschool Program through May 25. On Wednesdays at 4 p.m., children in grades K-6 will enjoy stories, crafts, snacks and special activities such as cooking, gardening, and puppetry.
Youth Women's Cycling Group in Ridgeland. Get fit while participating in a fun, recreational environment Saturdays at 10 a.m. The club is for young girls ages 13-17. Free; call 601-559-5577.
Mississippi Music Foundation Money Match Program. The program is for artists living in Mississippi who are seeking to record and release an original CD. MMF will match up to 50 percent of funds raised by an artist to complete one song or group of songs. All genres are accepted, but all groups or artists must apply, and acceptance is not guaranteed. Call 662-429-2939.
More like this story
More stories by this author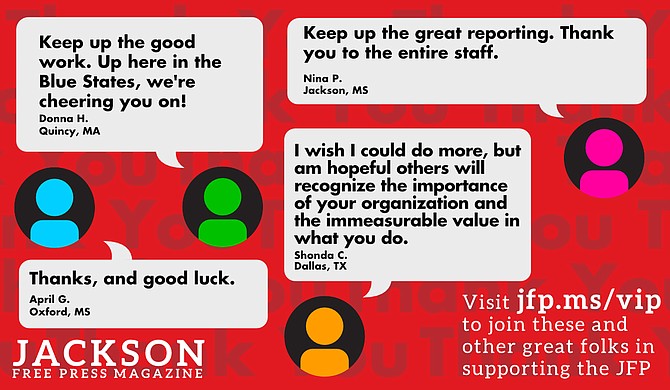 Thanks to all our new JFP VIPs!
COVID-19 has closed down the main sources of the JFP's revenue -- concerts, festivals, fundraisers, restaurants and bars. If everyone reading this article gives $5 or more, we should be able to continue publishing through the crisis. Please pay what you can to keep us reporting and publishing.