This just doesn't seem to end, does it? From mlive.com:
Wayne County Circuit Judge David Groner on Tuesday sentenced Kilpatrick to between 18 months and five years in prison for violating the terms of his probation stemming from his 2008 guilty plea on obstruction of justice charges.
Allowing for time served, Kilpatrick could spend as little as 14 months in prison but will be required to resume restitution payments to the city upon release.
"Clearly, rehabilitation has failed," Groner said, a collective gasp rising from the courtroom when he announced the sentence. "You have not adjusted under probation and it is no longer an option."
[...]
Kilpatrick argued he never willfully misled the court about his finances, but acknowledged he may have made mistakes while trying to buy back the affections of his wife.
The article goes on to say that Kilpatrick's attorney will appeal the ruling and that Kilpatrick was fired from his job as a salesman after the ruling.
So, what do you think? Did Kilpatrick get what was coming to him, or was the sentence too harsh?
Previous Comments
ID

157955

Comment

Do we need to see any more proof that he embraces hip hop or rap crap as his theme music is a moron. The mayor goes back to jail because he couldn't stop lying and blinging. When you act like Biggie, Tupac or Snoop Dog you will get your ass shot or wind up in jail or trouble. It's one thing to lie about all the tail you been getting. I know even in that you're likely to get busted, 9 ironed, left or divorced. Somebody should have told Kwame the judge wasn't one of his jump-offs or hoes. Somebody should have also told him that prosecutor, Kim Worthy, who has probably been done wrong by someone who looks just like him, is quite worthy of getting his butt locked up for a long time. I wish the brother, an Alpha man, had talked to me before having to show up to court the last time. I'd told him you're as caught as the boy who called his jump-off and asked her to take his name out of her phone because the wife was on to her. And I would have talked to him before the first jail stint, I'd have told him to stay away from using phones and new technology to run your affairs as these items leaves trails that can't be erased. Most of all, I'd told him to not get married if you can't be faithful. Kwame is like most hip hop artists, fans and supporters in that when his nuts is caught in a vicegrip, instead of gingerly easing them out, he puts his money on the vicegrips not working. Kwame got exactly what he deserves. He's dummer than even Frank Melton was. But I bet he had his mind on his money and his money on his mind. He has lost his family, law license and his butt is probably next. Long live hip hop. Where are you Skipp, Kaze, et al. Holler at your boy!

Author

Walt

Date

2010-05-25T17:03:37-06:00
ID

157972

Comment

Here is the full sentencing statement by the judge. He gave him a serious tongue lashing.

Author

LatashaWillis

Date

2010-05-26T17:06:45-06:00
ID

157974

Comment

I love one of the comments from another article. Top Ten things Kwame Malik Kilpatrick is doing right now: 10. Wondering if this is really "Omaha" bologna like the warden promised. 9. Trying to find the guy on the cellblock that does the embroidery. 8. Wondering "who is the man that keeps hanging up" when he calls home collect. 7. Offering his services to the Warden as a role model for young black men. 6. Counting the bricks in his cell; still 1,049... just like last time. 5. Trying to get thru to room service. 4. Wishing he had listened to his Mom about clean underwear. 3. Wishing he had taken more dance lessons. 2. Giving up his pudding to Bubba in the hopes of currying favor. And the Number One thing Kwame M. Kilpatrick is doing right now: Wondering how a nice guy like himself wound up in a place like this.

Author

Lady Havoc

Date

2010-05-27T08:00:18-06:00
ID

157979

Comment

The Detroit Free Press is now reporting Kwame is acting strange and begging to see his moma nem. It turns out he tried to take his first shower this moring. He said as he dropped the towel to begin his shower a big player named Bubba starting singing Etta James' classic, "At Last." Kwame reportedly thought momentarily this was a guy he knew from the streets and had offended somehow, but the guy assured they hadn't met before. The column goes on and reports that Kwame said when Bubba looked him up and down, licked his lips and said "the sky is blue as I look up your legs, he knew he needed help and ran to the security station. Kwame said he wasn't no punk, though, as in weak, he's just not ready to start dating again so soon. Besides he needs to send text messages as foreplay. I read an article which says Kwame was trying to buy his wife's affection back and he got her some plastic surgery of some nature. Only Kobe Bryant can do that. Kwame is a baller but ha ain't no Kobe. I doubt she really need it, and it would have made more sense for Kwame to get the surgery. Maybe that way he would have been able to keep a straight face as he tried to shoot the judge some of that Mystical, Lil Wayne and TI bullshit that didn't work for him or them. Lady Havoc which top 10 is your favorite? What is the status of rap now? Is it now dead finally?

Author

Walt

Date

2010-05-27T16:30:18-06:00
ID

157980

Comment

The Detroit Free Press is also reporting that some local Detroit Rapper has a rap song about Kwame's latest situation that is getting airtime on Utube.The only part I remember right off is, Penthouse, jailhouse, she love, me love, steaks, missedsteaks, can a player get some love somewhere. Check it out. Such a sad story in that Kwame had so much ability and promise but threw it all away due to ego, greed, and no respect for the system or anyone. Did General Larry Platt drive the last nail into the coffin of rap and hip hop with his Pants on the Ground hit record? Let's hope he did. Ladies I hear Mystical done got out. Guard you stuff. See if you can get a taser.

Author

Walt

Date

2010-05-27T16:54:15-06:00
ID

158062

Comment

Since won't any rappers play ball with me anymore I'll take my basketball and go to the house. The two greatest rappers are Carters, though, JayZ and Lil Wayne. I'm not surprised.

Author

Walt

Date

2010-06-06T23:36:05-06:00
ID

158064

Comment

Walt your comments are generalized and I find, as a hip hop lover, them to be simply offensive in nature and for lack of better words ridiculous. This dude does not represent - in ANY fashion - what hip hop is all about and one thing has little to nothing to do with the other. I really can't even believe I'm responding to this outrageous notion, but I simply couldn't resist. Your hatred for the culture is shining thru your comments and thus taking away from your usual sound point of view.

Author

Queen601

Date

2010-06-07T08:49:39-06:00
ID

158068

Comment

Ok Walt, I see that he was referred to as the Hip Hop Mayor (or something to that effect) which is likely the reason you grabbed onto that and let loose. However, I have to wonder why that tag was given to him - not that it even matters. At any rate, I'm sure you were just hoping to piss off Kaze and Skip with your comments :-). SN: This dude is full of crap. He's a liar and a cheat. He's one of those people who are born with the gift of gab and it's caught up to him as it always does!

Author

Queen601

Date

2010-06-07T10:10:24-06:00
ID

158071

Comment

Thanks Queen! I hope you and the family are doing well. Hip Hop Hooray. Soul Train, the hippest trip in America, and you can bet your last money it's gonna be a stone gas.

Author

Walt

Date

2010-06-07T22:19:53-06:00
ID

158072

Comment

By the way, Queen, you know I like messing with the younguns. Once upon a time I was invited to appear on the Kaze show to talk about hip hop with Kaze and Skipp. I knew it was a set up and they were gonna jump me and use the occasion or breakdown of me as a promotion for the joint albums they were working on no doubt called _______ up the Enemy. I didn't want to have to hurt them so I passed. I don't dislike hip hop or rap, but hip hop or rap ain't Al Green, Stevie Wonder, Marvin Gaye or the Temptations if you know what I mean. I love those young whippersnappers.

Author

Walt

Date

2010-06-07T22:39:13-06:00
ID

158074

Comment

I understand Walt. It takes a fresh, new ear to know the power of hip hop. :-) Honestly, though, I can imagine being brought up on those you've mentioned (whom I love as well) would make it hard to hear what probably sounds to you like talking over music. But for us, it's a voice and it speaks directly to us. You have a point in that it comes with some that rap about meaningless, valueless parts of existence. However, the beauty of hip hop is that it covers everything from pain to joy; sorrow to stregnth; love to hate; sex to love. Literally everything! If one doesn't particularly like a certain kind of rapper, there are others. Hip Hop Hoorayyyyy, OH, AAAAY, OH, AAAAY!!!! SN: Oh yeah, I'd stay clear of the Skipp/Kaz connection too if I hated (or didn't favor) hip hop. The two of them together make a strong force to be reckoned with. Both are highly intelligent representatives of Mississippi and Hip Hop!

Author

Queen601

Date

2010-06-08T07:40:07-06:00
ID

158082

Comment

Walt: "Soul Train, the hippest trip in America, and you can bet your last money it's gonna be a stone gas." Queen: "Hip Hop Hoorayyyyy, OH, AAAAY, OH, AAAAY!!!!" Both of you are showing your age for real! LOL

Author

LatashaWillis

Date

2010-06-08T10:42:03-06:00
ID

158083

Comment

This is such a sad, sad story and the unfortunate thing is that we don't have any could/would be successful black males to waste. It makes you wonder if the young man is a victim of a mental illness. He really seems to get into extreme elation from time to time. Walt, have they ordered psychologicals for the brother?

Author

justjess

Date

2010-06-08T10:47:08-06:00
ID

158084

Comment

Heyyyyy LW, I embrace being seasoned. :-) Justjess, there's nothing wrong with this fella mentally. The only problem he has is that he got caught. He knows it's wrong. He's greedy and he's not familiar with consequences. He's not alone. There are men walking around every day who live like Kilpatrick. They just don't hold public office so they're hidden.

Author

Queen601

Date

2010-06-08T10:47:25-06:00
More stories by this author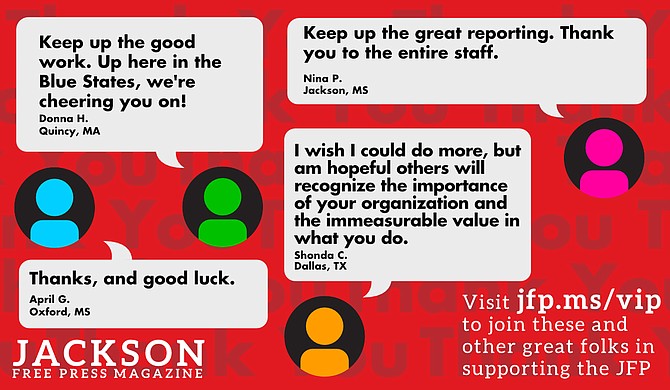 Thanks to all our new JFP VIPs!
COVID-19 has closed down the main sources of the JFP's revenue -- concerts, festivals, fundraisers, restaurants and bars. If everyone reading this article gives $5 or more, we should be able to continue publishing through the crisis. Please pay what you can to keep us reporting and publishing.