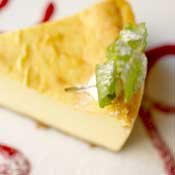 Every year as the temperatures rise and the Easter baskets start appearing, I find myself obsessing over cheesecakes. A very basic cheesecake consists of a graham cracker crust with a smooth cream-cheese filling. However, that basic recipe can be morphed and adapted into a thousand different formulations, creating a virtual blank canvas for any culinary artist.
The cooking method and ingredients used depend on the region and the culture the cake was baked in. New York-style cheesecake is made of cream cheese, eggs and egg yolks, and heavy cream. Most frozen cheesecakes are made using the sour-cream style, which uses sour cream instead of heavy cream, making the dessert more resilient to freezing. Pennsylvania Dutch-style cheesecake uses a cheese with larger curds and less water, known as farmer's cheese. This adds a slightly tangy flavor to the cheesecake. Philadelphia-style cheesecake is lighter in texture, yet richer in flavor than New York-style cheesecake. British natives prefer the non-baked version, adding gelatin to their filling to keep it firm. Italians forgo cream cheese altogether and opt for creamy ricotta.
Have you ever pulled a perfect cheesecake from the oven only to come back later to discover a huge crack in the center? This can happen for two reasons: over-mixing the batter and moisture loss during baking. Beat your ingredients at a low speed to prevent incorporating too much air into the mixture. Find a pan large enough to hold your springform pan (a disposable roasting pan works well if you don't have another cake pan big enough). Wrap the bottom of your springform pan in aluminum foil (because you don't want your water bath leaking into your cheesecake). Set the springform pan inside the larger pan and fill the larger pan with enough water to go up halfway up the sides of your springform pan.
Once your cheesecake has finished baking, turn the oven off, leave the oven door ajar, and allow the cheesecake to slowly cool in the oven. Resist the temptation to cut right in to your cheesecake. It needs several hours to cool and firm up to the right consistency.
Cheesecakes can be frozen for up to several months. Just place on a cookie sheet, freeze until firm, then wrap in heavy aluminum foil and place into a freezer bag. Thaw a frozen cheesecake in the refrigerator overnight.
This cheesecake was aptly named after the ice cream my mother used to buy when I was a kid. Chocolate, vanilla and strawberry all in one, it was like getting three cartons of ice cream in the same container. With each bite of this creamy tri-colored cheesecake, you'll get a little taste of something different. The festive springtime colors make it the perfect dessert for an Easter meal.
Neopolitan Cheesecake
(Makes 12-14 servings)
1 cup chocolate graham cracker crumbs
5 tablespoons butter, melted, divided
3 packages (8 ounces each) cream cheese, softened
3/4 cup sugar
3 eggs
1 teaspoon vanilla extract
5 squares (1 ounce each) semisweet chocolate, divided
2 1/2 squares (2 1/2 ounces) white baking chocolate, divided
1/3 cup mashed, sweetened strawberries
2 teaspoon shortening, divided
Preheat oven to 350 degrees. Combine crumbs and three tablespoons of butter; press onto the bottom of an ungreased 9-inch springform pan. Bake for eight minutes. Remove from the oven and cool.
For the cheesecake, preheat oven to 425 degrees. In a large mixing bowl, beat the cream cheese and sugar until smooth. Beat in eggs, one at a time. Add vanilla. Divide cream-cheese batter into three portions of about 1 2/3 cup each.
In a double boiler over medium heat, melt two squares of the semisweet chocolate. Stir into one portion of the cream cheese batter. Next, melt two squares of the white chocolate. Stir into the second portion of the cream cheese batter. Stir strawberries into the remaining batter.
Spread semisweet chocolate mixture evenly over the bottom of the graham cracker crust. Carefully top with white chocolate mixture, and then with strawberry mixture. Bake for 10 minutes. Reduce oven temperature to 300 degrees. Bake for an additional 50 to 55 minutes or until the center is nearly set. Allow cheesecake to cool. Run a knife along the edge of the cheesecake. Remove cheesecake from pan.
In a double boiler, melt remaining three squares of semisweet chocolate, remaining two tablespoons of butter and one teaspoon of shortening; allow to cool for two minutes. Pour over cake. Melt remaining half square of white chocolate and remaining teaspoon of shortening; drizzle over semisweet chocolate glaze.
Refrigerate leftovers.
More stories by this author
Support our reporting -- Become a JFP VIP.
The news business has changed dramatically in the past year, and we need your help more than ever to keep bringing you important stories about Jackson and the Metro. Become a JFP VIP with an annual membership or you can Sign up as a monthly supporter. Thanks for anything you can do to empower our journalism!