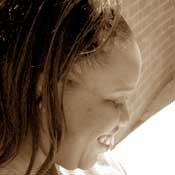 While walking home from her job at the YMCA on Farish Street as a teenager, Katrina Byrd noticed a man in a truck following her. Moments later, the man attempted to abduct Byrd by forcing her into his car.
"He got out of (his) truck and started pushing me and trying to get me to get in his truck. ...his last attempt was to snatch my glasses off because he thought that I would be so impaired, I wouldn't be able to see. So instead, I started screaming and Johnny Griffin heard it, and he helped me."
Luckily, the incident took place in front of neighbor Johnny Griffin's house. Griffin heard Byrd struggling and came to help her escape.
Then-Jackson Advocate Publisher Charles Tisdale encouraged Byrd to write a column about the incident. This is the moment she knew she wanted to become a writer, she says.
"He said, 'you are such a good writer,' and that was so shocking because, I mean, that's just something I had always done, like brush my teeth or paint my toe nails. It was weird for someone to be that excited about anything that I could do," says Byrd.
A few years after the incident, Griffin was shot and killed outside his home by police officer Steven Wilson.
Byrd, 38, a Jackson native, is a graduate of Millsaps College. She has been actively pursuing her writing for the last six years and began contributing to the Jackson Free Press six months ago. Byrd is also the Center Players' Playwright in Residence for the 2010-2011 season.
The JFP named Byrd the May Freelancer of the Month for her cover story "I Dream in Color" about artist George Miles.
Byrd described Miles as an artist who just "goes with a nice flow." To write the story Byrd spent time interviewing Miles and watching him paint. She says her favorite piece of his is "American Woman" which depicts an African American with an American flag draped around her body.
"I thought it was amazing that he had named the piece American Woman instead of African American Woman," she said. "You know it's fine being (an) African American woman, that's great. But it's nice to know that America or Americans have so many different layers."
Byrd looks forward to writing and performing her work in the fall with the Ridgeland-based group Center Players, and her first performance will be this fall. In addition to doing workshops, she will also do three readings of her work.
"It's an amazing opportunity. I get to share my work with the community. It's kind of like they have my back" she says.
When asked about her goals for the next 10 years, Byrd responds enthusiastically: "In 2020, I'm hoping to have some books out and some plays produced. Most of all, I would like to have a work that resonates with the community and that binds people together."
Previous Comments
ID

158164

Comment

Katrina ROX! Congrats on JFP Person of the Day!

Author

Lori Kincses

Date

2010-06-11T14:30:47-06:00
ID

158165

Comment

Go for your dreams.

Author

Meredith

Date

2010-06-11T14:34:59-06:00
ID

158167

Comment

Katrina is an incredible writer. For each Writer's Spotlight she has captivated the audience with her work. I'm so glad to see her get the credit she so deserves!

Author

janinejulia

Date

2010-06-11T14:48:18-06:00
ID

158176

Comment

Congratulations, Katrina!

Author

Mike

Date

2010-06-12T00:05:38-06:00
ID

158183

Comment

Congratulations, Katrina, as JFP's "Person of the Day" It is not every day that talents such as yours are recognized in such a way that actually promotesthe individual.

Author

justjess

Date

2010-06-14T10:57:27-06:00
More stories by this author
Support our reporting -- Follow the MFP.