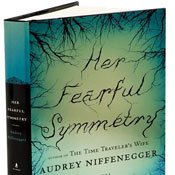 When most people think of symmetry, perfection often comes to mind. But Audrey Niffenegger confounds this definition, as the title suggests, in her latest novel, "Her Fearful Symmetry" (Scribner, 2009, $15). Symmetry in this novel refers not only to the physical attributes of the main characters, who are twins, but also to time. The symmetry in this modern gothic novel will invoke alarm and even, at times, disgust.
Unlike Niffenegger's last novel, "The Time Traveler's Wife," in which the main character plunges into the past, present and future, the characters in "Her Fearful Symmetry" all seem to be stuck in time. Their struggle to break free of the repetition in their lives drives the novel.
The story takes place in present-day London, and most of the action happens in or near Highgate Cemetery where Niffenegger is a guide in real life. The extensive research she did for this novel is obvious. Highgate's history and mystery will grab you from the moment it is introduced: "People parked their cars ... and stood looking about, taking in the chapels (once famously described as 'Undertaker's Gothic'), the iron gates, the War Memorial, the statue of Fortune staring blank-eyed under the pewter sky."
Niffenegger explores London's foggy streets through the eyes of twins, Valentina and Julia, who are originally from Illinois. They recently have inherited a flat from their mother's twin sister, Elspeth, which is located on the edge of Highgate Cemetery. The twins soon find that their Aunt Elspeth is haunting them, but her ghost is not the only disturbing element of the novel. The twins themselves are rather discomfiting.
Described as pale and extremely small in size and stature with short, white-blond hair, the twins literally mirror each other. Valentina's organs are even opposite those of Julia's: Her heart is on the right side of her body. Valentina, the more physically fragile of the two twins, also has a weaker personality. Julia completely dominates Valentina and will not allow her to do anything on her own, and Valentina is constantly trying to free herself from the grip that Julia holds over her. The twins seem trapped in an eternal state of childhood, unable to develop their own identities. Even though they are 21 years old, neither twin has ever even had a boyfriend.
The many references to Lewis Carroll's "Alice" books compound the idea that Julia and Valentina are interminable children but also hint at the idea that their lives will shortly turn inside out. Soon after another character asks her what she likes to do, Julia wonders, "Why do I feel like I'm at the edge of a hole?" And Valentina, after finding herself in a new situation, feels like Alice after she eats a mint: "She had a rare sensation of being too big." It's not surprising, however, that Niffenegger alludes to the Alice books because they invoke an uncanny feeling much like that of "Her Fearful Symmetry." Niffenegger even cites them as some of her favorite books in an interview with Crystal Patriarche published on http://www.sheknows.com.
Along with the twins, other characters in the novel also grapple with the inertia in their lives. There is Martin, who has obsessive-compulsive disorder and refuses to leave his flat. He has allowed time to pass him by, letting the world outside go on, while he remains inside. And there is Aunt Elspeth, who haunts the twins, and seems to be eternally confined to her old flat where the twins now live. Another tenant, Robert, also remains fixated on his former love, Elspeth. At times, the characters' inability to act was insanely frustrating. I wanted to shake them and say, "Do something." But their stasis is also what kept me furiously turning the pages of the book; I had to know if they would ever be free.
The Merriam-Webster dictionary gives an alternate definition of symmetry as "the property of remaining invariant under certain changes (as ... the direction of time flow)." This definition seems to label the lives of Niffenegger's characters. Even the lives of the twins seem to mirror those of their mother and aunt. Elspeth sees herself and her sister in Valentina's and Julia's fights: "Elspeth stayed in the hall. She had no appetite for the fight the twins were about to have. Been there, done that," Elspeth thinks.
By the books end, through twists and turns, the characters break free of the symmetry that haunts their lives. But they are no ordinary characters, so they break free in ways most of us would never imagine.
Audrey Niffenegger will sign copies of her book Wednesday, July 21, at 5 p.m. with a reading at 5:30 p.m. at Lemuria Books (202 Banner Hall, 4465 Interstate 55 N., 601-366-7619).
More like this story
More stories by this author