Beyond the years when I actually possessed some amount of athletic ability, I've not been that much of a sporto. Unless your sport is going to a sports bar. But back when I did play this or that, I was always drawn to the "riverboat gambler" from Southern Miss. I can recall staying up all night watching a re-run of this bowl game on some UHF channel on rabbit ears. I can't remember who they were playing, but I can remember very clearly this kid conjuring magic from his fingertips. Magic, I tells ya...feats that no mere mortal should be able to pull off with a leather oblong object. When he went on to lead the Packers to improbable playoff victories while building legends of chicken wings and alcohol swilling, he only further endeared himself into my then-sporto heart. Somewhere along the next 16 years or so, dude became honorable too, by winning MVPs, a Superbowl, a host of records that may not be broken for a long time, if ever. Ultimately, he built a lasting legacy by earning a deep respect among his contemporaries and adversaries alike as perhaps the best football player to ever play the position. Certainly, he has been one of the most exciting.
Today, Favre had a mammoth four-touchdown day against the highly favored Cowboys, extending his best statistical year as a professional athlete and cementing himself as perhaps the favorite for his fourth MVP. At 40, no less. But the storm which had been brewing in my mind for the last several weeks was drawing nigh. A shadow in my thought. What would happen if the Vikings have to take on The Saints? And how on Earth could I balance my love of Favre and excitement for his season, with the fact that it is an unwritten law that every Jacksonian must always back the Saints. Breakable by pain of death. I'm a law-abiding citizen, and I have no wish to be ostracized by my friends for flinching now. I've been down that road before with Favre.
You see, I grew up in Pontotoc, MS...a stone's throw from Oxford. And to pick against the Rebs meant you were a pariah. Well, I had my convictions and I supported Favre and Southern Miss without exception. That made me about as popular in sports discussions as Donny from The Big Lebowski in a debate about Lennon. A scowl and disdain was apparently the black tie to this affair. And now I find myself torn again. All my friends are hard-core, "who dat" yelling maniacs. I'm pretty sure that human sacrifice would not be out of question when a win is on the line. And I'm not terribly inclined to disagree on most Sundays. But next week...oh, that growing shadow in my mind is but days away from covering us completely now. Set in stone like the Mayan prophesy for the winter solstice of 2012. Can I avoid a similar apocalypse? I have a chance for respect here if I just go one way or the other, for Favre or Saints. Granted, one of these will get my game party invitation shredded, dipped in Rotell cheese and thrown in my face. But there would be respect, I think. But my heart is milky toast on this particular subject. I want to root for the Saints, AND I want Favre to rip up their secondary. Clearly, I can't have it both ways.
So I pose the question to you, Free-Pressiverse: can a man have his king cake and eat it too?
Chris Nolen is an art director and writer in Jackson, MS
noleofantastico.com
Previous Comments
ID

155223

Comment

Yes, Chris, it is okay to love Favre this week. Would I lie to you? Also, it is okay to love Favre next Sunday. You won't be alone. Here's another Jacksonian who will be with you. It will be a killer of a ballgame, and it can go either way, but you and I and lots of Mississippians will be cheering Favre on. He is making lots of statements, not the least of which is "don't count the old man out."

Author

J.T.

Date

2010-01-17T20:46:17-06:00
ID

155224

Comment

I get it. Should Minnesota beat my beloved Saints, I'm behind Favre to go all the way. And not so long ago, I was really tired of him. But he has proved himself. But: Who Dat all the way!

Author

DonnaLadd

Date

2010-01-17T21:54:59-06:00
ID

155225

Comment

@Ladd I grew up loving the Saints, Dalton Hilliard and Bobby Hebert...you know...old school. But I really started following the Packers and Favre in the 90's, and I was bereft of Saintliness until Deuce started playing for them. Kinda been a supporter since then. Not exactly bandwagon, but not exactly a Saints lunatic either. There are hearts breaking all over the metro tonight.

Author

Chris Nolen

Date

2010-01-17T22:28:45-06:00
ID

155226

Comment

Hearts breaking because of Dallas? Not sure what you meant.

Author

DonnaLadd

Date

2010-01-17T23:58:45-06:00
ID

155227

Comment

@ Ladd It was a leftover from another post...I pasted from word and it got attached at the end, apparently. Didn't notice till you mentioned it.

Author

Chris Nolen

Date

2010-01-18T00:11:15-06:00
ID

155249

Comment

Ladd Im with you 100%! Even though I've always had a few choice words about the Saints performance they have always been my team. I am however a USM alum and will be pulling for Favre if they beat N.O. Until then Who Dat!!!!

Author

js1976

Date

2010-01-19T10:26:05-06:00
ID

155264

Comment

With all due respect...nope. Geaux Saints !!!

Author

blkjazz

Date

2010-01-19T15:14:20-06:00
ID

155266

Comment

See, I told you that there would at least be respect. *wipes Rotel from eyes*

Author

Chris Nolen

Date

2010-01-19T15:31:18-06:00
ID

155268

Comment

You know, we're sticklers for logical argumentation on this site. So, thinking through logically, I have these points: (a.) I want the Saints to win the SuperBowl. and (b.) to win the SuperBowl, the Saints must first beat Brett Farve. Therefore, this week Brett Farve is a Who Dat?!. Nothing more, nothing less.

Author

Todd Stauffer

Date

2010-01-19T16:11:39-06:00
ID

155272

Comment

GOOOOOOOOOOOOOOOOO BRETT!!!!!!!!!!!!!!!! Beat the SAINTS!!!!!!!!!!!!!!! PUHLEEEEEZZZZZZ!!!!!! Represent for Mississippi --- we appreciate it!!!!

Author

Queen601

Date

2010-01-19T17:28:12-06:00
ID

155279

Comment

I'm rooting for Minnesota too. But regardless of who wins, I'm going for the AFC rep this year in the Super Bowl!

Author

golden eagle

Date

2010-01-20T09:12:25-06:00
ID

155299

Comment

Favre is the King. He sent the Cowchips a packing. If he never does anything else, he has done enough for me. Now I can watch the remaining games and the Super Bowl without any hatred or ill regards toward any players or teams. Free at last. Free at last. Thank God almighty I'm free of the Cowboys at last.

Author

Walt

Date

2010-01-20T22:37:28-06:00
ID

155303

Comment

Walt, you know what....I have been checking this thread for what seems like an eternity waiting for your response. I remember having a similar feeling a couple of weeks ago. But, you got your wish, we're out! We didn't pull it off -- AGAIN. I'm kinda with you at this point. It really (honestly) doesn't matter to me who goes to the superbowl or who wins. However, I would be extremely excited to see a Manning/Favre match up. Otherwise....eh, it's just football. Oh and on a higher road which is so hard for me to take at this point, so y'all need to recognize my stregnth...LOL - Congratulations to the REAL Saints fans (and even to the rest of the hooping hollering folks who claim to love the Saints right now). It's been a heck of a season and it's been a very long time coming for your team. So enjoy! (COWBOYS WILL SEE YOU ALL NEXT YEAR - Right now we're hoping for bass or maybe white perch)

Author

Queen601

Date

2010-01-21T09:11:41-06:00
ID

155378

Comment

As a die-hard Favre fan (as this thread states), I would like to offer a sincere congrats to the Saints. I regret that Favre's final pass will end up being an interception, but the Saints def deserved to win. I've never claimed to be a "real" Saints fan, whatever that means, but I will be rooting them on over Indy. Good luck, guys.

Author

Chris Nolen

Date

2010-01-24T21:55:33-06:00
ID

155396

Comment

Hey...Minnesota played a hell-of-a-game. it ain't like they gave the win away. They had them boys all over the field. Brett did a great job, and had a very succesful year; he should be proud. I am proud for him. It just so happens to be time for the Saints to go to a Superbowl. That's all. Besides, Brett+Overtime=Too Much for the Elder QB. :-)

Author

Queen601

Date

2010-01-25T10:58:20-06:00
ID

155402

Comment

Farve is absolutely amazing -- the fact that he was helped off the field, then re-taped and re-entered to play that game was heroic -- I thought he was out of the game for good. He played an outstanding game, all things considered...particularly when you realize that the entire Saints gameplan almost seemed like they were playing against one guy -- Farve. Hit him, disrupt him. He even seemed to handle the crowd noise well, although you've got to figure the crowd was the 12th man who put the Saints over the top and kept them going even when it was rough. This was not a pretty game for the Saints, but I think it showed they can win the tough ones. I predict the Colts will have their hands full. I think the Colts are -- week in and week out -- a better team... but that the Saints still have the ability to beat them.

Author

Todd Stauffer

Date

2010-01-25T12:03:50-06:00
ID

155404

Comment

Todd, I agree with every word you said. Well put. (You're so eloquent with your words...love it).

Author

Queen601

Date

2010-01-25T12:12:50-06:00
ID

155406

Comment

Thanks for love guys. I know the guy has his haters, even here in MS, but Favre does deserve alot of credit for the team's success this year. Win or lose, his discipline this year was outstanding and I would rate it as his best year as a pro. It still kills me that it ended on that note. I can't imagine him coming back again, but I believe he could, physically do it. He hasn't lost much, and he's smarter. The question is if he has any desire to. This might have been the last great playoff run left in his tank. And that does leave me sad.

Author

Chris Nolen

Date

2010-01-25T12:26:37-06:00
ID

155408

Comment

I know, Chris, it seemed Favre somehow matured to a new level this year and kept the throwing arm and the joy of the game. Thanks for writing this piece. I am not counting Favre out in the future, just yet;I don't want to get sad until it is for sure time to get sad. Todd, you are a class act. You and Favre both do what you do so well and it is sheer pleasure to observe, on both counts. I think the miracle yesterday was that people all over the U.S.--the world?--were watching the same place they had watched 4+ years ago in such different circumstances and they saw a people, an area, a country, that simply refused to be victims. Love you Favre. Congratulations Saints.

Author

J.T.

Date

2010-01-25T12:37:03-06:00
ID

155411

Comment

I don't know Chris. Teams are playing hard against him, like Todd said. Brett isn't a spring chicken. I love the guy but I don't want him out there until he gets hurt and can't do anything else. I think he needs to consider taking retirement seriously. I have no doubt he could do an effective job, but he doesn't have to proove anything to anyone. He's a Hall of Famer...he's done himself well. He might need to sit down. He has to think about life after football. And honestly, I can't stand another media song and dance about his retirment. I hope he doesn't make us have to endure that again this year.

Author

Queen601

Date

2010-01-25T12:57:13-06:00
ID

155415

Comment

I don't want to hear the media frenzy, either. And I don't want to see him get destroyed physically. I really think he ought to go do something else now for his own health and his family's sanity. But he'll do what he does. ;-) I admired him last night as well. The whole game was a source of southern pride, of a fashion!

Author

DonnaLadd

Date

2010-01-25T13:14:35-06:00
ID

155416

Comment

No, I think he's done. I'm not advocating a return. Truly, I wish he'd retired as a Packer. But the Minny run was fun. What a year.

Author

Chris Nolen

Date

2010-01-25T13:29:18-06:00
ID

155418

Comment

"I have come to bury Favre, not to praise him." He was rude to me after Katrina so I do not like him very much anyway. It is high time for him to go home and relax. When I was growing up in Jackson in the 70's, we all thought of the Saints as the honorary Mississippi team, the perpetual underdogs that still put their hearts into the endeavor. Last night, I wept as I thought how much I miss my relatives that used to crowd around the tiny B&W TV watching the Saints. I wish they could see this!

Author

revdrstewart

Date

2010-01-25T13:48:55-06:00
ID

155421

Comment

I appreciate the way Favre didn't take the mike last night. Re. his retirement: Looking at this from our viewpoints might be different than how Favre is looking at it. Bottom line, though, what is "old" and what quality of life amounts to and what is best for someone, in all respects, generally boils down to the respective individual's perception and that of the people with whom he/she is directly involved. Favre may or may not agree with our perceptions and I don't think there is anyone who wouldn't agree that his season this year has been one of his best. Injury is always an issue, for sure, but any player can get hurt at any time. Peyton will get the same welcome from the Saints in 2 weeks that Brett got. Brees may have a similar welcome waiting for him. That's the buy-in when the QB puts on a helmet. That's football. Favre didn't complain. Whatever he decides to do and whatever his team decides to do will likely be the right thing for them both, regardless of whether it pleases me or not. And, though I am prejudiced, I know, because I am not a spring chicken, I see Favre as a forerunner of things to come in football and all professions: the so-called "old" changing the perception of what it means to be "old," as people live longer and stay healthier longer and stay more actively involved in Life longer. Which, anyway you look at it, is positive.

Author

J.T.

Date

2010-01-25T14:25:48-06:00
ID

155423

Comment

I hear you, revdr. I personally dedicated the outcome to my dear, departed stepdaddy, who taught me both to love football (and other sports), as well as to always root for our dear "them-damn-Saints." He was cheering from that great Superdome in the sky last night!

Author

DonnaLadd

Date

2010-01-25T14:59:50-06:00
ID

155436

Comment

Favre is a football player without any peers and he's one of the reasons I plan to keep working until I fall over dead or get too many people killed or executed. Age is just a number and it's the reason many of us never stop striving to be number one. Three is not a winner, and two nobody remembers.

Author

Walt

Date

2010-01-25T18:20:13-06:00
ID

155444

Comment

revdrstewart, as a die hard football fan and Cowboy fan, I completely appreciate your comments. How can one not respect that type of fanship. I am sure the victory Sunday for the Saints felt like one for you too. Everyone should have that connection to their team; I certainly do. Respect and thanks for sharing that! Congrats on going to the Superbowl.

Author

Queen601

Date

2010-01-26T08:36:20-06:00
ID

155445

Comment

Thanks, Y'all.

Author

revdrstewart

Date

2010-01-26T09:11:49-06:00
More stories by this author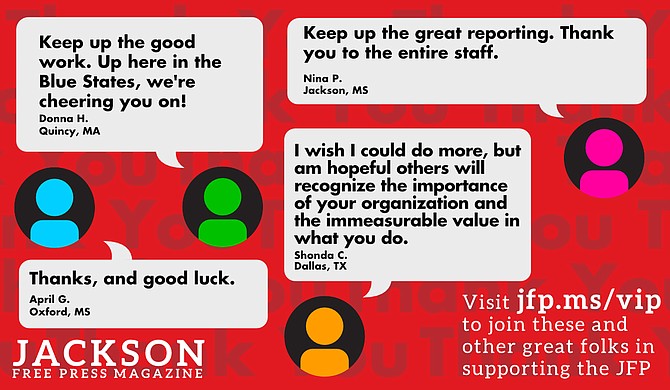 Thanks to all our new JFP VIPs!
COVID-19 has closed down the main sources of the JFP's revenue -- concerts, festivals, fundraisers, restaurants and bars. If everyone reading this article gives $5 or more, we should be able to continue publishing through the crisis. Please pay what you can to keep us reporting and publishing.