I own and proudly wear a T-shirt that declares, "I Love Black People." Once, when I was wearing it, a white guy told me—with an inquisitive inflection at the end of his statementדYou wouldn't like it if I wore a shirt that said 'White Power.' That's what you're doing.
I understood his point, but I didn't and still don't agree that it's the same thing. My T-shirt, among other things, is a reminder to me how important it is that we have love for self. It has nothing to do with hatred for others. But recently, because of the NAACP and their recent Image Awards nominations, I had a fleeting thought: Maybe it's time to retire the black people shirt.
While some people have questioned the 100-year-old organizations' purpose in these post-racial (and I use that term in jest) times, back in the day in Starkville, Miss., when I was growing up, the organization meant something. I heard stories about the NAACP and Dr. Douglas L. Connor, one of the Starkville's hometown heroes as its first black doctor. The NAACP and its members did things. They stood for something. They fought battles that wouldn't ordinarily be fought. They unsettled dust. Now, of course, there were—and are—crazy members of the organization (one, in particular, long ago proclaimed herself as the "voice of the voiceless" in the college town). But there's one of those in every city and every organization. Nonetheless, they made a difference.
Back then, the idea of NAACP meetings conjured up images of people secretly gathered in church basements to find tactical ways to make revolution possible; stoic black people sitting at white-owned lunch counters, drenched in whatever liquids folks threw at them as they silently protested; nights where friends listened to James Brown wailing, "Say it loud/I'm black and I'm proud," while they made picket signs to protest an injustice; and even women, like my aunt, who chose not to march during the protests because "someone had to have lunch waiting for them when they got out of jail."
NAACP meant people with an erect posture and innate sense of pride—people who have come a long way, fortified for the rest of the trek yet left. That was, for a long time now, my image of the NAACP.
That's clearly not the image the organization sees when it looks itself in the mirror, though. The evidence: NAACP Image Award nominations for Bravo's "The Real Housewives of Atlanta" for Outstanding Reality Series and "The Michael Jackson Memorial: Celebrating the Life of Michael Jackson" special for an Outstanding Variety Program.
The Image Awards, according to the organization, are supposed to recognize the "exemplary works by, for and relevant to people of color in the arts … as well as those individuals or groups who promote social justice through their creative endeavors." Oops. I suppose the managers, publicists and production companies didn't get these criteria when they submitted these shows for awards. That's the only way they could have thought a nomination and subsequent award was warranted.
If the organization saw itself the way I did when I was growing up, its leaders couldn't possibly still take themselves seriously after accepting the nominees for an "un-"reality show about broke housewives who undoubtedly put their weaves and envy-inspiring Christian Louboutin pumps on credit cards and threaten fist fights to settle their issues. Next year, will the highest-grossing drug dealers be nominated for Outstanding Entrepreneur? And a memorial service? Michael Jackson was the King of Pop; Stevie Wonder brought tears to my eyes with his performance; and Al Sharpton's inspiring words to MJ's children made me think that maybe there was nothing strange about my daddy, either. But it was a memorial service. Give me a break.
I'm disappointed. These two nominations have singlehandedly cheapened not only other nominations for people and entities who have offered their communities "exemplary work" and "promote social justice," but it's also tainted my memory and image of what the NAACP is. So maybe it's not the smartest idea to start using my "I Love Black People" T-shirt as a dust rag. Maybe I should wear it more often with hopes that some things can be the way they used to be. And while I'm at it, maybe I'll get a shirt made that reads, "The NAACP Don't Advance Me.
Previous Comments
ID

155762

Comment

Natalie thanks for writing this, and I'm so glad that I can set you straight. If you will look up the NAACP Legal Defense Fund or Legal Defense Fund since the two groups split years ago, you will see that the same work that endeared all of us to the NAACP is ongoing and un-interrupted. The Legal Defense Fund is composed of brillant lawyers and other staff persons of all races and sexes and they are doing a fantastic job against great odds just like Thurgood Marshall, et al, did. The organization also has a yearly conference where civil rights and death penalty lawyers from around the country convene to stratezize, compare notes, and enhance themselves legally, educationally and socially. I have been to these conferences therefore know intimately what I'm talking about. Don't let those image awards fool you about the organization's worth, standing or continued need. The people handling those awards are free to do that behavior, but it doesn't really diminish the status of the NAACP for those who know the real deal. Again, thanks for coming home, Natalie. Keep asking the good questions.

Author

Walt

Date

2010-02-04T17:39:40-06:00
ID

155787

Comment

When I was younger I probably would have agreed with the guy's comment about your shirt. But as I have matured I realize there is a huge difference between inclusion and exclusion. I read it as saying, I love myself, my history, my culture. White Power on the other hand says to me, I am superior. I have the power and want to keep it. Inclusion, exclusion. I enjoyed your piece and your insight. I say wash the t-shirt in Woolite, make it last and wear it often.

Author

Deanna

Date

2010-02-06T11:55:17-06:00
ID

155821

Comment

Whitey would have been more honest if he had asked you about a shirt that read, "I love white people." I don't think most people would object to such a shirt. But it would invite a lot of embarrassing questions. "Are you including Robin Williams?" That sort of thing.

Author

Brian C Johnson

Date

2010-02-08T15:16:44-06:00
ID

155831

Comment

Natalie, I forgot to add that I don't see how a truly smart, thinking or reconstructed person would be offended by such a shirt worn by you. Maybe some people need to get over or overcome some of the bullschick that Reagan and the likes have planted in their heads about them being some kind of new victim. How in the hell can the oppressor, conqueror, supremacist or imperialist become a victim without any illegal, protracted, discernible or noticeable suffering or wrongdoing occurring against them. I know certain people have been taught and choose to believe that affirmative action, self-esteem by blacks and black pride is something to fear. Some people even no doubt felt our leaving the fields was an aggressive or anti-white act that must be feared and dealt with, and furthermore that it tangentially equals the deeds of the oppressor, conqueror or imperialist against the slaves. I congratulate Deanna for being honest and stating how he or she would have acted before maturing and learning to think for themselves. It is something we all have to learn to do. We black folks look at the rebel flag without saying anything. However, most of us have deep feelings about that flag. I have meet some white people displaying the flag who aren't racist, though, and didn't know it offended so many blacks.

Author

Walt

Date

2010-02-08T18:59:10-06:00
More like this story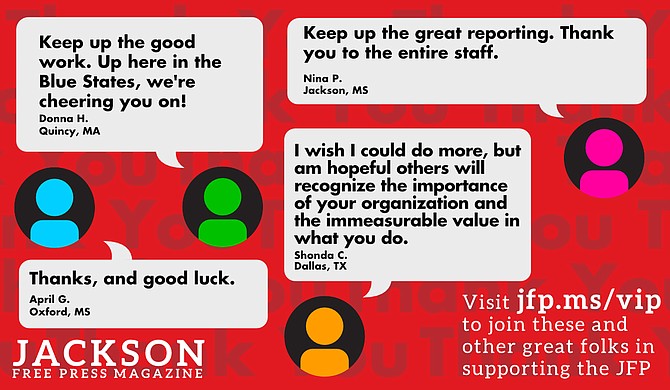 Thanks to all our new JFP VIPs!
COVID-19 has closed down the main sources of the JFP's revenue -- concerts, festivals, fundraisers, restaurants and bars. If everyone reading this article gives $5 or more, we should be able to continue publishing through the crisis. Please pay what you can to keep us reporting and publishing.