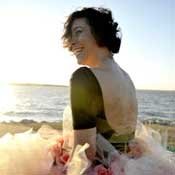 "Don't go far. Mommy won't be long."
I stood there in my first-grade Saint Richard Catholic School uniform as my mother disappeared to the back patio of Hal & Mal's. The meeting she was attending was about a three-day music festival called Jubilee!JAM. As I watched a team of adults make big gestures with their hands and write furiously on notepads, my attention quickly shifted to the front of Hal & Mal's.
As we walked in, I had seen different framed illustrations of animals from the Jackson Zoo, so I decided to get a closer look. Only when I was making my way to the front did I notice a kind-looking man behind the bar. My mother always told me not to talk to strangers, a rule I never obeyed. There was a vibrant ruby-red bar stool that caught my eye and began calling my name. It said, "Sit on me, Nicole, please!"
I climbed the stool like I was scaling Mount Everest. The nice man asked me if I needed help, to which I replied, "Oh, no, I've done this before."
We both knew I was lying, but after a short struggle, I made it to the top. "Well, Miss," he said, "what can I do for you?"
"I'm bored," I replied.
"You're bored?" he bounced back. "Where is your mama?"
"Oh, she is in some grown-up meeting in the back," I replied. I asked him what his name was. Cotton, he told me. I don't think he often saw a first-grade girl at his bar; nonetheless, I began asking him 20 questions. He answered each and every question with patience and a smile. When I took a moment to think of another question—and to breathe—he took his cue and asked me if I had ever had a Shirley Temple.
"No," I said. "What is it?"
He told me it was something he was making just for me. I watched as he got a jar of cherries from underneath the bar, picking the fattest and most ripe ones and putting them into my glass. He then filled the glass with the perfect amount of ice and used the multi-drink dispenser to pour Coca-Cola into the glass. When the fizz settled down, it was just right.
I took one of the straws from the bar, stuck it into my drink and started sipping. I was speechless. It was sooo good!
By that time, my mother was done with her meeting and scouring the restaurant to find me. You can imagine the look of astonishment on her face, seeing her first-grade daughter at a bar sipping on a drink. Not to cause a scene, she calmly asked me what I was doing and what I was drinking?
"A Shirley Temple, Mom!" I said, and she quickly followed with: "Well, how did you pay for it?"
Cotton politely convened and said, "With her smile." He had quickly diffused any scolding that possibly awaited me in the car ride home.
After that first introduction to Hal & Mal's, I was addicted, to say the least. Whenever I was good, my mom would take me to Hal & Mal's after school for a bite to eat and to see my new friend, Cotton. When I began high school, and music and boys came into my life, I saw some of my first concerts at Hal & Mal's. Every time I came in, no matter who served me, we knew each other's names, and I would always get the recurring question: "How's your mama?"
When I turned 21, I got my first "real" drink at Hal & Mal's, and now every time I go in, it's better than the last.
Cotton Baronich is now a bartender at the Roberts Walthall Hotel on West Capitol Street.
More stories by this author
Support our reporting -- Become a JFP VIP.
The news business has changed dramatically in the past year, and we need your help more than ever to keep bringing you important stories about Jackson and the Metro. Become a JFP VIP with an annual membership or you can Sign up as a monthly supporter. Thanks for anything you can do to empower our journalism!