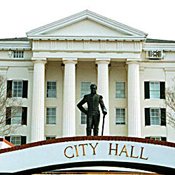 Through Dec. 13
Gifts and Supplies Drive, at Genesis & Light Center (350 N. Mart Plaza). Genesis & Light Center is seeking gift donations for children who participate in their educational assistance/mentoring program as well as supplies for their organization. Please contact the office for a list of requested items. The deadline for donations is Dec. 13; call 601-362-6736.
Tuesday, Dec. 14
8 a.m., Farmers' Market at Mississippi Farmers Market (929 High St.). Shop for fresh, locally grown fruits and vegetables from Mississippi farmers, specialty foods, and crafts from local artisans. The market is open Dec. 14, 17 and 18 from 8 a.m.-2 p.m. reopens in March. Call 601-354-6573.
10 a.m., Jackson City Council Meeting at Jackson City Hall (200 S. President St.). The Jackson City Council holds its regular meeting, open to the public. Free; call 601-960-1033.
11:30 a.m., Mississippi Economic Development Council Member-to-Member Seminar at River Hills Country Club (3600 Ridgewood Road). The topic is "Coopertition' - The New Strategy for Working Together." Presenters include Mississippi Development Authority Executive Director Gray Swoope and Neal Wade, senior vice president of economic development for The St. Joe Company in St. Joe, Fla. Lunch is included. $40; visit medc.ms.
5:30 p.m., Jackson Public Schools Board Meeting at Jackson Public Schools (621 S. State St.). The JPS board meets for its regular session, open to the public. Free; call 601-960-8700.
6 p.m., Affordable Care Act Community Forum at Jackson Medical Mall (350 W. Woodrow Wilson Ave.), in the UMC Conference Center. The keynote speaker, Anton Gunn of the United States Department of Health and Human Services, provides a detailed look into what the Affordable Care Act is and how it affects communities. A question-and-answer session follows the discussion. Please RSVP. Free; call 601-353-0845.
Wednesday, Dec. 15
9 a.m., Rankin County Board of Supervisors Meeting at Rankin County Government Offices (211 E. Government St., Brandon). The board holds its recess meeting. Call 601-825-1475.
11 a.m., Meet & Greet Math Expo at Jackson Medical Mall (350 W. Woodrow Wilson Ave.), at center stage. Find out how the Young People's Project is making math fun and interesting. Refreshments will be served. Call 601-987-0013.
7 p.m., Annual Children's Christmas Benefit at Hal & Mal's (200 Commerce St.). Performers include M.O.S.S., Cary Hudson and Duff Dorrough. Proceeds benefit The Salvation Army. $5; call 662-588-2488.
Thursday, Dec. 16
Fondren Park Call for Volunteers Dec. 16-18, at Fondren Park (corner of Northview Drive and Dunbar St.). Volunteer for a morning or afternoon shift through Dec. 18. Services include unpacking equipment, setting foundations and assembling the playground structures. Visit fondrenpark.org.
3 p.m., State Institutions of Higher Learning Meeting at University of Mississippi Medical Center (2500 N. State St.). The Budget, Finance and Audit Committee meets to discuss issues related to a facility lease agreement. The meeting is open to the public. Call 601-432-6647.
6 p.m., Precinct 3 COPS Meeting at Jackson Police Department, Precinct 3 (3925 W. Northside Drive). These monthly meetings are designed to help resolve community issues or problems, from crime to potholes. Call 601-960-0003.
Friday, Dec. 17
Telling Tales Dec. 17, 3:30 p.m., and Dec. 18, 10 a.m., at Old Capitol Museum (100 S. State St.). The series for elementary children features stories and crafts. The Cat in the Hat will make an appearance Dec. 17. Free; call 601-576-6800.
Saturday, Dec. 18
8 a.m., Greater Belhaven Market at Mississippi Farmers Market (929 High St.). Buy local fresh produce or other food or gift items on the last shopping day of the season. The market reopens in March. Free admission; call 601-506-2848 or 601-354-6573.
10 a.m., Youth Hip-Hop Summit Reconvening at Roberts Walthall Hotel (225 E. Capitol St.). The ACLU of Mississippi brings youth, parents and allies together to review the 2010 summit, discuss moving forward with a statewide agenda and adds youth voices to the planning of the June 2011 summit. The Prevention of Schoolhouse to Jailhouse Coalition will meet after the reconvening. Please RSVP. Call 601-354-3408.
Sunday, Dec. 19
Concert for a Cause Dec. 19, 7 p.m., at Dreamz Jxn (426 W. Capitol St.). The event brings several area organizations together to help the less fortunate during the holiday season. Concertgoers are asked to bring any clothing or toy items, for Gateway Rescue Mission as a portion of the admission charge. Performers include PyInfamous, Skipp Coon and Rashad Street. $10; call 601-317-5444.
Monday, Dec. 20
9 a.m., Hinds County Board of Supervisors at Chancery Court (316 S. President St.). The Board of Supervisors holds its regular meeting, open to the public. Call 601-968-6501.
Through Dec. 20
Christmas Wish List Drive at Jackson Street Gallery (500 Highway 51, Suite E, Ridgeland). The gallery is collecting specific donated items for The Home Place, a senior citizen's home in Madison. The gallery accepts donations Monday-Saturday until Dec. 20. Items to donate include salon products, Kleenex and snacks. Contact the office for the full list. Donations do not have to be wrapped; they will be wrapped on-site. Donations welcome; call 601-853-1880.
Through Dec. 24


Farmers' Market at Old Fannin Road Farmers' Market (1307 Old Fannin Road, Brandon). Homegrown produce is for sale Monday-Saturday from 8 a.m.-7 p.m. and noon-6 p.m. Sunday until Christmas Eve. Call 601-919-1690.


Through Dec. 31
Food for Thought at Old Capitol Museum (100 S. State St.). Visitors are invited to donate books and non-perishable foods all month. Special programming for school groups highlights the value of good citizenship. Call 601-576-6800.


Restaurant Rave Call for Contestants at Jackson Convention and Visitors Bureau (111 E. Capitol St., Suite 102). Write a rave review in 100 words or less about your favorite Jackson restaurant, and submit it by Dec. 31. You could win a dinner for four. The winning restaurant review will be featured on visitjackson.com and the Bureau's Facebook and Twitter accounts. E-mail your review to [e-mail missing] with the word "RAVE" in the subject line. Include your full name, telephone number and e-mail address. You can also submit an entry through visitjackson.com by clicking on the "Want Free Food?" banner on the home page. Call 601-960-1891.

Through Feb. 28


Jackson State University Alumni Association Membership Drive. The Jackson-Hinds chapter is currently seeking new members to join the association. $25 membership; e-mail [e-mail missing].


Through May 27


After-School Enhancement Program at Jackson Medical Mall (350 W. Woodrow Wilson Ave.). The City of Jackson Department of Parks and Recreation's program is Tuesdays, Wednesdays and Thursdays from 9 a.m.-3:30 p.m. Youth ages 7-12 may participate. Activities include studying and learning during homework sessions, listening to guest speakers, and participating in arts and crafts. Immunization compliance is required. Parents and guardians must provide transportation and food each day. Registration continues until all slots are filled. Free; call 601-960-0471.


Through May 31
Summer Camp Open Enrollment at Jackson State University (1400 John R. Lynch St.). Kids Kollege is accepting applications for the Classic Summer Camp and the CDF Freedom Schools Summer Program, which take place in June and July. Participants can take educational classes in math, science, and reading as well as recreational courses in sports, dance, and art. Children ages 5-17 are eligible. Call the office for fees at 601-979-1142.


Ongoing


Medical Mall Moment Report at WOAD 1300 AM. Find out about the Jackson Medical Mall Foundation's current activities every second Friday of the month at 8:30 a.m. Call-ins to 601-995-1400 are welcome. Send your questions and comments in advance to [e-mail missing] or call 601-982-8467 for more information. The broadcast is also available on jacksonmedicalmall.org.


Cancer Rehab Classes at Baptist Medical Center (1225 N. State St.), in the Activity Room of the Hederman Cancer Center on Tuesdays and Thursdays at 2 p.m. The class helps cancer patients enhance cardiovascular strength, endurance, their immune system and bone density. It helps to increase overall strength and stamina, decrease fatigue and weight loss, and improve digestion. Registration is required. Free; call 601-948-6262 or 800-948-6262.


You Have the Mic at Afrika Book Cafe (404 Mitchell Ave.). The open political forum for discussing Jackson's current issues is hosted by Othor Cain and Mista Main of Hot 97.7 FM on Mondays from 6-8 p.m. E-mail [e-mail missing].


Farmers' Market at Jackson Roadmap to Health Equity Project's Farmers' Market (2548 Livingston Road). Buy from a wide selection of fresh produce provided by participating local farmers. Market hours are noon-6 p.m. Fridays, and 8 a.m.-3:30 p.m. Saturdays. Free admission; call 601-987-6783.


Events at Pearl Public Library (2416 Old Brandon Road, Pearl). Free; call 601-932-2562.
• Weekly Storytime. Each Tuesday, Baby Bookworms Storytime for children ages birth-36 months is at 9:30 a.m., and Preschool Storytime for children ages 3-6 is at 10:30 a.m. The event includes stories, rhymes and music, and a puppet show on the last Tuesday of the month.
• Pearl Peanuts Afterschool Program through May 25. On Wednesdays at 4 p.m., children in grades K-6 enjoy stories, crafts, snacks and special activities such as cooking, gardening and puppetry.


Youth Women's Cycling Group in Ridgeland. Get fit while participating in a fun, recreational environment Saturdays at 10 a.m. The club is for young girls ages 13-17. Free; call 601-559-5577.

Jackson Public Schools Call for Volunteers. Jackson Public Schools is seeking volunteers from the community to be mentors for high school seniors enrolled in the Advanced Seminar: Employability Skills course. Call 601-960-8310.
More stories by this author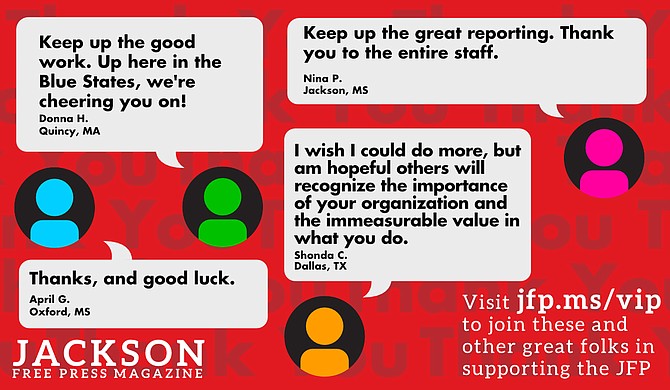 Thanks to all our new JFP VIPs!
COVID-19 has closed down the main sources of the JFP's revenue -- concerts, festivals, fundraisers, restaurants and bars. If everyone reading this article gives $5 or more, we should be able to continue publishing through the crisis. Please pay what you can to keep us reporting and publishing.