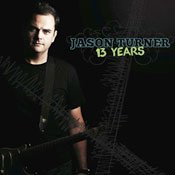 The Jason Turner Band is practically a Jackson institution after performing for 13 years. Now, the band is preparing for the release of its new CD, appropriately called "13 Years." With Jason Turner as the front man, the popular rock band has opened for many well-known musicians such as Robert Randolph and the Violent Femmes. Turner's unique voice resonates through each venue as the band cranks through its shows. Always happy to take requests, he feels out the crowd and sings through the night.
Jason Turner and his band started in 1997 as a three-man team, landing their first gig at Jubilee!JAM. Since that time, Turner has spent four years as a performer in Nashville and has played at various venues throughout the country. Now based in Jackson again, the band consists of Matt Newman on drums, Jay Wadsworth on pedal steel and guitar and Adam Perry on bass. (Perry also works for the Jackson Free Press.) The band welcomes guest appearances from other local artists.
Turner spoke to the Jackson Free Press by phone.
How did you get your start in music?
Growing up, my uncle was a guitar player, my mom worked at Malaco records, and I was always surrounded by blues. When I was 12 or 13, Pearl Jam came out, and I started writing songs.
What's your favorite thing about performing?
Crowd participation. If the crowd is rowdy and lively, I'm more energetic. I pull from within and build on their energy.
Is there anything that stands out about performing in Jackson in particular? How do you feel about the local music scene?
I'm in my own scene. Everyone is supportive of local talent. All the bands seem to get behind each other and help each other out. Businesses are very supportive as well. Cellular South is featuring original music from local artists. We're a part of their website.
Who do you like to cover?
I really enjoy playing my own music, but we will cover Ryan Adams, Allman Brothers and Drive-By Truckers, to name a few.
What instruments do you play?
Piano, guitar and a little bass.
How long have you worked on your latest CD?
About a year. I'm a perfectionist, so it took me a while to feel comfortable with it. I wrote all the songs. They're streaming everywhere right now, on Facebook and our website.
What songs should we look for on this album?
"Nothing Town," "Hotter Than the Sun" and "Tonight."
Join the Jason Turner Band at the "13 Years" album release party, Aug. 27 8 p.m., at Hal & Mal's. The Blues Band, Sofa Kings and Diesel 255 will join the band that night. Cover is $5. Order CDs at jasonturnerband.com
More stories by this author
Support our reporting -- Follow the MFP.