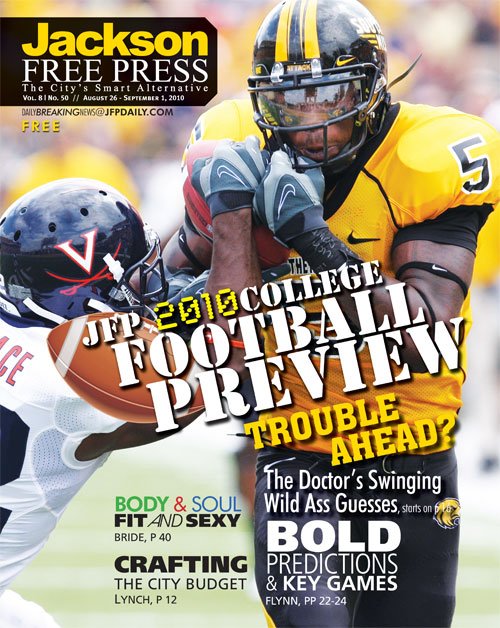 A college football coach once said that if your team was any good, a coach was going to have to go pick up a player from the local jail every now and then. Based on what's been going on with players from Mississippi's Big Four college teams, they should all be pretty good this season.
The number of football players who have had run-ins with the law isn't remarkable. It's remarkable that there aren't more incidents.
Think about it: Most football players, especially the ones in college, are large, aggressive men who enjoy hitting other people. Couple that with the fact that most of them have been pampered all of their lives because of their athletic talent, and you can see how they might have entitlement issues. And did I mention that football players like to hit other people?
Usually, the players who make legal headlines are offensive linemen, running backs and defensive players. But the Big Four players who have run into problems with the law are "skill position" players.
Ole Miss went out and found an "outlaw" quarterback in Jeremiah Masoli. Oregon suspended Masoli the 2000-2010 season after pleading guilty to a felony burglary charge. He was then kicked off the team after being cited for marijuana possession.
Jackson State has a former felon at quarterback, too. Casey Therriault did six months in jail in Michigan for his role in a bar fight that led to a man's death.
Southern Miss' top player, wide receiver DeAndre Brown, was arrested in July after an incident at a Hattiesburg pool party.
Mississippi State QB Chris Relf wasn't arrested, but he was suspended for two games during the 2009 season for the infamous and vague "violations of team rules." That was reportedly because he tested positive for marijuana.
So will these guys stay out of trouble and lead their teams to victory? Doctor S is ready to supply his patented predictions and SWAGs (sophisticated wild-ass guesses).
SOUTHERN MISS
Coach: Larry Fedora (third season, 14-12)
2009 season: 7-6 (5-3 C-USA), lost New Orleans Bowl
Stadium: M.M. Roberts Stadium, Hattiesburg
Radio: 1180 AM/103.3 FM
Southern Miss finished 7-6 in Larry Fedora's first two seasons. That's not what he was hired to do. Heck, former coach Jeff Bower got fired after a 7-6 season in 2007. The last two seasons, the Golden Eagles had to go on late-season runs to reach the New Orleans Bowl.
"We need to get it done," quarterback Austin Davis told The Associated Press. "It's just frustrating when you know you have the talent to win, and you're coming up short for whatever reason."
On offense, Davis returns at quarterback after missing much of last season because of a foot injury. Martevious Young did an admirable job in Davis' absence, so Fedora would have no hesitation going to him if Davis falters.
Whoever is throwing will have a big target
in junior wide receiver DeAndre Brown. Brown, a freshman All-American in 2008, struggled last season because of injuries. He says he's ready to return to form this season.
"I can probably put up the best numbers in the nation in the type of offense we're in," Brown told The Hattiesburg American. "Just having a third year under my belt in this type of offense—there are a lot of things I expect to come out of it."
The Eagles still have to find a running back to replace Damion Fletcher and find four new starters on the offensive line.
On defense, the Eagles have nine starters back. Considering how poorly the Eagles played on defense the last two seasons, that might not be a good thing.
Outlook: If the Eagles can find a way to win their opener at South Carolina, they could hit double digits in victories this season. After the opener, USM's schedule is favorable. The Eagles play UCF on the road, but Kansas and Houston both come to Hattiesburg.
USM is predicted to finish second in the C-USA East, but an improved defense should put them and their, ugly-ass all-black uniforms over the top.
Schedule: Sept. 2, at South Carolina; Sept. 11, Prairie View A&M; Sept. 17, Kansas; Sept. 25, at Louisiana Tech; Oct. 2, Marshall; Oct. 9, East Carolina; Oct. 16, at Memphis; Oct. 30, UAB; Nov. 6, at Tulane; Nov. 13, at UCF; Nov. 20, Houston; Nov. 26, at Tulsa
MISSISSIPPI STATE
Coach: Dan Mullen (second season, 5-7)
2009 record: 5-7 (3-5 SEC)
Stadium: Scott Field, Starkville
Radio: 105.9 FM
Many at Mississippi State believe this will be the year Tyler Russell, Mississippi's Mr. Football, finally gets on the field for the Bulldogs. Doctor S is not so sure. If Dan Mullen thought Russell was the answer, wouldn't he have used him last year when the Bulldogs were struggling?
Chris Relf made a strong case for winning the starting job in the 2009 season (after he served his two-game suspension for alleged hippie lettuce use), especially in the Bulldogs' 41-27 rout of Ole Miss (it wasn't that close) in the season finale. Relf ran for 133 yards and accounted for three touchdowns.
"I think he's had a great offseason," Mullen told The Associated Press. "He picked up where he left off this offseason. If you look at what he's done and the improvements he's made, he didn't just sit and get satisfied with that game"
Mullen has kept his preseason practices closed and Relf and Russell aren't talking. The third man in the QB battle is freshman Dylan Favre, nephew of the legendary Brett Favre. (He's not allowed to talk to reporters.) He appears to be a longshot, but never count out a Favre.
The Bulldogs' biggest problem on offense will be replacing running back Anthony Dixon, who's now playing for the San Francisco 49ers.
Will this be the year Robert Elliott finally asserts himself?
The defense appears to be solid, thanks to the return of studs like defensive end Pernell McPhee, safety Charles Mitchell and linebacker K.J. Wright.
Outlook: The Doctor knows he says this every year, but State's schedule is absolute murder. The Bulldogs go on the road to play the last two national champions, Alabama and Florida, plus LSU, Houston and Ole Miss.
After being outplayed and outcoached in 2008, the Bulldogs became competitive during Mullens' first season. With a couple of breaks, the Bulldogs could have won two more games and gone to a bowl game. Will this be the year those breaks go the Bulldogs' way?
Schedule: Sept. 4, Memphis; Sept. 9, Auburn; Sept. 18, at LSU; Sept. 25, Georgia; Oct. 2, Alcorn State; Oct. 9, at Houston; Oct. 16, at Florida; Oct. 23, UAB; Oct. 30, Kentucky; Nov. 13, at Alabama; Nov. 20, Arkansas; Nov. 27, at Ole Miss
JACKSON STATE
Coach: Rick Comegy (fourth season, 24-21/15th season overall, 132-72)
2009 record: 3-7 (3-4 SWAC)
Stadium: Mississippi Veterans Memorial Stadium
Radio: 1300 AM
You've already heard the bad news about quarterback Casey Therriault. The good news: He threw for more than 2,000 yards and 24 touchdowns for Grand Rapids (Mich.) Community College.
"As long as he abides our rules, he's ready to go," Rick Comegy told The Clarion-Ledger. "The only thing I know is he's paid his debt to society. He's got a clean slate. I'm looking at the present."
After finishing at the bottom of the SWAC in offense last season, JSU has installed a spread attack. Comegy had to do something.
The Tigers were 1-5 last season in games decided by eight points or less.
Therriault appeared to take the lead over sophomore Dedric McDonald in the quarterback competition after his performance in Saturday's scrimmage. Comegy said he planned to name a starter shortly (but not before press time).
The Tigers return six starters from last year's defense, which led the league in total defense last and was second in scoring defense. Three Tigers were named to the preseason All-SWAC team: defensive back Kerry Hoskins, defensive back Anthony Johnson and defensive lineman Donovan Robinson.
Comegy led the Tigers to the SWAC championship in 2007, his second season. The Tigers returned to the title game in 2008 but lost. Then things fell apart last season. Comegy insists he doesn't feel any extra pressure from JSU's demanding fans.
"If I'm under pressure, then the kids are under pressure," he told The Clarion-Ledger. "... This game is filled with pressure. You've got to get out of the game if you can't handle it."
Outlook: The Tigers are predicted to finish second in the SWAC East. They get a huge break by hosting Alabama A&M and Alcorn State. Their toughest game might be their opener with Division II Delta State. If JSU can muster any kind of offense, they will win the SWAC East. If Comegy doesn't at least reach Birmingham this season, JSU's fickle fans will start grumbling.
Schedule: Sept. 4, Delta State; Sept. 11, vs. Tennessee State (Memphis); Sept. 18, at Grambling State; Sept. 25, Mississippi Valley State; Oct. 9, Alabama A&M; Oct. 16, Southern; Oct. 23, at Texas Southern; Oct. 30, Prairie View A&M; Nov. 6, at Alabama State; Nov. 13, at Arkansas-Pine Bluff; Nov. 20, Alcorn State
OLE MISS
Coach: Houston Nutt (third season, 18-8/18th season, 129-78)
2009 record: 9-4 (4-4 SEC), won Cotton Bowl
Stadium: Vaught-Hemingway Stadium, Oxford
Radio: 97.3 FM
Ole Miss made national headlines for accepting last-minute transfer Jeremiah Masoli, but maybe not the kind of headlines UM wanted to make. (Before Mississippi State fans get too cocky, they should remember that State was looking at Masoli, too.)
Masoli started the last two seasons at Oregon. Last season, he threw for 2,147 yards and 15 touchdowns, ran for 13 scores and led the Ducks to the Pac-10 championship and the Rose Bowl. But he played on an Oregon team that had a number of players involved in on- and off-field incidents. Coach Chip Kelly worried that his team was getting an outlaw image.
So when Masoli pleaded guilty to a charge of second-degree felony burglary, Kelly suspended him for the season. When Masoli was ticketed for misdemeanor traffic and marijuana possession charge in June, Kelly kicked him off the team.
Masoli's college football career might have been over were it not for the fact that he graduated from Oregon. He was eligible to play immediately at another Division I school if that university offered a graduate program that wasn't available at Oregon. Masoli decided that he wanted to earn a master's in parks and recreation at Ole Miss.
That was good news for the Rebels, who have many playmakers to replace on offense, including two-year starting quarterback Jevan Snead. Nathan Stanley, a sophomore with limited experience, was the starter coming out of spring practice. But Masoli appears to have taken the lead in the quarterback competition.
"I'm not going to let anybody else down," Masoli told ESPN.com.
We'll see.
Outlook: The Rebels, who are coming off the most disappointing 9-4 season in school history, have big holes to fill on offense. The Rebels have five new starters on the offensive line. The mobile Masoli should help cover that deficiency.
The Ole Miss defense looks solid, thanks to lineman Jerrell Powe, who anchors an experienced front seven.
With a pillow-soft schedule and the addition of Masoli, the Rebels should have their third straight winning season and bowl trip under Nutt.
Schedule: Sept. 4, Jacksonville State; Sept. 11, at Tulane; Sept. 18, Vanderbilt; Sept. 25, Fresno State; Oct. 2, Kentucky; Oct. 16, at Alabama; Oct. 23, at Arkansas; Oct. 30, Auburn; Nov. 6, Louisiana-Lafayette; Nov. 13, at Tennessee; Nov. 20, at LSU; Nov. 27, Mississippi State
BELHAVEN
Coach: Joseph Thrasher (second season 6-5/fourth season overall 21-23)
2009 record: 6-5 (4-2 MSC)
Stadium: Newell Field
Radio: Online at http://blazers.belhaven.edu
Outlook: Joe Thrasher made a successful debut as Blazers coach in 2009. Is Belhaven ready to challenge for the MSC title? The Blazers have seven starters back on offense including quarterback Alex Williams, running back Cordario Calvin and wide receiver Kevin Di. There are five starters back on defense, but the Blazers picked up a few talented newcomers. Now for the bad news: the University of the Cumberlands, which has won the last three MSC East titles, is moving into the MSC West this season. If Thrasher can keep the Blazers' improvement going, they could be a year away from contending in the MSC.
Schedule: Aug. 28, at Texas College; Sept. 4, Louisiana College; Sept. 11, at Mississippi College; Sept. 18, Lindsey Wilson; Oct. 2, Bethel; Oct. 9, at Faulkner; Oct. 16, Shorter; Oct. 30, U. of Cumberlands; Nov. 6, at Cumberland; Nov. 13, at Georgetown
MILLSAPS
Coach: Aaron Pelch (first season)
2009 record: 7-3 (5-1 SCAC)
Stadium: Harper Davis Field
Radio/video: Online at http://www.gomajors.com
Outlook: New coach Aaron Pelch has a tough act to follow. He succeeds Mike DuBose, whose four-season run included three straight SCAC championships. He spent the last four seasons as a Majors assistant, so continuity won't be a problem. The defense returns six starters, including All-American linebacker Will Hawkins, the reigning SCAC Defensive Player of the year. On offense, the Majors have to find a new quarterback, but they have standout running back Shane Bowser and wide receiver Michael Galatas, last year's SCAC Special Teams Player of the Year. The Majors are probably a year away from challenging from a conference title.
Schedule: Sept. 4, Mississippi College; Sept. 11, at LaGrange; Sept. 18, Austin; Sept. 25, at Trinity; Oct. 2, DePauw; Oct. 9, Huntingdon; Oct. 16, at Rhodes; Oct. 23, at Centre; Oct. 30, Sewanee; Nov. 13, at Birmingham-Southern
MISSISSIPPI COLLEGE
Coach: Norman Joseph (fifth season 29-23/10th season overall 50-43)
2009 record: 9-3 (7-1 ASC), won ASC championship, lost in NCAA Division III playoffs
Stadium: Robinson-Hale Stadium, Clinton
Radio: Online at http://www.gochoctaws.com
Outlook: The Choctaws finally broke through last season and won a share of the ASC title. Doing that again will be tougher because MC has to play the league's top two teams, Mary Hardin-Baylor and Hardin-Simmons on the road. The Choctaws have seven starters back on offense, including All-ASC running back Steven Knight. Quarterback Tommy Reyer saw extensive action during the last two seasons, including eight starts as a freshman in 2008. Seven starters return on defense including Nolan Willisson, who led the league in sacks last season. The Choctaws will be an ASC contender again this season.
Schedule: Sept. 4, at Millsaps; Sept. 11, Belhaven; Sept. 18, at Hardin-Simmons; Sept. 25, Louisiana College; Oct. 9, at Mary Hardin-Baylor; Oct. 16, East Texas Baptist; Oct. 23, at Howard Payne; Oct. 30, Sul Ross State; Nov. 6, at Texas Lutheran; Nov. 13, McMurry
ALCORN STATE
Coach: Earnest Collins Jr. (second season, 3-6)
2009 record: 3-6 (3-4 SWAC)
Stadium: Jack Spinks Stadium, Lorman
Radio: 90.1 FM
Outlook: The Braves won just three games in Earnest Collins' first season as coach, but they were are big victories: Mississippi Valley State, SWAC champ Alabama A&M and arch-rival Jackson State. The Braves have eight starters back on offense, but they're looking for a starting quarterback. Terrance Barnes, who was the backup the last two seasons, is the front-runner now. Alcorn returns nine starters on defense. The ASU defense will keep the Braves in most games, but they have too many questions on offense to be a contender.
Schedule: Sept. 4, Langston; Sept. 18, vs. Mississippi Valley State (Chicago); Sept. 25, Alabama State; Oct. 2, at Mississippi State; Oct. 9, Texas Southern; Oct. 16, at Grambling State; Oct. 21, Arkansas-Pine Bluff; Oct. 30, Southern; Nov. 6, at Alabama A&M; Nov. 13, at Prairie View A&M; Nov. 20, at Jackson State
DELTA STATE
Coach: Ron Roberts (fourth season, 25-9)
2009 record: 5-5 (4-4 GSC)
Stadium: Travis Parker Field, Cleveland
Radio: 930 AM
Outlook: After winning two consecutive GSC titles, the Statesmen took a fall last season. DSU slipped to 5-5, its worst finish since 2002. The Fighting Okra is optimistic heading into this season, boosted no doubt by a No. 24 ranking in the AFCA preseason Division II poll. Senior running back Trevar Deed, a two-time All-GSC choice, led the league in scoring and was second in rushing and all-purpose yards. Senior transfer Micah Davis is the starting quarterback and has looked brilliant during preseason practice. The Statesmen get a break by hosting GSC favorite North Alabama, but can they win at West Alabama and Valdosta State? No.
Schedule: Sept. 4, at Jackson State; Sept. 9, Arkansas Tech; Sept. 18, at Valdosta State; Sept. 25, Henderson State; Sept. 30, West Alabama; Oct. 7, at Arkansas-Monticello; Oct. 16, Harding; Oct. 23, at West Georgia; Oct. 28, North Alabama; Nov. 6, at Ouachita Baptist; Nov. 13, at Lambuth
MISSISSIPPI VALLEY STATE
Coach: Karl Morgan (first season)
2009 record: 3-8 (1-6 SWAC)
Stadium: Greenville-Weston High School, Greenville
Outlook: First-year coach Karl Morgan must be wondering what he got himself into when he took this job. He knew when he arrived in Itta Bena that his program had one of the smallest budgets in the SWAC. Then four Valley players were arrested on drug charges and eventually expelled from school. Finally, Valley's stadium was condemned because of structural problems. So the Delta Devils, who only had four home games to start with, will play three "home games" in Greenville and the fourth in Chicago. Valley will be lucky to win three games this season.
Schedule: Sept. 4, at Alabama State; Sept. 11, at South Carolina State; Sept. 18, vs. Alcorn State (Chicago); Sept. 25, at Jackson State; Oct. 2, vs. Prairie View (Greenville); Oct. 9, at Southern; Oct. 23, vs. Grambling State; Oct. 30, at Texas Southern; Nov. 6, at Arkansas-Pine Bluff; Nov. 13, vs. Alabama A&M
For more stories about sports and whatnot, head over to the JFP Sports Blog and have fun.
Previous Comments
ID

159562

Comment

Jackson State fans are fickle? Doctor S I've always thought that you were in over your head as a sports editor, please JFP get a real sports editor. As a JSU fan im offended by what you said, i bet if ole miss fans "grumbled" as you put it you would say that they are just passionate about winning. I am shocked that you took a swipe at the tiger nation.

Author

NewJackson

Date

2010-08-26T19:49:45-06:00
ID

159563

Comment

NewJack, Doc takes a swipe at every school. Don't worry about it: It's only sports. ;-)

Author

DonnaLadd

Date

2010-08-26T19:56:11-06:00
ID

159565

Comment

I graduated from Jackson State and I think we have high expectations considering the players we have had over the years. They can call us fickle, cocky, and arrogant - but long as we are winning, let'em call us whatever they want!

Author

Duan C.

Date

2010-08-27T06:24:18-06:00
ID

159585

Comment

Love the cover!

Author

golden eagle

Date

2010-08-28T23:31:56-06:00
ID

159590

Comment

"As a JSU fan im offended by what you said ... I am shocked that you took a swipe at the tiger nation." Someone is shocked and offended by the JFP's college football preview? Really? That hasn't happened since ... 2009.

Author

Dr. S

Date

2010-08-30T08:51:15-06:00
ID

159591

Comment

The "fickle" question, Duan, is always about how fans act when they're team is *losing*.

Author

DonnaLadd

Date

2010-08-30T10:55:03-06:00
ID

159593

Comment

Ladd i like how you defend your employees, sounds like you got a loyal boss Dr.S So excuse me for defending JSU's honor because i am a loyal fan. Go Tigers!!

Author

NewJackson

Date

2010-08-30T13:34:10-06:00
ID

159597

Comment

As a Southern Miss fan, I can't wait for the season to start. I have no idea how we will do but am looking forward to seeing how it will all play out. As a side note, I have asked my friends not to use the words "middle" and "tennessee" together around me. Makes my stomach hurt still. I wish all the teams good luck for the season. Go Eagles!

Author

KendallVarnell

Date

2010-08-30T19:46:16-06:00
ID

159598

Comment

USM had no answer for the MTSU QB in the bowl game.

Author

golden eagle

Date

2010-08-30T21:25:08-06:00
More stories by this author