Just about all my formal education was whitewashed. The things I knew about the parts of American history that weren't white, I learned from my family, and because Mrs. Bonnie Feig (one of the best American history teachers ever) encouraged me to look for knowledge beyond the classroom textbooks when I blithely asked if there were other blacks who'd done anything to forward America besides Sojourner Truth and Martin Luther King—the poster man and woman for black history month in my high school alma mater's curriculum.
When Mrs. Feig taught me about the Civil War, I remembered the facts being laid out pretty simply. It wasn't quite as I'm about to grossly overstate below because there were other names attached here and there, but the story went something like this: Most northern states were becoming anti-slavery; southern states wanted to maintain slavery because they benefitted financially from it; both North and South acknowledged that if institutionalized slavery didn't spread, it would die, which is what most of the folks up North wanted to happen. The southern states said: "To hell with this, we're keeping our property (i.e., slaves). We'll secede from the Union and make our own country or die trying."
War ensued; people died; slaves were freed (on paper).
That being said, it always confuses me when people talk about the Civil War like it was a fight about anything other than economic prosperity made off the bent backs of slaves. So I was baffled when I heard the Confederate History Month Virginia that Gov. Robert McDonnell proposed for April had nothing to do with race or slavery, as if those things were insignificant.
Gov. McDonnell said to the Washington Post: "Obviously, (the Civil War) involved slavery. It involved other issues. But I focused on the ones I thought were most significant for Virginia."
He's evidently never met or talked to Mrs. Feig.
In the governor's proclamation he writes: "t is important for all Virginians to reflect upon our Commonwealth's shared history, to understand the sacrifices of the Confederate leaders, soldiers and citizens during the period of the Civil War and to recognize how our history has led to our present … ."
Democrats, members of Virginia's Black Caucus and the NAACP were outraged at the governor's oversight, so he later apologized, saying the proclamation was really a tourism tactic and more about the sacrifices of the soldiers, not the slaves.
Our very own Gov. Haley Barbour then said on CNN's "State of the Union" that people were "making a big deal out of something that doesn't amount to diddly." He went on to point out that Mississippi's legislature had also approved measures for its own confederate celebration, also without the mention of slaves.
It isn't lost on me that there were black soldiers—some of them free, others not—who fought alongside Confederate soldiers. These men, or "body servants" as they were called, were initially only able to enlist as musicians until so many men lost their lives during the war that the Confederacy required their persons for more than entertainment. If you overlook the black soldiers—not just the institution of slavery—you have, in effect, overlooked the South's history.
Gov. McDonnell's proclamation further notes: "Virginians can appreciate the fact that when ultimately overwhelmed by the insurmountable numbers and resources of the Union Army, the surviving, imprisoned and injured Confederate soldiers gave their word and allegiance to the United States of America, and returned to their homes and families to rebuild their communities in peace …"
Peace by any means necessary, perhaps?
Since Confederate History Month is about lauding sacrifice and principles and not the South's resistance to change, I can easily think of another observance worth having in an effort to be fair and balanced. A month should next be set aside to herald the sacrifice of the likes of John Brown, Nat Turner—also a Virginian—and others who led slave rebellions even before the American Civil War began. Because of Turner's commitment to fighting for what he believed in, he led a few trusted rebellious slaves in killing some 55 oppressors because of a divine call from God, he said.
After being "overwhelmed by the insurmountable number and resources" of the slave master/white militia he was fighting, the trailblazer died a martyr's death after his capture. He was hung, excoriated, beheaded and then quartered.
Celebrating Confederate History Month, ignoring all of history's facts, is just about as convenient as claiming we now live in a post-racial America because we're too—whatever it is we are—to go back and address old but still-festering wounds. Though actions may occasionally deceive us, the heart never lies: its not in its nature.
And words that flow from the mouth come from the heart.
Happy Confederate History Month, and may Nat Turner rest in peace.
Previous Comments
ID

157428

Comment

Great column, Natalie. While it is true that small numbers of blacks did fight for the Confederacy, far more either fought for the Union or simply ran away from their masters at the first opportunity. About 200,000 African Americans fought for the Union, making up about 10 percent of Union soldiers by the end of the war. About 40,000 died in the war, and 16 won the Medal of Honor. A good description is here. There were doubtless some cases where slaves stood at the side of masters to fight for their enslavement, like the eager slaves of Scarlett O'Hara. Far more often, however, they were on the other end of the bayonet.

Author

Brian C Johnson

Date

2010-04-26T13:44:13-06:00
ID

157432

Comment

Those slaves didn't gleefully fight to carry out ole master's cause. No doubt many felt like they didn't have a viable option or choice, some erroneously felt ole master would win anyway or things wouldn't change, and some didn't know any better. Most slaves were hauling booty from ole master at the first chance and rightfully hated his depraved ass. I'm off today celebrating the Union soldiers' victory, aka the confederate soldier slaughter as I like to call it. Too bad a war had to occur to get human beings to do the right thing. Unfortunately even the war wasn't enough. It took another 100 years and the Civil Rights movement. By the way, as you ponder Nat Turner. How about Denmark Vesey? Natalie all of us received a white-washed education in Mississippi and most other places. The truth wouldn't have made master or his descendants look stainless as they prefer to be seen. I started objecting to it in high school. I'm so glad I attended a black undergraduate and professional school and finally learned the truth about so many things.

Author

Walt

Date

2010-04-26T14:42:31-06:00
ID

157442

Comment

Ms. Collier, I'm proud that you have taken a stand. I personally don't find the Confederate Holiday a cause to celebrate, and I definitely don't appreciate the fact that our state (MS) flag is the rebel flag; well, some call it the Confederate Flag. It's all the same ideology to me. Too bad many students havn't heard of Nat Turner and Denmark Vesey. There should be more teachers like Mrs. Feig to tell students to read and learn at home. African American history is American History. Knowledge of self is powerful.

Author

Meredith

Date

2010-04-27T08:41:25-06:00
ID

157588

Comment

Natalie since you're a writer, you should read about the life of William Monroe Trotter. He was an uncompromising civil rights fighter back in the ole days before the term was popularized, who once went to the White House to confront the POTUS about lying to him and black folks. In fact, I think he told him he ought to whup his ass. How many brothers back then or now have the nerves to confront the POTUS in this matter? Unfortunately, his life ended terribly. He's hailed by many black writers for his courage and brilliance.

Author

Walt

Date

2010-05-03T17:34:44-06:00
More like this story
More stories by this author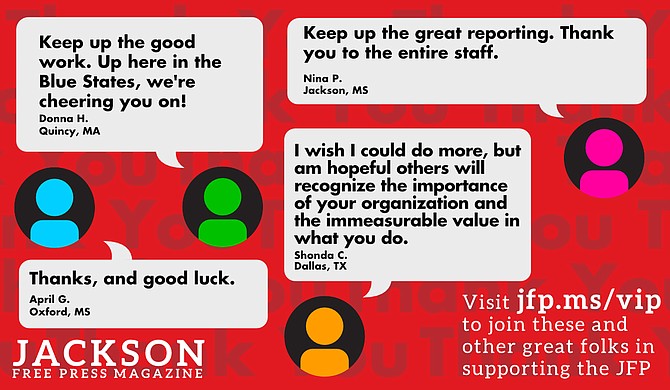 Thanks to all our new JFP VIPs!
COVID-19 has closed down the main sources of the JFP's revenue -- concerts, festivals, fundraisers, restaurants and bars. If everyone reading this article gives $5 or more, we should be able to continue publishing through the crisis. Please pay what you can to keep us reporting and publishing.