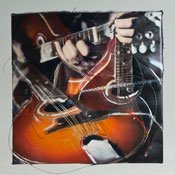 Jamie Weems first saw Alexander Calder's mobiles suspended in the National Gallery of Art in Washington, D.C. Weems had heard of Calder while studying classical guitar at the University of Louisiana in Lafayette. He was struggling with an interpretive piece of music that kept falling flat, and one of his professors suggested that he approach it like Alexander Calder had approached his mobiles.
Weems embraced the suggestion. Calder's mobiles are gracefully balanced without being symmetrical. They're delicate but bold at the same time, with limb-like pieces that connect vividly colored geometrical and organic shapes. The genius in Calder's work is how seamlessly he blended so many different elements.
This blending is just what Weems and dancer Krista Bower want to encourage by combining live music, dance and photography in their "Mobiles" show this Saturday, Sept. 26, at One to One Studio in the Millsaps Arts District.
Over a bowl of chili in the High Noon Café, Bower exudes a calm but focused grace as she talks about the aims that she and the other co-founders of Front Porch Dance have for their company. "One of our main goals is to collaborate with musicians," Bower says.
Bower and Weems, a mandolin player who performs with outfits like the Scramblers, Woodenfinger and the Mississippi Improv Alliance, hope the show will capture the collaborative, welcoming spirit of the One to One creative space.
Weems laments the fact that live music and dance are so often separated. When people go to clubs, they dance to deejays, and even ballet is often performed to recorded music, not to a live orchestra.
"Society's become less participatory," he says. "You're either performing, or you're just there."
Weems believes dance is integral to music because it allows the audience to answer back to the musicians, creating an exchange that heightens the experience of both the performer and the listener. He hopes that this exchange will be evident in "Mobiles," which has always been based on collaboration, even before it had a name. Weems had been looking for a way to work with Front Porch Dance again, since working with them at the Belhaven Community Concert in 2008 and an MIA performance in early 2009.
"In the early summer, I had all of these (musical) sketches, and I put together a group just for this performance." As his group rehearsed, they made recordings and gave them to Front Porch Dance, allowing the dancers ample to time to choreograph their parts.
Weems ultimately decided to center the performance on one piece in the set, entitled "Calder." "It's one of my favorite parts of the program, and I started thinking about mobiles and what we were trying to do, and it made sense to me," he says.
Calder, a Pennsylvania native born in 1898, studied art in New York and developed his avant-garde sensibility in Paris. There he began creating wire sculpture and kinetic art—suspended, moving sculpture that his friend and fellow artist Marcel Duchamp dubbed "mobiles." His works, huge and small, are now suspended in venues such as the East Wing of the National Gallery in Washington, where they became integrated into architect I.M. Pei's vision for the space.
Weems chose One to One for the performance, in part, because the venue is so versatile. "Over the past couple of years, One to One has been like the lungs of Jackson's art community. Everything goes through there in one way or another, and every show I've been a part of there has been completely different, which is great," Weems says.
Weems and Bower listed some events they've attended there, including last year's Fais-Do-Do, rock shows, jazz shows, art openings and benefits. The studio embodies the creative set in Jackson: It's open and inclusive, and it does not turn down talented performers.
Bower teaches dance at Belhaven College, is the director of the Yazoo City School of Dance and will serve as the dance school administrator for the USA International Ballet Competition next summer. In May 2008, she founded Front Porch Dance along with Valerie Nicholson, Erin Rockwell and Emily Wright.
"We felt like there was a need in Jackson for more contemporary dance," Bower explains, "and we needed to keep choreographing new works and performing. Since many of us are teachers, it's important that we keep developing as artists ourselves."
Weems and Bower thought that photography would be a fitting addition to "Mobiles" because music and dance happen in real time, and photography is able to capture these events as they happen.
Photographer Roy Adkins will have several pieces in the exhibit. He usually photographs live shows more for his personal enjoyment than for his artistic aims, but he does enjoy photographing MIA performances and individual musicians at his studio.
Adkins let me take a look around Light & Glass, the studio he owns and runs with wife and glass artist Jerri Sherer, last Friday. Over the loud hum of an oscillating fan, he showed me a portrait of Weems, in which he's layered and collaged several photographs of Weems and his mandolin with found elements, like a mandolin string.
"When you see something that's abstract," he says, "you don't think about the fact that seven or eight objects make up the final piece." He applies this idea to music, noting, "When you layer music, the listener hears the whole thing, not thinking about its separate parts."
Adkins also looks forward to seeing other photographers' work at the show. He and Ron Blaylock, another "Mobiles" collaborator, recently photographed an Art ReMix event at the Mississippi Museum of Art. "Ron is that guy that will take that one shot at a live performance, and I bet he's going to have tremendous photos of the live music," he says.
Just as the dancers and musicians spur each other on during their performances, fellow artists are able to influence and inform each other's works, especially when they both tackle the same theme. "It's fulfilling to have conversations with peers and feel like you can learn something from the other person," Adkins says.
Featured Photographers
Kenya Hudson
Roy Adkins
Ron Blaylock
Lizzie Wright
Josh Hailey
Mary Fitzgerald
William Patrick Butler
Aaron Phillips
The "Mobiles" gallery will open at 7:30 p.m. on Sept. 26, featuring photographs from eight Jackson photographers. Then, at 9 p.m., local musician Jamie Weems and other musicians will play his original music, and Front Porch Dance will perform dances choreographed to the music. One to One Studio is located at 121 Millsaps Ave. Visit http://www.onetoonestudios.org for more info.
More like this story
More stories by this author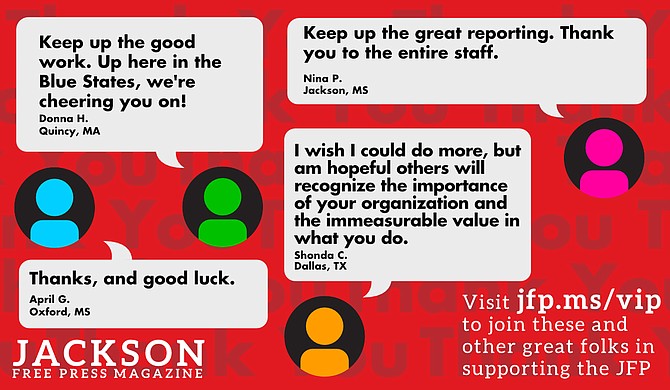 Thanks to all our new JFP VIPs!
COVID-19 has closed down the main sources of the JFP's revenue -- concerts, festivals, fundraisers, restaurants and bars. If everyone reading this article gives $5 or more, we should be able to continue publishing through the crisis. Please pay what you can to keep us reporting and publishing.